https://origin.hkmb.hktdc.com/en/1X0040GK
Houseware Industry in Hong Kong
Overview
Hong Kong is a world-renowned sourcing centre for houseware products, including tableware, kitchenware, non-electric domestic cooking/heating appliances and sanitary ware made of a vast variety of materials.
In response to intensified competition from indigenous Chinese companies and other Asian suppliers, Hong Kong companies are shifting from original equipment manufacturing (OEM) to original design manufacturing (ODM). A few also develop and market their own brands. They are also moving upmarket by using more advanced technology in production, providing innovative designs and improving product quality.
Overseas markets are dominated by giant retailers which have bigger bargaining power than suppliers. Online shopping for home goods is becoming more popular given its convenience and broad assortments of product choices.
Industry Features
Hong Kong is an important globally recognised sourcing centre for houseware products. The houseware industry covers a wide range of products, including tableware, kitchenware, non-electric domestic cooking/heating appliances, sanitary ware and home decorations. These are made in a wide variety of materials, including ceramic, metal, glass, paper, plastic, porcelain and china.
Companies in the field of metal cookware and kitchenware provide a comprehensive selection of products, including saucepans, casseroles, frying pans, Dutch ovens, steamers, egg poachers, double boilers and frying baskets. Stainless steel is the most commonly used material due to its durability. Aluminium-made cookware is also available, with porcelain-enamelled exteriors and interiors coated with non-stick material. Silicone cooking tools and utensils are also gaining popularity among consumers due to its high-heat resistance level and durability.
Other companies focus on plastic ware, including tableware, kitchen utensils, water pots, trash bins and bathroom accessories. Most of them are small to medium-sized businesses, as the production of plastic houseware, especially the smaller items, requires comparatively little labour input and capital investment. Sophisticated moulding techniques are generally not required for lower-end products. As such, some toy manufacturers also produce plastic houseware as a side-line business. On the other hand, the production of larger plastic houseware, such as buckets, basins and baskets, is dominated by a few large manufacturers since heavy capital investment is required for installing large machinery.
Owing to the high production costs in Hong Kong, most Hong Kong manufacturers have relocated their production to the mainland. Other high value adding functions, such as sourcing, logistics, product development and marketing are maintained by the Hong Kong offices.
Most Hong Kong houseware production is performed on an OEM (original equipment manufacturing) basis. However, facing intensified competition from indigenous Chinese companies and other Asian suppliers, Hong Kong manufacturers are shifting from OEM to ODM (original design manufacturing). A few also create and market their own brands (OBM). More resources are being used in product design and maintaining product quality to increase the competitiveness of Hong Kong products.
Performance of Hong Kong Exports of Houseware Products[1]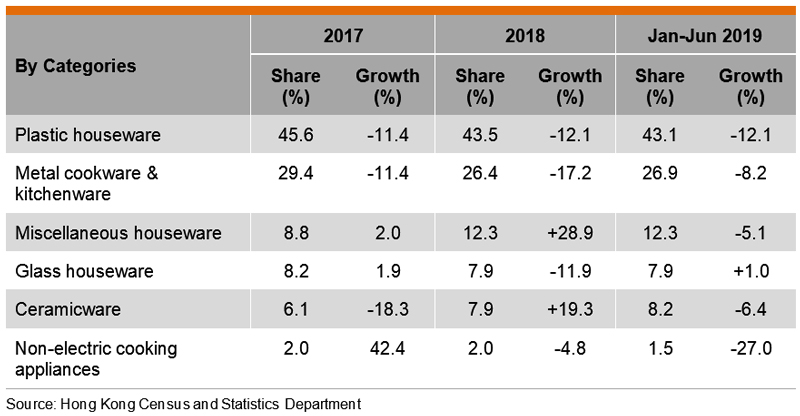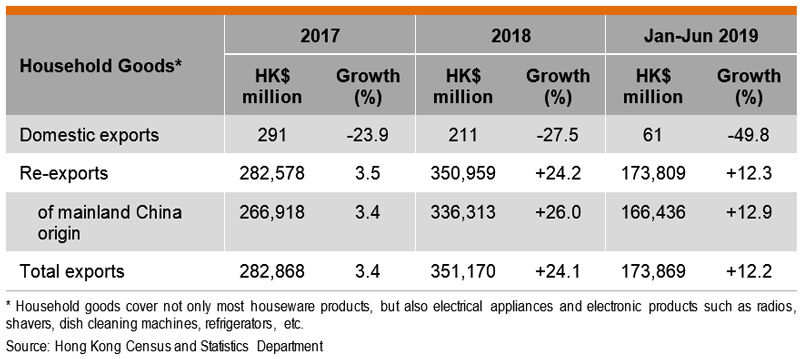 Sales Channels
Department stores, retail chains and mass merchants remain the dominant retail channels for houseware products in mature markets like the US, EU and Japan. but increasingly, consumers also go online for houseware goods, especially those small home and kitchen appliances. Hong Kong manufacturers usually deal directly with overseas retailers or through their buying offices or agents in Hong Kong. Some Hong Kong companies also enter into licensing agreements for production with overseas brand holders. This is especially common for kitchenware and cookware. In markets with smaller order sizes, trading firms often act as an intermediary. A few well-established manufacturers have their own overseas offices which are responsible for marketing and other liaison activities.
Many manufacturers attend international trade fairs to increase their exposure in overseas markets. Below is the schedule of some major trade fairs: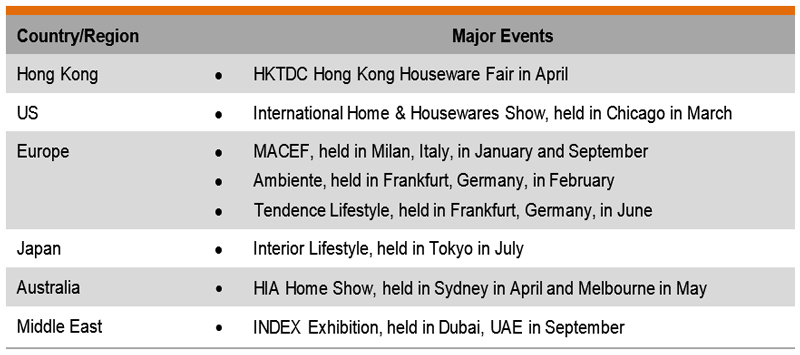 Industry Trends
In most mature markets, the retail industry for houseware is dominated by a few large chain stores or discount giants. These overseas buyers have strong bargaining power as they usually place large-volume and repeated orders from a few suppliers. Over the years, Hong Kong manufacturers have proved themselves reliable and maintained a good market position by providing quality products at a competitive price. However, they are now facing fierce competition from other suppliers in the region. To stay competitive, Hong Kong manufacturers are undertaking more ODM and licensing arrangements. Licensing is especially common in the kitchenware sector for US and European brands as consumers in general favour brand-named products as well as other private label items owned by department stores and chain stores.
On the distribution side, internet and mobile sales of houseware have continued to grow as consumers increasingly enjoy the ease, convenience and range of online shopping. One commonly used local e-commerce platform in Hong Kong is HKTVmall, which also provides a wide array of houseware products ranging from storage containers to interior decorations. Besides buying from pure-play online retailers, it is also common to buy online and pick up the goods at the local stores. This means that an efficient logistics system and inventory management are becoming more important for both e-tailers and brick-and-mortar outlets. Furthermore, the use of big data analytics enables retailers to be more responsive to consumer preferences.
The Mainland and Hong Kong Closer Economic Partnership Arrangement (CEPA)
Under CEPA, the mainland has given all products of Hong Kong origin, including houseware, tariff-free treatment starting from 1 January 2006. According to the stipulated procedures, products which have no existing CEPA rules of origin can enjoy tariff-free treatment upon applications by local manufacturers and upon the CEPA rule of origins being agreed and met. Non-Hong Kong made houseware products are subject to tariff rates up to 24.5% when entering the mainland.
The promulgated rules of origin for houseware products to benefit from CEPA's tariff preference are basically similar to the existing rules governing Hong Kong's exports of these products, requiring the performance of specific manufacturing processes in Hong Kong, such as die-casting/blanking, forming and assembling for table articles. Detailed information is available here.
General Trade Measures Affecting Exports of Houseware Products
Houseware exports, especially kitchenware and other products which have direct contact with food, are subject to certain food sanitation laws and ordinances. For example, the Japanese Food Sanitation Law stipulates regulations and standards for food containers and packaging. In Japan and the US, ceramic and porcelain tableware is subject to lead and cadmium leaching standards.
In the EU, a regulation called the Plastics Implementing Measure (PIM), which comprises egulations of contents, testing conditions and documentation requirements, has been in place since May 2011. The regulation applies to materials and articles made entirely of plastic, as well as plastic layers that are used in multi-material articles. The PIM lists all permitted substances and indicates restrictions for individual substances. Substances not included in the list are not authorised for use in food contact plastics.
The EU has also tightened importing rules for polyamide and melamine plastic kitchenware from mainland China and Hong Kong. Kitchenware from the mainland and Hong Kong can now only be imported into the EU with a declaration certifying compliance with requirements on primary aromatic amines (PAAs) and formaldehyde.
Product Trends
Smart and Innovative Designs
Recent years have seen the arrival of new products with smart designs, multi-functional and innovative features. One example of this is the KIGI food storage container featured in the HKTDC Houseware Fair 2019. Supported by its KIGI mobile app, users can keep track of the food conditions and receive shelf life reminder so as to avoid food waste. The KIGI app will also suggest a variety of cooking recipes based on the current stock of food. Besides, tech gadgets have started to enter the kitchen space. For example, some kitchen baking scales can now be connected to an iPad app that provides instructions for making a cake. Built-in touchscreen of Samsung smart refrigerator offers recipe suggestions that synced with food storage and allow users to automatically reorder food with credit card.
Increasing Environmental Awareness
Consumers have become more eco-conscious and are buying more environmentally friendly products. Manufacturers have also realised the potential cost savings that can be made from the use of green materials and packaging. These two factors have combined to make green designs and materials popular with houseware producers and buyers. Reusable food wrap has slowly taken over the places of plastic wrap to achieve longer form of food storage. Cotton wraps which come in multiple colour and patterns can be reused after washes. Plastic straws are also phasing out and replaced by reusable straws made in stainless steel and biodegradable bamboo.
Small/miniature Designs
Demographic shifts and shrinking household size have resulted in a purchasing shift towards small-size houseware products such as electronic appliances and kitchenware goods. To meet this changing demand, manufacturers have been increasing their production of slimmer and smaller appliances. Single-serving coffee makers, mini smoothie blenders and pint-size stand mixers are some popular items for small or single-person household. Foldable lunch boxes and water bottles are also trending as they can be easily stored or fit into handbags.
Use of Natural Materials
Minimalist trend takes root in the houseware sector as consumers are increasingly aware of the elements of nature with its durable quality. Natural materials and fibres have become the highlights of this trend, which has led to an increase in the use of timber, rope and seagrass in the production of kitchen furniture like dining tables and chairs. Natural elements can also be found in kitchenware, such as bamboo-made kitchen tools, copper kitchen accessories and cooking knives with handles made from reclaimed hardwood. Natural colours and patterns are favoured, especially among millennials, with marbles and stone patterns being the top choices for many homeowners.
Simple and Healthy Lifestyle
People are getting more health-conscious and prefer eating healthier and simpler. Kitchen tools that help cook healthy meals and craft a simple lifestyle will continue to be popular. For example, consumers prefer cookware and kitchenware with non-stick surfaces that are easy to clean, and steamers and pans which require less oil for cooking. Air fryer is one good example which offers healthful alternative for making fried food. Handy gadgets such as salad choppers and juicers are much sought-after. Hydration and hydration-related products such as water bottles, infusion and filtration products continue to see increasing demand driven by the consumer trends of health and wellness.
---
[1] Since offshore trade has not been captured by ordinary trade figures, these numbers do not necessarily reflect the export business managed by Hong Kong companies.
Lighting Products
Household Products