https://origin.hkmb.hktdc.com/en/1X006NW7
Publishing Industry in Hong Kong
Overview
Hong Kong is a regional publishing centre, backed by a highly developed printing industry. Freedom of expression and a liberal attitude towards the press are important factors attracting a concentration of prestigious international publications in Hong Kong.
Many major international publishers of newspapers, magazines and books have their regional offices here.
The publishing industry benefits from Hong Kong's excellent communications network. For example, satellite communications enable international publishers to transmit texts and high-quality images to Hong Kong for producing their Asian editions.
Hong Kong's publishing industry is adapting to the digitalisation trend, while the electronic book frenzy is sweeping the globe. In 2013, an e-book distribution platform called "Super Book City" was established in Hong Kong.
Industry Data

Range of Services
As technology evolves, publishing is no longer limited to print media but also digital media. The range of products provided by the publishing industry can be classified as follows:
Newspapers and magazines: Hong Kong is well served by a great variety of newspapers and magazines, in Chinese, English and other languages; and by both local and international publishers. A large number of international publishers use Hong Kong as the base to perform some or all of the functions of local market adaptations, printing, advertising sales and subscription.
Books: these include mass market books as well as textbooks, reference books and specialist books by both local and international publishers.
Non-book publications: this category comprises a wide range of multi-media including software, motion picture, video and television programme activities, sound recording and music publishing.
Service Providers
Newspaper and magazine publishers
Many international media organisations have offices in Hong Kong, which is also the base for a number of regional publications. For example, The Wall Street Journal Asia, The Financial Times, USA Today International, The New York Times and Nikkei Business Publications also have their regional offices in Hong Kong.
Some specialist publishers produce trade publications either for local or international circulation. Many of them are also organisers of trade shows.
Book publishers
International book publishers operating in Hong Kong include Oxford University Press, Pearson, Readers' Digest and Macmillan. These companies manage the production, marketing, and distribution of books for the Hong Kong market and export to other sister companies around the world.
In recent years, more foreign titles have been translated into Chinese. They include management, personal finance and self-improvement books as well as cartoons and popular novels, especially those which have been adapted to cinematic or TV screens.
Non-book publishers
On-line publishing is becoming more popular. An increasing number of major magazines, regional newspapers, local newspapers and wire services are going on-line. There are also many pure Internet publishers. Google, the giant search company with its online Book Store that maintains millions of book titles, has an office based in Hong Kong.
Exports
Hong Kong's printing exports amounted to US$728 million in the first half of 2018, up 3.6% from the previous year. The US, the Chinese mainland, the UK and Australia markets together absorbed nearly 70% of Hong Kong's total printing exports.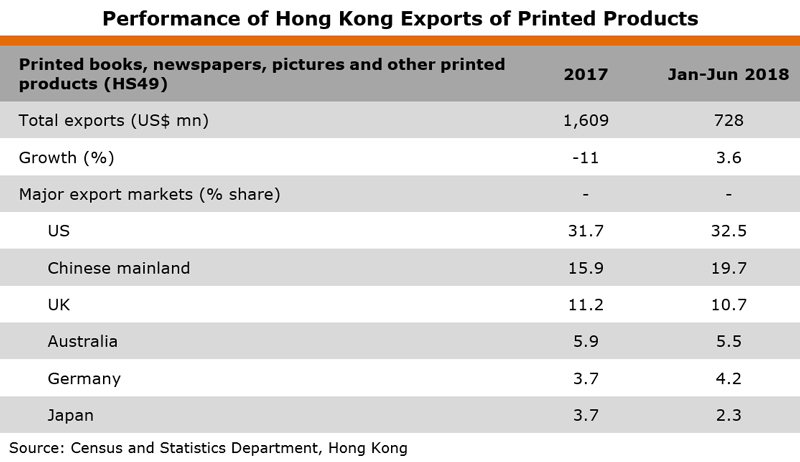 Hong Kong is a major centre for Chinese-language publications. Some local Chinese newspapers and magazines are also distributed in Taiwan, the Chinese mainland and overseas communities where there are significant Chinese population.
Industry Development and Market Outlook
The Chinese mainland's market opening measures after WTO accession are restricted to the formation of Sino-foreign joint-ventures in the publishing business and distribution of publications. Meanwhile, setting up wholly-owned publishing or import companies on the Chinese mainland remains off-limit to foreign companies, including Hong Kong companies. Hong Kong companies' participation is now mainly focused on entering the market through copyright trade and establishing ties with mainland publishing companies in the importation and distribution fields. The huge potential of the Chinese mainland market is the focus of the world. Hong Kong publishers are at an advantageous position to market China studies to the world. There are growing opportunities for publishers to market trade journals to Western companies which want to establish or expand their presence in the mainland market. However, Hong Kong publishers have been facing challenges such as inadequate talents and difficulty in operating bookstores amid mounting rents.
The annual Hong Kong Book Fair is a major event of Hong Kong's publishing industry, attracting publishers, booksellers, distributors, writers and readers from Hong Kong, Taiwan, the Chinese mainland and the rest of the world. Alongside Hong Kong Book Fair 2018, there was a month-long festival "Cultural July, Joyful Summer Reading", featuring over 330 seminars and other cultural activities throughout Hong Kong. In 2018, there were a high of 680 exhibitors from 39 countries and regions, attracting more than one million visitors to the fair.
Hong Kong's publishing industry is adapting to the digitalisation trend, while the electronic book frenzy is sweeping the globe. In 2013, Chinese publishers in Hong Kong including Sino United Electronic Publishing, Commercial Press, Joint Publishing and Chung Hwa Book joined hands to launch an e-book distribution platform "Super Book City", allowing readers to buy e-books and printed books online through mobile applications and web for personal computer. Responding to the growing popularity of electronic reading, the Hong Kong Book Fair 2018 continued to feature a theme zone on e-Books and e-Learning Resources with 12 exhibitors.
Underpinning Hong Kong's publishing businesses is a highly developed printing industry. Meanwhile, many Hong Kong printing companies have relocated their factories to the PRD. Please visit our industry profile of printing industry in Hong Kong for further information.
Closer Economic Partnership Arrangement between Hong Kong and the Mainland (CEPA)
The Agreement on Trade in Services under the CEPA framework allows Hong Kong printing service providers to enter the whole Chinese mainland market. As part of the liberalisation measures under cultural services, Hong Kong printing service providers can set up joint ventures on the Chinese mainland to engage in printing of publications and other printed matters. Enterprises wholly-owned by Hong Kong service providers (HKSS) are also allowed to provide printing and binding services for packaging materials, and pre-press services such as proof-reading, design and typesetting for books. A Green Passage is also established to simplify procedures for importing Hong Kong books. Further details of the liberalisation measures can be found here.
As of 31 July 2018, the Hong Kong government had granted 121 HKSS certificates to printing companies.