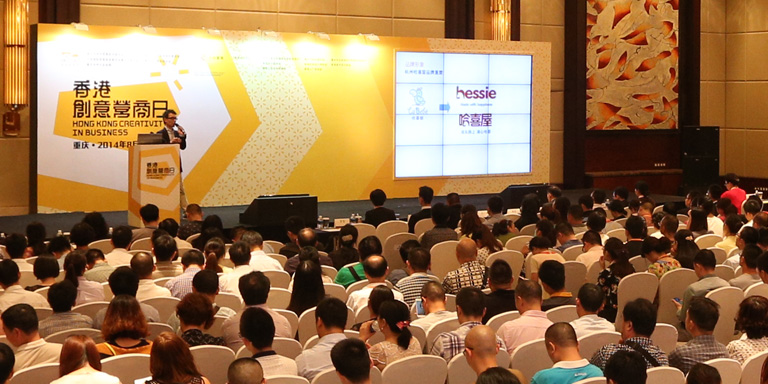 Hong Kong Creativity in Business, Chongqing
Country / Region
Chongqing, China
Format
Others,Trade Mission,Seminar & Workshop
Event Details
"Hong Kong Creativity in Business" aims to connect Hong Kong's branding, design and marketing companies with enterprises on Chinese mainland, and provide an opportunity for market familiarisation and exploration. The event in Chongqing is a 3-day programme comprising market briefings and visits, networking events, and mini-exhibition (as part of a thematic seminar).
Participation Fee
HK$3,600 per delegate per company
(New start-ups* can enjoy additional discount. Please contact us for further details.)



Participation fee includes

:
Company information to be shown on display panel and event booklet
Participation in networking/visiting event(s) for one company delegate
Two nights accommodation (one standard room) in a designated hotel and round-trip transport arrangement for the same one company delegate (arrangement according to the mission's programme)
Participating companies

should bear additional costs, if any

, including:
Transportation of exhibits/promotional materials, insurance and related costs
Extra costs of hotel accommodation and transportation, if more than one company delegate will join the mission
Application will be accepted on a first-come first-served basis, and the Organiser reserves the right to decline any application should the applicants are not eligible to participate in the event. When the Application is accepted by the Council, the Applicant will become a Participant. If it subsequently wishes to withdraw its participation in any one or all stops, it may do so by notice in writing to the Council where upon the Participation Fee will be forfeited by the Council.
---
Hong Kong Creativity in Business
City

Date

Original Price
(per delegate per company)
New Start-ups
(per delegate per company)
Chongqing
27-29 Aug 2014
HK$3,600
HK$3,200
Xiamen and Jinjiang, Fujian

24-26 Sep 2014
HK$3,700
HK$3,500
Dalian, Liaoning

17-20 Mar 2015
HK$5,300
HK$4,900
Enjoy more discount by participating in more than 1 stop!
Join 2 Stops
15% off
Join 3 Stops
25% off
costs only HK$9,450
(New Start-up* costs only HK$8,700)
*The discount is only applicable to new start-ups (i.e. Hong Kong companies established on 1 Sept 2011 or after) with valid Certificate of Incorporation for verification. With a limited discount quota, application is on a first-come-first-served basis and will be at the final discretion of the Organiser.
Disclaimer: The Government of the Hong Kong Special Administrative Region provides funding support to the project only, and does not otherwise take part in the project. Any opinions, findings, conclusions or recommendations expressed in these materials/events (or by members of the project team) do not reflect the views of the Government of the Hong Kong Special Administrative Region.
Industry
Advertising Services, Branding and Marketing Strategy, Design Services, Retail Shop and Commercial Design
Contact Information
Contact
:
Miss Losia Ho / Miss Phoenix Chan
Address
:
Service Promotion Department
Hong Kong Trade Development Council
38/F., Office Tower, Convention Plaza
1 Harbour Road, Wanchai, Hong Kong
Tel
:
(852) 2584 4016 / 2584 4323
Fax
:
(852) 2824 0249
Email
:
losia.cc.ho@hktdc.org / phoenix.wh.chan@hktdc.org