https://origin.hkmb.hktdc.com/en/1X09S15S
Unleashing Vietnam's consumer dynamism
With more than 88 million people, Vietnam has the third highest population after Indonesia and the Philippines in ASEANi , which has a combined population of more than 600 million. Vietnam has embarked on economic reforms for more than two decades, and attempts to liberalise and open up the domestic market for foreign companies have accelerated since the country joined the World Trade Organization (WTO) in 2007.
Robust economic growth, helped to a good extent by continued inflows of foreign direct investment (FDI), has led Vietnam's per capita disposable income to rise by 21% each year from 2006-2011, with per capita consumer spending rising at a similar rate. Apart from being an alternative production base in Asia, Vietnam is increasingly emerging as a lucrative market for international brands, targeting the country's expanding middle class which has a growing appetite for higher-end consumer goods and services. During 2006 2011, Hong Kong's consumer goods exports to Vietnam grew by 21% on average each year; meanwhile, Vietnam has been the second largest ASEAN importer of Hong Kong exports since 2011.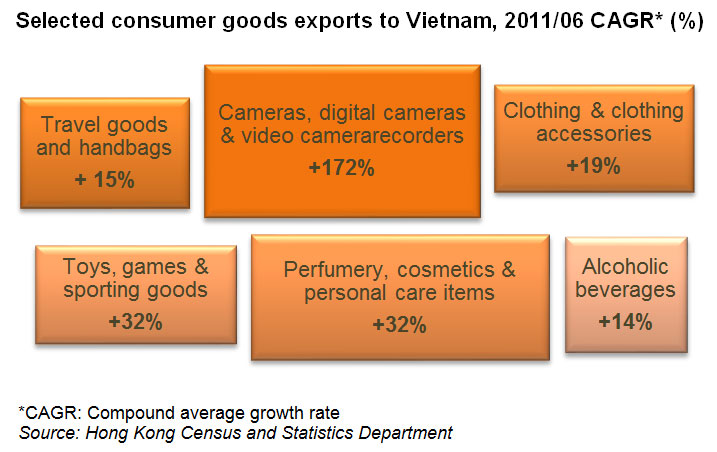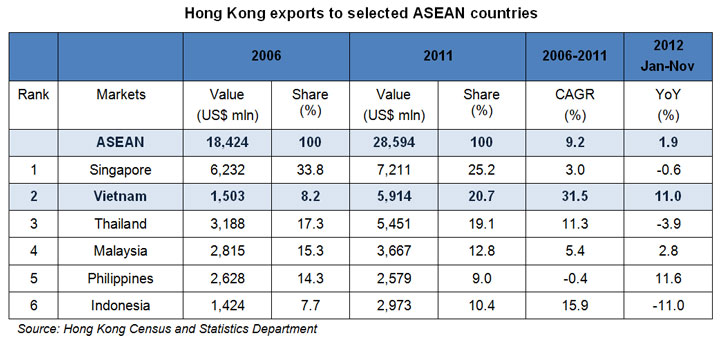 Vietnam has not been able to escape from the contagion of global economic downturn due to the Eurozone debt crisis, the US's sluggish recovery and China's slowdown. Real GDP growth eased to 5.4% year-on-year (YoY) in the fourth quarter of 2012 compared with 5.9% in 2011 and an average of 6.6% during 2007-2011. Nonetheless, a positive spin can still be found in the recent economic slowdown of Vietnam, with inflation easing sharply after months of double-digit growth.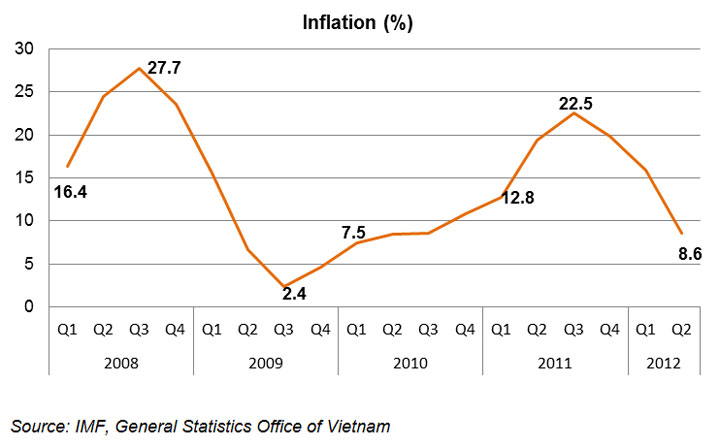 Structural adjustment points to more sustainable growth and spending
Inflation has more than halved from around 19% in 2011 to 9% in 2012, thanks to bold attempts to tighten control over bank credit growth. For investors looking at Vietnam's economic potential, the recent slowdown reflects on the one hand a worsening external environment, and on the other, Vietnam's stronger commitment to long-term economic stability. By showing a willingness to trade off rapid growth over the short term with measures to address longer term fundamental structural issues, including reforming the state-owned enterprises, Vietnam is seeing better odds of transforming towards a more sustainable and healthy growth model.
Despite the recent economic slowdown and receding inflationary pressure, Vietnamese consumers have not considerably restrained their shopping. In particular, more foreign brands are becoming their favourite. In 2012, Vietnam's retail sales recorded a robust growth of 16% (more than 6% in real terms or after adjusting for inflation), driven by hefty sales of foreign enterprises. Meanwhile, domestic consumption is becoming more important in Vietnam's overall economy. In 2011, private consumption accounted for more than 67% of GDP in 2011, up about three percentage points from 2006 and rising faster than other GDP components. In the long run, Vietnam's per capita annual disposable income and expenditure are forecast to rise 67% in real terms over the period from 2012 to 2020, offering enormous opportunities for a wide range of goods and services.
Rising purchasing power of an expanding middle class
Although Vietnam's per capita income of around US$1,400 may appear low compared with other fellow ASEAN countries like Thailand (about US$5,000) and the Philippines (about US$2,400), the middle class in Vietnam has been expanding much faster than those countries. Over the past decade, the number of middle-income-class households, referring to those with an annual disposable income of more than US$10,000, has been rising at an average rate of 15%, reaching 1.5 million in 2011 and forecast to more than triple to 4.7 million by 2020 (estimated approximately 19 million people in 2020).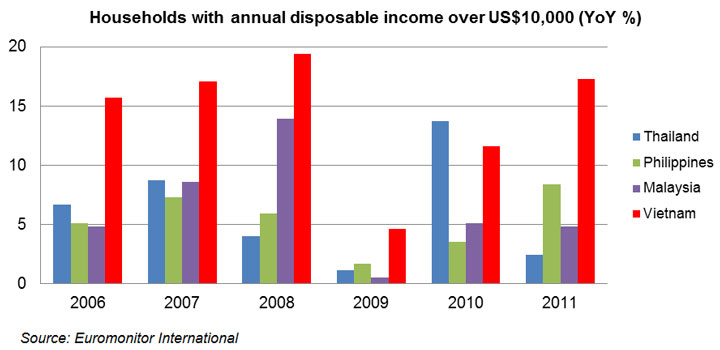 As an agrarian economy that has embarked on a path of export-oriented industrialisation, Vietnam has seen food expenditure account for a diminishing ratio of total consumer spending over the years. Discretionary expenditure on non-food items is estimated to rise to 72% of total spending by 2020, up from 64% currently. With the growing awareness of healthy lifestyles, the middle class in Vietnam has shown a growing interest in the brands as well as origins of the products that they consume.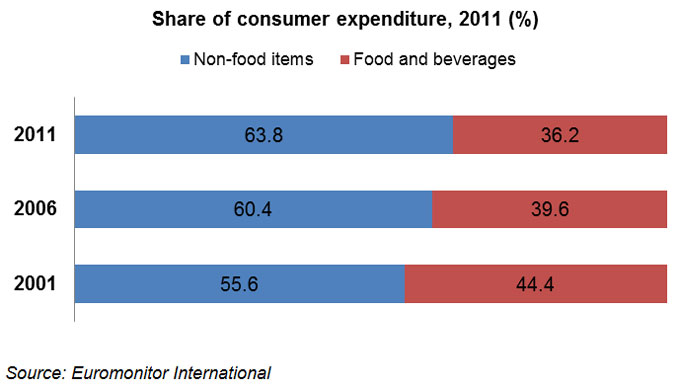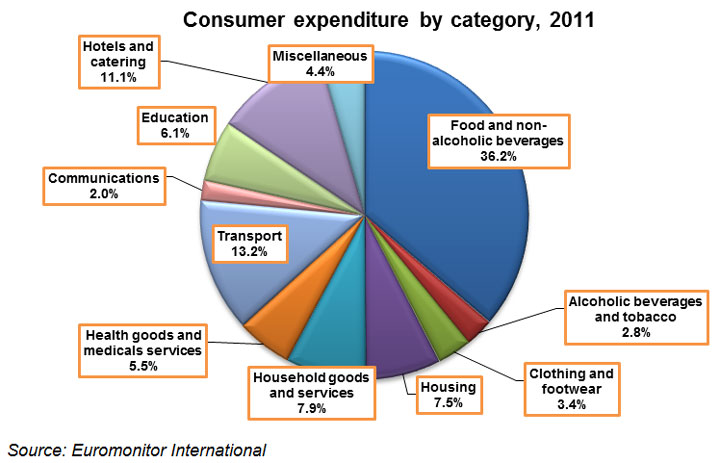 From shopping in department stores to grocery in supermarkets, consumers' preference has been shifting towards foreign brands, especially in favour of those from Japan, Korea, the US and Europe. Take supermarket grocery for example, though their prices can be generally 10 20% higher than Vietnamese or China-origin products, consumers are willing to pay a premium for reliable quality.

Vietnam's young population forms a market segment of great potential
Alongside the surge in middle-income consumers, young consumers are another growth engine of Vietnam, which has a median age of 30 years. More than 25 million of Vietnamese are aged 15-29, representing nearly 28% of total population. Young consumers in Vietnam spend heavily on mobile devices and accessories. In 2011, total smartphone sales in Vietnam grew by 48% from 2010 to reach US$720 million, almost four times the level of US$183 million in 2009, according to Euromonitor.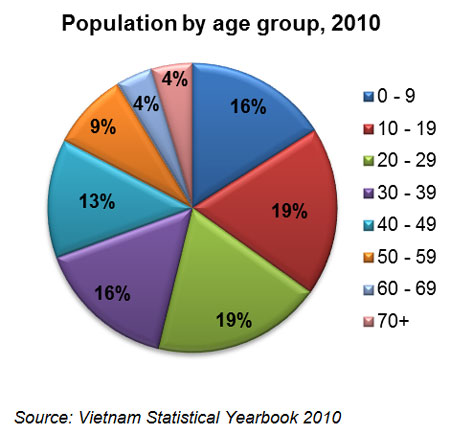 In view of the rising purchasing power and constantly evolving consumption patterns, many international brands have focussed their marketing activities on the segment of teenagers and young professionals in Vietnam. In view of the burgeoning young consumers, international brands are actively launching advertising campaigns and organising marketing events to catch the eyes of young consumers, such as sponsoring entertainment programmes.
Apart from newspaper and TV commercials, marketers are also putting more emphasis on online promotions at popular websites. For businesses engaged in lifestyle products, trendy gadgets and accessories, the market prospect of the Vietnamese youth segment is notably positive. Hong Kong companies eyeing Vietnam's retail market should take note of the specific marketing needs of targeting the youth segment.
A significant group of young workers and professionals in Vietnam offers business opportunities in many services sectors, including catering, healthcare and personal grooming, training and education. In 2011, more than one million people entered Vietnam's large labour force of 51.4 million, in which 8.5 million of them were 15-24 years old. To enhance their competitiveness in the labour market, the white-collar working class is actively taking further training and education courses, including second degrees, and international education and training is rising in popularity. Professional training courses, such as finance, marketing and foreign languages, are also welcomed by young professionals. In 2011, there were more than 1.53 million students in higher education, growing by 95% over the past five years.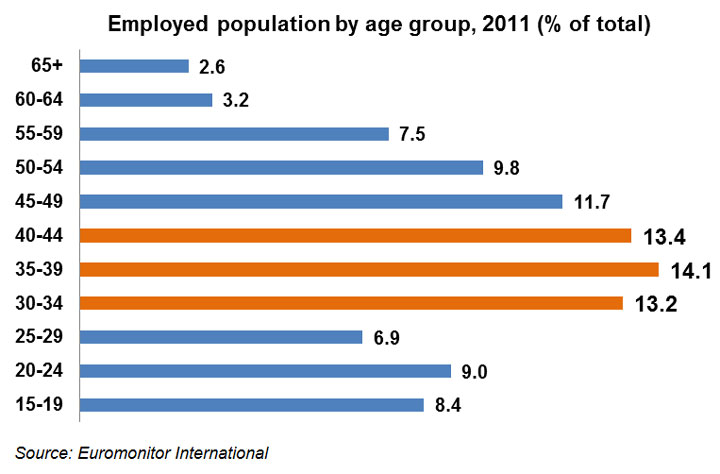 Demographic changes led by growth of nuclear families and working women
More than 8.4 million households in Vietnam comprise couples with children, accounting for more than 40% of the total, compared with the Asia-Pacific region's average of 9%. With the number of children per household falling to 1.2 in 2011, the size of an average Vietnamese household is coming down too. These demographic changes, along with higher female labour force participation, are visibly driving the trends in Vietnam's consumer market. For example, with parents increasingly conscious about their children's education and career prospects, the average household expenditure on education grew 46% in real terms from 2005-2010, and is expected to accelerate in years ahead.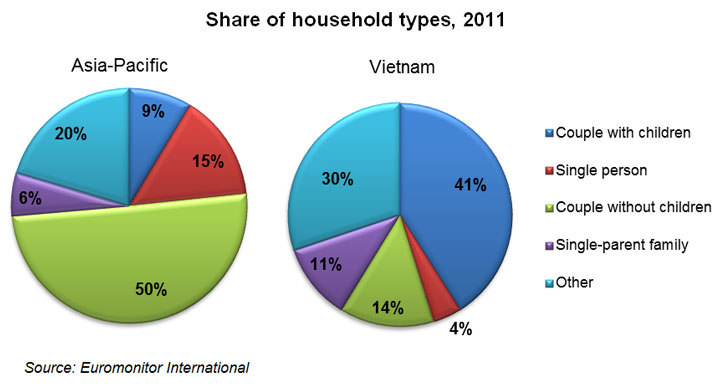 Vietnam's nuclear families are typically young, with a rising number of working couples and household incomes. These nuclear families also imply business opportunities for children- or family-based goods and services. For example, international retailers such as Baskin Robbins and Mochi Sweet are welcomed by teenagers, whose parents love to treat their children well. Dining out is also becoming popular among nuclear families. Foreign restaurant chains, including Pizza Hut, KFC, Lotteria and Jollibee, are present in prime locations and major shopping centres. During 2006-2011, restaurant receipts grew by a CAGR of 13%, with a 20% gain alone in 2011. In early 2013, Starbucks, through its franchise to Hong Kong-based Maxim's Group, opened its first Vietnam outlet in Ho Chi Minh City.
Further, Vietnam's nuclear families are also boosting demand for modern household products and electronics. From 2006-2011, ownership of home cinema and audio achieved respective CAGR of 10% and 6%. With strong marketing and promotions, international brands such as Sony, Samsung and LG are popular among Vietnamese families. There is also genuine demand for accessories and peripheral products, Hong Kong companies capable of supplying such items will find good business opportunities there.
With Vietnamese households shifting towards modern shopping behaviours, from traditional outlets to shopping malls and convenience stores, the country's retail market offers enormous potential for overseas companies, be they offering goods or services. From kids and teenagers, to young professionals and families, Vietnam's consumer market appears attractive for Hong Kong companies to diversify sales.
---
i There are 10 members in the Association of Southeast Asian Nations (ASEAN), namely: Indonesia, Malaysia, the Philippines, Singapore, Thailand, Vietnam, Myanmar, Cambodia, Laos and Brunei.
Baby Products
Electronics & Electrical Appliances
Food & Beverages
Gifts & Premiums
Toys & Games
Licensing
Viet Nam
Southeast Asia