https://origin.hkmb.hktdc.com/en/1X09SKXF
Urbanisation's irresistible force
"Urbanisation" has become a major target policy on the Chinese mainland – which should give far greater traction to consumer demand.
What started as a tentative process seven years ago has now been transformed into a major policy formulation, with underlying implications for China's economic growth.
Simply put, the incoming Chinese leadership has made urbanisation one of its "four new modernisations", and that's likely to have far greater impact on economic re-structuring by unlocking the so far elusive growth in consumer demand.
The years of gradual change may well have been worth the wait. Back in 2006, China's 11th Five-Year Plan set out efforts to do just that – expand consumer demand.
By 2010, urban consumption as a percentage of total consumption (which includes rural consumption) advanced from 72.6% in 2005 to 77.3% in 2010; it illustrated the domination of urban consumption even if the five-year performance was itself underwhelming.
The 12th Five-Year Plan continued the effort, combining expanding consumption and urbanisation, but again with limited effect.
Much now relies on the determination for change introduced by both the report of the Chinese Communist Party's 18th National Congress and the Central Economic Work Conference. Both serve as important channels shedding light on the new leadership's future economic policy direction.
The Party Congress report cites the modernising influences of industrialisation, information distribution, urbanisation and agricultural modernisation. Significantly, special emphasis is on the role of urbanisation in expanding domestic demand and upgrading consumer choices. Indeed, at the Central Economic Work Conference last December, urbanisation was cited as the largest potential force for increasing domestic demand and that steps would be taken to steadily advance urbanisation and enhance its quality.
As well, the National Plan for Promoting Healthy Urbanisation (2011-2020) has been reportedly formulated. Under this, over 20 city clusters will be built across the country.
It's expected that comprehensive support measures for urbanisation reform, covering land, household registration and social, healthcare and education services, will also be introduced successively in 2013.
All these aim to shift more surplus labour from rural areas to the cities, with the very purpose of promoting urbanisation and greater consumption.
Demand on stilts
Projections by consultancy McKinsey & Co reveal that by 2025, there'll be some 440 "emerging market" cities among the 600 major ones around the world, of which 242 will be on the Chinese mainland. Of those on the Mainland, 236 will be medium-sized cities.
Asset investment in infrastructural facilities and housing is indispensable for urban development.
Equally, demand for consumer products and services is closely related to modern city living, and include significant opportunity factors across a broad spectrum.
These include new household equipment, home electrical appliances, as well as retail, catering, transportation, entertainment, education and medical services.
In other words, urbanisation propels domestic demand both in the areas of asset investment in infrastructure as well as consumer demand.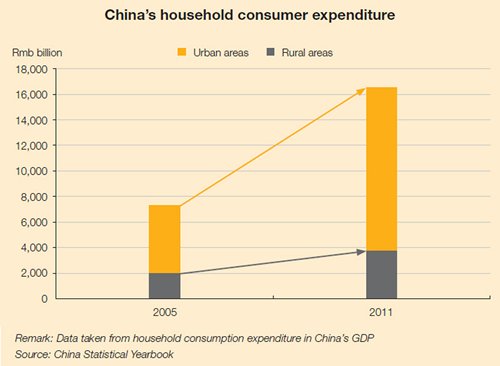 Stimulating incomes
Purchasing power is a major factor driving consumption, so it follows that incomes drive people's purchasing power. Significantly, the average incomes of Mainland rural people have accelerated markedly.
Nevertheless, income levels of urban residents are still much higher than for their rural counterparts and their higher incomes lead to larger consumer spending.
Preliminary statistics last year show that per capita consumption for urban dwellers was about three times that of rural residents.

The cluster effect
The effect of urbanisation is not confined to personal consumption but also consumption by different business entities, such as enterprises.
In fact, the city in its own right is a place where opportunities and wealth converge, so urbanisation promotes economic development. Higher population density brings about a concentration of resources, but also higher production efficiencies and a "cluster effect".
When a critical mass is reached, production, daily living, cultural and commercial activities take place, stimulating consumption and economic growth.
So, looking at the available data, China's total retail of consumer goods in urban areas last year accounted for Rmb17.9 trillion, or more than 80% of total sales.
Calculated in terms of differentiated urban and rural populations, per capita total retail sales in urban areas is therefore over five times that in rural areas, higher than the figure above, assuming the per capita consumption expenditure of urban residents is three times that of rural residents.
This is partly due to the fact that total retail sales of consumer goods reflect "business" as well as personal consumption. So urbanisation plays a star role in promoting both consumer and business activity.
System reform unleashes potential
In the past, during the course of urbanisation, more emphasis was placed on the proportion of urban population and the expansion of urban areas. But in the days to come, more importance will be attached to industrial structure, environmental protection and social security.
In 2012, China's urbanisation rate was 52.6%. But in terms of household registration, the urbanisation rate was only around 35%.
The gap in between is the "floating" city population, mainly migrant workers moving into urban districts from rural areas. Among this floating population, the majority (especially the younger generation) wants to truly integrate into the city. However, restrained by the household registration system, the range of medical, education and social security systems in the city is often off-limits to these migrants.
As a result, their consumer demand is suppressed. One important direction in raising the quality of urbanisation is to remove the restrictions imposed by these systems, so turning these migrants from "half-urbanised" to "fully urbanised" and unleashing their potential purchasing power.
Structural change
The per capita consumption expenditure of urban residents is three times that of rural residents, and one of the reasons for this phenomenon is the higher income of urban residents.
Other contributing factors include a change in the pace and mode of urban life, as well as the fact that urban mid-to-high income earners place more importance on status and enjoyment. They tend to go after consumer items other than basic necessities, such as consumer services related to entertainment, tourism and culture.
According to statistics, of the per capita consumption expenditure of urban residents across the country, spending on cultural and entertainment services in 2011 was 5.6 times that in 2000.
The share of dining out in urban residents' spending on foods rose from 14.7% in 2000 to 21.5% in 2011.
Analysis of the consumption expenditure of urban households of different income levels shows that the higher the income, the higher also is the share of their actual expenses on such consumer services.
So, it can be expected that as urbanisation advances further, the demand for consumer services will also expand at a greater pace. Consumer services have huge potential for development.

Impact on distribution, retail and investment
To enhance the quality of urbanisation, efforts have to be made to plan the size and layout of a city. The central government's development concept envisions steps to promote a rational division of labour among cities at different levels. These include large, medium and small cities as well as small townships, in order to achieve functional complementarity. In China's path to urbanisation, there'll be rapid growth of more medium and small cities. The investment will generate massive new market opportunities for developing domestic sales.
We can conclude that urbanisation won't concentrate on existing large and medium-sized cities, but on metropolitan links. The rapidly urbanising Yangtze River Delta (YRD) region is a classic example of how the urbanisation process is working on the Chinese mainland, taking cities from big to bigger.
In addition to Shanghai, which is undeniably an economically developed first-tier city at the centre of the region, there are also many fast-expanding cities in adjacent Jiangsu and Zhejiang provincial settings.
A well-developed transportation network, a so-called "YRD metropolis circle" covering 16 cities has indeed already been formed.
Where consumer market size or purchasing power is concerned, the gap between different cities in the YRD region is still wide, but the economy of each of these cities at different levels is still hugely vibrant.
In second- and third-tier cities such as Changzhou and Nantong, tremendous efforts have been devoted to commerce, construction of new department stores and shopping centres, and introduction to more and better branded products. In short, the retail landscape is being upgraded to the same level as a first-tier city.
China's regional economic policies include developing the western, central and northeastern regions. Action is being taken to construct nationwide transportation networks, develop regional industries, and expedite the building of major city clusters other than those in the coastal regions. It's a move to promote co-ordinated development of different regions, creating a chain of urban development.
Mainland China
Mainland China