https://origin.hkmb.hktdc.com/en/1X09SWOO
Implication of changes in the PRD investment environment
Production line
in a PRD factory
Rising production costs in the Pearl River Delta (PRD) region have brought about changes in its investment environment, making an impact on the production and sourcing activities in the region. As a matter of fact, these changes surfaced bit by bit as early as six or seven years ago. Many manufacturers in the PRD already began to adopt different strategies several years ago in order to counter the pressures exerted by the external environment and actively enhance competitiveness to increase profit margin.

Today, while some enterprises have relocated part of their production lines to lower-cost regions, the majority of manufacturers still choose to remain in the PRD to pursue further development by transforming and upgrading their existing operation. Some of them have even evolved from manufacturing to developing retail and branding business in a move to tap the mainland domestic market. However, a small number of enterprises which failed to adapt to the changing environment and lacked competitiveness have been forced to close down.
Despite such challenges as changing investment environment, production relocation and enterprise closure, industry in the PRD still continues to grow steadily, with overall enterprise profitability rebounding in recent years. For enterprises with better operation performance, apart from increasing their investment in R&D and innovation as well as developing high value-added business, they also make heavy investment in factory automation, enhance traditional production capacity and quality control, while restructuring their production and supply chains, optimising business operation, and enhancing efficiency and competitive edge at the same time.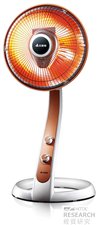 Small home appliance
produced in PRD
No more demographic dividend or land supply advantage
Since China embarked on reform and opening up, the PRD has always been one of the leading "production lines" of this "world factory" and is also the largest exporter in the mainland. In 2012, Guangdong's total exports reached US$574.1 billion, accounting for 28% of the national total1, with the vast majority of the province's exports coming from the PRD. In the past, the PRD, with such advantages as abundant local and out-of-province labour supply and low land cost, attracted investments from a considerable number of foreign enterprises and Hong Kong companies and became the leader in the production of many types of consumer products. The garments, toys, household appliances and various kinds of consumer electronics produced in the PRD command significant shares in the world market.
However, in recent years, labour shortage has become a pervasive problem in China's coastal regions. Meanwhile, rapid urbanisation and industrial development have also aggravated the already tight land supply, causing industrial land cost to rise. Today, labour shortage and rising production costs have become a norm in the development of the PRD and it can be expected that this situation can hardly be reversed in the short term. Take labour cost as an example: in Guangdong province, between 2001 and 2011, the average annual wage (including all remunerations and allowances) increased about two folds, at an average annual growth rate of 11.2%. Using the 12-month average calculation method, the average labour cost during this 10-year period rose from Rmb1,3072 to Rmb3,945 a month. Of which, the average wage in the manufacturing industry has been growing at a double-digit rate in the last few years.
Average monthly wage of workers in the manufacturing industry #
2010
2011
Rmb/month
Annual growth
Rmb/month
Annual growth
Guangdong
2,566
+14.1%
2,958
+15.3%
Shenzhen
3,052
+9.4%
3,401
+11.4%
Dongguan*
2,535
+19.8%
2,774
+9.4%

Remarks:
# Calculated by dividing the annual wage (all remunerations and allowances) of workers of urban entities by 12, the figure is not necessarily equivalent to the actual monthly wage of the worker
* Figures of all industries
Source: Guangdong Statistical Yearbook; Shenzhen Statistical Yearbook; Dongguan Statistical Yearbook

Difference in changes in ex-factory price and sourcing cost
Most of the exports of the PRD take the form of processing trade. Enterprises engaging in OEM business in the region are located at the bottom of the production "smiling curve" with the lowest value-added, which means they can only earn a meagre profit or processing fee. In recent years, enterprises in the PRD have been actively seeking transformation and upgrade as well as developing high value-added business in the hope of moving away from low-profit and low value-added processing. The share of processing trade in Guangdong's total import-export trade has consistently dropped from the high level of 71% in 2000 to 54% in 2012. However, compared with the 35% share of processing trade in the country's total import-export trade3, the PRD on the whole still relies heavily on low value-added processing activities.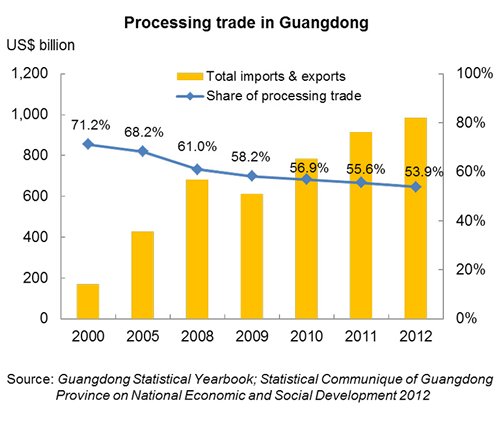 Rising cost of production materials and appreciation of the Renminbi have further eroded the low-cost advantage of the PRD. Worse still, market competition is intensifying and the global market is hard hit by the financial tsunami in the last two years. As a result, the business of some manufacturers who did not receive enough orders and failed to transfer the rising costs to downstream clients and consumers comes under great pressure.
Between 2004 and 2011, the cumulative growth of the ex-factory price index in Guangdong's industry as a whole amounted to 10.1%. However, the cumulative growth of the material purchase price index during the same period reached as high as 30.9%. The main driving forces pushing up material purchase prices were due mainly to the rising costs of energy and materials required for production, including fuel, nonferrous metals, and agricultural by-productswhose price indices rose 55.8%, 71.1% and 60.5% respectively during the said period.
In the communication, computer and electronic equipment sector where large numbers of Hong Kong companies are engaged in, fast technological advancement and continuous launch of new products have shortened product cycles. As a result, the ex-factory price index of the products concerned registered a cumulative drop of 16.3% between 2004 and 2011. But the material purchase price index during the same period recorded a cumulative growth of 7.4%. As for the garment, footwear and headgear manufacturing sector where Hong Kong companies excel in, although ex-factory price only edged up 1.8% during the period4, materialprice index rose 19.1% during the same period. The rise in ex-factory price could hardly offset the rise in cost. This had a direct impact on the profit margin and business operation of manufacturers in the PRD. In order to ease the pressure of rising cost or raise profit margin, manufacturers have to resort to enhancing productivity and controlling cost, or shift to producing products of higher value-added by capitalising on R&D and design capability.
Changes in Guangdong manufacturers' material purchase price and ex-factory price indices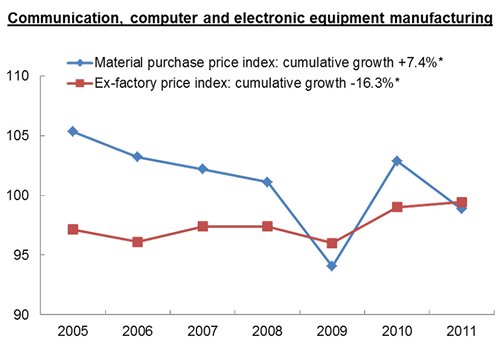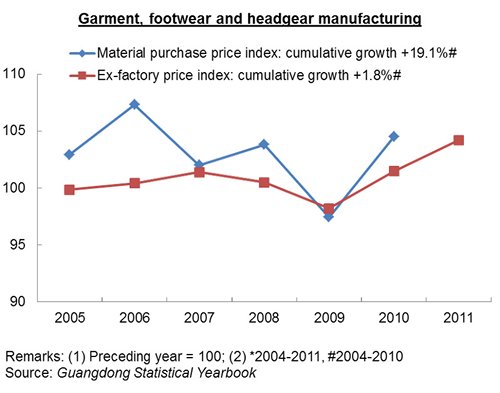 Transforming to high value-added business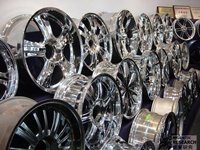 Autoparts produced
in a PRD plant
In the face of changing investment environment, in the past few years some enterprises have gradually shifted part of their production business to neighbouring inland regions or even some Asian countries where costs are lower in a bid to fill the gap of labour shortage in the PRD and tackle the problem of rising costs. There are reports that some enterprises with low competitiveness had to halt operation due to cost pressure. Many industry players also indicated that while foreign buyers continue to purchase all kinds of consumer goods and industrial products from the PRD, the onset of the financial tsunami has dampened the confidence of some buyers in small enterprises. These buyers are worried that small enterprises may not be able to meet the requirements of their orders due to insufficient funds or failure to withstand the pressure of rising costs. In order to make sure that the products can be shipped on time, these buyers divert part of their orders to enterprises of a larger scale. This development has somewhat threatened the survival of small enterprises.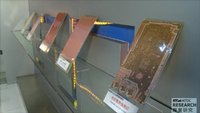 Circuit boards produced
in a PRD factory
Nevertheless, the PRD's industry as a whole has not declined because of changes in the investment environment or the relocation or closure of enterprises, but has instead maintained considerable growth in recent years. Guangdong's industrial value-added rose 8.4% in 2012, representing only a slower pace in growth when compared to the 12.6% increase registered in 2011. The main reason is that the majority of manufacturers in the PRD (including Hong Kong companies with factories in the region) still opt to remain in the region to pursue development while actively seeking transformation and upgrade as well as developing high value-added business and enhancing competitiveness. Among such enterprises, quite a large number of them started to inject more and more resources into R&D and product design and to actively switch to products or producer services with higher value-added, in a bid to move away from relying on the production of various kinds of labour-intensive and low value-added products.



According to the latest figures, Guangdong's R&D expenditure in 2012 grew 15% over the preceding year, with its share in the province's GDP steadily rising from 1.1% in 2000 to 2.1% last year5. This shows that the input of enterprises in the region in R&D is trending up, driving the overall industry to move towards high value-added and high technology. Currently, high-tech manufacturing accounts for over one-fifth of Guangdong's industry. The share of the automobile manufacturing industry, which is relatively capital-intensive, has also risen to over 5% from a negligible level more than 10 years ago.

From processing trade to technology
Founded in the early 1980s, Shengyi Technology Co Ltd of Guangdong (Shengyi Technology) specialises in the processing of single and double-sided copper clad laminates (CCLs) with paper pulp and fibreglass. The company's production technologies and formulas were directly imported from overseas in the initial phase. Profits were minimal despite the continual expansion of its business. The company management then realised that the sole operation of processing with supplied materials had no prospect. Subsequently, Shengyi Technology began investing in technology research and development, quality control as well as resources management system. With years of hard work, Shengyi has obtained more than 200 patents from within China and overseas and runs a state-class research and development centre in Dongguan. Its principal products include CCLs made with flame-retardant glass epoxy, CCLs made with composite epoxy materials, and prepregs for multilayer boards. These products are mainly used by downstream manufacturers for making single-sided, double-sided and multilayer PCBs essential for the production of advanced electronic products. Today, Shengyi's products are well recognised by multinational enterprises such as Siemens, Motorola, Sony, Nokia, Samsung and Huawei. In addition to selling domestically on the mainland, its products are exported to different countries and regions of the world including the US, EU, Malaysia and Singapore. [More…]

Steady growth of high-tech industry
Tianyu Semiconductor Technology Co Ltd was set up at the Songshan Lake New and High-Tech Zone in Dongguan in 2009. It belongs to the first batch of new and high-tech enterprises on the mainland specialising in the R&D and production of third generation semiconductor silicon carbide epitaxial wafers. Its R&D team, supported by the Semiconductor Research Institute of the Chinese Academy of Sciences, is devoted to the production of wide bandgap third generation semiconductor epitaxial materials and devices using silicon carbide (SiC). Such materials and devices can be extensively used in producing various kinds of high-frequency and high-output electronic devices, including electronic parts in automobile, communication and power transmission/transformation equipment. According to the person in charge of this project in Tianyu, although the investment environment in the PRD keeps changing as a result of rising land and production costs, the development of high value-added high-tech business is not affected by these changes because its success mainly relies on technology and talent. At present, Tianyu is equipped with a complete set of world-class production and SiC-CVD inspection equipment. The company, which began to produce products and provide services for clients in the second half of 2012, has joined the ranks of a handful of manufacturers in the world capable of producing silicon carbide epitaxial wafers. It mainly promotes and sells to clients in such countries as the US and Japan.
Taking a closer look at various industries, it is not difficult to find that the performance of high-tech or capital-intensive industries is more outstanding. For instance, the communication and electronic equipment manufacturing industry, which accounts for over 70% of the province's high-tech industry, benefited from the booming electronics market in recent years and its share in all industries rose from 17.9% to almost 20% during the period from 2007 to 2011. Besides, in certain seemingly labour-intensive industries, such as garment/footwear/headgear manufacturing and furniture manufacturing, their share also increased slightly. However, in industries where competition is intense, such as electrical machinery manufacturing including household appliances manufacturing, or paper products manufacturing and cultural, educational and sporting goods manufacturing with lower technology content, their share dropped. But it is worth noting that the value-added of these industries continued to rise in absolute terms between 2007 and 2011.
Change in value-added in various industries in Guangdong
Share in value-added of all industries
Change in value- added,
2007-2011
2007
2011
Manufacture of communication equipment, computers and other electronic equipment
17.9%
19.4%
↑
+66.7%
Manufacture of electrical machinery and equipment
10.8%
9.4%
↓
+33.6%
Manufacture of transport equipment
5.8%
6.7%
↑
+77.0%
Manufacture of raw chemical materials and chemical products
5.9%
6.2%
↑
+60.2%
Manufacture of textile garments, footwear and headgear
2.9%
3.1%
↑
+63.9%
Textile industry
2.8%
3.0%
↑
+64.5%
Petroleum refining, coking and nuclear fuel processing
2.0%
2.9%
↑
+127.2%
Leather, fur, feather (down) and related products
2.0%
2.2%
↑
+67.1%
Papermaking and paper products
1.8%
1.5%
↓
+32.5%
Manufacture of cultural, educational and sporting goods
1.5%
1.3%
↓
+36.9%
Manufacture of furniture
1.1%
1.3%
↑
+76.3%
Printing and record medium reproduction
1.1%
1.1%
↓
+49.4%
Remarks: Figures of industries above a designated scale
Source: Guangdong Statistical Yearbook

Routes to domestic sales
The footwear industry is traditionally one of Dongguan's pillar export sectors. In recent years, however, as export markets slowed down and as labour and production costs in the Pearl River Delta area went up, export-oriented manufacturers have been under tremendous pressure. As a way to deal with small-scale operations that do not have the resources to build domestic sales networks or brand development, the first factory shop initiated by the Dongguan Leather & Footwear Association opened at the end of 2012. This factory shop brings together a number of brands and offers at ex-factory prices leather and footwear products from different Dongguan manufacturers such as men's, ladies' and children's shoes, coats, briefcases and handbags. Mr Wang Shengpei, president of the Association, said that most exporting manufacturers engaging in OEM are capable of producing high quality products. A factory shop can help manufacturers sell the quality products they produce with their surplus capacity while still continuing their export business. On the one hand, it will provide a retail sales channel and logistic support to the manufacturers, helping them overcome various challenges in their transition from export to domestic sales by familiarising themselves with the small batch production mode and brand-building campaigns of retail operations. [More…]
Increasing capital input
PRD enterprises attach great importance to enhancing production competitiveness. More and more enterprises are willing to invest in automated production lines and purchase more advanced and sophisticated production equipment. In addition to facing the problem of labour shortage, PRD enterprises are also under the pressure of keen market competition. In view of the increasing complexity of the requirements of clients for various kinds of consumer goods and industrial products, many enterprises have increased their investment in different types of production equipment in an effort to churn out products with better design and higher quality to compete in the market, and to cope with the fast changing market. As the market is becoming more and more demanding, enterprises must also strengthen quality control and keep abreast of modern services such as materials management system and high-efficiency logistics distribution in order to raise production and sale efficiency, as well as lower operating cost.
Upgrade and transformation: long-term objective
The small appliance industry is a competitive industry with a small profit margin. Recruitment difficulty and rising wage levels and other factors have further nibbled away at the profitability of this business. However, Airmate Electrical (Shenzhen) Co Ltd, which specialises in small appliance design and production, gradually switched to automated production and total quality management more than 10 years ago in the face of problems such as recruitment difficulty and rising wage levels. Besides, Airmate decided to focus on the mainland market in the 1990s and registered the Airmate trademark on the mainland to market home appliances designed and produced by the company. Airmate said that upgrade and transformation is a long-term objective that cannot be accomplished overnight. The threshold is bound to go higher as competition intensifies. For this reason, manufacturers must adopt long-term investment tactics and take actions and measures to increase their competitiveness as quickly as possible. [More…]

Advantage of automated production
Garment production often gives people the impression of being a "low value-added and labour-intensive" operation. However, Dongguan Wing Ka Shing Knitwear Co Ltd mainly exports medium to high grade woollen knitwear. The production processes of their woollen apparel, compared with other garment products, demand more advanced production technique, more sophisticated quality management and production workflow in order to satisfy the various requirements of overseas clients. Wing Ka Shing already started to make heavy investments 10 years ago in enhancing its ability in production engineering and introducing fully automated production. Today, Wing Ka Shing can easily change the settings of its production lines and manufacture products of different styles and designs according to the different requirements of its clients. This practice, in addition to increasing production efficiency and enhancing quality control, also helps lower overall production and operating costs. The company's experience proved that manufacturers pursuing transformation and upgrade at the technological level can increase their overall competitiveness by enhancing production technology and strengthening automation in addition to undertaking technological research and development (R&D) and raising product design capability. [More…]
In the last 10 years, PRD enterprises' ratio of asset input to gross output rose almost one fold from 8.7 in 2001 to 15.0 in 2011. During the same period, labour productivity calculated in terms of industrial value-added jumped 1.2 times. This strategy of investing in production equipment to increase productivity and pursue transformation and upgrade is not only found in high-tech industries, but also in some traditionally more labour-intensive industries, such as garment and furniture. This development trend already started quite a long time ago.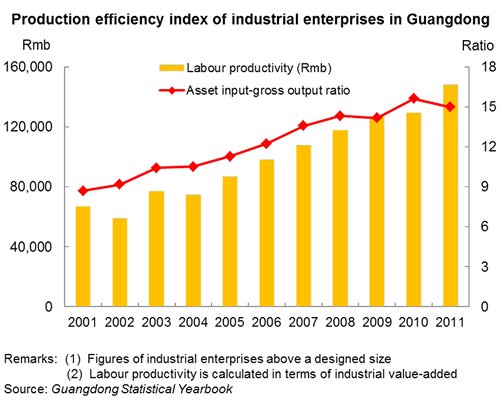 While production cost in the PRD goes up, it is difficult for enterprises to transfer all the rising cost to their clients. Hence, their operating pressure has been increasing. However, enterprises which have successfully undergone transformation and upgrade can raise the value-added of their products and lower overall costs through enhancing their technological and production capability. Although many enterprises still rely on low profit-making processing or low-tech business, the overall profit margin of industrial enterprises in the region managed to stay on a steadily rising track in the past few years. The percentage of their pre-tax profit in core business income was estimated to reach an average of 10.3% in 2011; and their profit margin after deducting tax was about 6.3%. The after-tax profit margin of Hong Kong-, Macau- and Taiwan-invested enterprises in the PRD was higher, reaching 7.2%, on a par with the national average level of 7.3%.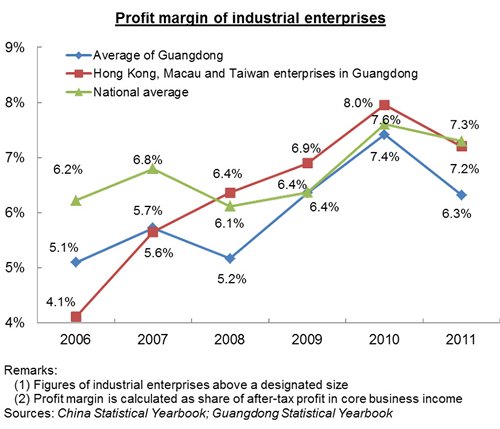 Revamping production and supply chain management
In recent years, quite a number of manufacturers have gradually shifted part of their production lines to regions with lower cost and more abundant labour supply. Meanwhile, some of these manufacturers, especially those of a larger scale, took the opportunity to revamp their production activities, retaining their production capacity in the PRD on the one hand and establishing footholds in other regions on the other. For instance, they would build satellite factories comparable to those in the PRD in regions in Guangdong other than the PRD and in neighbouring provinces such as Jiangxi, taking advantage of the local labour force and land supply to expand their production capacity. These enterprises do not only include those in labour-intensive industries but also those in industries with higher technology content, such as electronic terminal products and related parts and components.
Banking on urbanisation to expand
Shenzhen Skyee Optical Fiber Communication Technology Ltd, recognised as a "national-level new and high-tech enterprise", is engaged in the R&D, manufacturing, sale and servicing of optical fibre communication equipment. Although the wage level and operating cost in Guangdong continue to climb, Skyee still opts to retain Shenzhen as its management, sale and R&D base, taking into consideration the fact that technical personnel and supporting services and facilities are more concentrated in Shenzhen, where it is easier to obtain technical services and support when needed, and more convenient to maintain client contact. However, the company has relocated its production activities to Ji'an city in Jiangxi province where costs are lower, while its Shenzhen headquarters is responsible for providing support in sourcing, logistics and technology. [More …]
According to a questionnaire survey conducted by the Hong Kong Trade Development Council (HKTDC) in the first quarter of 2013, 11.8% of the Hong Kong manufacturers engaging in production activities foresee that they would set up new factories in the coming three years (2013-15). Among these manufacturers, most of them still choose the PRD (36.2%) and other regions in Guangdong (19.8%), while some opt to set up new factories in other mainland provinces and other Asian countries. Besides, manufacturers engaging in production activities did comment on the scale of their existing factories. Among these, the majority indicated they would expand or retain the scale of their factories in the PRD, though some would consider scaling back or closing down their PRD factories6.
As the logistics and distribution network in the mainland becomes increasingly mature, it is now much easier for enterprises to source different kinds of parts and components in various coastal regions in a move to enhance the overall cost effectiveness of parts and components sourcing. Meanwhile, as production activities in inland regions continue to expand, these regions have gradually developed into suppliers of many industrial and production materials. In fact, many PRD enterprises began to restructure their supply chain in recent years, actively increasing sourcing activities in the mainland. In addition to increasing sourcing in the PRD and Guangdong province, they also started to search for the right parts and components from neighbouring provinces and other provinces, using domestically-made materials in place of the more expensive imported goods in the hope of lowering cost.
According to the same HKTDC questionnaire survey mentioned above, of the products exported by Hong Kong companies to foreign markets in 2012, in terms of value, about 86.2% were originated from the Chinese mainland, with the PRD and other regions in Guangdong being the main place of production7. The proportion of mainland-sourced production materials (non imports) used in these products climbed from 70.3% in 2009 to 75.3% in 2012, and is projected to rise to 77.7% by 2015. In addition to the PRD and other regions in Guangdong which supplied the production materials sourced by these Hong Kong companies on the mainland in 2012, other suppliers included inland provinces neighbouring Guangdong (namely Jiangxi, Hunan, Guangxi), the Yangtze River Delta, and Bohai Rim.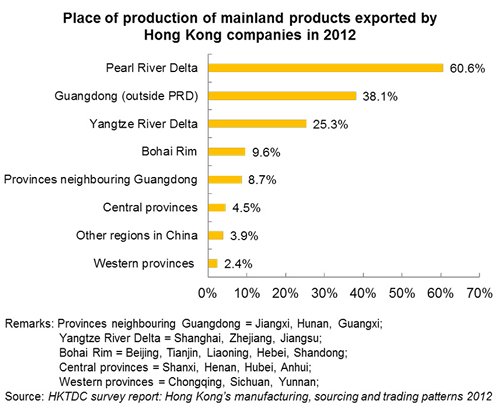 Major places of materials sourcing of Hong Kong companies producing on the mainland
Place of materials sourcing
Place of production
Pearl River Delta
Other regions in Guangdong
Provinces neighbouring Guangdong
Yangtze River Delta
Bohai Rim
Pearl River Delta
89.6%
47.2%
62.1%
59.6%
56.7%
Guangdong (outside PRD)
40.1%
85.6%
65.8%
50.8%
48.8%
Provinces neighbouring Guangdong
11.7%
16.7%
62.1%
15.1%
24.9%
Yangtze River Delta
40.4%
40.6%
55.8%
87.9%
62.7%
Bohai Rim
10.4%
12.6%
26.3%
22.3%
70.1%
Central provinces
5.2%
6.5%
16.8%
9.5%
19.9%
Western provinces
3.6%
3.9%
10.0%
5.9%
11.9%
Other regions in China
1.7%
3.1%
5.8%
3.1%
3.5%
Remarks: Provinces neighbouring Guangdong = Jiangxi, Hunan, Guangxi;
Yangtze River Delta = Shanghai, Zhejiang, Jiangsu;
Bohai Rim = Beijing, Tianjin, Liaoning, Hebei, Shandong;
Central provinces = Shanxi, Henan, Hubei, Anhui;
Western provinces = Chongqing, Sichuan, Yunnan;
Source: HKTDC survey report: Hong Kong's manufacturing, sourcing and trading patterns 2012
Based on the above survey findings, it can be summarised that where the products manufactured or sourced by Hong Kong companies in the PRD are concerned, the supply chain of their production and materials sourcing activities has undergone changes. Of which, the greatest characteristic is that the PRD remains the major production base and origin of their products as well as one of the prime choices for future production capacity expansion. However, this development must be supported by the productivity of neighbouring provinces, which helps to remedy the PRD's disadvantages in labour shortage and rising costs. Also, while manufacturers still use their place of production as the major place of sourcing, overall sourcing activities have gradually diversified to other provinces, connecting upstream manufacturers in various locations with the PRD supply chain. Today, supply chain management is led by cost effectiveness and is no longer restricted to a certain region as it was in the past due to poor transportation and logistics support.
Points to note for Hong Kong companies
Based on the above analysis and the counter measures adopted by some enterprises, a number of key points can be summarised below for the reference of Hong Kong companies so that they can cope with changes in the investment environment of the PRD.
Many PRD manufacturers already started years ago to identify different counter measures to enhance their competitiveness. While the profit margin of those enterprises which successfully underwent transformation and upgrade has increased, other enterprises which failed to raise their competitiveness had to face the possibility of elimination by the market. Hence, Hong Kong companies should formulate relevant strategies as soon as possible and capture opportunities to seek the right way out for the company.

In addition to transforming from manufacturing to developing retail and branding business, many manufacturers seek further development by enhancing the strength of their existing operation, increasing R&D and innovation capability, and developing products of higher value-added and higher technology content. By so doing, apart from retaining their existing production operation and ensuring the sustainable development of their business by technological strength, manufacturers can also reduce investment risks brought about by engaging in business operation they are not familiar with.

Manufacturers can raise productivity by increasing capital input, such as installing automated production lines and investing in more advanced and sophisticated production equipment. At the same time, they can make use of modern materials management system in a bid to enhance production and sales efficiency, resolving the problem of difficulty in recruiting workers and lowering operating cost.

Relocating production lines to regions with lower costs is also one option for enterprises. Hong Kong companies can even take a step further by revamping their overall production strategy. In addition to retaining their production capacity in the PRD, they can also review their supply chain management system and make use of the increasingly convenient logistics and distribution services to source cost-effective production materials across the country instead of restricting themselves to undertake production and sourcing in the same region.
---
1 Source: Statistical Communiqué of the PRC on National Economic and Social Development 2012; Statistical Communiqué of Guangdong Province on National Economic and Social Development 2012
2 Unless otherwise specified, all the currency used in this report is Rmb.
3 Source: Guangdong Statistical Yearbook; Statistical Communiqué of Guangdong Province on National Economic and Social Development 2012; Statistical Communiqué of National Economic and Social Development 2012
4 2004-2010
5 Source: Statistical Communiqué of Guangdong Province on National Economic and Social Development 2012; Guangdong Statistical Yearbook
6 For details, please see HKTDC survey report: Hong Kong's manufacturing, sourcing and trading patterns 2012.
7 Including products manufactured by themselves or subcontracted to other manufacturers for production.
Mainland China
Mainland China