https://origin.hkmb.hktdc.com/en/1X09TILX
Automotive supply chains make tracks in the PRD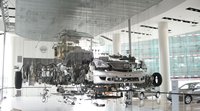 Model showing the assembly of
parts at Dongfeng Nissan
Following the rapid development of the automotive industry in the Pearl River Delta (PRD) in recent years, the region has become one of the largest automobile production bases in China. With vehicle manufacturers in the region proactively seeking to expand their production capacity, demand for auto parts is brisk. Currently, auto parts output in the PRD still falls short of demand. This, coupled with the just-in-time operation mode in the automotive industry, has prompted enterprises in the supply chain to cooperate with manufacturers in neighbouring regions. Such cooperation provides opportunities for new suppliers with production facilities in the PRD and companies in different sectors related to auto parts production to enter the local supply chain.
As Hong Kong is in close proximity to the PRD, Hong Kong companies can capitalise on this geographic advantage to enter the auto parts supply chain in the region. However, the automotive industry supply system has all along been a relatively closed one. Its requirements in regard to the track record, technical standard and quality level of new suppliers are stringent, and the market access threshold is also rather high. Hong Kong companies wishing to make a foray into the PRD market should first gain a good understanding of the characteristics of the development of the local automotive industry and map out a thorough investment and business plan in order to explore the business opportunities effectively.
Increasing automobile production stimulates auto parts demand
The automotive industry in the PRD has been developing in leaps and bounds in the last 10 years. In 2000, the output value of the automotive industry in Guangdong province only amounted to Rmb22.5 billion, accounting for a mere 6% of the national total of the industry. However, driven by expansion in production capacity of vehicle manufacturers, automobile production in the province has grown rapidly. In 2010, the output value of Guangdong's automotive industry reached Rmb301.3 billion, accounting for 10% of the national total of the industry, ranking fourth in the country after Shanghai, Jilin province and Shandong province. In terms of vehicle production, Guangdong's output value ranks second in the country, trailing only Jilin[1]. Large-scale vehicle production has triggered a strong demand for auto parts in the PRD and has also propelled the development of the related supply chain in the region, generating opportunities for auto parts suppliers.

Currently, vehicle manufacturers, tier-1 and tier-2 suppliers to automotive manufacturers, as well as auto parts manufacturers and supporting enterprises in Guangdong province have formed a huge industry cluster in the PRD and its neighbouring region. But it is worth noting that automotive industry is only an emerging industry in Guangdong. Compared with other traditional automotive industry bases on the mainland, e.g. the northeastern industrial base in Jilin province/Changchun and the Shanghai-led Yangtze River Delta (YRD) industrial base, the industry cluster in Guangdong is of a shorter development history. The production facilities invested by enterprises (including domestic and foreign-invested enterprises) in the PRD supply chain are relatively "younger". But for the same reason, the attitude of these industry players towards new suppliers is more open. Also, since currently the overall auto parts production capacity in the PRD is insufficient, the local vehicle manufacturers and tier-1 and tier-2 suppliers are more willing to cooperate with enterprises with production facilities in the region. This provides more opportunities for new suppliers to enter the PRD supply chain.
Auto parts and components
As a matter of fact, in Guangdong the share of auto parts production in the whole automotive industry is rather low when compared with other regions in China. In 2010, the output value of auto parts in China accounted for 25% of the automotive industry total. In Shanghai (the largest auto industry base in the country) where there are a large number of auto parts manufacturers, the share of auto parts production in the municipality's automotive industry is as high as 39%, with local suppliers providing sufficient support to vehicle manufacturers and engine factories. On the contrary, in Guangdong, auto parts production only accounts for a mere 9% of its automotive industry.
As such, vehicle manufacturers and engine manufacturers in Guangdong are more reliant on parts produced outside the province. Notably, they still purchase parts manufactured in Guangdong/other provinces or imported from abroad from enterprises in their own supply chain. But they are demanding their suppliers to strengthen investment in local production capacity, and to actively seek cooperation with local tier-3 and tier-4 suppliers in the PRD. By so doing, they hope that the production capacity of auto parts in the PRD will increase to support their growing vehicle production activities.
Industry chain dominated by sedan production
Guangdong mainly produces
sedan
One of the key factors driving the fast growth of the automotive industry in Guangdong province in recent years is that vehicles production, which accounts for some 75% of the province's automotive industry, has continued to expand. According to statistics, automotive output in Guangdong registered a strong growth of 22% to reach 1.56 million vehicles in 2010. Although the 2011 earthquake in Japan made an impact on the supply of certain key parts, automotive output for the year still grew by 7% to 1.67 million vehicles, accounting for about 9% of the national total output[2]. Moreover, about 85% of the output are sedans, including SUV and MPV models. As such, Guangdong's demand for auto parts and various automotive equipment is mainly to satisfy the sedan production.

Suppliers wishing to make an entry into the PRD market should note that currently the automotive supply chain in Guangdong is mainly led by three Japanese joint-venture vehicle enterprises, namely (1) Dongfeng Nissan, (2) GAC-Honda, and (3) GAC-Toyota. The majority of core auto parts enterprises in the region are also Japanese-invested or other foreign-invested enterprises[3]. These three leading enterprises together produce about 80% of all vehicles in Guangdong, which are mainly medium- to high-end sedans.
For instance, sales of Dongfeng Nissan's Teana, GAC-Honda's Accord, and GAC-Toyota's Camry series have been ranking top in the sales league of medium- to high-end sedans in China in recent years. These vehicle enterprises impose stringent requirements on auto parts suppliers. In the production of their car models transferred from Japan to their Guangdong plants, the requirements on auto parts supply in terms of technical standard, specifications and quality are mainly set by the Japanese party, which primarily relies on suppliers in the Japanese supply chain. Hence, it is relatively difficult for auto parts enterprises outside the Japanese system (including local enterprises in Guangdong) to enter the supply chain of Japanese vehicle production.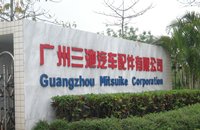 A Japanese supplier in the PRD
Meanwhile, GAC Group (Guangzhou Automobile Group Co Ltd), the Chinese partner in GAC-Honda and GAC-Toyota, is the leader in the automotive industry in Guangdong. In addition to investing in these two joint-venture companies, GAC Group has established joint ventures with other foreign enterprises producing engines and auto parts. It also manufactures sedans under its own brand, including its recently launched medium-range model Trumpchi. Moreover, BYD Group also produces automobiles, vehicle toolings and engine parts in its factories in Shenzhen.

These mainland vehicle manufacturers have set up their own supply systems. Compared with their counterparts in the Japanese supply chain, mainland enterprises generally appear more ready to let new suppliers enter their supply systems. Needless to say, new suppliers must first establish business relations with the enterprises concerned and pass various technical and quality screenings before they are allowed into their supply chains.
It is worth noting that PRD enterprises are seldom involved in the production of general passenger vehicles or other types of vehicle such as special purpose vehicles, general cargo trucks and heavy-duty trucks. They are also seldom involved in the production of medium- to low-end sedans or other passenger cars where competition is intense. All in all, new suppliers and Hong Kong companies wishing to enter the PRD auto parts market should consider breaking into the supply chain of medium- to high-end sedans and meeting the demand of local automotive production in the PRD.
Boom in Japanese and European capacity
People generally have the impression that Japanese automotive supply chain is less open than European automotive manufacturers and is comparatively less receptive to new auto parts suppliers. However, this situation in the PRD may change. One of the main reasons is that the automotive manufacturers in the region are now expediting their pace of production capacity expansion in the hope that in the next few years they can fully enhance their capacity of producing passenger cars, especially sedans, in a bid to support their strategy of expanding sales in the mainland market. The continual rise in demand by the whole industry for parts has prompted vehicle manufacturers (including Japanese enterprises) and related tier-1 and tier-2 suppliers to adopt a more open attitude towards new auto parts enterprises.
It is estimated that total investment in the expansion projects made by the three leading Japanese joint-venture manufacturers in Guangdong amounts to over Rmb10 billion. These projects are expected to be completed and commissioned in the coming few years. By 2015, the total production capacity of these three industry leaders will be raised to 2.12 million vehicles per year, with the overall production capacity estimated to grow by about 45%[4] over the current level. This development is bound to propel Guangdong's automotive industry to grow further, directly stimulating the province's demand for various kinds of auto parts to expand further.
Production capacity of Guangdong's three leading automotive manufacturers
Factory location
Current production capacity
Production capacity to add
Total
Dongfeng Nissan
Huadu
600,000 cars/year
200,000 cars/year
800,000 cars/year
(by 2015)
GAC-Honda
Zengcheng
480,000 cars/year
240,000 cars/year
720,000 cars/year
(by 2014)
GAC-Toyota
Nansha
380,000 cars/year
220,000 cars/year
600,000 cars/year
(by 2015)
Source: Guangdong Development and Reform Commission
Apart from increasing the production capacity of existing car models, the three industry leaders also hope to introduce new car models in a move to provide more choices for consumers in the mainland automotive market. Dongfeng Nissan told a HKTDC economist that the company is currently planning to introduce more new models from Japan for production in its factory in Huadu, Guangzhou. The company's future focus will be placed on developing energy-saving green cars as well as new energy cars including pure electric cars.
As mentioned above, currently auto parts production in Guangdong remains at a low level. Apart from satisfying the demand of vehicle manufacturers in quantity to meet their increased production, suppliers may also need to make new investment in production equipment, machinery, moulds and R&D in the future in order to produce new parts to cater for the production of new vehicle models by vehicle manufacturers. In fact, the three industry leaders have already started to negotiate with their suppliers, asking them to increase investment and expand production capacity in the PRD.
Meanwhile, GAC Group indicated that the company plans to gradually strengthen the R&D and production capacity of car models under its own brand. Special attention will be placed on developing new energy cars and new car models will be launched in the coming years. On the other hand, FAW-Volkswagen, one of the largest automotive groups in China, also selected Foshan in Guangdong a few years ago as the location for building its fourth plant on the mainland. Reportedly, the total investment of this Sino-German joint-venture enterprise in Foshan reached Rmb13.3 billion. According to plan, the first phase of this new plant will be completed and commissioned in the second half of 2013, with production capacity projected at 300,000 vehicles per year. The plant has a planned capacity of 600,000 vehicles.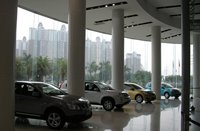 Different car models produced
by Japanese car maker
As various large vehicle manufacturers expand their production capacity one after another, the supply chain in the PRD has now begun to come under the pressure of "supply shortage" in parts. Right now, vehicle manufacturers and tier-1 and tier-2 suppliers can still continue to rely on parts produced in other provinces or imported from abroad to supplement the low production level in the PRD. However, in the long run, such reliance does not only bring about all kinds of problems in terms of logistics, transportation and production cost, but it will also greatly impact on the just-in-time operation mode in the whole supply chain, directly undermining the competitiveness of these enterprises.

Moreover, in the past Japanese automotive manufacturers tended to rely heavily on parts supplied by Japanese suppliers with purchasing price hovering on the high side. As competition in the mainland market becomes increasingly keen, coupled with the high exchange rate of the Japanese yen, cost pressure is on the rise. In view of this, Honda China indicated at the group's automotive business medium-term strategy press meeting held recently that action may be taken to increase the share of local parts sourcing in China as a means to solve this problem[5].
Where auto parts supply is concerned, some industry players in the PRD point out that Japanese automotive manufacturers and tier-1 and tier-2 suppliers in the region have begun to explore the possibility of further cooperating with mainland and foreign-invested manufacturers with production facilities in the PRD. Actually, these industry players are already more open to enterprises outside the Japanese system than in the past. They also hope to source more cost-effective auto parts in order to stay afloat in the increasingly competitive automotive market.
As a matter of fact, currently the Japanese supply chain in the PRD has started to take in some enterprises producing parts for European automotive manufacturers as well as some mainland private enterprises. At the same time, the Chinese government has also demanded foreign investors investing in the mainland automotive industry to move towards localisation in their production process and expand their use of domestically produced auto parts. Hence, the three industry leaders' plans to increase production capacity are set to create opportunities for non-Japanese suppliers to enter the Japanese industry chain.
Moreover, in view of FAW-Volkswagen's investment in building a new plant in Foshan, suppliers which have been supplying auto parts to European-invested auto manufacturers may also increase their investment in the PRD in a bid to supply auto parts to this new plant. As mentioned above, the supply chain of European automotive manufacturers are generally more open than their Japanese counterparts. Some industry players point out that the past performance of FAW-Volkswagen and its tier-1 and tier-2 suppliers shows that they are more willing to seek the support of local tier-3 and tier-4 suppliers as well as other supporting enterprises on the mainland. As such, FAW-Volkswagen's investment can also bring about new opportunities for new auto parts suppliers to enter the PRD market.
Dongfeng Nissan enhances local sourcing
According to Dongfeng Nissan, it hopes to cooperate with more suppliers with production facilities in the PRD. An interview conducted by HKTDC's Research Department finds that currently about 30% of the auto parts required by Dongfeng Nissan are supplied by Japanese-invested manufacturers, while the rest is mainly supplied by local or other foreign-invested enterprises in the PRD, including some suppliers to European automotive manufacturers. Certain auto parts, especially electronic parts such as chipsets, are primarily imported from Japan and Taiwan. Dongfeng Nissan imposes stringent requirements on its suppliers, including the items listed in the figure below. Even so, the company said that at present many local enterprises in the PRD and other regions on the mainland can meet their requirements. In order to satisfy the needs of the company's planned increase in production capacity and production of new car models, Dongfeng Nissan welcomes new suppliers to approach them to discuss cooperation.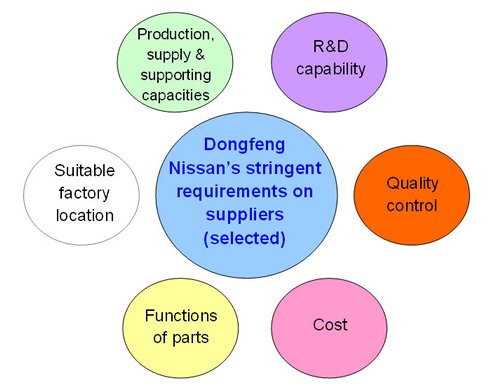 Hong Kong companies entering PRD's auto supply chain
The rapid development of the automotive industry in the PRD generates a host of opportunities for auto parts suppliers and related enterprises. Under the automotive industry's just-in-time operation mode, automotive enterprises normally adopt zero inventory in order to lower financial cost and they also tend to cooperate with suppliers in neighbouring regions. Thanks to close proximity to the PRD, Hong Kong companies, especially those with production facilities in the PRD, stand to benefit when entering the auto parts supply chain in the region.
However, strong barriers exist in the automotive supply chain. The industry also imposes stringent requirements on quality and reliability of auto parts and related products. Various criteria are set on the suppliers' financial background, production facilities and R&D capability, etc. Great importance is also attached to whether the supplier has obtained the necessary certifications, e.g. ISO/TS 16949 for quality management systems and OHSAS 18000 for occupational health and safety management systems, in order to prevent losses caused by disruption to the just-in-time operation of the whole supply chain due to failures on the part of individual suppliers.
Speaking at an interview with an HKTDC economist, Dr Wong Chun, president of Hong Kong Auto Parts Industry Association, remarked that the automotive supply chain is different from other consumer products. All leading vehicle manufacturers have their own supply system and under normal circumstances they would not change their suppliers or tier-1 and tier-2 suppliers easily. Hence, it is difficult for newcomers to enter the chain. However, for the same reason, if Hong Kong companies can successfully break into the supply chain, they can obtain a steady source of orders and higher return.
Hong Kong companies wishing to take advantage of the increasing production capacity of the various vehicle manufacturers in the PRD to enter the local supply chain must be prepared to go through lengthy business negotiations, supplier selection processes and sample/product approval procedures when they approach the respective enterprises in different supply chains. They must also make appropriate investment in such areas as R&D and sample production, while establishing relevant track record before they can develop the market effectively.
Although Hong Kong is not a renowned auto parts supplier, many Hong Kong companies have in fact been engaged in auto parts business for many years and have gained good acclaim in the trade. For instance, Johnson Electric is an industry leader in micro motors, motors and motion solutions. Its automotive products, now the largest business unit of the group, include engine cooling fan modules, air conditioning actuators, automotive window lift drives and sunroof drives, headlamp actuators, door locks, power transmission systems, braking systems and steering and suspension systems. They are mainly supplied to markets in America, Europe and Asia including China. The group's performance in recent years is outstanding.
Another Hong Kong company, Surface Mount Technology (Holdings) Ltd, specialises in electronic manufacturing services (EMS). Based on years of experience, the company has become one of the strongest EMS suppliers in the Asia-Pacific region. Its many production bases on the mainland offer electronic manufacturing services to clients in such areas as computer peripherals, industrial controls, office appliances, telecommunications and consumer electronics. Moreover, they also provide manufacturing services related to car audio, car body electronics and auto information systems to its partners in China, Europe, North America and Japan.
Varitronix is a leading manufacturer of small- to medium-sized liquid crystal display (LCD) in the trade. The company offers complete display solutions for automotive, industrial and other product applications. Its LCD products for automotive use include GPS navigation, climate controls, speedometers, car audio, dash boards, clocks, gear indicators, and TVs, which are mainly supplied to such markets as Europe, China and South Korea.
As a matter of fact, Hong Kong's auto parts exports have been rising steadily in recent years, with total exports exceeding HK$15 billion in 2011. Major markets include the Chinese mainland (27%) as well as advanced countries such as the US (19%), Japan (10%) and Germany (5%). Major export categories include audio equipment and navigation devices for car use, as well as certain auto parts and internal combustion engine parts.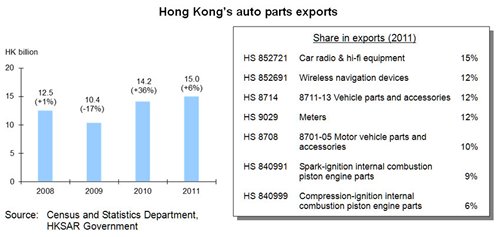 There are also some other Hong Kong companies which are engaged in the production and/or trading of automotive-related equipment, such as tyres, safety glass, rear mirrors, car door locks and anti-theft devices, car seats, batteries, electric lighting equipment, and auto wire harness assemblies. It is not a surprise that many industry players are familiar with these Hong Kong products, as Hong Kong has a strong manufacturing and trading base in this respect. It is notwithstanding that the core business of such companies concerned may not be auto parts. Moreover, Hong Kong companies in the business can meet the stringent requirements for auto products. Hence, Hong Kong companies are in a good position to grasp the opportunities arising from the increasing demand of the automotive industry in the PRD, while tapping the auto parts market in the PRD and even the whole mainland.
---
[1] Source: China Automotive Industry Yearbook
[2] Source: China Association of Automobile Manufacturers; Guangdong Automobile Industry Association
[3] Including Sino-foreign joint-venture enterprises.
[4] Source: Ministry of Commerce website
[5] Source: guangdong.zgcar.net (13 April 2012)
Mainland China
Mainland China