https://origin.hkmb.hktdc.com/en/1X09TIPT
Are "new energy vehicles" geared for the Pearl River Delta?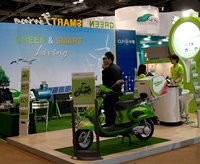 Hong Kong exhibitor demonstrates
application of its new e-scooter
Most automotive industry players are putting their focus on energy-saving new energy vehicles for their future business development, amid the high conventional energy prices and the environmental protection trends. Although Hong Kong's automotive and parts and accessories industries remain relatively small in scale, mycar, an eco-friendly electric vehicle jointly developed by a local company named EuAuto Technology Ltd and the Hong Kong Polytechnic University, is already sold in many European countries, including the UK, France, Italy, Austria and Denmark. In fact, many Hong Kong and foreign companies are optimistic about the new energy vehicle market. In China, the world's largest market for automobiles, the government is intent on developing the "seven new strategic industries", including new energy vehicles, in the next few years. Its announcements of detailed plans and support measures for the development of the new energy vehicles industry has attracted the attention of mainland, Hong Kong and foreign-funded automotive manufacturers and suppliers of parts and accessories.
PRD industry targeting energy-saving eco-friendly vehicles
Major automotive manufacturers and parts and accessories suppliers in the Pearl River Delta (PRD) have been keeping an eye on the market potential of new energy vehicles for some time. The Honda Group, the Japanese partner of the Guangqi Honda Automobile Co Ltd, is one of the leaders in the development of energy-saving and eco-friendly hybrid power systems. Since cost is an important consideration in developing hybrid vehicles, Honda is planning to localise the manufacture of its hybrid models, including plans to source basic parts and accessories like batteries and motors locally for production, in a bid to cut cost.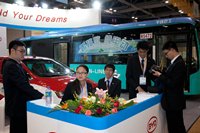 BYD shows its electric vehicles
in Hong Kong
On the other hand, Dongfeng Nissan has also made it clear to introduce new vehicles models from Japan for manufacture in its Huadu plant in Guangzhou in an effort to step up its opening of the mainland market. The focus of this plan includes the development of pure electric cars. Apart from Japanese automotive manufacturers, local manufacturers in the PRD are also actively investing in the research and development of new energy vehicles and related businesses in the hope of capturing this burgeoning market. Among them, the Guangzhou Automotive Group has expressed plans to focus on the development of new energy vehicles and gradually increase its relevant research, development and production capabilities.

The Shenzhen BYD Group is also seizing the opportunity to sell pure electric cars which are becoming more and more popular on the mainland, while embarking on the development of hybrid sedan and pure electric passenger vehicles as well as the research, development and production of car batteries. BYD has also formed a joint venture with Daimler, called the Shenzhen BYD-Daimler New Technology Ltd, to develop new energy vehicles targeting the mainland market. Today, BYD is a market leader for new energy vehicles on the mainland.
Industry development benefits from policy incentives
One must bear in mind that the end-user market for new energy vehicles on the mainland is still in its early stage of development. China continued to be the world's largest market for automobiles with total sales of 18.51 million units in 2011. However, it only managed to sell 8,159 locally produced new energy vehicles, including 5,579 pure electric vehicles and 2,580 hybrid vehicles,[1] suggesting that the mainland new energy vehicles market has yet to be mature.
Nonetheless, the mainland government is exerting great efforts to boost the growth of its new energy vehicles industry. In April this year, the State Council adopted the Energy-Saving and New Energy Automotive Industry Development Plan 2012-2020 in a bid to accelerate the development of the new energy vehicles industry, to ease the pressure on energy consumption and the environment, and to boost the transformation and upgrading of the automotive industry. The target is to produce and sell a total of 500,000 pure electric and plug-in hybrid vehicles by 2015 and 5 million units of these by 2020. The government also implements a policy of encouraging the purchase and use of energy-saving vehicles and building public battery charging and replacement facilities.[2]
Earlier, Guangdong has also announced the 12th Five-Year Plan for the Development of New Strategic Industries. As far as new energy vehicles are concerned, the priority is to develop plug-in hybrid vehicles, pure electric vehicles, hybrid buses and passenger vehicles of medium size and above. Guangdong will have the capacity to produce over 200,000 new energy vehicles annually by 2015. It will also invest Rmb15.3 billion on 12 major projects for new energy vehicles, parts and accessory systems (see table below). Fiscal measures such as soft loans, interest discounts on secured loans and free subsidies are offered not just to finance the building of projects for the production of complete new energy vehicles but also to support the development of power batteries, motor drives, air conditioning systems, power steering systems, braking system and other accessories for electric vehicles, as well as supporting industries for new energy vehicles, such as those producing relevant parts, accessories and materials. These policies will give major automotive enterprises incentives to step up their ventures into this market. The new energy vehicles industry is therefore expected to see steady growth in the next few years.
Major projects of new strategic industries in Guangdong
(New energy vehicles industry)
Project
Construction Unit
Total investment
(Rmb 100 million)
Green Wheel new energy vehicle project: Production base with annual production capacity of 200,000 electric vehicles and supporting facilities
Shenzhen Green Wheel Electric Vehicles Co Ltd
24.3
Phase II of new energy vehicle project: With annual production capacity of 10,000 passenger vehicles of various types
Shenzhen Wuzhoulong Motors Co Ltd
18.8
Development of hybrid cars of proprietary brands
Guangzhou Automobile Industry Group
1.0
High-performance lithium iron phosphate batteries and high-performance lithium titanate energy storage systems
Zhuhai Yintong Energy Co Ltd
50.0
Expansion of annual nickel-hydrogen power battery production capacity by 363 million ampere hours
Zhongshan Jonjee Sunlite Hi-Tech Co Ltd
13.2
Energy storage and power systems based on lithium iron battery systems
Huizhou Eve Energy Co Ltd
10.0
Power batteries for electric vehicles
Huizhou Desay Group Co Ltd
8.0
Research, development and production of high-power lithium ion batteries and batteries for electric vehicles
Dongguan McNair Technology Co Ltd
5.0
Power source materials for electric vehicles
Jiangmen Fangyuan Environmental Technology Development Co Ltd
10.0
Research and development of hydrogen humidification pumps, purification compressors and high-performance motors for new energy battery power systems
Foshan Guangshun Electrical Equipment Co Ltd
5.7
Lithium ion battery membrane
Foshan Plastics Group Co Ltd
2.1
Industrialisation of new energy power and control systems
Zhongshan Broad-Ocean Motor Co Ltd
5.2
Source: 12th Five-Year Plan of Guangdong for Development of New Strategic Industries, March 2012.
Technology the key to access the PRD supply chain
Although Hong Kong is not a renowned fauto parts supplier, it has accomplished quite a lot in the development of new energy vehicles. As mentioned above, mycar designed in Hong Kong is already on sale in overseas markets. Many Hong Kong companies are now involved in R&D projects on new energy vehicles and related businesses.
Gold Peak Industries (Holding) Ltd, a company well-known for its businesses of batteries, loudspeakers and other electronic products, is also a supplier of auto parts. Gold Peak has a subsidiary on the mainland for the production of electrical wires for domestic automakers. The group also invests in the production of batteries for electric vehicles and supplies rechargeable lithium batteries to the e-scooter maker Vectrix. The Vectrix e-scooter using Gold Peak batteries was winner of the European e-Scooter of the Year Award.
On the other hand, BYD has set up an R&D office in Hong Kong Science Park, and collaborated with the Hong Kong Automotive Parts and Accessory Systems R&D Centre (APAS) and the Hong Kong Productivity Council to promote the development of electric vehicles, including demonstrations on the application of BYD's electric vehicle technology and accessory systems developed in Hong Kong. It is also developing a new generation of zero-emission electric vehicles for Hong Kong's public transport system.
Dr Yang Ying, CEO of APAS, pointed out when interviewed by an economist from HKTDC that the mainland and PRD automotive industry supply chains are sharply divided. Suppliers with no track record have to be prepared for lengthy negotiations with corresponding parties of the supply chain in order to access the auto parts market. However, he noted that Hong Kong enjoys a leading edge in the development and supply of auto parts and accessories that have to do with electronic control and electrical systems, as it boasts a huge industry cluster in businesses related to electronic and electrical systems.[3] The research and development of new energy vehicles, especially electric vehicles, depends a lot on knowledge and technology relating to electronics and electrical systems. The PRD and the mainland at large have a pressing need for this kind of technology. APAS will also concentrate on the development of these systems in future (see list below). Thus, with the acceleration of the new energy vehicles industry in the PRD, Hong Kong companies may take advantage of their technological lead in relevant fields to venture into the PRD and seek cooperation opportunities with suitable partners in the supply chain.
APAS Research Projects (hybrid and electric vehicles)
A 50Kw stand-alone fast electric vehicle charger using resonant topology

Integrated battery pack system for electric vehicles

Development of electric vehicle power-train platform with vehicle system controller

Development of advanced vehicle management and drive system for plug-in hybrid electric vehicles

Integrated smart electric vehicle charging station with professional e-payment system

Development of ECU (electronic control units) for power management platform of electric vehicles

Development of smart charging station for electric vehicles and plug-in hybrid electric vehicles

Electrical power-assisted steering for electric vehicles and hybrid electric vehicles

Low-cost direct drive for electric vehicles

Integrated battery charger and motor drive systems

Development of automobile hybrid air conditioning system technology

Battery management control strategy
Source: Hong Kong Automotive Parts and Accessory Systems R&D Centre
---
[1] Source: China Automotive Industry Association.
[2] Source: Official website of Ministry of Industry and Information Technology.
[3] In 2011, Hong Kong's exports of electronic goods amounted to US$237.3 billion, accounting for 55% of Hong Kong's total exports.
Auto Parts
Environmental Protection
Technology
Mainland China
Mainland China