https://origin.hkmb.hktdc.com/en/1X09UNRC
China's agricultural modernisation programmes: opportunities for Hong Kong businesses
The rapid development of urbanisation and industry in China has led to a massive shift of rural work force. The number of workers in primary industries (including agriculture and mining) across the country dropped from 370 million in 2002 to 270 million in 2011. Meanwhile, as the income of urban residents increases, their demand for food and agricultural products both in terms of quantity and quality also rises significantly, with their per capita food and agricultural products consumption amounting to 2-3 times that of their rural peers. In order to meet the increasing demand of the urban population for food and strengthen food safety, China's agricultural sector must expedite its pace of modernisation. Efforts should be made to introduce more advanced equipment and management systems, increase per capita output per unit area of land, as well as enhance the technological level and connectivity of the different links in the industry chain including product storage, preservation, processing, packaging, transportation and sale.
Introducing technology to raise productivity
The characteristics of agricultural modernisation does not only include automated production and management, but also the application of technology in carrying out species improvement and breeding, farming and cultivation management, disease treatment and pest control in order to enhance production efficiency. Take Wen's Foodstuffs Group, a leading modern agricultural and husbandry enterprise in the country, for example. Since 1992, the group has been collaborating with more than 10 tertiary institutions and scientific research institutes including South China Agricultural University in introducing new technologies into the three core aspects – breeding, feed nutrition, and disease prevention – of its agribusiness and information management systems in a bid to enhance product quality and increase productivity of each farm unit. Currently, Wen's has a total of more than 50,000 partner farmers across the country and supplies over three million pigs and 800 million chickens to the market each year. Under their cooperation mode, Wen's is responsible for providing technological, personnel and management support in the core aspects of the farming process ranging from seedling, feeds, disease prevention, quality control to marketing; while the partner farmers are responsible for the actual work of farming.
In an effort to raise the efficiency of production and management of its farms, in recent years Wen's has increased the application of information management systems (or Internet of Things, IOT) in its production bases to implement intelligent remote monitoring of the environmental parameters of the farming activities and automatic control of equipment switches, so as to maintain the temperature, humidity, air quality and lighting of the pens at the right levels. The use of smart farming IOT can save a lot of hands. For instance, currently only one person is needed to monitor the environment and the equipment operation of a whole farm of chickens or pigs. At the same time, a unified and standardised farming environment management system can be established free from the influence of human experience. Through the warning platform of the system, the farm workers can promptly handle incidents such as cases where the parameters of the farming environment for the chickens and pigs exceed the allowable levels and abnormalities in the equipment. Also, Wen's imported an electronic collar system from Israel to monitor the physical conditions of the pigs, including their biological behaviour and parameters of change in body temperature, which can raise the pregnancy and breeding rate of the sows.
In addition to livestock and poultry farming, the scope and level of automation and technological application in fruit and vegetable growing as well as aquaculture have also been increased significantly in recent years. During the 11th Five-Year Plan period, the level of comprehensive mechanisation in China's plantation sector rose from 36% to 52%, with the rate of contribution by agricultural technology advancement growing from 48% to 52%. According to the National Modern Agriculture Development Plan, by the year 2015, the level of comprehensive mechanisation in China's plantation sector will further climb to 60%, with the contribution rate of agricultural technology advancement rising to over 55%.
Advancing processing and comprehensive utilisation of agricultural products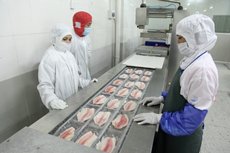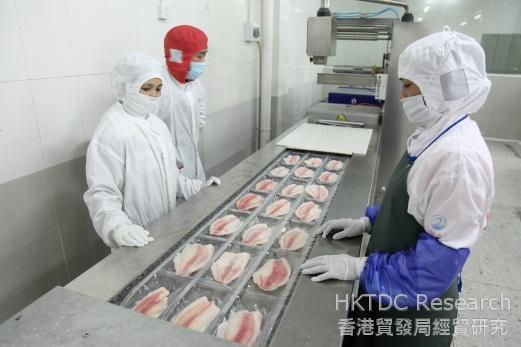 Mingji vacuum packs the fish fillets to maximise freshness.
Agricultural modernisation enhances the production efficiency of the farming, fishery and animal husbandry sectors. Since 2006, total output of the farming, fishery and animal husbandry sectors has been growing at an average annual rate of 15%, while per capita output has also been rising. However, at present the technologies for the storage, preservation and processing of post-harvest agricultural products in China remain rather backward, resulting in great after-harvest losses of agricultural products. According to the estimates of experts, the after-harvest loss rates of grains, potatoes, fruits and vegetables in China are in the regions of 7-11%, 15-20%, 15-20% and 20-25% respectively, far higher than the levels in developed countries. High loss rates have to a large extent offset the inputs in increasing yield. As such, one important step in the development of agricultural modernisation is devoting great efforts to developing preliminary processing of agricultural products at the production base as well as enhancing comprehensive utilisation and deep processing.
According to the director of Agricultural Products Processing Research Institute under the Chinese Academy of Agricultural Sciences, international experiences show that when the per capita GDP of a country or region exceeds US$5,000 (China's per capita GDP in 2012 was US$5,184), its agricultural structures before, during and after harvest will undergo radical changes, with the post-harvest agricultural products processing industry entering an era of rapid development to replace the traditional farming industry and become the mainstay and pillar of agriculture. Guangdong Mingji Aquatic Product Co Ltd, established in 2006, is a large aquatic products cultivating, processing and exporting enterprise. Currently, Mingji produces 60,000 catties of fish fillet on average a day, including frozen fish fillet with or without the skin, seasoned fish fillet, and bread-crumbed fish fillet, for export to the US, Europe, Australia, Taiwan and Hong Kong. In order to raise its processing capability, Mingji devotes continuous efforts to improving and buying new equipment for the various stages of processing. For instance, in 2013 the company installed a new automatic machine for removing fish scales and insides, did away with two double-helix freezing machines in its quick-freezing storage replacing them with two fully-automatic vacuum packaging machines, and replaced its single-stage screw refrigeration compressor unit with a twin-engine dual-stage screw refrigerating compressor unit.
Modern agricultural products processing plants like Mingji which have high standards and the ability to integrate with the international market are few and far between in China. At present, the majority of agricultural products processing enterprises in China still do not have a sound quality control and monitoring system in place, their processing technology and equipment are not advanced enough, and their product mix is singular and lacks competitiveness. Taking the current status into consideration, the National Modern Agriculture Development Plan puts forward that by 2015 efforts would be made to strengthen the construction of processing bases in agricultural products priority production zones, and guide the agricultural products processing industry to concentrate in farming priority regions and suburban areas.
Generally speaking, the processing rate of agricultural products in developed countries is above 70%, with the output of the agricultural products processing industry reaching 2-3 times that of total agricultural output. Currently, the rate of agricultural products processing in China remains low and the output of the agricultural products processing industry accounts for only about 60% of total agricultural output. This is due to the fact that not many agricultural products have undergone deep and fine processing in China. In the US, many agricultural products processing enterprises are capable of carrying out multi-level deep processing and fine processing whereby available resources can be made full use of. For instance, in extracting soybean oil, the soybean meal left over can be processed into soy protein and made into soybean powder, soybean noodles, and soy chips. The final soybean tissues remained can also be processed into granulated feeds for different livestock, poultry, fish and prawns. During the 12th Five-Year Plan period, China will make great efforts at developing preliminary processing of agricultural produce at place of production, industrialisation of traditional staple foods, and integrated utilisation of sideline produce. The objective is to increase the share of agriculture in the added-value of China's industrial output.
Enhancing quality and safety of agricultural products
In 2013, Mingji established direct production and sales links with a total of 32 farming bases. In order to ensure that all the products comply with the health requirements for export foods in China and the food processing quality control requirements of countries in Europe and the US, Mingji has set up food safety management system HACCP with the support of local governments and entry-exit inspection and quarantine departments. With this system in place, all procedures ranging from raw materials receipt, processing, quick freezing, packaging to transportation are monitored; and all the workshops and major processing lines are installed with electronic monitoring system and monitored by dedicated staff to ensure that the quality of the products meet FDA standards of the US. The company also cooperates with the Aquaculture Certification Council (ACC) of the US, has joined its online traceability system, and is under its monitor.
In a bid to enhance the quality and safety of agricultural products, the Chinese government has in recent years devoted great efforts to improving the quality and safety supervision system for inputs and agricultural products at national, provincial, municipal (prefectural) and county (farm) levels. Steps are being taken to improve the administration system for inputs in such areas as registration, production, operation, use and market supervision; improve the supervision system for agricultural products in such areas as quality and safety risk evaluation, production place, market access, quality traceability, market withdrawal and product destruction; and improve the inspection and testing system.
A similar agricultural products quality and safety supervision system has been enforced for many years in the supply of mainland agricultural products to Hong Kong. At present, all livestock, poultry, freshwater fish and vegetables supplied by the mainland to Hong Kong come from farms which are subject to management by registration and filing. Every batch of imported live livestock, chilled and frozen meats, as well as freshwater fish must be accompanied by a health certificate issued by the local inspection and quarantine bureau certifying that the products are suitable for human consumption. At the same time, in order to strengthen the task of tracing agricultural products, Guangdong and Hong Kong have all along been conducting research and cooperation in the application of technologies in this respect. Wen's Caren Foodstuffs Co Ltd has a chicken farm registered for supplying to Hong Kong and a processing plant registered for the export of chilled chickens. Through cooperating with distributors and large corporate clients, the company meets about 30% of the demand of Hong Kong's chilled chicken market. In order to ensure the quality and safety of the chilled chickens supplied to Hong Kong, Caren has commissioned a management consultancy company to establish a stringent, full-range quality control system covering from the source to the retail outlets, including unified management of the rearing and breeding of chickens, disease and drug residue control, introduction of ISO 22000 food safety management system for slaughtering and processing, and cold storage and freshness preservation along the entire distribution and transportation supply chain. Meanwhile, Caren implements the barcode information management system "EAS" to record product information and production information so as to strengthen quality and safety supervision and tracking. In response to the mainland government's policy of encouraging the application of IOT, Caren plans to replace the current barcode system with RFID.
Connecting agriculture with commerce, integrating resources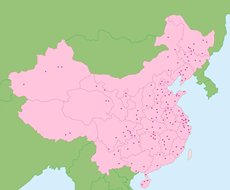 Distribution of first two batches of national-level modern agriculture demonstration zones.
Both Wen's and Mingji use the "company + farmers + customers" development strategy to integrate resources such as domestic and overseas markets, technologies, and farming in the mainland; connect upstream and downstream players in the supply chain; and implement industrialised operation of standardised farming. China, as a vast country covering a large expanse of altitudes and latitudes, has a wide variety of soil and climate. In this connection, rich agricultural and fishery resources can be sourced or produced in the country. According to the National Modern Agriculture Development Plan, during the 12th Five-Year Plan period, about 300 national-level modern agriculture demonstration zones will be set up across the country, with bulk agricultural products such as grains, cotton, oils, sugar, poultry, livestock, aquatic products and vegetables as well as certain regional native agricultural products as the mainstay. Greater efforts will be made to foster modern farmers, popularise good planting methods, accelerate the integration of agricultural machinery and agronomy, and greatly promote the specialisation, standardisation, expansion and intensification of agricultural production and operation. This can help agricultural products and food processing enterprises, wholesalers, traders, supermarkets and other enterprises to establish steady and long-lasting producer-marketer relationships with the larger farms which implement standardised operations.
Au King-tai has been engaged in the vegetable wholesale business in Hong Kong for many years. First started investing in vegetable growing in the Pearl River Delta (PRD) region in the 1980s, he set up Guangdong Dongsheng Farm Ltd in 2002 engaging in the farming, processing and trading of agricultural by-products, vegetables and fruits. In the past years, in addition to supplying large cities in the mainland and the Hong Kong and Macau markets, Dongsheng's products are also sold to overseas markets including North America, Europe, Africa and Southeast Asian countries. Since the products sold by Dongsheng are diverse in variety and quantity, in order to effectively ensure that all kinds of fresh vegetables and fruits are in supply all year round, the company has selected suitable locations across China where farming bases are developed. These include several large-scale green, organic farms in Guangdong, Hunan, Jiangxi and Ningxia, which together constitute a supply source with complementariness. Apart from being awarded such quality management system certifications as GAP, ISO and HACCP, Dongsheng has, with the support of the agricultural departments, established a vegetable tracing and vegetable base pesticide residue detection station which is connected to the traceability system of the Guangzhou edible agricultural products safety management system, so that its product quality traceability system can reach the level of online remote monitoring throughout the entire supply chain.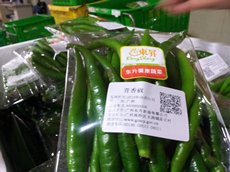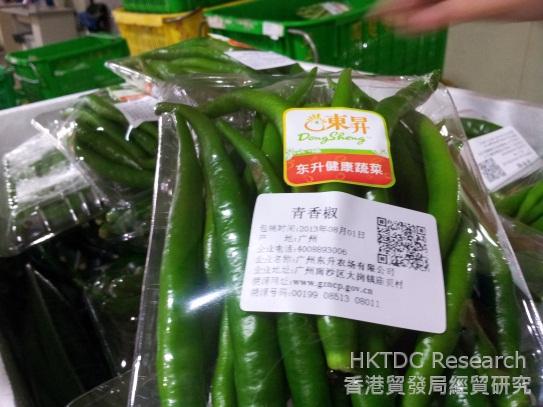 Dongsheng Farm monitors product quality by using an online traceability identification system.
Lam Soon Group, a Hong Kong company which accounts for the lion's share of the mainland specialty flour market, has been purchasing wheat in larger quantities and at higher ratios (compared to other sources) in the mainland in recent years. One of the reasons is that the production scale and quality of grains in the mainland have been rising. On top of that, efforts have been made by the State Administration of Grain to exercise stringent inspection ratings of wheat from different production areas, implement authorised supplier system, and stabilise the quality of wheat supply, thus increasing the confidence of enterprises in purchasing raw materials. Apart from participating in government wheat auctions and purchasing directly from farmer cooperatives, in order to ensure the supply source of quality wheat, Lam Soon has in recent years embarked on contract farming with the assistance of relevant departments in the mainland. For instance, the company has chosen wheat species which have undergone successful experiments by the Chinese Academy of Agricultural Sciences and selected contract farmers in regions with the right climate and soil to carry out contract management and production in various aspects such as fertilisation, irrigation and pest control.
Other Hong Kong food production and trading companies, including Kampery Development Ltd, Luen Kee Hoo and LKK Health Products Group, have also built their gourmet food and health food brands by taking full advantage of their competitive edge and integrating their resources -- such as sourcing of mainland agricultural products, foreign and mainland personnel and technologies, information technology, and sales channels -- to conduct product development, food safety inspection, and fine processing. For more information on how Hong Kong companies capture the opportunities of mainland's agricultural modernisation to connect with the mainland and establish a high-value-added food supply chain, please see HKTDC Research article at: "The value food supply chain - a Hong Kong-Mainland collaboration".
Conclusion
To raise production efficiency and product safety in modern agriculture, it is necessary to make use of advanced technologies, equipment and management systems (including IOT information monitoring system) in the upstream sector of the agricultural chain such as scientific research and agricultural means of production, in the midstream sector such as crop growing and livestock and poultry farming, and in the downstream sector such as the processing, storage, packaging and transportation of agricultural products. China already has a sound foundation and remarkable achievements in such areas as cultivation of animal and plant species and agricultural production machinery. However, it still has much room for development and improvement in terms of processing and packaging technologies. For instance, Wen's hopes to import new chicken slaughtering, processing and packaging technologies to extend the best before date of its chilled chickens in order to further enhance the company's competitiveness. Dongsheng Farm also hopes to import new vegetable and fruit processing and packaging technologies so that the best before date of its export products can be extended to over two weeks. In this regard, Hong Kong can, in addition to taking advantage of its role as a platform for mainland enterprises "going out" to introduce foreign cooperation partners possessing such advanced technology and experience to mainland agricultural products processing enterprises, also make use of the advantages of its trading platform to help mainland enterprises purchase and import the right technology and equipment.
Where the application of IOT is concerned, as human resources in the mainland agricultural sector are in short supply, remote monitoring can lower the demand for hands and also reduce human factors which may affect the farming and planting environment. Moreover, it can strengthen the work of recording production information and product information, which can in turn facilitate product safety traceability, market withdrawal and product destruction. With the efforts made by relevant departments, it can be expected that the scope of its application will be more extensive and popular. While China is advanced in the production technology and scale of hardware such as sensors, Hong Kong companies have more advantages where the design of solutions is concerned. In particular, in terms of application in cold chain logistics and distribution management, Hong Kong can integrate foreign experience and technology and combine them with its reputation and experience gained from cases of food safety management of food supplied by the mainland, to take part in the development of IOT and food safety management systems in different cities in the mainland.
In developed countries in Europe, the US and Japan, their technologies in food science and product development are advanced, and the capability of their food processing enterprises and brand value-added is strong. However, in order to lower cost, in recent years more and more foreign enterprises have started to source raw food materials (e.g. garlic, ginger, green plums) from China for processing. During 2010-2012, exports of China's fishery, farming and husbandry products as well as primary processing products grew at an average annual rate of 12% to reach US$50.3 billion. It is estimated that as the scale and quality of China's agricultural production rise, the demand for such sourcing for export will continue to increase. Hong Kong can make use its advantage as a trading platform to source products in the mainland and carry out quality supervision such as pesticide residue detection and organic certification for foreign buyers. Moreover, as mainland consumers' demand for high quality processed foods continues to climb, Hong Kong food traders, who have good knowledge of the mainland market, can partner with foreign food processing enterprises to jointly develop the mainland market by providing suggestions and advice on the preferences of mainland consumers in such areas as product development, brand building, market promotion and package design.
In sum, China's agricultural modernisation does not only generate opportunities for Hong Kong companies to participate in its agricultural production and processing, but in the course of modernisation, the technological elevation and demand of connection between agriculture and commerce in different segments of the agricultural supply chain will also bring about new room for development for Hong Kong as a trade and investment service platform. In particular, where integrating mainland and foreign resources, and promoting modern agricultural products processing, food safety and market development are concerned, Hong Kong traders and relevant service suppliers have the ability and advantage to capture the business opportunities created by China's agricultural modernisation drive.
Mainland China
Mainland China