https://origin.hkmb.hktdc.com/en/1X09UQ2S
China's new urbanisation programme and its implications for business
Urbanisation has been adopted as a major policy initiative by the Chinese government. The move has been spurred by empirical evidence from around the world showing that population agglomeration in cities boosts both production and productivity. At the same time, cities provide a positive environment for consumption, especially when it comes to nurturing a growing consumer class with rising purchasing power.
Based on figures from the top 30 mainland cities, as selected by the HKTDC1, the total urban population with residence registration in these cities has increased by 12%, rising from 116 million in 2006 to 130 million in 2011. As a result, the sum of their industrial output and GDP increased by 107% and 114% respectively. With the growth of a sizeable middle-income class, significant consumers of both goods and services, the size and depth of the retail market increased swiftly across all of these cities.
China's top 30 cities - growth in the size and depth of the retail market between 2006 and 2011
Source: HKTDC Research
The new urbanisation model
China's urbanisation rate reached 52.6% in 2012, and saw rapid expansion of the mainland's mega cities, notably Beijing, Shanghai, Chongqing, Guangzhou, Wuhan, Nanjing, Chengdu and Shenyang. According to the 12th Five-year Plan, the urbanisation rate is expected to rise by 4% by 2015, meaning that, every year, more than 10 million rural residents will relocate to the cities.
In order to promote the healthy development of urbanisation in the medium- to long-term, the National Development and Reform Commission (NDRC) will publish a new urbanisation plan later this year. It is understood that future mainland urbanisation initiatives will focus more on the development of lower-tier cities in order to avoid overburdening the first-tier cities. The new proposals will also introduce institutional reforms aimed at helping rural migrants to truly integrate into a city environment. The household registration system, for example, is expected to be revised in order to allow migrant families better access to education and medical services. The eligibility criteria for residency is also expected to be relaxed, particularly in the smaller cities.
The new urbanisation plan will supposedly see government resources – with regards to the provision of medical, education, utilities and other services – assigned to cities according to their population size rather than their administrative status. Under this new system, cities and townships with a population below 500,000 would be regarded as small cities, those with between 500,000 and one million would be medium-sized cities, those with 1-5 million residents would be classified as large cities and those above the five million mark mega cities.
Should this change be implemented, China will have 12 mega cities, 115 large cities, 108 medium cities and 53 small cities at the prefecture level. As an additional consequence, a number of the county level cities that do not have a sufficiently large population may have to merge with others in order to reach the required threshold for small and medium cities. Several towns, including Humen, Changan and Xiaolan in the Pearl River Delta (PRD), with a population size in excess of 500,000, will be reclassified as small cities, entitling them to increased infrastructure and social services investment. The ultimate goal of these changes is to hasten development and increase the number of small and medium cities, while increasing their appeal to rural migrants and raising their capacity to handle an expanded population. In other words, the rapid growth of the second-, third- and fourth-tier cities has now been made a priority across the mainland.
Integrated city clusters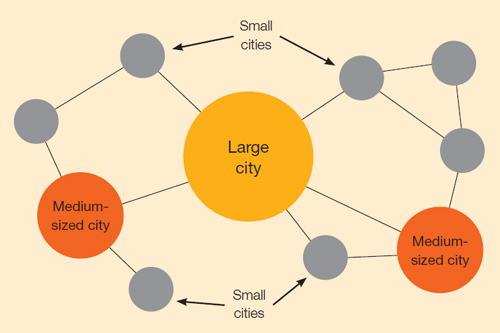 A varying hierachy of cities in China's new urbanisation model.
In order to promote the co-ordinated development of different regions, more than 20 city clusters, containing a varying hierarchy of cities, will be built across the country. Under the proposals, efforts will be made to boost the economic linkages and functional complementarity of the different cities in the clusters. It is hoped that this will enhance the quality of the urbanisation programme and strengthen the economic halo effect of the hub city, accelerating both industrial development and job creation in the smaller cities.
In part, these boosts will come from investment in nationwide, multi-modal transportation networks, including highways, railways and air-links, all aimed at increasing travel efficiency among different city clusters and within any given region. Priority will also be given to infrastructure development, particularly with regards to electricity and water supplies, telecommunication systems and environmental conservation projects. These initiatives will all be fully co-ordinated in order to ensure the orderly development of integrated city clusters.
Improved transportation links have already seen a number of PRD manufacturing concerns relocate (or announce plans to relocate) their production facilities to other parts of Guangdong Province or even further afield, including those sites in Jiangxi, Hunan and Guangxi that lie adjacent to Guangdong. This process has been mirrored in the Yangtze River Delta (YRD) region, with a number of businesses now looking to expand into neighbouring and less developed sites.
In most cases, these new satellite production bases maintain close ties with their PRD and YRD headquarters, while leveraging on the advantages of complementary activities. Many of these satellite manufacturing bases, for instance, depend on sources in Guangzhou or Shanghai to supply the production inputs or supporting services they require.
Reaching out to consumers in smaller cities
While cities are interdependent in the larger urban clusters, certain social-economic processes (such as shopping) remain very local in focus. A recent HKTDC survey of mainland middle-class consumers, for instance, found that 67% of respondents believed that there was no need for them to visit hub cities for their shopping requirements.
Statement
Proportion who agree
Statement
I like shopping in other cities because there are more shops, better shopping environment and more brand choices
33%
67%
There is no need for me to go to the key cities for shopping because the city I live in has a good business environment and a rich variety of brands and styles
After the launch of high-speed rail services, I travel more often to other cities and will also shop on the way
47%
53%
The launch of high-speed rail will have no obvious impact on my everyday life or work
*
Respondents were asked to pick one of the two contrasting statements that best describes their view.
Source: HKTDC Research
According to economic geography theory, it is highly desirable to create a hierarchy of cities where the size and variety of goods and services provided are perfectly correlated. Underpinning this theory is the assumption that all goods and services have a fixed geographical domain beyond which consumers are unwilling to travel. In the case of the mainland, one effect of recent urbanisation has been a rapid growth in the number of new commercial districts located in the suburbs of the large and mega cities. This has been matched by a substantial development in the retail amenities of the small and medium cities as the needs of the local consumer base has grown.
Changzhou, a third-tier city in the YRD, typifies these changes. As a result of the city's economic and population growth, its local pool of consumers is now substantial and affluent enough to merit the presence of a wide variety of products and services, including those of a specialised or upmarket nature. Changzhou has made substantial efforts to ensure it can meet rising consumer demand. In recent years, it has built a number of new department stores and shopping centres, ensuring that appropriate brands have been introduced to the local market as part of an overall upgrade to the city's retail sector. As a result, it is not surprising that 66% of the Changzhou respondents surveyed say there is no need for them to travel to tier one or tier two cities for shopping purposes.
Changzhou is, by no means, an exception in terms of the success of the mainland's urbanisation programme. The retail and commercial development of the second- and third-tier cities has been described by some as a move toward first-tier status. While such a description may sound a little exaggerated, it does contain a kernel of truth and vividly encapsulates the rapid development of many second- and third-tier cities.
Second- and third-tier cities have undeniably been making huge progress in upgrading their infrastructure and jump-starting higher consumption levels over recent years. For the future, it seems inevitable that ever smaller cities will follow the same path. With this in mind, those companies that are serious about targeting the mainland market would be well-advised to revisit their retail strategies and ensure that their forward strategies factor in consumers in the smaller cities.
---
1 Breaking into the Mainland Consumer Market – HKTDC's Top 30 Cities, May 2012
Mainland China
Mainland China