https://origin.hkmb.hktdc.com/en/1X09UVLU
Bangladesh's garment industry: recent development and outlook
Bangladesh, the eighth most populous country overall, is the second-largest garment exporter in the world, trailing only the Chinese mainland. With its wage levels among the lowest in the region and with its abundant labour supply, Bangladesh is hugely in demand as a garment production base, securing its status as one of the world's major suppliers of low-cost, ready-made garments (RMG) over the past two decades. Many foreign companies now either have their own export-oriented production plants in Bangladesh or source garments for the international market from the country.
Bangladesh's garment sector has become one of its most important economic pillars, with clothing products accounting for almost 80% of its exports and more than 10% of its GDP. This thriving sector has contributed enormously to the country's development, creating jobs and generating foreign income, attracting FDI, triggering infrastructure projects and providing a host of other related business opportunities. As a result, the country's per-capita income has shot up from US$280 in 1990 to US$838 in 2013, an increase of almost 300%.
The road to garment exporting success
Thanks largely to continual investment (including FDI), Bangladesh's garment production capacity has grown significantly, with its number of clothing factories and related employment opportunities increasing by almost 400% since the 1990s. Employing about four million workers in more than 5,000 factories, the sector is now established as a strong industry cluster. Many of these factories are in receipt of sizeable orders from a host of international brands, including Inditex, H&M, Marks & Spencer, Gap and Benetton. The majority of these international buyers, of course, stipulate quick turnaround times.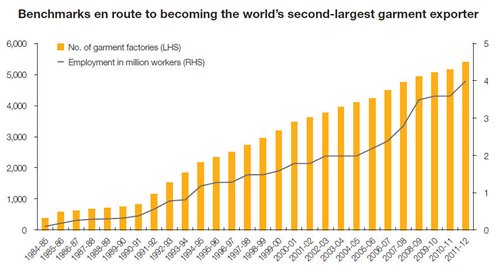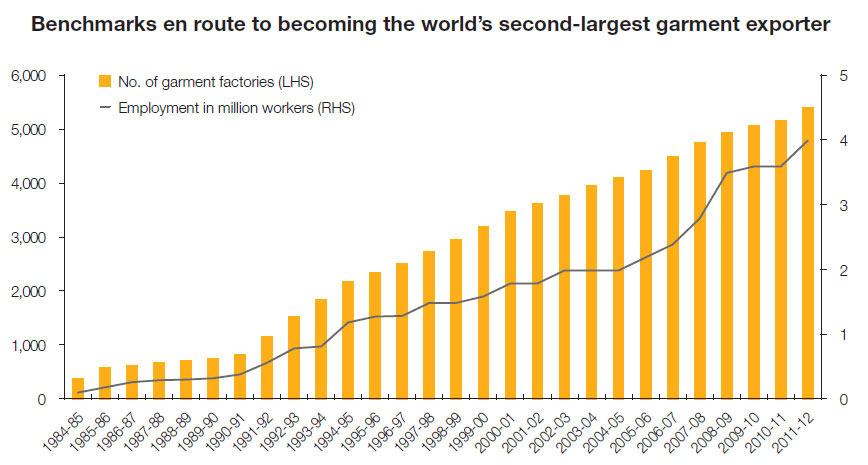 Bangladesh's garment employment and establishment show big increases
Source: Bangladesh Garment Manufacturers and Exporters Association
Bangladesh's historic advantages as a production centre
Bangladesh had many advantages over other regional economies when it came to positioning itself as a cost-competitive production base. With a population of more than 150 million people, the country has a huge supply of young workers, with most of the four million garment workers in the country being young women. While Bangladesh remains primarily a low-cost supplier of simple RMG items, there has been, over time, a steady increase in its production of more complex clothing items.
According to industry figures, the average hourly wage for a Bangladeshi worker is just US$0.24. This is well below the US$0.45 payable in Cambodia, the US$0.53 in Vietnam and only a fraction of the mainland's US$1.26. Assuming a working month of 200 hours (an eight-hour day for 25 days), that would translate into a monthly wage of around US$48, only marginally higher than the statutory minimum wage of US$38.
While the US is the largest single buyer of Bangladeshi RMG products, the EU is its largest overall export destination, accounting for about 60% of the country's garment exports. Together, the US and EU account for a hefty 84% of Bangladesh's RMG exports. Companies in these regions leverage Bangladesh's cheap production costs to source or manufacture garments, particularly as their home countries grant preferential tariffs to those countries (such as Bangladesh) that come under the heading of being a Less Developed Country (LDC). Given its LDC status, Bangladesh has enjoyed access to several preferential schemes, allowing it to benefit from low tariff rates on its exports. These schemes include the EU's Generalised System of Preferences (GSP) programme.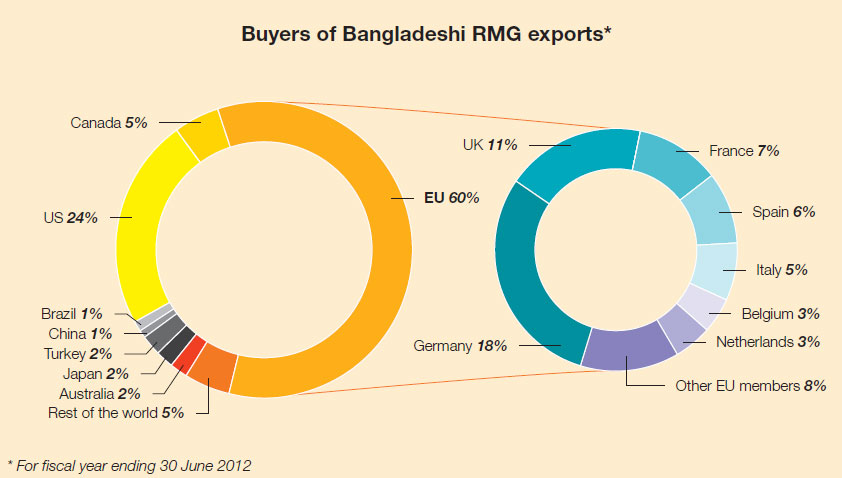 Bangladesh's major garment export markets
Source: Bangladesh Garment Manufacturers and Exporters Association
GSP preferential treatment has given Bangladesh a clear competitive edge over a number of other countries, notably Vietnam and India. Bangladesh has also signed bilateral trade agreements with some 30 other countries, giving it an added advantage when competing with other low-cost, production-oriented economies. Over the past two decades, Bangladeshi RMG exports have grown by more than 2,000% to about US$20 billion, expanding at an average annual growth of some 16%. The ratio of RMG products to total exports rose from 50% in 1990 to around 80% in 2012.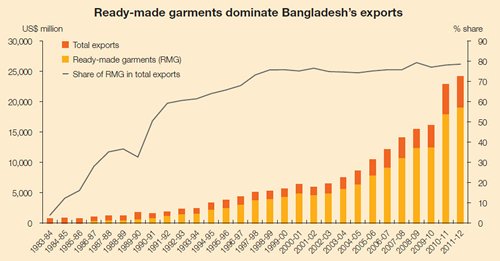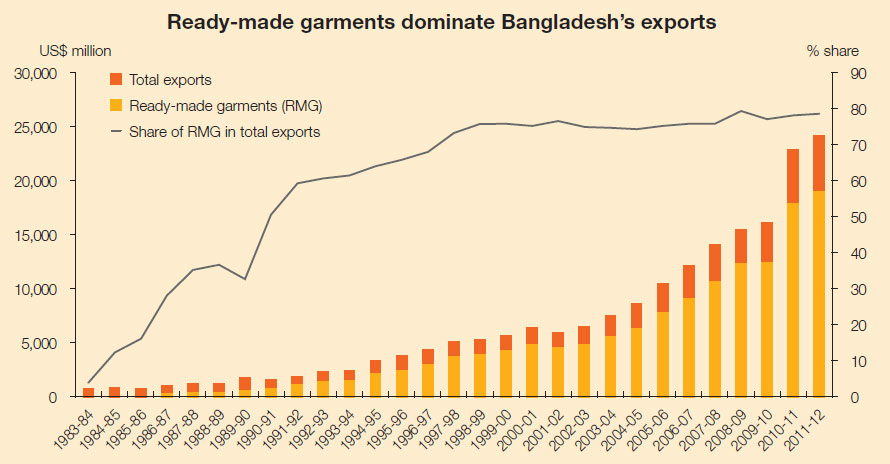 Garments are Bangladesh's most important exports
Source: Bangladesh Garment Manufacturers and Exporters Association
Aside from international brands which place buy orders in Bangladesh, many international garment makers are also sourcing companies which partner with local factories to manufacture garments for exports. This sees them freed from all of the complexities of dealing with workers, wages and a range of factory-related matters. As a result, Bangladesh has become an established location for sourcing low-cost production services, with a large number of local OEM manufacturers emerging. H&M, the Swedish fast fashion retailer, for instance, has been buying from Bangladeshi suppliers for more than 20 years, establishing a dedicated buying office in the country to manage its sourcing activities.
Many Hong Kong trading companies, including Li & Fung, source garments from Bangladesh. A number of these companies have also established factories there, benefitting from the low-cost production facilities for those garment exports targeting the US and EU markets. From 2005-2012, the annual FDI from Hong Kong ranged between US$10 million and US$62 million.
Although it accounts for only a small number of the 5,000-plus factories in the Bangladeshi garment manufacturing sector, Hong Kong has long been a sourcing platform for raw materials and parts for the sector. Exports of raw materials and parts from Hong Kong to Bangladesh enjoyed a dramatic surge between 2009-2012, with woven cotton fabrics, by far the largest textile category of exports to the country. These rose by an average of 12.7% annually, while the supply of knitted or crocheted fabrics expanded by 25.7%.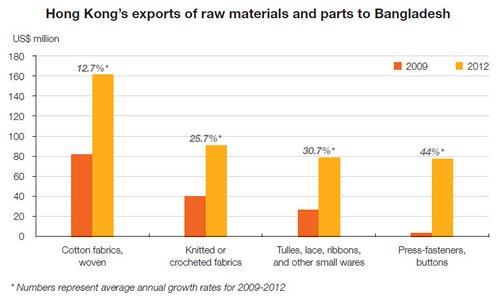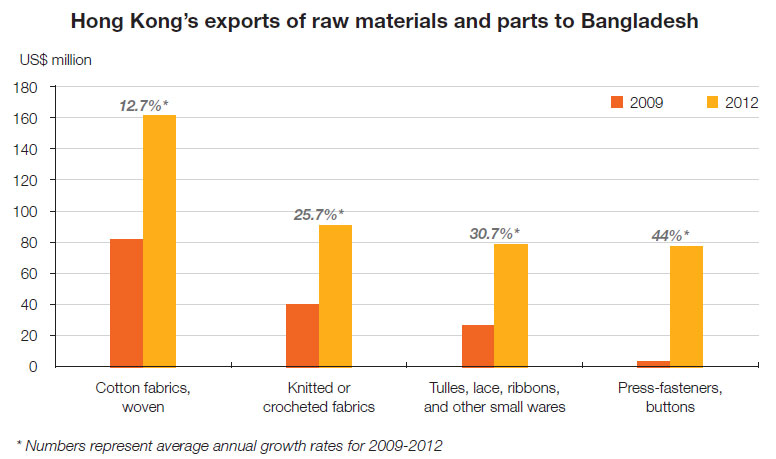 Hong Kong exports of garment parts and materials to Bangladesh keep rising
Source: HKTDC Research
After decades of rapid growth, Bangladesh's garment sector is now well-established. On the positive side, its exports have surged, while its production capacity, employment level and skill base have all risen sharply, with the living standards of millions of garment workers improving as a consequence. This rapid growth, however, has come at a cost. Overall, the issue of compliance with the required safety and working conditions, as set down by the International Labour Organisation (ILO), has been frequently ignored. These problems failed to arouse widespread international attention until a number of serious industrial accidents made global headlines in the first half of 2013.
In terms of specifics, the collapse of the Rana Plaza Complex in April 2013 killed more than 1,000 people, with many of them employed in the garment factories situated in the multi-storey complex. Overall, it was one of the worst industrial accidents of recent years.
The Rana tragedy followed an earlier incident in November 2012, when more than 100 workers died in a fire at Tazreen Fashions, a T-shirt factory in Dhaka, the Bangladeshi capital. These accidents provoked growing outrage among western consumers, sparking off a number of protests. As a result, several European and US brands have tried to enforce safety measures in the Bangladeshi factories where their products are manufactured. These measures have included paying for building improvements, ensuring the provision of fire escapes, and introducing rigorous independent inspections.
Intervention of GSP benefactors prompts government response
In June 2013, the US government announced a temporary suspension of Bangladesh's GSP privileges in light of concerns over labour rights and worker safety in the country. It also opened discussions with the Bangladeshi government aimed at improving labour rights and working environments. As garment production was not covered by the US GSP policy, however, suspending this trading privilege may not have any immediate and lasting impact on Bangladesh's huge garment export industry.
The US initiative, then, is more symbolic and less of a threat than a possible move by the EU to strip Bangladesh of its GSP status, a move that could have severe repercussions for the country's garment industry.
Collectively, the EU is the largest market for Bangladeshi garment exports, and any GSP status withdrawal (temporary or otherwise) could have a serious impact on the industry. Regardless of any economic damage from the mooted EU move, Bangladesh is already facing a serious backlash from western consumers, possibly compromising future export orders and FDI inflow. There is little doubt that the Bangladeshi government needs to take bold and effective measures to remedy the situation.
Bangladesh government cannot afford to ignore threats
While a number of international brands have pledged their support for moves to improve the factory conditions and worker safety of their Bangladeshi suppliers, inevitably several international buyers are also now looking for alternative suppliers. With the mainland quite costly when it comes to the production of lower-end garments, attention is now moving to other suppliers in Southeast Asia, notably Vietnam, Cambodia and Indonesia.
For the remainder of the year, operators in these countries may come to handle a number of small orders exiting Bangladesh. It will, however, take some time for those countries to sufficiently enlarge their capacity to handle the larger orders leaving Bangladesh. Myanmar, one of the newest arrivals to the market, may also suffer from capacity constraints and struggle when it comes to punctual product delivery.
Labour market reform represents longer-term productivity gain
In mid-July 2013, in a bid to counter international concerns, Bangladesh passed a labour law granting workers additional rights, including the entitlement to form/join trade unions. Under previous legislation, workers seeking to register a labour union first had to lodge a list of proposed members (comprising at least 30% of the workers in any given factory)with the government. Frequently, these lists were revealed to factory owners with predictable results. Under the new legislation, factory owners will not be party to such lists, giving workers considerably greater protection.
The Bangladeshi government has also pledged to raise minimum wage levels and is considering opening a number of vocational training centres. After the most recent compulsory rise in 2010, Bangladesh's minimum monthly wage was pegged at US$38, still only half the level offered in Cambodia, where the average wage is now edging towards US$100 a month.
While slightly raising the remuneration levels in Bangladesh may narrow the wage gaps with the country's regional competitors, it is unlikely to significantly undermine its competitiveness as a producer of low-cost garments. As the export figures in the chart below indicate, the manufacture of T-shirts and trousers has seen exponential growth over the past two decades in comparison with other RMG items, such as jackets and shirts, which require more complex production procedures.
Establishing a healthier labour market, one with higher wages, better training and labour rights, should help the garment sector become more productive over the longer term. In turn, growing the number of skilled workers capable of handling more complex procedures and making sophisticated items may move Bangladesh's garment sector toward higher-value manufacturing. This will not happen in the short term, with widespread reforms required to steer the country's garment industry in the right direction. Equally important is the need to improve working conditions and to ensure greater levels of worker safety, especially in terms of the factory environment. This will be no simple task, given Bangladesh's reliance on high-rise factories that fail to comply with the required safety protocols.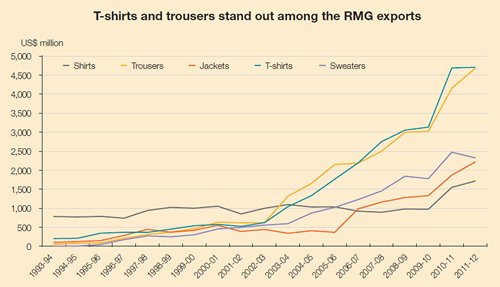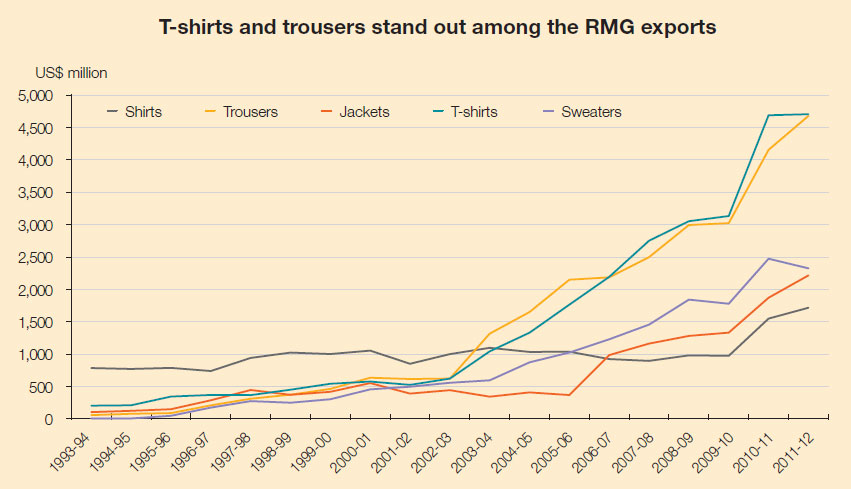 T-shirts and trousers are the main ready-to-wear garment exports showing sharp growth
Source: Bangladesh Garment Manufacturers and Exporters Association
Garments, Textiles & Accessories
Bangladesh
Other Asian Countries