https://origin.hkmb.hktdc.com/en/1X09UXRI
Deciphering Indian consumption patterns
The economic slowdown in India over the past two years has gathered pace, raising an eyebrow as to whether India has lost its appeal to foreign investment, as the country is griping with a slowing global economy, as well as the internal challenge of restoring fiscal discipline. Evidently, India's widening fiscal deficit has constrained the Indian government from deploying massive fiscal measures to pop up the economy, and monetary easing has also been limited by persistently high inflation and the sharp decline of the Indian currency since mid-2013. Importantly, the prospects of India's coalition government undertaking serious fiscal consolidation are unlikely before the 2014 elections.
Although India's economic growth in 2013 is contrastingly subdued than the high single-digit pace seen three years ago, slowing to only 4.4% in the second quarter of 2013, one has to look at the medium-term performance to arrive at a fair assessment of the strength and potential of the Indian market. Notably, India's per capita disposable income posted an average annual growth (CAGR) of some 3% in real terms during 2007-2012 while consumer expenditure witnessed a real CAGR of 3.6% for the same period. Although it is not as strong as other BRIC markets, these figures look encouraging in light of India's slower economy.
Young consumers will remain a key growth engine of India
More than half of the Indian population are now below 30, compared to only one third of the Chinese population. It is widely discussed that India's current demographic structure resembles that of China in 2000, when half of the Chinese population were younger than 30. The young population in China had provided an ample supply of labour force, boosting the economic growth of China in the past decade. Such phenomenon is widely coined as demographic dividends, and it is also the driving force behind the rapid growth of the consumer market in nowadays China.
Demographically, India is set to follow the route that China has gone through in the past decade. In 2020, the demographic structure of India is expected to look very much like what China is today. Young consumers will remain the brightest area of the Indian consumer market over the next decade.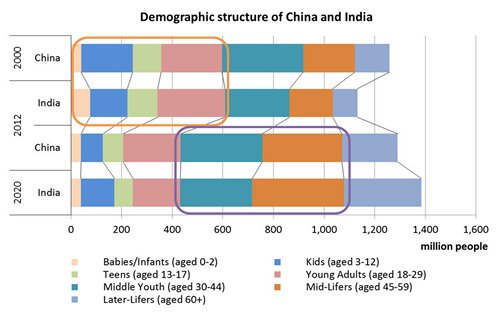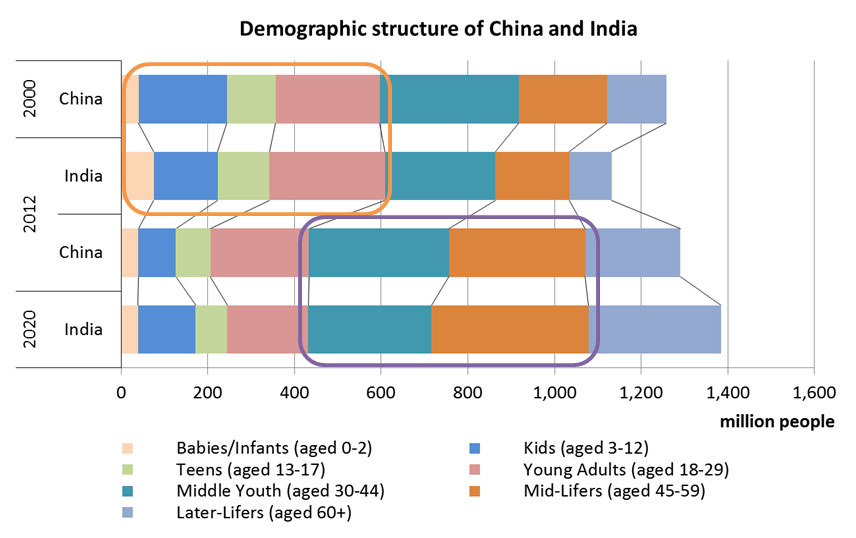 Comparison of respective demographic structures of China and India in 2000, 2012 and 2020
Source: Euromonitor
With the rapid expanding middle income population and rising disposable income, there is little doubt that India's retail market has a bright outlook over the longer term, but the immediate challenges have scared away many foreign investors.
Apart from the regulatory hindrance, the culture and traditions which are influencing consumer behaviours are well regarded as one of the greatest challenges in India's consumer market. Getting a deeper understanding of Indian consumers is useful in doing business concerning India's retail market.
Distinctive consumer behaviours in the Indian market
International marketers may find that India's consumer market is challenging due to its distinctive consumer behaviours and highly segmented markets, and they cannot simply adopt the marketing strategies used globally to the Indian market, and adaptation to local needs is warranted.
Value-seeking orientation
First of all, what makes the Indian consumer market so challenging? Indian consumers are well known as one of the most discerning consumers: they are smart, good at calculation and price-sensitive, and possess an informed understanding of their marketplace and the price range of products.
Besides, Indian consumers are widely noted for an exceptionally high degree of value seeking orientation. Such an orientation is not only observed in the low-end mass market, but also the luxury segment. Although price is always an overriding factor in the consumption decision of an average Indian consumer, other non-monetary considerations are also important, such as product quality, branding and design.
Generally, Indian consumers have a fairly good grasp of price levels and positioning of international brands. Their price elasticity is high, meaning that "inaccurate" pricing and positioning will make marketing doomed to failure. In this connection, prior market research on consumer preference as well as what is being offered by competitors is of utmost importance in formulating a successful business plan in India. While this may pose challenges to the establishment of new brands in India, one may simply have to see this in light of the ongoing challenge presented to the established brands, as they can hardly expect to charge "outrageous" premium for their products in the Indian market.
Well-planned spending
Indian consumers have a very good control of their household budget. In general, monthly spending is well planned beforehand. Impulse or accidental spending seldom happens among Indian consumers.
Consistent with their planning of purchases, Indian consumers will undertake research on their intended purchases, comparing prices and values for different brands, while word-of-mouth works well too. Therefore, for retailers and international brands targeting the Indian market, setting up a website of the products with detailed product information and price can add value to the marketing and brand image.
Family-centred
The importance of family takes a deep root in the mind of most Indian consumers, and this leads to a high degree of family orientation in their consumption pattern. Indians would like put aside relatively large portion of their income for the children, especially on education.
In addition, opinions from family members can easily exert a critical influence over one's buying decision. Certainly, marketing strategies and advertising can place a greater emphasis on family elements. For instance, a discount for family bundle pack can attract eyeballs.
Branded or non-brand?
In recent years, brand consciousness of the Indian consumers has been rising. Driven by the desire to be distinguished from the mainstream and build up personal image, Indian consumers are more willing to spend a handsome sum of money to climb the brand ladder. Therefore, they look for established, well-known brands for their branded purchases. Indian consumers tend to buy branded goods for apparel, watches, and other fashion accessories such as sunglasses.
For branded apparels or fashion accessories, Indian consumers place a stronger emphasis on the label than design and style. With such label conscious preference, an eye-catching logo on clothing would likely generate better sales than a trendy design item.
For non-branded items, Indian consumers would look for fancy, niche and innovative items, such as electronic gadgets, smartphone accessories etc.
Shift of the spending pattern in Indian consumer market
Generally, Indian consumers spend most of their income on food, which accounted for 69% of total expenditure in 2011. Yet, this ratio is expected to drop to 63% in 2016, thus unleashing the spending power for other discretionary items such as jewellery and watches, consumer electronics, furnishings and furniture, as well as beauty and healthcare services.
Shift in India's consumer spending
Category

2011

2016

CAGR (%)

US$ bln

Share

US$ bln

Share

Food and Grocery

325

69%

425

63%

5.5%

Apparel

35

7%

50.2

7%

7.5%

Jewellery and watches

25.6

5%

44.2

7%

11.5%

Consumer electronics and IT

22.7

5%

42.8

6%

13.5%

Pharmacy

13.9

3%

23.4

3%

11.0%

Furnishings and furniture

9.1

2%

17.1

3%

13.4%

Restaurants and food joints

8.8

2%

15.8

2%

12.4%

Footwear

4.5

1%

8.3

1%

13.0%

Beauty services

1.3

0.3%

3

0.4%

18.2%

Health/fitness services

1

0.2%

2.5

0.4%

20.1%

Others

23

5%

42.5

6%

13.1%

Total

470

100%

675

100%

7.5%
Source: Technopak
Apparel
Apparel, the second largest item in consumer spending, is expected to grow 7.5% annually for the next five years, maintaining its share in the total spending in 2016.
Unlike many other markets, male consumers in India spend more on apparel than females, particularly on branded apparel. The shift from tailoring to off the-rack brands has become obvious in the past decade. Formal suits, jackets and blazers are the best selling products among male customers in India. Interesting to note is that many Indian consumers believe that the purchase of decent suits and jackets is an investment on the work wardrobe.
International players, from luxury fashion houses Armani, Gucci, Hugo Boss and Salvatore Ferragamo to premium brand fast fashion makers Zara, Marks & Spencer and Mango have already gained their foothold in top Indian cities. They are now actively looking for locations to expand their retail networks across the Indian continent.
Compared to food and apparel with only high single-digit growth expected, other categories are expected to see double-digit growth, which will be faster than the overall growth of the overall retail market. Jewellery and watches, and consumer electronics items will be the areas showing starry performance over the next five years, as they will be becoming more important on the shopping list of Indian consumers in 2016.
Jewellery – Indians' traditional favourite
Jewellery is traditionally one of the favourite items among Indian consumers. In particular, it is very common to see women wearing jewellery in banquets or festivals.
Nevertheless, many Indian consumers still look for jewellery products showing some traces of traditional, indigenous elements in the design. Some premium local brands offer a modern, trendy design with traditional elements, which are gaining popularity among the young professional groups. Major global brands such as Cartier and Tiffany have entered the market for quite a while, yet they are under keen competition with some local brands, including Tanishq, which can offer a wider range of products, custom-made designs at value-for-money pricing.
For precious jewellery items, Hong Kong's exports to India grew at an average annual rate of some 56% during 2007-2012 and accounted for about 6% of the Hong Kong's exports to India in 2012.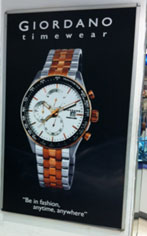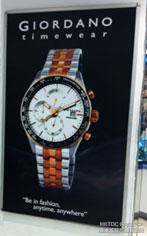 Giordano Watches counter in a department store
Premium watches hold promises in India
India's watches market is booming among the male middle-income earners, while they are looking for branded watches yet not ready to spend on luxury brands. As a result, premium brands in the watches sector (priced at around US$100-500) are performing well. Examples include Esprit, Seiko, CK, Emporio Armani and Titan (an Indian brand managed by Tata).
Also, gold watches or watches embedded with diamonds or gems are well received by rich and well-off Indians. As the market of mid-to-high-end premium watches is huge, Hong Kong companies can market their products with the right positioning and marketing strategy.
Growing demands for consumer electronics and its accessories
Consumer electronics, from AV products like panel TV, DVD players to white goods like washing machine, from mobile phone, tablet PC to smartphone accessories like iPhone docking system, are well received by Indian consumers. Market segmentation for home appliances is in a continuous spectrum, spanning the latest high-end branded products targeting the rich to local private labels for lower-income class.
With the boom of electronic gadgets such as digital cameras and smartphones, there is a surge in demand for SDHC and micro SD cards. However, this market is rather competitive as many inexpensive substitutes have flooded the market.
Hong Kong companies wishing to tap India's expanding retail market can be assured by the country's renewed reform momentum and market potential, which may bear fruit over the mid-to-long term despite the unimpressive economic performance lately. As shown in the table below, most Hong Kong exports to India have registered double-digit annual growth rates over the past few years.
Hong Kong exports to India
2007

2012

2007-12

US$ mln

US$ mln

Share (%)

CAGR (%)

Total

4,463

9,895

100

17.3

Electronics

1,198

4,056

41.0

27.6

Finished electronic products

579

2,935

29.7

38.4

Parts & components of electronic products

619

1,122

11.3

12.6

Pearls, precious & semi-precious stones

2,336

3,800

38.4

10.2

Household goods

240

1,852

18.7

50.5

Precious jewellery of metal, pearls, stones

69

630

6.4

55.6

Machinery & parts

305

524

5.3

11.4

Watches and clocks

47

102

1.0

16.8

Clothing & clothing accessories

36

41

0.4

2.6

Sporting goods

17

23

0.2

6.2

Optical goods

9

23

0.2

20.6

Processed food & beverages

*

21

0.2

*

Travel goods & handbags

14

19

0.2

6.3

Household electrical appliances

5

16

0.2

26.2

Medical & health care equipment

6

16

0.2

21.7

Toys, dolls & games

11

15

0.2

6.4

Footwear

11

15

0.2

6.4
*insignificant figures
Source: Census and Statistics Department
Electronics & Electrical Appliances
Garments, Textiles & Accessories
Jewellery
India
Other Asian Countries