https://origin.hkmb.hktdc.com/en/1X09UXWD
Guangxi: China's link to ASEAN free trade opportunities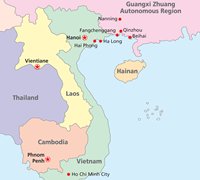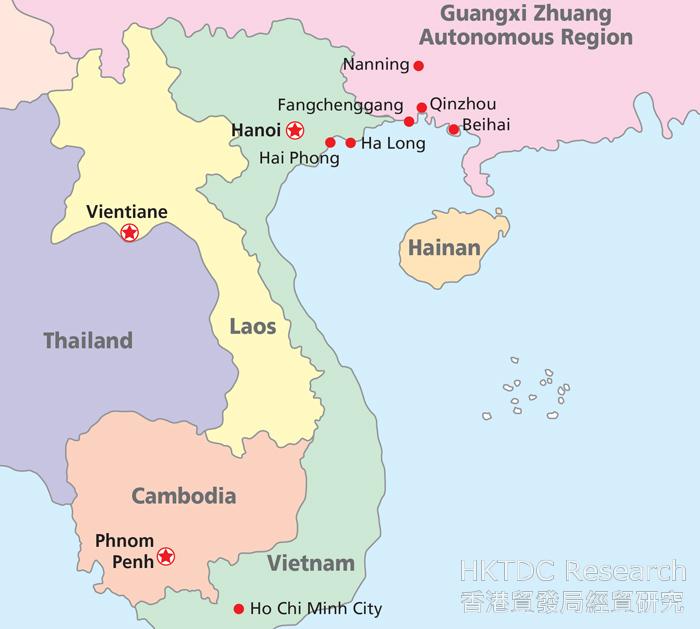 Guangxi borders Vietnam, an ASEAN member state
Trade between China and the ASEAN has received a boost since the coming into force of the China-ASEAN Free Trade Area (CAFTA) agreement. Bordering Vietnam, Guangxi has always had close economic and trade ties with member countries of the ASEAN. The establishment of CAFTA further reinforces Guangxi's status as China's bridgehead to the ASEAN markets.
In recent years, Guangxi has stepped up efforts to expand sales channels for consumer and industrial goods in the ASEAN in a bid to capture ASEAN's growing import demand under CAFTA. This, coupled with the relative ease of customs clearance and logistics between Guangxi and the ASEAN, is making the autonomous region a springboard for mainland exporters tapping the ASEAN markets.
Adding to Guangxi's improving infrastructure and logistics and transport systems, and relatively low production costs, opportunities arising from CAFTA are increasingly attractive to enterprises from other parts of the country. These enterprises are investing in factories there, turning the autonomous region into a burgeoning production and processing base on China's coast. Meanwhile, with the growing manufacturing capabilities of neighbouring Vietnam and other ASEAN countries, a mutually dependent supply chain with Guangxi is taking shape, fuelling growth in logistics and transport activities.
Guangxi has become an option for Hong Kong manufacturers that are considering relocation or expansion. Thanks to Guangxi enterprises' strong demand for supply chain management and other services, they are also potential customers for Hong Kong service providers concerned.
| | |
| --- | --- |
| Guangxi: logistics and transport activities on the rise | Guangxi: host of China-ASEAN Expo |
Guangxi-ASEAN trade growing steadily
Since CAFTA's inception in 20101, trade between China and ASEAN has been growing rapidly thanks to tariff cuts and trade facilitation measures. Bordering Vietnam, an ASEAN member state, Guangxi is China's bridgehead to the ASEAN and an ideal location for manufacturers and traders wishing to tap the market there.
Guangxi's total import-export trade increased more than 10 times from US$2.43 billion in 2002 to US$29.47 billion in 2012. ASEAN is Guangxi's largest trading partner, accounting for 40.1% of Guangxi's overall external trade in 2012. In particular, in the last five years, Guangxi's exports to ASEAN have grown at an average annual rate of around 40%, making ASEAN its largest export market in the region. In 2012, ASEAN accounted for 60.1% of Guangxi's exports and 19.4% of Guangxi's source of imports. Vietnam, in particular, by virtue of its being a neighbour of Guangxi geographically, is Guangxi's largest trading partner2 among all ASEAN countries.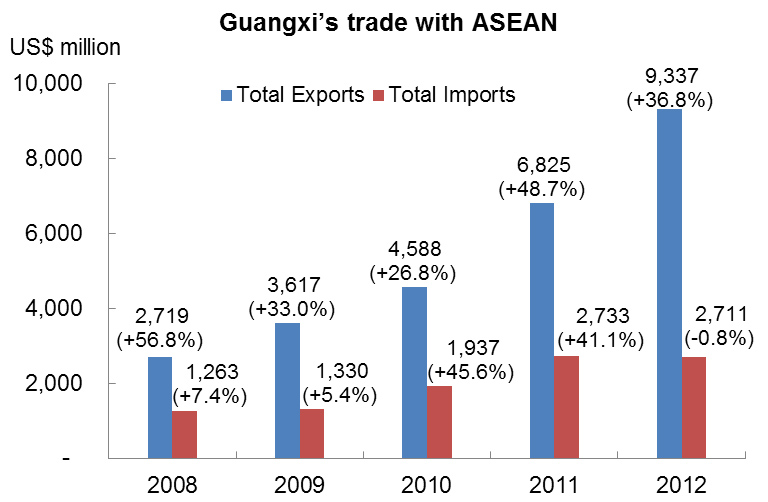 Robust growth in Guangxi-ASEAN trade in recent years
Sources: Guangxi Statistical Yearbook; Guangxi Statistics Bureau

Guangxi's exports to ASEAN mainly consist of consumer goods such as garment, electronics and home appliances but there are also lots of industrial supplies and materials. Guangxi's imports from ASEAN mainly consist of energy products, minerals and food related raw materials for processing by enterprises in Guangxi and other mainland provinces.
Major product categories in Guangxi-ASEAN trade
Guangxi's exports to ASEAN
Guangxi's imports from ASEAN
Major products
Share
Major products
Share
HS 61 Apparel & clothing accessories
29.0%
HS 27 Crude oil, mineral fuels
43.7%
HS 85 Electronic products & parts
7.9%
HS 26 Ores, slag
25.0%
HS 84 Machinery & mechanical appliances
6.9%
HS 15 Animal and vegetable fats and oils
7.2%
HS 52 Cotton
6.4%
HS 08 Edible fruits
7.0%
HS 31 Fertilisers
5.1%
HS 40 Rubber & articles thereof
3.6%
HS 27 Mineral fuels
4.4%
HS 84 Machinery & mechanical appliances
2.3%
HS 87 Vehicles & parts
3.4%
HS 74 Copper & articles thereof
1.8%
Remarks: (1) 2012 figures; (2) Shares calculated in terms of value
Sources: China Customs/Global Trade Atlas database
Food & Beverages
Logistics & Supply Chain
Mainland China
Mainland China
ASEAN