https://origin.hkmb.hktdc.com/en/1X09VR4N
France 2014: the truly Gallic style Hong Kong embraces
Unlike emerging markets that are receptive to most fairly priced products, buyers in the mature markets, such as France have much more sophisticated requirements. How far a Hong Kong exporter can embrace France's art of living into their offerings and adapt to the buyers' ever-changing buying habits will determine how successfully they can compete in the French market.
A new era of consumer goods exports
Selling to mature markets like France requires a totally different marketing mix from emerging markets where price has often been the sole determining factor in securing orders. To appeal to French consumers who have more sophisticated requirements beyond prices, Hong Kong companies need to master different aspects including but not limited to function, safety, sustainability, playfulness and aesthetics.
The different distribution dynamic can also affect the chances of success of Hong Kong exports in France. As a mature market, retail concentration and vertical expansion of giant players are commonplace, while advanced logistics and communications technologies and infrastructure also enhance the development and penetration of new distribution channels such as online comparison shopping, not to mention the country's long tradition of distance selling.
The recent global recession and the European sovereign debt spiral have taken a toll on French consumers' purchasing power and appetite. Nonetheless, consumer goods remain the mainstay of Hong Kong's exports to France, accounting for 54% of the total exports in January-October 2013.
The evolution of Hong Kong's exports to France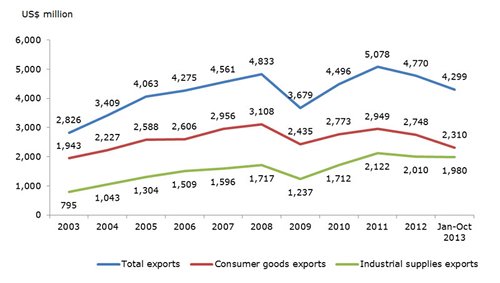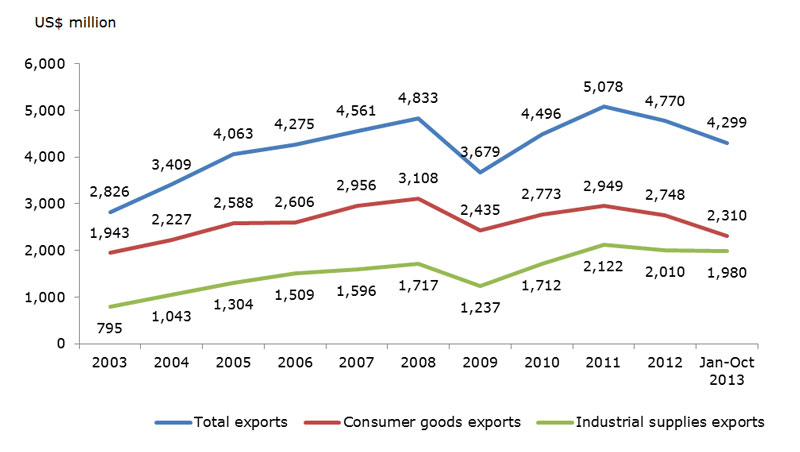 Consumer goods remain the mainstay of Hong Kong's exports to France
Source: Census and Statistics Department, HKSAR Government

In terms of the product category, Hong Kong's consumer goods exports to France are rather concentrated in fashion-related items with clothing, clothing accessories, jewellery, travel goods, handbags, watches, spectacles and footwear topping the export list. Seven of the top ten export items belonged to the fashion category in the first ten months of 2013, which accounted for more than 60% of the total consumer goods exports to France.
Hong Kong's major consumer goods exports to France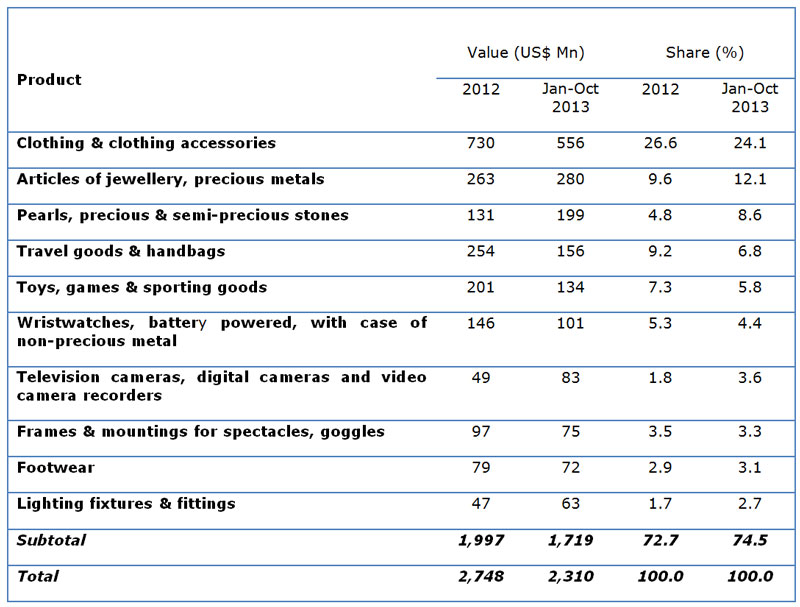 The fashion category accounts for more than 60% of Hong Kong's total consumer goods exports to France.
Source: Census and Statistics Department, HKSAR Government

It is also noted that because of the weak economy, French consumers have changed their buying habits changing to new, money-saving options such as private labels and online comparison shopping, which was once unknown especially in the non-food area.
Embracing the changing consumer trends in France
As revealed by local French garment distribution agents, for example, local footprints are increasingly crucial for newcomers wanting to tap into the French apparel market. For example, increased visibility to buyers via showrooms or association with local buying offices are becoming indispensable in ensuing success in the polarising French fashion market where consumers are emerging from a confidence crisis. It is noteworthy that French consumers are now buying less, but not necessarily cheaper.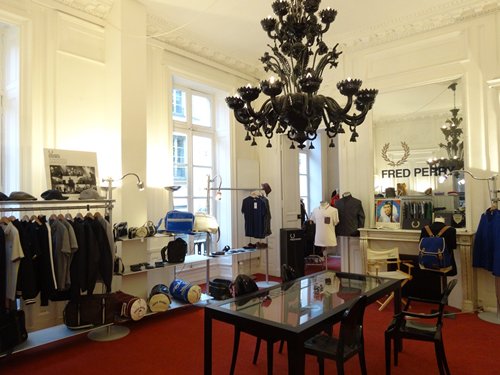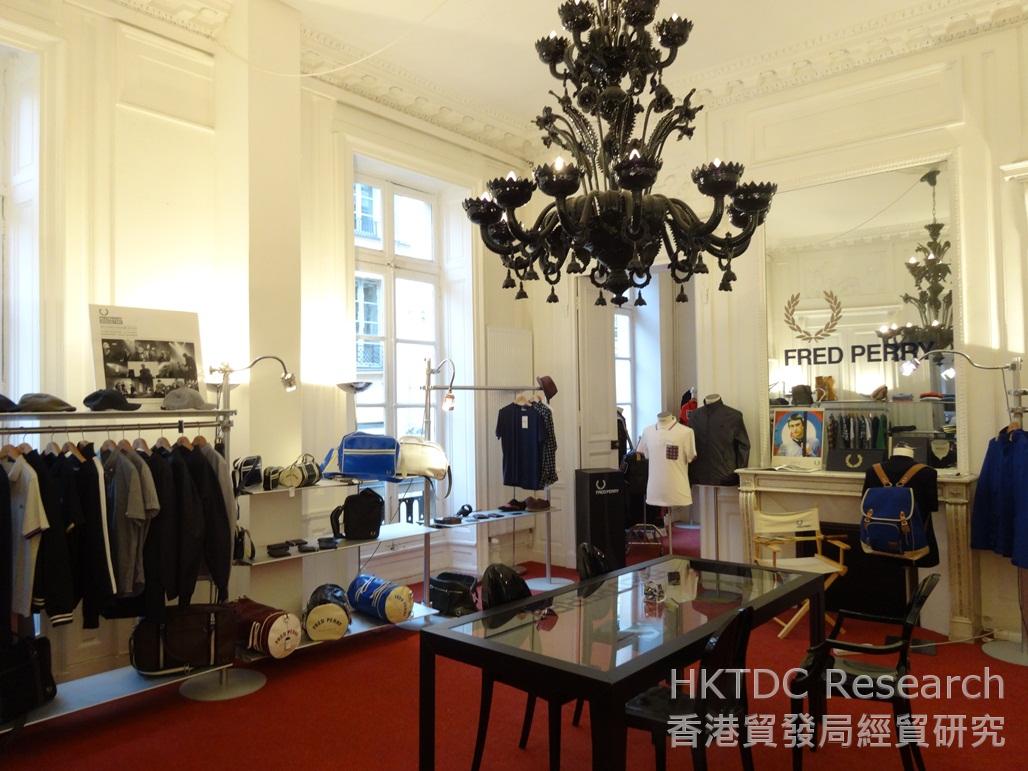 A showroom in Paris displaying the latest collection of several British fashion brands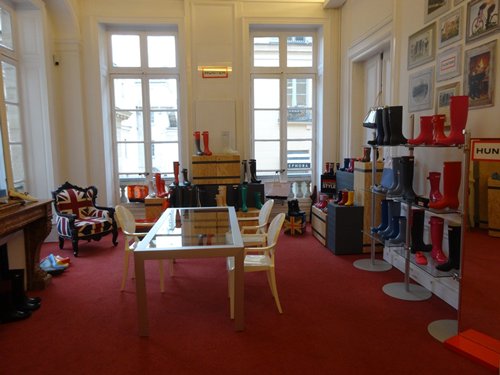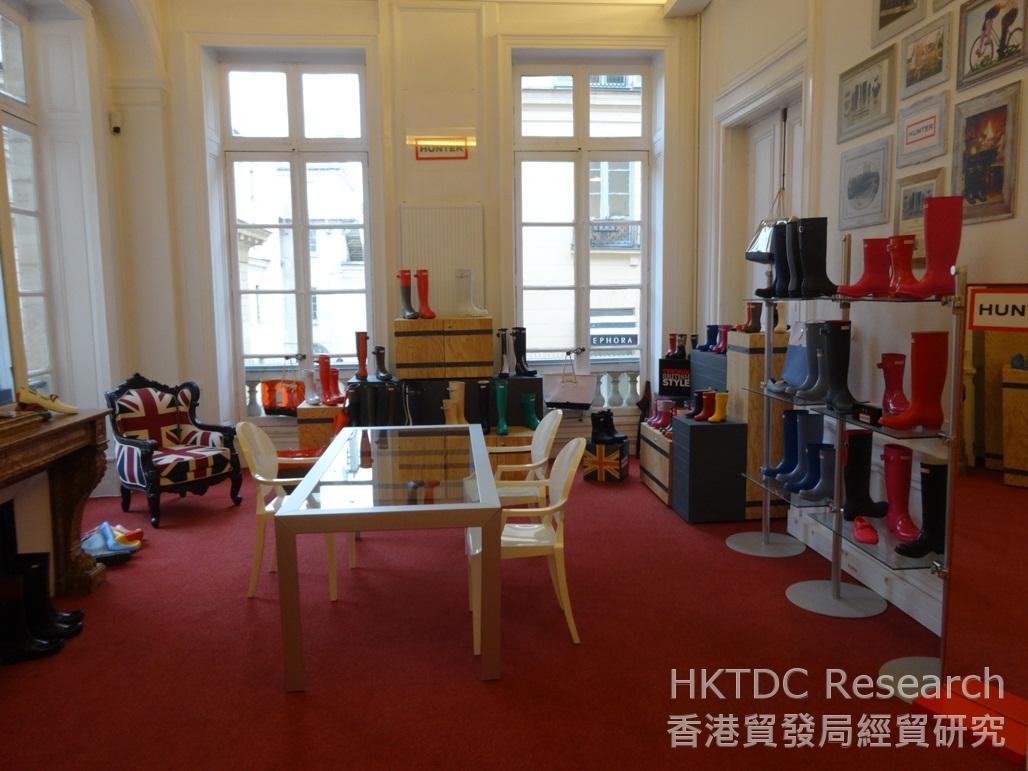 A showroom in Paris displaying the latest collection of several British fashion brands

The recent Eurozone crisis brings the need of creativity while Asian brands are widely considered the future of the fashion world. Paris, together with Milan and London, is considered a world-class platform to hold high-end fashion and trade shows of different scales to promote young Asian designs and launch new brands. Hermes' SHANG XIA, is a good example bringing the excellence of Chinese and Asian craftsmanship into contemporary lifestyle. To increase the odds, Hong Kong or Asian fashion brands need to break the image of "cheap" products associated with the "Made in China" label. One way of achieving this aim is to have certain final production processes done in France like the Hong Kong-based Chung Nam Group, which has a manufacturing presence in France (named ISA FRANCE SAS) assembling moving parts for watches.
Fashionable watches priced between €100 and €3,000 are increasingly popular among French consumers who like matching timepieces to their outfits. Examples of young French watch brands focussing on the fashion segment include BRM and OSSAU. Unlike luxury Swiss-made watches, this niche market requires fewer repairs and less maintenance, creating lower entry barriers for Hong Kong watch companies who used to work on OEM orders or watch parts and components only.
In fact, the French timepiece market has been rather resilient during the recent Eurozone crisis, not seeing any significant setback until mid-2012. So far, the dip is regarded as cyclical (happening more or less every seven years) due more to the upgrading or ceasing production of old models by big watch groups, than the economic recession. Watches aimed at the middle classes who are prepared to pay between €100 and €1,000 have been the bestsellers in recent economic bad times, while sporty watches have become a new battlefield for both big and small companies.
Other than top-end brands, which have been booming thanks to the deep pockets of Asian clientele (accounting for 95% of sales of some leading French luxury jewellery brands) and Russian customers, France's overall jewellery market has been trending down and dominated by low-end items selling mainly in stores inside hypermarkets/supermarkets.
Against an annual retail turnover of €5billion, the 9-carat gold market (easy to sell/grow as prices are lower) has been one of the best-performing areas. As revealed by local jewellers, it is not uncommon to see only eight options of 18-carat gold items in 690 categories in major jewellery chains. In this regard, Asian suppliers from Hong Kong, the Chinese mainland and Vietnam have become major suppliers of gold jewellery to the mass-market segment.
The rising trend of fashion brands of precious and costume jewellery features high margins as perfumes and suits perfectly the appetite of fashion-conscious French shoppers and fashion jewellery is also undergoing a quick revolution in France. Greece's Folli Follie is a good example of brands benefitting from the rising trend of fashion jewellery.
In addition, there is an increasing number of young designers/jewellers entering the industry designing and creating their own collections. With their greater receptiveness to sourcing from Asia and the shorter product life cycle – six-month collection catering to the launch of new collections twice a year at Paris Fashion Week – these young French jewellers are evolving as an expanding group of new clients for Hong Kong jewellery suppliers in the post-recession French market.
As for electronics and electricals (E&E), appliances combining intellectual control systems with high-end designs and materials are good potential. However, many French E&E companies have already relocated their production to eastern European countries such as Poland to take advantage of the lower production costs and proximity to the emerging pool of consumers there. It is, therefore, important for Hong Kong companies to get in touch with manufacturers in these eastern European countries or look for other niche markets such as small household appliances such as coffee-makers, food processors and microwave ovens.
Another star performer in the E&E market is lighting. There is particularly huge demand for LED lighting and components as LED prices are trending down. While France is not a big lighting manufacturer compared to Germany, Italy and the Netherlands, the French market is very mature as to the distribution of lighting products. On the retail level, the mass market is concentrated in the hands of big players such as Carrefour (supermarkets), Castoroma (DIY stores) and Monoprix (convenience stores), while the professional market is under the control of Rexel (electrical supplies), Franco Belge (construction equipment) and Leroy Merlin (home improvement and gardening).
These big players are so strong in the distribution of lighting products in France that they leave little room for newcomers, They do, however source either directly or indirectly from local distributors of niche items in small quantities. It would thus be difficult for new-to-the-market suppliers to reach small players such as individual electricians who are so fragmented in the provision of door-to-door services. To begin, Hong Kong companies must get in touch with the buyers of major French lighting distributors in Hong Kong or the Chinese mainland. Since many of these big French buyers are frequent visitors to lighting fairs in Hong Kong, local companies should grasp these occasions to introduce themselves and their products to prospective French clients.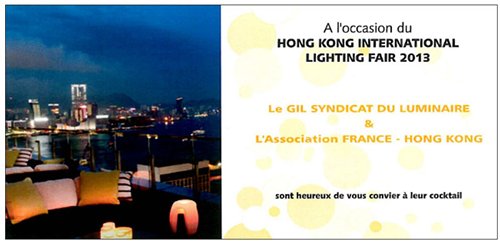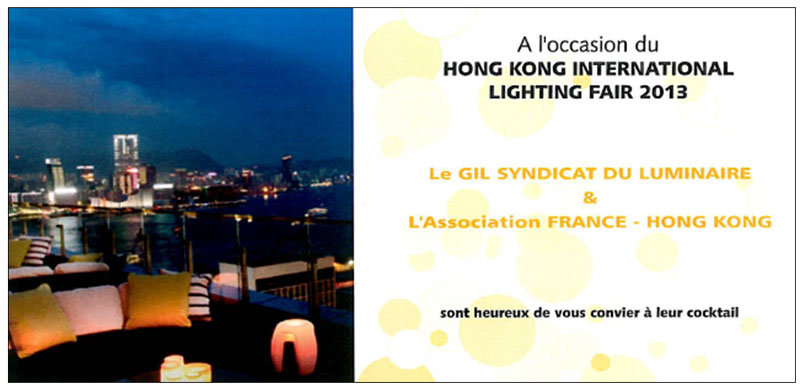 A cocktail reception hosted by the French Federation of Lighting in Hong Kong during Hong Kong International Lighting Fair 2013
Source: French Federation of Lighting

Catering to a new playing field
The weakened economy coupled with the long tradition of distance sales such as mail orders or telesales has accelerated the penetration of retail e-commerce in France, thanks also to the greater availability of mobile and e-commerce applications that are increasingly popular tools for online purchases. With B2C e-commerce sales reaching €45billion in 2012 (up from €38billion in 2011 and €31billion in 2010), France was ranked the third-largest e-commerce players in Europe, behind the UK and Germany.
The growing popularity and increasing market share of shopping online for fashion items such as clothes, footwear and clothing accessories are highly favourable to the business of Hong Kong exporters, while that of technical products including consumer electronics resembles largely the strength of Hong Kong's exports. With 69% of French internet users aged 16 to 74 reporting that they had shopped online in the previous 12 months (compared to an EU28 average of 59%), the post-recession French consumer market landscape is poised to bring new frontiers for Hong Kong exporters and brand owners.
Snapshots of French Internet sales (2012) by major category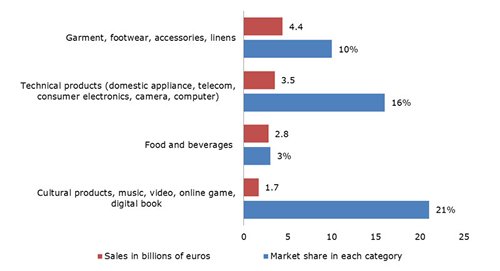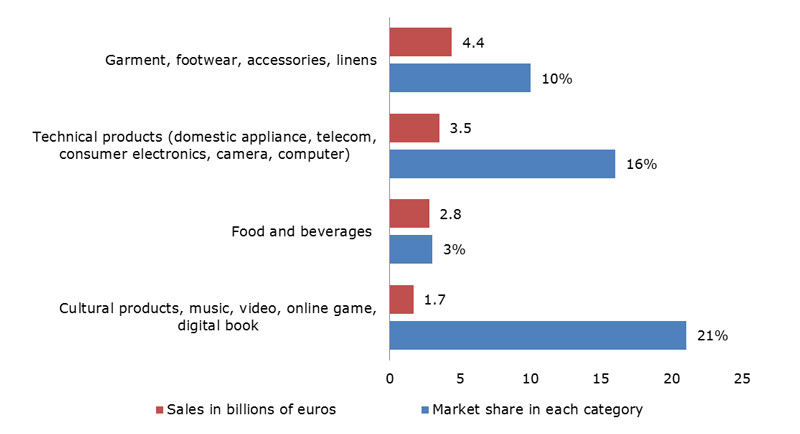 The growing popularity and market share of shopping online for fashion are highly favourable to the business of Hong Kong exporters
Source: FEVAD, French Institute of Fashion, French Federation of Footwear, GfK, Kantar Worldpanel

Accounting for roughly 7% of non-food retail sales in France (compared to 6% of total retail sales in China, for example), the internet has been quickly gaining a foothold in the French retail market. The phenomenon is not only suggesting a new buying behaviour, but a new wave of marketing and trading possibilities. With the help of the online marketplace and therefore easier access to the business arena, more and more French people and companies, especially among the young designers and professionals, have started or expanded their online operations.
Added to the abovementioned advantages is the hard-to-come-by flexibility offered by online stores in relation to opening hours. In France, most of the shops will be closed by 7pm every day from Monday to Saturday and whether shops should open on Sundays remains a longstanding debate. With the cyber marketplace, consumers no longer need to rush out on Saturdays to do their weekly shopping.
Riding on the cyber trend, more and more of these new or expanding business ventures are looking for OEM manufacturers and/or suppliers of quality products to fill their online stores where there they can show a much bigger and wider assortment of products, which is not conceivable or practical given the space limitation of shops.
This demand is set to expand as French consumers are becoming accustomed to shopping online and willing to put into their shopping carts items that they would usually shop for offline only. Many French buyers who have been regularly sourcing from Hong Kong (most of them have started their e-commerce businesses) have already either increased their buying frequency to cope with the ever-changing online business environment or expanded their list of suppliers to fulfil the broadening product assortment requirements.
Examples of French buyers frequently sourcing from Hong Kong
Many French buyers have already increased their buying frequency or expanded their list of suppliers to cope with the blossoming online businesses
Source : HKTDC

On top of the growing opportunities from the new, expanding wave of online business, new-to-the-market players, especially those small- and medium-sized companies, can now have the option of promoting their goods or brands online by themselves and reach their French buyers with the help of local online shopping sites, logistics partners (e.g. French National Post Office, la Poste) and after-sales services providers, instead of going through traditional distribution channels such as department stores, chain stores or local agencies.
To look for local assistance, Hong Kong companies can contact representative French organisations for the e-commerce and home shopping industry. For instance, French Federation of E-Commerce and Distance Sales (FEVAD), is representing a wide array of e-commerce websites in France with an aim to promote the sustainable and ethical development of e-commerce in France. According to FEVAD, an average of 29.1 million internet users visited at least one of the top-15 e-commerce websites during the second quarter of 2013. These popular e-commerce websites can therefore be good platforms for Hong Kong companies and brand owners to commercialise their ideas and kick start their trading business with France.
The top 15 most visited e-commerce sites in France (April-June 2013)
Name
Website
Average unique visitors
per month
Amazon
www.amazon.fr

14,389,000

Cdiscount
www.cdiscount.com

9,557,000

eBay
www.ebay.fr

8,470,000

Fnac
www.fnac.com

8,383,000

Voyages-Sncf.com
www.voyages-sncf.com

7,732,000

La Redoute
www.laredoute.fr

7,394,000

PriceMinister
www.priceminister.com

7,179,000

Carrefour
www.carrefour.fr

6,705,000

Groupon
www.groupon.fr

6,551,000

Vente-privee.com
http://fr.vente-privee.com

5,660,000

Rue du Commerce
www.rueducommerce.fr

5,471,000

Leroy Merlin
www.leroymerlin.fr

4,999,000

Castorama
www.castorama.fr

4,416,000

Darty
www.darty.com

3,950,000

Decathlon
www.decathlon.fr

3,776,000

These popular e-commerce websites are good platforms for Hong Kong companies to commercialise their business ideas in France
Source: FEVAD

In light of the larger number of small e-businesses, Hong Kong companies, instead of contacting them individually, can get into touch with umbrella associations such as French Retail Trade Association (FCA) which boast 80 groups of entrepreneurs or associated small merchant members generating a total retail turnover of over €138 billion or 29% of retail sales (twice the size of the aggregate franchise market) in 2012. With a vast distribution network of more than 41,218 outlets scattered across France's 22 administrative regions (27 including the five overseas regions) and 96 subdivided districts, FCA members (most of them have e-tailing businesses) can be good partners to whom Hong Kong companies to promote their products either for online sales or normal in-store distribution.
Mirroring the B2C market, France's B2B e-commerce is also becoming a more common channel among French businesses for sourcing and marketing. It is estimated that 73% of French businesses are placing orders directly via the internet. However, to capture the attention of these French online buyers, Hong Kong companies have to understand their buying behaviour, especially selection habits and criteria.
More than half of those French companies who source online will look up a product catalogue before placing an order, while 30% will visit competing websites to compare offers. These findings reveal that printed product catalogues remain a useful, practical means to draw the attention of French business buyers, while website designs can play a vital role in enhancing business by attracting customers to browse and facilitating them to compare offers.
In terms of selection criteria, price is by far the most important, while quick delivery and long co-operation relation are also important factors affecting the choice of online suppliers. These findings are consistent with the fact that many French companies rely on online sourcing for price-competitive mass merchandise in a timely manner to withstand the fierce price competition from popular international e-platforms such as Amazon.
Buying habits of French companies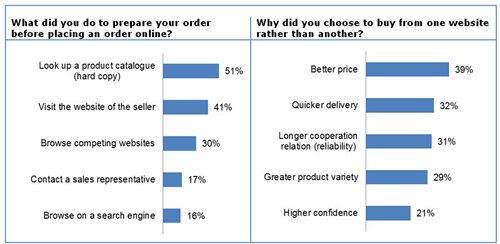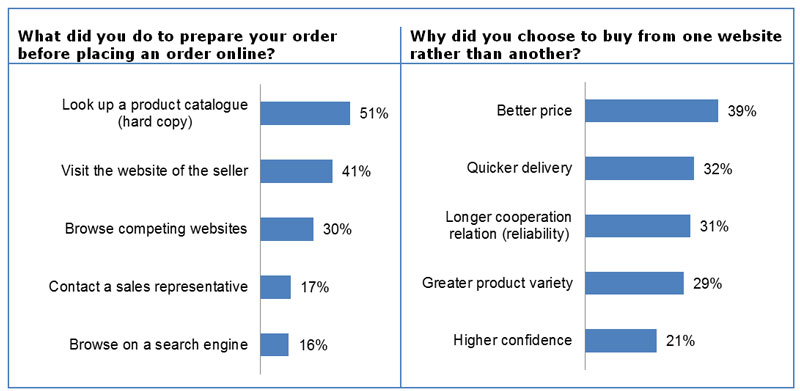 Hong Kong companies have to understand the selection habits and criteria of French online buyers to capture their attention
Source: FEVAD

Fitting in the wave of reignited industrial demand
Against the background of French industrial upgrading and the trend of near-shore sourcing/outsourcing, industrial supplies such as raw materials and capital goods are increasingly becoming greatly in demand. Given this buoyancy, Hong Kong's industrial supplies exports to France witnessed a 149% jump between 2003 and 2012, while the share of industrial supplies exports increased from 28% of Hong Kong's total exports to France in 2003 to 42% in 2012 and further to 46% in the first ten months of 2013.
Trade concentration also occurs in Hong Kong's industrial supplies exports to France where office machines and automatic data processing machines, telecommunications and sound recording and reproducing apparatus and equipment, and electrical machinery, apparatus and appliances altogether represented nearly 70% of the total in January-October 2013.
Hong Kong's major industrial supplies exports to France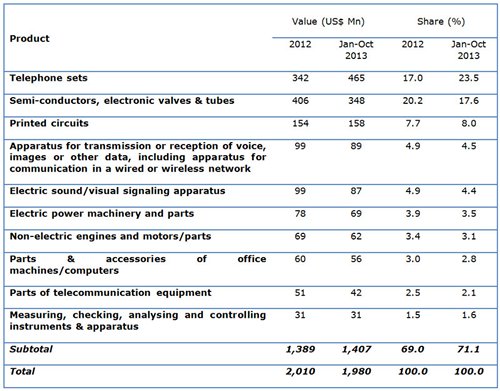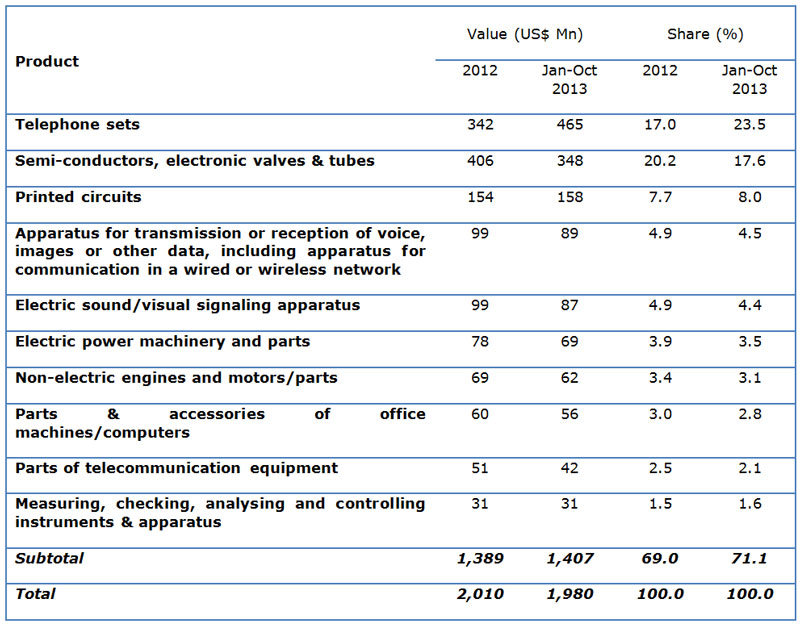 Industrial supplies are increasingly becoming greatly sought-after in France
Source: Census and Statistics Department, HKSAR Government

The upbeat demand for industrial supplies looks set to prevail in view of the French government's recent industrial recovery plan bolstering 34 different sectors from cloud computing and supercomputers to innovative products for safe, healthy and sustainable food to recycling and green materials. This together with the country's drive to increase its investment attractiveness to try to reach the target of 1,000 foreign investment decisions and 300 new companies per year in the French market by 2017 is going to generate sustained demand for industrial supplies, and hence considerable opportunities for Hong Kong exporters of the relevant fields.
France's 34 priority sectors for its industrial policy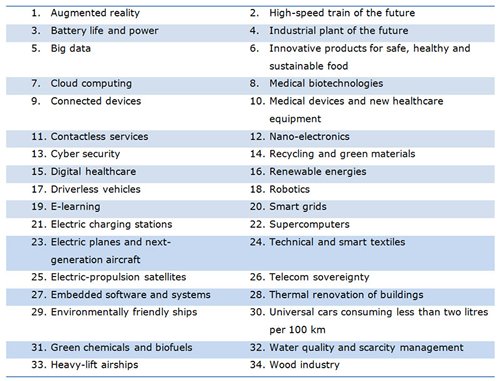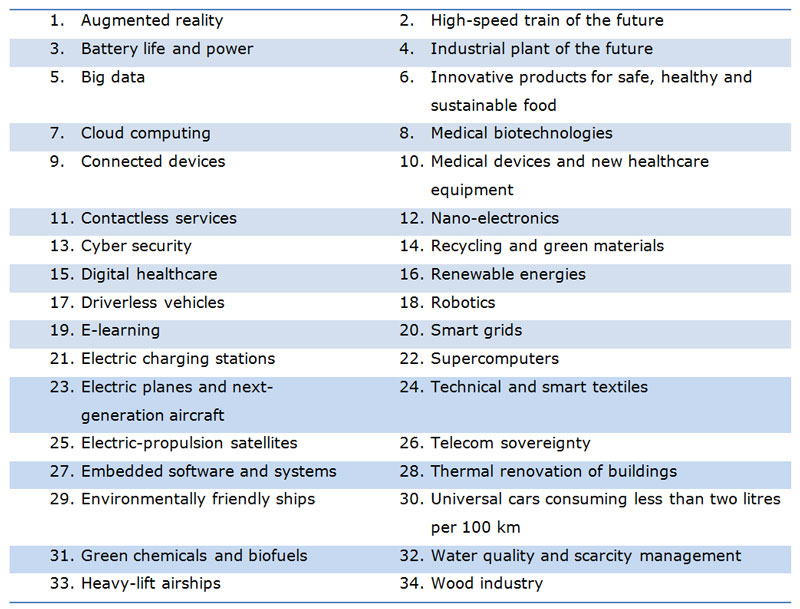 France's recent industrial recovery plan is generating sustained demand for industrial supplies and hence considerable opportunities for Hong Kong exporters
Source: Invest in France Agency

To better fit the wave of evolving industrial demand, Hong Kong companies have to strengthen their supply chain capabilities to accommodate quick delivery needs and small order size, while fostering better connection with French importers/distributors to ensure sufficient exposure.
France
Hong Kong
Western Europe