https://origin.hkmb.hktdc.com/en/1X09WOCO
Accumulating cross-border RMB business experience via Qianhai
After the launch of cross-border renminbi (Rmb) loans in Qianhai early last year, companies registered in the zone are now able to obtain Rmb funds from some banks in Hong Kong. This opens a cross-border lending channel for Rmb business in Hong Kong. Speaking at the Asian Financial Forum in Hong Kong in January 2014, Li Qiang, deputy director general of the Authority of Qianhai Shenzhen-Hong Kong Modern Service Industry Cooperation Zone, further indicated that Qianhai is actively studying the possibility of allowing mainland funds to invest abroad through Qianhai and hopes to see more two-way Rmb flows. Hong Kong banks are also vying to play a bigger role in cross-border Rmb business and hope to grab a bigger piece of the pie in the process of Rmb internationalisation.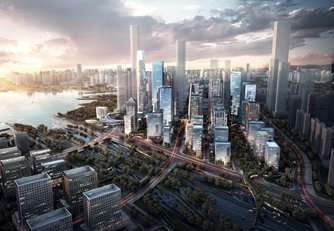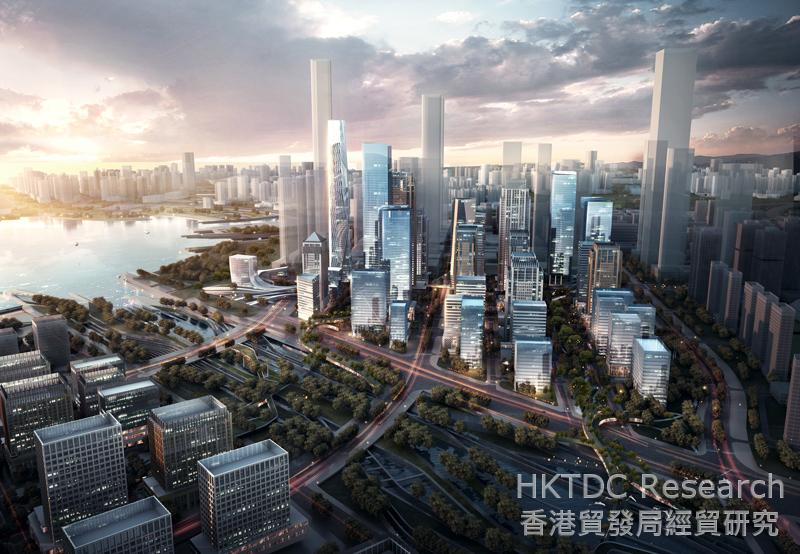 Future development of Qianhai (Image courtesy of Qianhai Shenzhen-Hong Kong Modern Service Industry Cooperation Zone)
Financial reform and innovation
One of the priorities of the policies for the development and opening up of Qianhai is to implement early and pilot schemes in financial reform and innovation, build a modern service industry institutional mechanism innovation zone and a bridgehead of closer Hong Kong-mainland cooperation, and explore ways to broaden the channels for the repatriation of Rmb capital, coordinate and support the development of offshore Rmb business in Hong Kong, and build itself into an innovative and experimental hub for cross-border Rmb business.1
However, the "Regulations"2 of Qianhai stipulate that cross-border Rmb loans must be used primarily on construction and development projects and must meet the requirements stated in the catalogue of permitted industries for Qianhai. There are also restrictions on the utilisation of the loans. For example, they may not be used on negotiable securities and financial derivatives, entrusted loans, financial products and the purchase of property not for one's own use.
Apart from the above-mentioned restrictions, Mr Ngan Kim Man3 of Hong Kong's Hang Seng Bank noted out that because the modern service industry cooperation zone is still in a stage of infrastructure construction and companies registered in Qianhai cannot start their business there until a year or two later, Rmb loans from Hong Kong banks are mainly used to finance infrastructure construction and as initial investment in Qianhai at this stage. He said Hong Kong banks have yet to develop cross-order Rmb loans for the actual operation of Qianhai companies.
Hong Kong banks building track records
The "Regulations" also impose certain operational requirements on the arrangement of cross-border Rmb loans between Qianhai companies and their banks, including the requirement that they must file such loans with the Shenzhen branch of the People's Bank of China for the record through their domestic settlement bank. After providing information on the purpose of the loans, they can apply for cross-border Rmb loans from Hong Kong banks that handle Rmb business by presenting the Registration Form for Qianhai Cross-Border Rmb Loan and other documents. They are also required to set up a special account at a domestic settlement bank to handle the Rmb loan remitted from Hong Kong, and the Hong Kong lending bank can only make the transfer upon verification by the domestic settlement bank.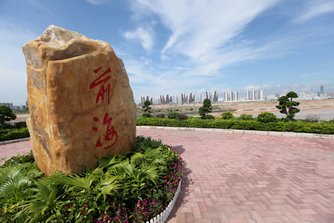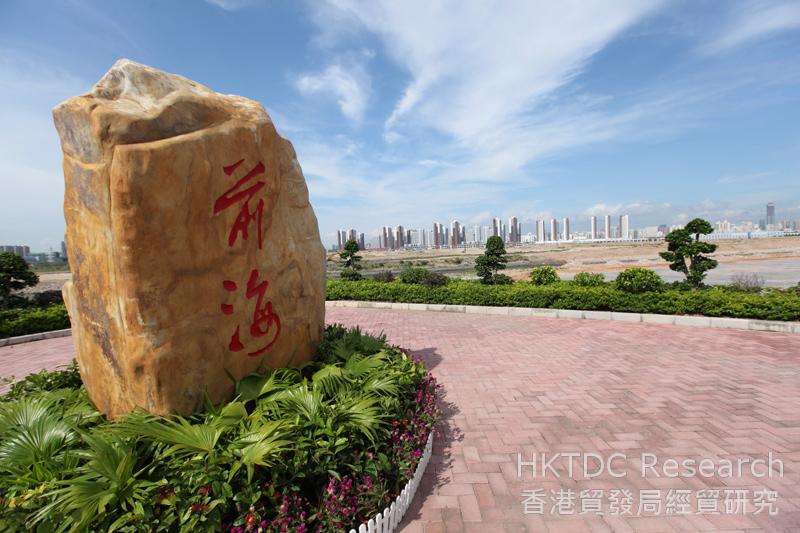 Qianhai (Image courtesy of Qianhai Shenzhen-Hong Kong Modern Service Industry Cooperation Zone)
In spite of these cumbersome procedures, many Hong Kong banks indicated they would actively work with Qianhai companies to meet the relevant regulatory requirements in order to further develop the cross-border Rmb business. Mr Ngan told HKTDC that although they are still in the initial stage of starting their Rmb business in Qianhai, participation in Qianhai cross-border lending would help them accumulate practical experience and better understand various requirements of the "Regulations" on companies and banks.
Further opening up for future development
Mr Ngan reckons that after enterprises in Qianhai begin their production and operation, the cross-border loans will be used more for supporting their actual production and operation as their financing needs gradually increase. With the passage of time, the business of many Qianhai companies is expected to touch on commercial activities beyond the cooperation zone. Thus, although the "Regulations" stipulate that cross-border Rmb loans must be used on Qianhai's construction and development, more open measures and methods may be adopted to meet Qianhai's development needs and actual commercial demand. This may accelerate the pace of Rmb internationalisation.
Companies in Qianhai have secured loans amounting to over Rmb15 billion from Hong Kong since the launch of the Rmb loan business in January 2013,4 and Hang Seng Bank is one of the first Hong Kong banks to participate in this pilot scheme. Hang Seng currently has service outlets in more than 10 major Chinese cities. In tandem with development needs, Hang Seng Bank (China), a wholly-owned subsidiary of Hang Seng, opened a sub-branch in Qianhai in June 2013. This became the first bank outlet set up by a foreign bank in Qianhai to support business development in the zone.
(For more information about the development of Qianhai, please refer to the research article "Opportunities in China's opening-up: the Qianhai test bed" of the HKTDC Research.)
---
| | |
| --- | --- |
| 1 | Reply of the State Council on the Relevant Policies Supporting the Development and Opening Up of the Qianhai Shenzhen-Hong Kong Modern Service Industry Cooperation Zone of Shenzhen, June 2012 |
| 2 | Relevant provisions of the Rules for the Implementation of the Interim Measures for the Administration of Cross-Border Rmb Loan Business in Qianhai (January 2013) |
| 3 | Mr Ngan Kim Man is head of Cross Border and Rmb Business Development of Hang Seng Bank |
| 4 | Source: Authority of Qianhai Shenzhen-Hong Kong Modern Service Industry Cooperation Zone |
Mainland China
Mainland China