https://origin.hkmb.hktdc.com/en/1X09WODN
Targeting Indonesia's female shoppers – prime products and channels
The increasing purchasing power of women shoppers is key to the growth of Indonesia's consumer market and has created opportunities for both Hong Kong and international brands, particularly those retailers that specialise in such products as apparel and fashionable accessories.
The proportion of employed Indonesian women has gradually increased to 43 million, or 52% of the working age population of women, up from 46% a decade ago. Also, the per capita disposable income of Indonesian women grew at a compound annual growth rate (CAGR) of 12.5% between 2002-2012, surpassing the ASEAN average. Higher incomes naturally enhance the spending power of women, thereby generating opportunities for producers of fashion, cosmetics and household products.
Due to the increase in purchasing power, Indonesian consumers are shifting from traditional outlets and moving towards modern retailers when it comes to discretionary items. With a competitive edge in product quality and design, Hong Kong fashion and accessory brands have become partners for those Indonesian retailers seeking to introduce more mid-range products to the female consumer market.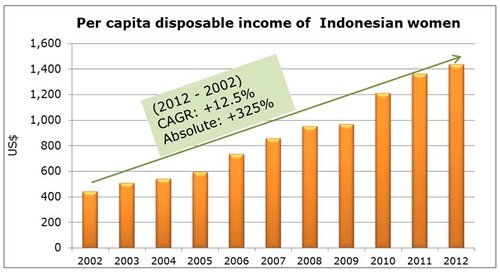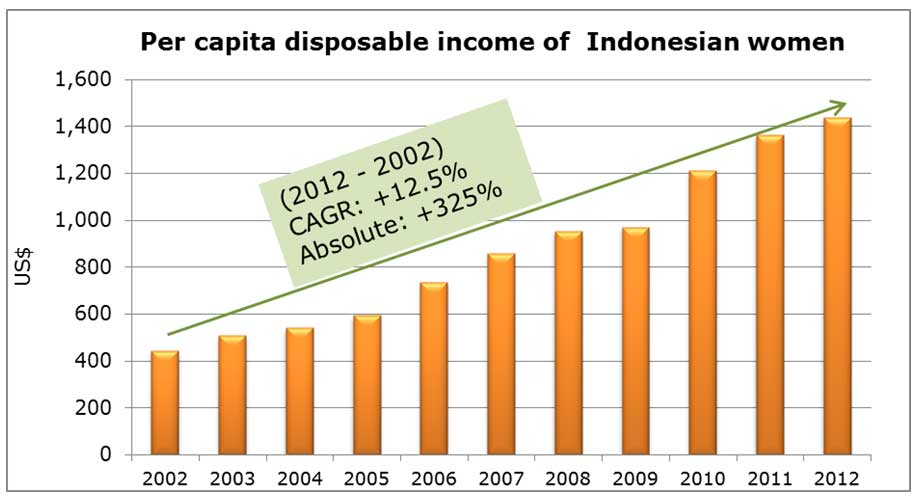 The income of Indonesian women has grown significantly
Source: Euromonitor International
Indonesian women are also better educated. According to the World Bank, the enrolment rate for Indonesian women in secondary education was 70% in 2012, an increase of 20 percentage points over the past decade. The number of students in higher education, including university students, has also grown by 40% to 2.6 million.
Indonesian women have also taken up more mid-level managerial positions. According to the World Economic Forum's Global Gender Gap Report, companies with female top managers increased from 20% of the total in 2007 to 31% in 2012. Those with the highest purchasing power and willingness to spend, aged from 25 to 40, account for 40% of all employed women and are the most frequently targeted customers by foreign brands.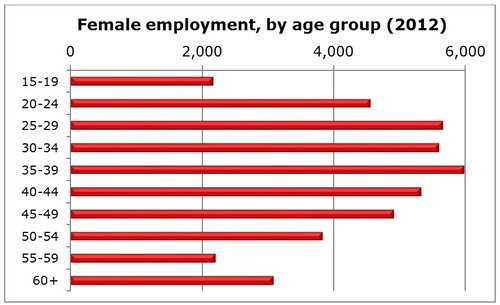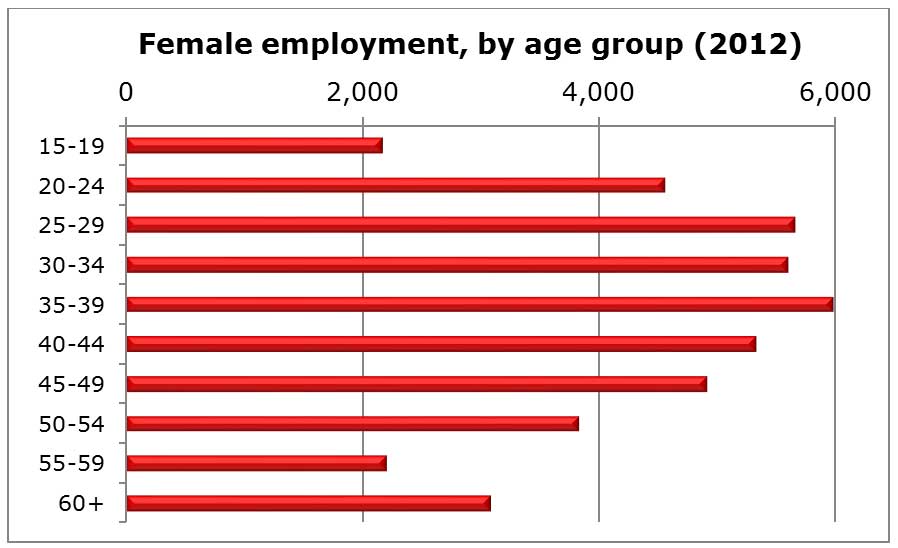 Working women in Indonesia are predominantly in the 25-40 age group
Source: Euromonitor International
International brands flourishing in Indonesian women's fashion market
With growing exposure to international culture, Indonesia women are increasingly keeping up with the latest fashion trends. The local fashion scene is further divided into Western and Muslim fashion styles. Influenced by foreign celebrities, American and European styles are popular among Indonesian women aged 25 or above, while Japanese and South Korean fashions, represented by pop stars, influence younger women.
The Indonesian clothing market is noted for the presence of a number of famous global brands, while no brand in particular dominates the mid-to-high-end segment. Among the most well-known brands among Indonesian consumers are several chain store networks, such as Giordano, Zara and Levi's, which have stores in most of the upscale shopping malls. Eyeing the increasingly brand-conscious consumer market, Sweden's H&M and Japan's Uniqlo launched their first outlets in Jakarta in 2013.
Major foreign brands in the clothing sector (2012)
| | | |
| --- | --- | --- |
| | Number of outlets | Retail space (surface area, '000 sqm) |
| Giordano | 135 | 23.3 |
| Adidas | 61 | 14.7 |
| Levi's Store | 37 | 4.8 |
| Marks & Spencer | 15 | 13.4 |
| Zara | 10 | 11.8 |
| Dorothy Perkins | 8 | 1.3 |
| Gap | 5 | 3.8 |
Source: Euromonitor International
Owing to restrictions on foreign investment in retail businesses, foreign brands entering the Indonesian fashion market have done so in collaboration with local partners. For example, Mitra AdiPerkasa (MAP), the local licence holder and partner of many foreign brands, including Zara, Topshop and Lacoste, has introduced brands through licensing agreements and acquiring brand licences. Some Hong Kong apparel brands, such as Giordano and Bossini, have established stand-alone shops through local partners and now occupy retail space in department stores.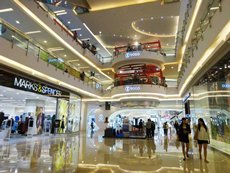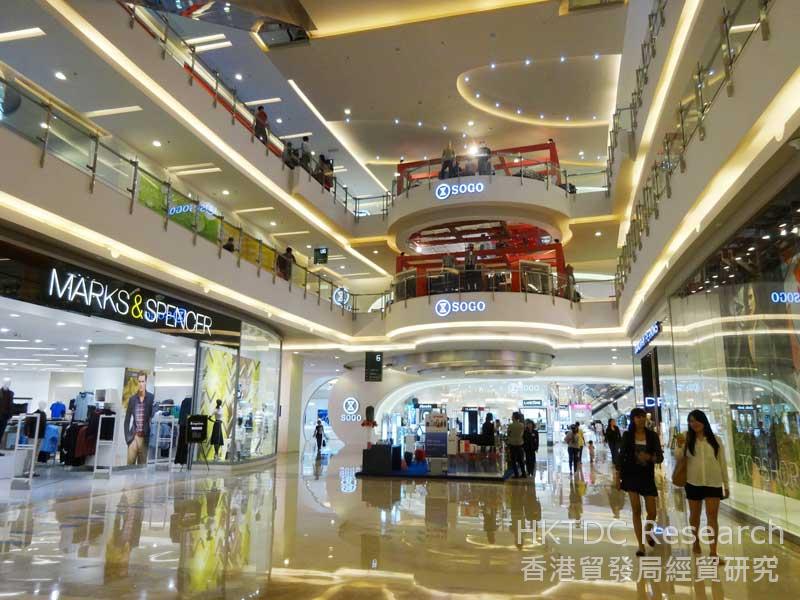 Sogo and Marks & Spencer at Central Park shopping mall in Jakarta
Department stores with a shops-in-shop format are another common channel through which foreign brands enter the local market. There has also been rapid growth in the number of shopping malls that have at least one department store. Foreign brands, such as Sogo, Metro and Marks & Spencer, are the major players in the upper to high-end segment, while local department stores, such as Matahari and Ramayana target the mid-to-low-end market.
Despite the increased competition due to the influx of local and foreign brands, the Indonesian apparel market is far from saturated in the middle- to high-end segment, offering opportunities for those foreign brands with unique and modern designs. In June 2013, the French department store Galeries Lafayette opened a three-storey shop in an upscale shopping mall in Jakarta. Targeting the expanding high-end market, it includes a wide range of international luxury fashion, accessories and cosmetics brands.
Major department stores in Indonesia
Foreign

Local

Company

Outlets

Retail space ('000 sqm)

Company

Outlets

Retail space ('000 sqm)

Sogo (Japan)

12

173.3

Matahari

116

565.6

Metro (Singapore)

8

96.8

Central (Thailand)

8

55.9

Marks & Spencer (UK)

15

13.4

Ramayana

112

685.2

Debenhams (UK)

2

35.9

Seibu (Japan)

1

27.0

Toserba Yogya

50

145.1

Galeries Lafayette (France)

1

12.5
Source: Euromonitor International, HKTDC Research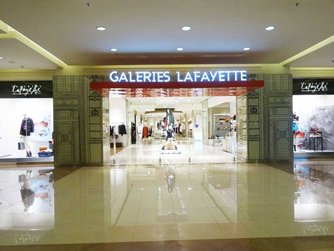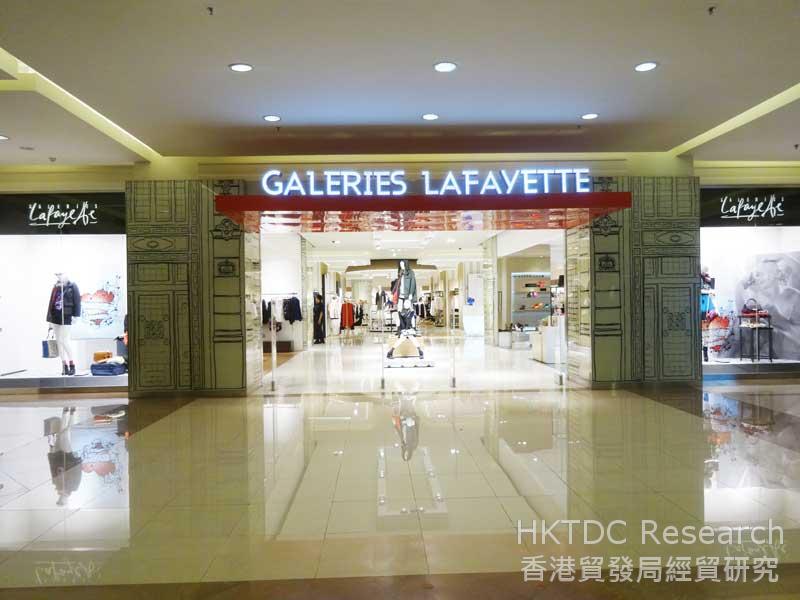 Galeries Lafayette at Pacific Place, Jakarta
In order to differentiate themselves and diversify their product portfolio, department stores actively seek out new fashion brands and unique designs, including many from the United Kingdom, Japan and Singapore. In addition to visiting local sourcing fairs, some Indonesian buyers participate in overseas exhibitions. For instance, Hong Kong Fashion Week attracts many buyers from Indonesia and the city's companies may consider participating in these events as a way of meeting potential buyers.
| | |
| --- | --- |
| Hong Kong fashion brands have a strong presence in Indonesia | Hong Kong fashion brands in Indonesia (1) |
| Hong Kong fashion brands in Indonesia (2) | Hong Kong fashion brands in Indonesia (3) |
Modern Indonesian dressing styles
It is common for Indonesian women to wear dresses or skirts daily, in addition to wearing them on special occasions such as family gatherings, wedding parties and festivals, particularly Eid al-Fitr (the end of Ramadan). Party and festive dresses are indispensable items in the wardrobes of many Indonesian women, who prefer dressing in bright colours and eye-catching styles. Notably, the growth in retail sales of dresses surpassed other apparel items in the five years to 2012. Sales of dresses rose 15% in 2012, the highest increase among all women clothing categories. Catering to the "Indonesian style," international brands adapt their product offerings and designs to meet the preferences of local consumers. For example, Marks & Spencer has introduced young lines with more stylish and modern designs combined with traditional patterns.
| | |
| --- | --- |
| Eye-catching and colourful dresses | Dresses with colourful patterns are popular |
| Trendy lines introduced by Marks & Spencer | Cosmopolitan fashion styles |
| Young fashion styles introduced by Marks & Spencer | Casual fashion lines |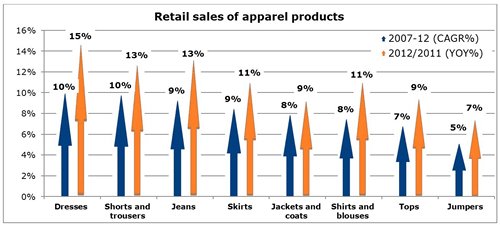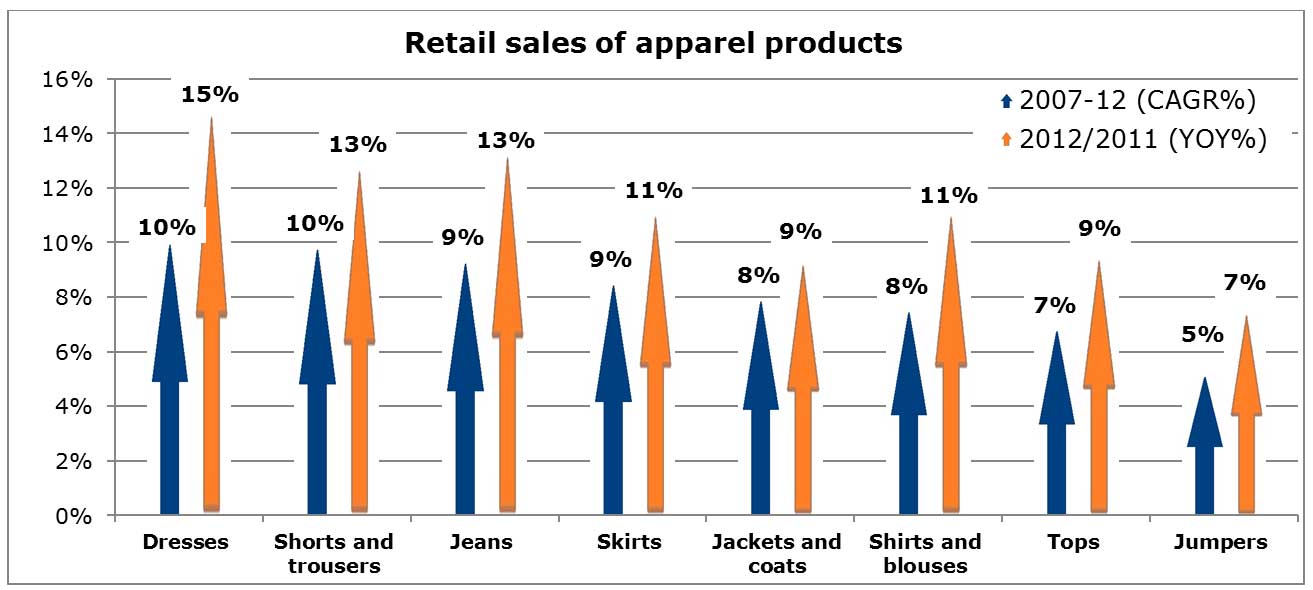 Robust apparel sales across various categories
Source: Euromonitor International
Both Muslim and Western fashions are worn by women in the workplace. Muslim clothing, characterized by colourful and eye-catching designs is popular among Indonesian working women. Western fashion styles are also a trend among office ladies, such as formal and casual business attire with knee-length skirts, while dresses are often combined with shirts and cardigans.
| | |
| --- | --- |
| The Executive – a local brand of office and formalwear (1) | The Executive – a local brand of office and formalwear (2) |
Fashion accessories – strong potential for Hong Kong designs
When buying fashion accessories, Indonesian women are not price-sensitive, as such items are worn on special occasions. For fashion accessories, such as watches and jewellery, local competition is limited, with only a few foreign brands in the mid to high segment. Most accessories, such as scarves and belts, are sold through those apparel retailers that offer accessories to enhance the product range. Light-material products are usually most popular due to the tropical climate in Indonesia.
The peak sale seasons for fashion accessories are festivals, such as Christmas and Ramadan, when women wear eye-catching jewellery and handbags, which may also be purchased as gifts. For instance, the UK's Accessorize has several shops in upscale shopping malls. This means the growing demand for modern and unique accessories presents fresh opportunities for Hong Kong designers and brands.
| | |
| --- | --- |
| Scarves match with modern fashion styles | Scarves are a popular fashion item |
| Foreign brands offer shimmering designs to cater to local preferences | Foreign brands offer footear with eye-catching styles |
| Fashion accessories from local designers | Fancy designs of fashion accessories |
Marketing channels targeting women
With a community-driven culture, Indonesian women tend to be influenced by their peers and conform to societal standards. Technologically-savvy Indonesian consumers, particularly those aged from 18 to 25 years, love to chat on social media platforms. Online social networks, such as Twitter, Facebook, Blackberry messenger and WeChat, are very popular. In 2013, Indonesia had the world's fourth largest Facebook population[1] and the third largest number of Twitter users[2]. The use of social networks is concentrated in big cities. Jakarta is the most active city on Twitter and it accounted for the highest number of posted tweets worldwide in June 2012. Social media have become an indispensable channel for marketers to promote new products and engage with customers. Most internet users access social networks via smartphones and tablets, with 75% of Indonesian Facebook users logging in via mobile phones[3].
In view of extensive internet usage, fashion brands have set up websites to advertise new releases and product catalogues, while also functioning as online shops. Some international brands made their items available online in collaboration with e-commerce companies, such as Zalora Indonesia. In formulating marketing strategies to target Indonesian women, Hong Kong companies are advised to take note of local preferences and the latest trends on online marketing platforms.
Other effective marketing tools include loyalty or membership programmes at department stores, while newsletters are regularly sent to customers or subscribers. Meanwhile, fashion magazines, such as Harper's Bazaar and Dewi, are primary advertising channels that target higher-income female consumers. As with many other developing countries, consumers in Indonesia are fairly sensitive to discounts or promotions, making them effective tools for retailers to use to boost sales. Discount offers by department stores are also advertised in major newspapers, such as Kompas.
To gain a strong presence in Indonesia, international brands frequently utilise on the spot promotions, particularly at shopping malls, which are one-stop venues for leisure and shopping. In-mall marketing events, such as fashion shows, beauty workshops and fundraising campaigns, are organised in collaboration with retailers and brands. Promotional activities, in collaboration with department stores and shopping malls, are necessary tools for any foreign brands looking to gain higher brand awareness.
| | |
| --- | --- |
| PR activities co-organised by shopping malls and brands | Cosmetics brands organise marketing events targeting female consumers |
Related information: Indonesia infographics
---
[1] According to social media analytics firm SocialBakers
[2] According to Paris-based research firm Semiocast
[3] According to London-based research firm On Device Research
Garments, Textiles & Accessories
Handbags & Travel Goods
Jewellery
Watches & Clocks
Advertising Services
Information Technology
Telecommunications
Indonesia
Southeast Asia