https://origin.hkmb.hktdc.com/en/1X09XHPW
Recovering Dubai: a resurgent retail market
The United Arab Emirates (UAE) has benefitted from its status as a safe haven in the face of the unrest in the Middle East and North Africa (MENA) region. This has seen it capture investment and capital from countries across the region. In 2013, the UAE attracted foreign direct investment (FDI) of US$12 billion, triple its 2009 level. Dubai, which accounts for about 90% of the UAE's inward FDI, has continued its strong rebound from the 2009 debt crisis, with its GDP growth rate rising from 2.4% in 2009 to 5% in 2013.
The UAE retail market has gained momentum over recent years. Retail sales grew 24% during 2009-2013, reaching US$26.4 billion. This was largely driven by the rapid growth in non grocery items. As the premier trading hub and a perceived safe vacation spot in MENA, Dubai's strong rebound has naturally attracted a growing influx of both investors and tourists.
Dubai International Airport is now the world's second busiest airport in terms of international passengers, with the number growing by 15% to 66 million in 2013. In the same year, the retail sales of Dubai Duty Free grew by 11%, reaching a record high of US$1.8 billion. Tellingly, this is the highest sales value of all airport retailers worldwide.
In addition, Dubai's successful bid for the World Expo 2020 has proved another vote of confidence in the emirate's strengthening economy, further boosting investor optimism. The flourishing retail sector in Dubai is expected to provide enhanced business opportunities for those Hong Kong exporters and retailers who are able to offer trendy, stylish products with unique designs.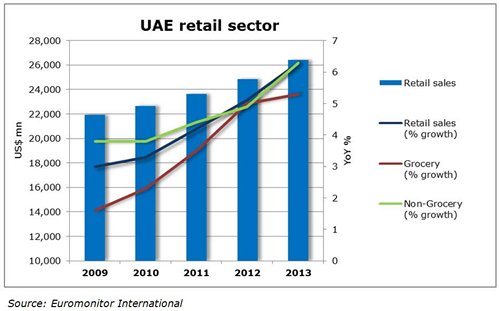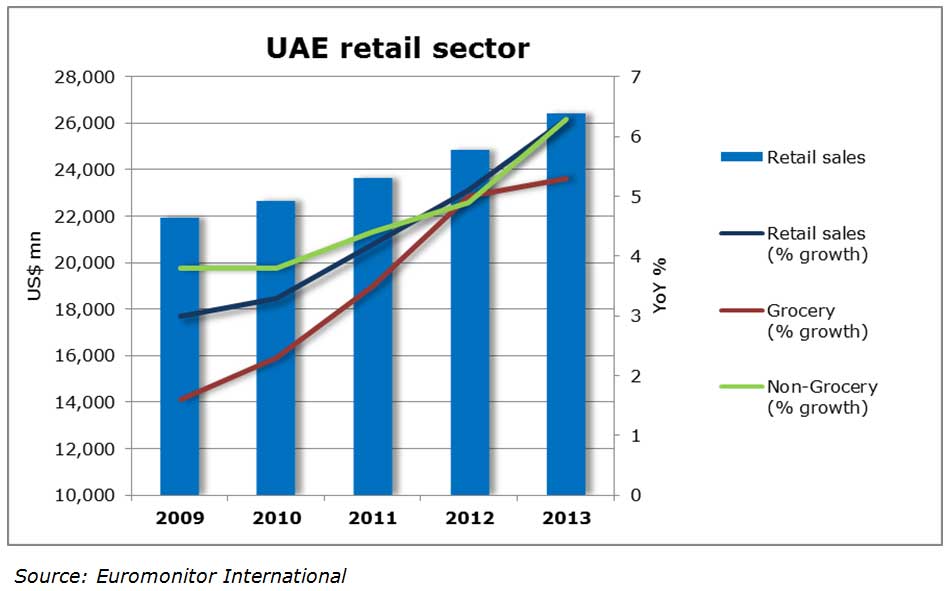 Retail sales in Dubai have been boosted by non-grocery items

Influx of tourists and expatriates transforms Dubai's retail landscape
With the unrest in many parts of MENA, Dubai has become the preferred destination for tourists from across the region. Undoubtedly, the high quality retail offerings found in Dubai make it a popular shopping destination among the Gulf Cooperation Council (GCC)[1] countries. The GCC countries, as a group, account for the largest share of overnight visits to Dubai. In 2013, the number of hotel guests in Dubai increased by 10.6% to 11 million, with hotel occupancy reaching 80%. Dubai's retail sector has also benefitted from the surge in affluent tourists from a number of emerging markets, notably China and Russia. The number of Chinese hotel guests, for instance, has more than doubled since 2009, exceeding 270,000 in 2013.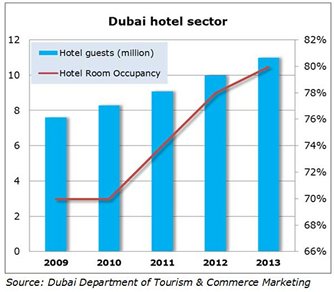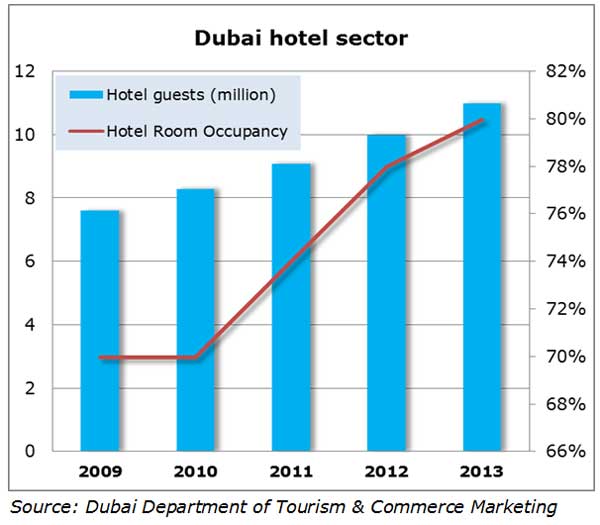 Strong growth in Dubai's tourism in recent years
| | |
| --- | --- |
| The largest mall in Dubai – Dubai Mall | Mall of the Emirates |
Dubai is primarily an emirate with a large proportion of migrants, with expatriate residents accounting for 85%-90% of its population. The majority of Dubai's workforce, including professionals and highly skilled workers, are expatriates. As Dubai's economy recovers and employment opportunities improve, a renewed influx of expatriates has boosted the emirate's population to about 2.2 million (1.7 million in 2009). This has resulted in a diverse consumer base with a growing purchasing power and has created significant business opportunities for international retailers. One-stop shopping malls, such as Dubai Mall, are now hugely popular destinations among expatriates and tourists. Foreign retailers, including department stores and branded and specialty stores, are gaining a strong foothold in many of the major malls. As the world's largest shopping centre, Dubai Mall registered record visitor traffic of 75 million in 2013, 10 million more than in 2012. Additionally, as the world's most-visited mall for the third consecutive year, Dubai Mall enjoyed an impressive sales growth of 26%.
| | |
| --- | --- |
| Department stores in Dubai Mall – Galeries Lafayette | Marks & Spencer |
Dubai: showcase for foreign retailers in the Middle East
As with Hong Kong, Dubai's geographical location has made it both a popular tourist destination and a shopping hub, while attracting international brands keen to expand their market share across the region. The relative ease of doing business in Dubai has prompted many foreign brands to make the emirate their first port of call in the UAE, before then expanding across the rest of the emirates or the wider region. Through a joint venture (JV) with a Dubai-based company, the Italian luxury brand Prada, for instance, opened its first UAE store in Dubai's Mall of the Emirates in 2012. It then expanded into Abu Dhabi, Kuwait and Qatar. Similarly, targetting younger consumers with a high purchasing power, the US retailer Abercrombie & Fitch established a JV agreement with a local fashion company to introduce the brand to Dubai in 2013. A number of Hong Kong fashion brands, such as Giordano, Bossini and G2000, also have a presence in Dubai's prominent shopping malls thanks to franchising arrangements with local operators.
| | |
| --- | --- |
| Hong Kong apparel brands in Dubai – Giordano | Bossini |
Despite the high profile presence of many international retailers, Dubai is still regarded as having enormous potential for new foreign brands that offer contemporary and innovative designs, sectors where demand from the emirate's diverse consumer base is still growing. Meanwhile, local franchisees of international brands remain the major players in Dubai's retail market. In order to maintain their competitive advantage, Dubai franchisees are keen to expand their franchise portfolios, particularly with regard to brands that offer something new in the market. The Japanese lifestyle brand Muji, for example, opened its first stores in Dubai and Kuwait in 2013 through a franchise deal with M.H. Alshaya, a regional retail operator that also works with a number of other international brands, including H&M, Starbucks and Victoria's Secret.
| | |
| --- | --- |
| Foreign retailers in Dubai's prime shopping malls | Swedish fashion retailer - H&M |
Choosing the right path and the right partner to make inroads into Dubai
Under the UAE Commercial Companies Law[2] , in order to set up a retail business, a foreign company needs to partner with a UAE national. It is common for foreign retailers to form a limited liability company (LLC) through partnering with a local entity. A foreign investor can hold up to 49% of the LLC's equity stake, with the remaining 51% held by the UAE national or a company wholly owned by the UAE national.
Foreign companies are advised to identify a local partner that can bring extensive local contacts and business networks to the partnership. This is seen as essential for the success of the start-up and its future development. In particular, local market knowledge is useful in helping foreign brands cater to local preferences. In an LLC, the local partner, in technical terms, functions as a director on the company's board, while the foreign investor retains management control. In order to have greater independence, some foreign companies prefer forming an LLC with a "silent partner". Under this arrangement, the local UAE partner is typically paid an annual partnership fee in return for relinquishing management control of the company.
Apart from appointing local franchisees, Hong Kong companies wishing to test the market in Dubai without a commercial presence may look for local distributors or an agency. In the UAE, the relationship between principals and distributors (or commercial agents) is regulated by Commercial Agency Law and Commercial Transaction Law[3] , which state that only UAE nationals can be registered as distributors.
Useful contacts
Related information: United Arab Emirates infographics
---
[1] The Gulf Cooperation Council (GCC) includes the UAE, Bahrain, Kuwait, Oman, Qatar and Saudi Arabia.
[2] Details of company types under the UAE Commercial Companies Law: http://www.uaeim.ae/legal-structure
[3] Requirements of commercial agencies: http://www.uaeim.ae/zh/the-legal-framework
Electronics & Electrical Appliances
Garments, Textiles & Accessories
Gifts & Premiums
Watches & Clocks
United Arab Emirates
Middle East