https://origin.hkmb.hktdc.com/en/1X09YI1H
Food and the environment: emerging strengths in Guangdong's laboratory testing services market
The Chinese people and government are increasingly emphasising the importance of food safety, while at the same time greater environmental awareness is driving ethical and green consumerism, as well as the demand for food testing and product certification services. The result is a growth market for testing institutions, beyond just compulsory product certification.[1]
With Guangdong province one of the key markets, the State Council recently announced a new set of measures to further liberalise the testing services market and accelerate its market-oriented development. This will provide further opportunities for those Hong Kong testing institutions looking to venture into the Chinese mainland market.
| | |
| --- | --- |
| China is liberalising and opening up its testing services market (1) | China is liberalising and opening up its testing services market (2) |
Manufacturing sector stimulates demand
Speaking to HKTDC Research, Wu Shangao, General Manager of Guangdong Zhongjian Certification Co Ltd (GZCC), said that Guangdong is an important base for industrial production and foreign trade, with this providing significant opportunities for product testing.
GZCC is headquartered in Guangzhou and was one of the first third-party certification bodies to gain approval from the former China National Accreditation Council for Registrars, now the China National Accreditation Service for Conformity Assessment (CNAS). As an executive council member of the China Certification and Accreditation Association, it provides certification for quality management systems, environmental management systems, occupational health and safety management systems, energy management systems, food safety management systems, organic products and energy services.
Wu said: "Manufacturers in the province are required to obtain certification for their production systems and products in order to comply with the compulsory requirements of domestic and overseas markets. They are also necessary in order to meet voluntary certification requirements for the relevant systems and products, in order to market or sell these products."
In 2013, Guangdong ranked second in the country (after Jiangsu) with regard to the ownership of valid certifications for Quality Management System (QMS)/Environmental Management System (EMS)/Occupational Health and Safety Management System (OHSMS). As for the ownership of valid certifications relating to food production systems, Guangdong is second only to Shandong province.
Assessing the state of the market, Wu said: "In order to boost consumer confidence, many companies have taken the initiative of conducting product testing and proving they comply with the voluntary product certification requirements for green, low-carbon and organic products. They are also using this as a marketing tactic and a way to boost sales. More intensive sample checks and assessments by quality inspection, public health and other government departments have put greater demands on enterprises with regard to product testing services.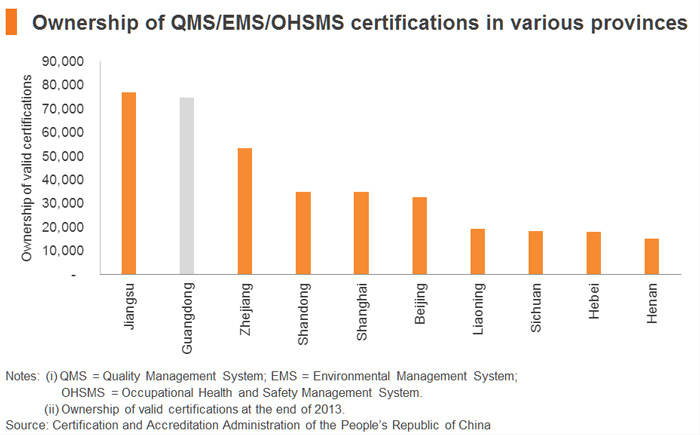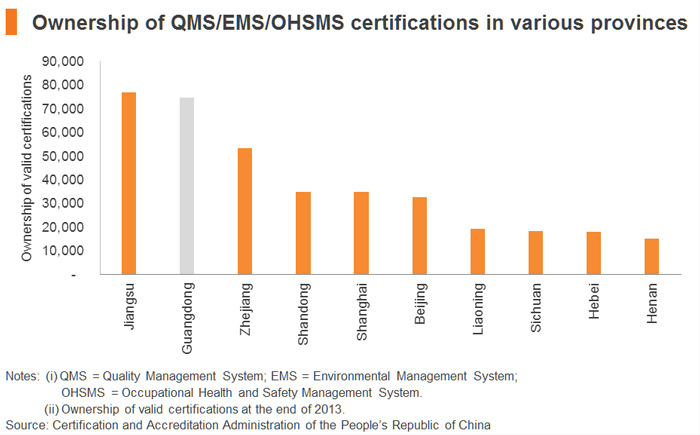 Guangdong is ranked second for the ownership of valid certifications for QMS/EMS/OHSMS, after Jiangsu province.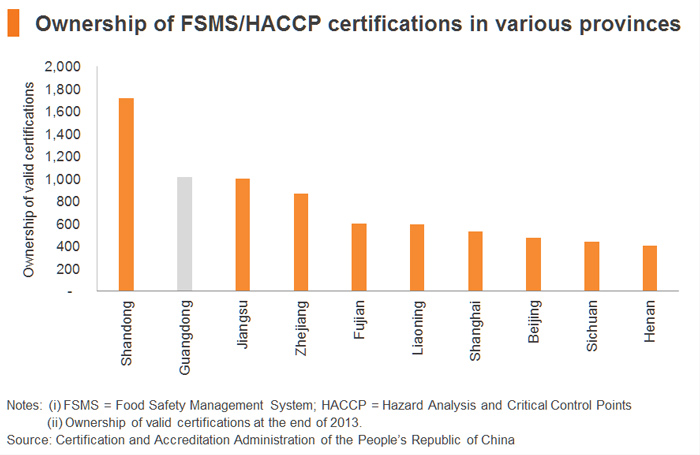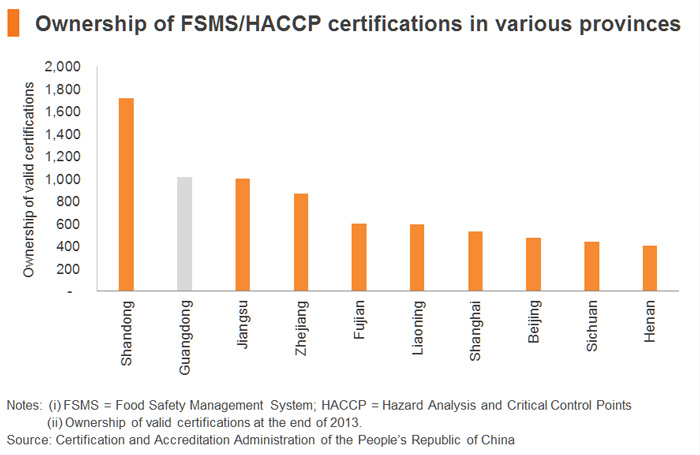 Guangdong is ranked second for the ownership of valid certifications relating to food production systems, after Shandong province.
Demand for food and green certification testing grows
The Shenzhen Academy of Metrology and Quality Inspection (SMQ) is a mainland-based statutory metrological verification and product quality inspection institution that primarily provides enterprises with verification and calibration of instruments and equipment, product testing, product certification, supply chain quality assurance inspection, technical consultancy and training services. It currently provides more than 5,000 CNAS laboratory accreditation/certification qualifications.
According to the SMQ President, Yang Guowu, there is growing demand for 3C (China Compulsory Certification) services. He said: "As people become increasingly concerned with food safety and hygiene, they are buying more organic and pollution-free farm produce. This has seen voluntary certification and food-related testing services become a bright spot in the testing services market. Growing environmental awareness also means consumers tend to buy low-pollution electronic information products and other items that consume fewer resources, such as electricity and water. This has also spurred the demand for green product testing services."
| | |
| --- | --- |
| Food and green certification is a fast-developing market segment (1) | Food and green certification is a fast-developing market segment (2) |
Although Guangdong is not a major province in terms of agriculture, its ownership of valid voluntary product certifications for organic products, pollution-free farm produce and green food increased from 1,645 in 2010 to 2,352 at the end of 2013, accounting for about 3% of the national total.
The total number of voluntary product certifications for products other than food and farm produce reached 44,370 at the end of 2013, putting the province second only to Zhejiang province accounting for 24% of the national total at that time. These certified products include all kinds of low-pollution consumer electronics and energy-saving, water-saving and low-carbon green items. This shows that many enterprises in the province's massive manufacturing sector are set on obtaining the relevant certification for their products with this generating increased demand for certification-related testing services.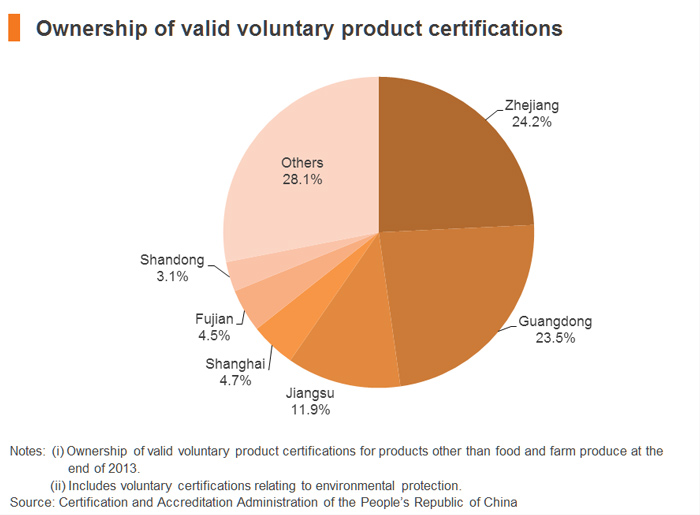 Guangdong province's ownership of valid voluntary product certifications accounted for 24% of the national total in 2013.
Further opening up of the market
"The market for production system and product certification services is flourishing," said Zhi Yue, a section chief at Ceprei Laboratory, in Guangzhou. He also believes this has stimulated demand for services in a number of related fields, such as new energy, low-carbon and energy-saving equipment, as well as other green and eco-friendly products.
Ceprei Laboratory is one of the first mainland institutions to offer reliability studies and provides inspection tests, analysis and appraisal, certification and metrology, information support and technical training services for a range of products, ranging from components to equipment sets, hardware, software and other complex systems. Its operation extends across the country, including a laboratory in Hong Kong. It provides services to more than 10,000 mainland and foreign enterprises and issues over 250,000 certifications and test reports a year.
Zhi Yue said Hong Kong laboratories are familiar with the advanced testing protocols and specifications of the international market and have a lead in the application of key testing technologies. "In addition to taking advantage of CEPA in order to access the Guangdong market, Hong Kong companies can also capitalise on China's new round of opening-up measures and cooperate with other mainland certification and testing laboratories and tap this market through their complementary advantages," he said.
China allowed foreign companies to set up wholly-owned import and export commodity inspection and authenticating institutions on the mainland after its WTO accession.[2] The mainland testing services market, however, is still dominated by state-owned inspection, testing and certification institutions that are part of government administrative departments.
In order to strengthen the development of its service industries, in March the State Council gave the General Administration of Quality Supervision, Inspection and Quarantine the go-ahead to issue Implementation Opinions on the Integration of Inspection, Testing and Certification Institutions.
This was done in order to encourage the process of gradually delinking the inspection, testing and certification bodies of public institutions from those government's administrative departments that are responsible for drafting policy standards and supervision. The aim here is to simplify relations between the government and the market, in order to make use of market mechanisms and competition, while promoting the development of the inspection, testing and certification industry.
To transform public institutions into corporate bodies, many mainland inspection, testing and certification institutions are actively seeking investment from private organisations to promote this restructuring. They also intend to improve their competitiveness through cooperating with foreign companies and encouraging foreign investment. These changes are expected to generate more opportunities for Hong Kong operators and foreign-funded institutions to cooperate with mainland partners and involve themselves in the ever-expanding mainland inspection and testing services market.
---
[1] For more details of the demand for compulsory product certification testing services, see the HKTDC Research article: Challenges and Opportunities in China's Testing Services Market
[2] For further details, please refer to the Measures for the Administration of Import and Export Commodity Inspection and Authentication Institutions, which took effect on 1 January 2004.
Quality Inspection and Testing
Mainland China
Hong Kong
Mainland China
Hong Kong