https://origin.hkmb.hktdc.com/en/1X09ZH7E
A YRD "Going Out" Case Study (2): Tax Planning Important for International Business Development
Shanghai WingsMedia Co Ltd, based in the metropolis of Shanghai and hailed as a "key enterprise of national cultural export", has established a sound sales network in China and several overseas markets. As its export business grows and its cooperation with foreign partners strengthens, WingsMedia is increasingly aware of the impact of different taxation systems and regulations of various markets on its tax burden and profits. It also hopes to seek effective tax planning proposals from Hong Kong to improve its overall tax arrangements.
Shanghai WingsMedia has established a sound sales network in China and overseas
Hong Kong platform helps expansion of international business
The growing interest of many overseas markets in China's cultural and creative industries has created a favourable environment for the TV programmes represented by WingsMedia. According to the firm's director of its International Business Center, Samuel Lee, sales of TV programmes currently represented by WingsMedia extend from Taiwan, Japan, and a number of other Southeast Asian markets to the US, Europe and even parts of Africa. In addition, other business activities, such as the co-production of TV dramas and joint television broadcasts in different regions, have become increasingly common in recent years. Several TV stations and channels in Hong Kong are also business partners of WingsMedia.
One of WingsMedia's future business priorities is to develop as a leading force in China's TV programme and media copyright market. The company is also striving to become a major trading platform for copyrighted audio-visual content on the mainland, a distribution hub of Chinese-language programmes, and an "interchange" where the copyright content of Chinese media links with the international market. Moreover, WingsMedia is also making use of Hong Kong's international network to step up communication and exchanges with its overseas counterparts. For example, the company uses the annual Hong Kong International Film & TV Market (FILMART) as a means of meeting with TV channels and other industry players from Hong Kong, Asia, Europe and the US. Looking forward, the company plans to make better use of the Hong Kong platform in order to release its new business and new TV programmes, with a view to pushing its international business to new heights.
Tax planning reduces unnecessary burden
WingsMedia financial director Qi Wenjue said: "Having established long-term partnerships with well-known foreign TV stations, WingsMedia has no difficulty in finding clients as far as marketing is concerned. Actually, our international business has been generating considerable profit from overseas for the company. However, the different tax demands and taxable items in different countries may greatly affect the overseas revenue of the company."
"Moreover, as international receipts and payments are mainly made directly between the Shanghai head office and its foreign partners in foreign currencies, such as the US dollar, it involves exchange risks which in turn affect the profits of the company. Hence, the company hopes to obtain comprehensive tax planning services and related arrangements in order to optimise its taxation structure, reduce unnecessary tax burdens, as well as rationalise its financial arrangements on its international payments and receipts."
As its international business and revenue continues to rise, WingsMedia hopes to obtain more practical information on overseas taxation systems, while making use of effective tax planning services to map out plans to minimise the tax burden on its overseas revenue. As Hong Kong is an international financial centre providing abundant professional talent and services, and is integrated with the international market, WingsMedia hopes to seek related legal, accounting and company secretary services in the city. It also plans to utilise Hong Kong's advantages, including its free flow of information and its pool of financiers well-versed in international laws and regulations, to help the company strengthen its cooperation with its overseas partners.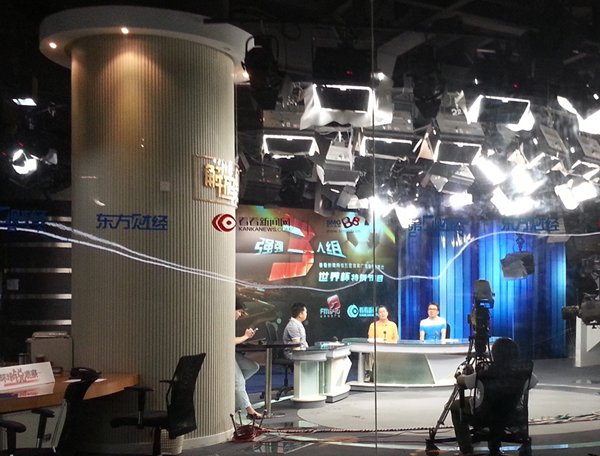 Production of TV programme by SMG
WingsMedia is a wholly-owned subsidiary of the Shanghai Media Group (SMG), China's largest provincial-level media and cultural industry group. It is primarily engaged in distributing and handling TV programmes on the mainland and in international markets. It also participates in the co-production of TV programmes with Chinese and foreign partners.
SMG's business scope spans several sectors of the media industry, including news, media operations, network transmission and copyright sales. Its subsidiary, Dragon TV, is one of the largest satellite TV channels in China, covering all mainland cities above prefecture level as well as Hong Kong, Macau, the US and Canada. It reaches more than one billion viewers around the globe. Currently WingsMedia has a stable customer network with more than 300 TV stations in 31 provinces and cities all over China. Its international sales encompass more than 50 countries and regions.
Remark: For more information about China's "going out", please refer to the research article Jiangsu/YRD: Hong Kong Service Opportunities Amid China's "Going Out" Initiative and the research report China's "Going Out" Initiative: Jiangsu/YRD Demand for Professional Services of the HKTDC Research
Accounting Services
Finance & Investment
Legal Services
Film & Audio-Visual Production
Mainland China
Hong Kong
Mainland China
Hong Kong