https://origin.hkmb.hktdc.com/en/1X09ZI1H
Raising SME Competitiveness through Automation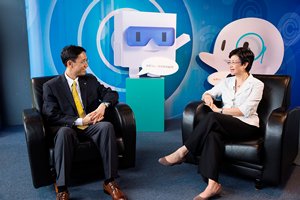 Derek: SMEs should consider automating certain specific processes
With labour shortages and rising wages becoming a fact of life in the Pearl River Delta region, more and more Hong Kong companies are looking to introduce automated production technology as a way to reduce their reliance on manual labour and cut wage costs. Derek Louie, General Manager, Automation Service of the Hong Kong Productivity Council (HKPC) believes that, despite only having limited capital, SMEs should consider automating certain specific processes to enhance their competitiveness and cost effectiveness. Typically, enterprises which have invested in automated production systems are said to recoup their costs within two-to-three years.
In an interview by HKTDC Research Deputy Director Pansy Yau, Derek says automated production equipment and technology can help minimise the instability caused by labour shortages, the reliance on skilled personnel and the risk of industrial accidents. The stable, round-the-clock operation of automated equipment can also effectively boost productivity while increasing reliability. In addition, automating and standardising the manufacturing process can lower costs by improving the consistency of product quality, reducing human error and raising the effective utilisation rate of raw materials. Automated production systems can also be used in combination with artificial intelligence (AI) technology, allowing enterprises to have greater flexibility in adapting their production lines to changing market demands.
Intelligent Manufacturing (i-manufacturing) technology combines AI with process automation. Last year, HKPC launched the first Intelligent Manufacturing Technology Demonstration Centre in Hong Kong. Using the mould and die industry as pilot, the Centre aims to demonstrate the actual operation of an intelligent, automated mould machining cell to the local industry. Through technology transfer and service support, the Centre is also looking to help SMEs use their existing equipment to set up intelligent, automated production lines, raising production capacity and efficiency.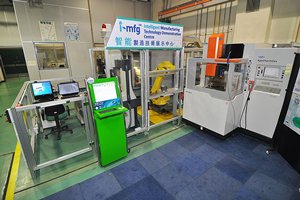 Intelligent Manufacturing Technology Demonstration Centre
An intelligent, automated mould machining cell enables the integration, scheduling, optimisation, inspection, real-time monitoring and deployment of the mould design and manufacturing process. This allows for the flexible manufacturing and rapid production of precision moulds of a variety of specifications. The aim is to require the minimum investment (using the least equipment and factory space), while creating the maximum production efficiency (allowing mixed production and zero idle time) and the optimum economic benefit (lowest cost).
Derek says that automated production, as a means of raising production efficiency and reducing human error, is appropriate for a number of different industries. Depending on the requirements for and complexity of setting up automated production, a company may not always need to automate its entire production line. In the case of items with a low production volume but a high flexibility requirement, for example, semi-automation may be a better option. This is particularly true in light of the current manufacturing trend for smaller volume with vast product variety".
Derek suggests that those SMEs operating under financial constraints should consider semi-automation or introduce intelligent, automated production to part of their manufacturing processes in order to raise their value-adding capability and competitiveness. In bra manufacturing, for example, given the strict requirements on the size of bra cups, a number of complex production processes are involved. Bra cups/plastic shots are manually cut out, any inconsistency in the fit may affect the quality of the finished product. To address this problem, HKPC has helped Hong Kong's bra manufacturers develop the "Master Cone 3D Laser Cutting System" to replace manual tailoring.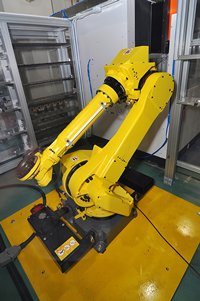 Six-axis robotic arm in Intelligent Manufacturing Technology Demonstration Centre
This automated system can avoid any human error in the tailoring process and improve the accuracy, symmetry and replicability of bra cup sizes, thereby cutting down on manual labour requirements and reducing waste and scraps. Moreover, as the laser system takes only 30 seconds to cut out a bra cup/plastic shot to specified 3D dimensions (while also rendering it with smoother plastic edges), it produces a better and faster finished item than manual tailoring. By adopting this system, the manufacturer can not only accelerate the production cycle, but also achieve increased production efficiency and market competitiveness.
HKPC has also developed an automated product numbering and packaging system for the traditionally highly labour-intensive jewellery manufacturing industry. The system can eliminate processes such as manual weighing, tag hanging and packaging, thereby raising the accuracy and efficiency of the delivery process. The system can also work with the RFID technology in order to facilitate warehousing and logistics management. Derek says that the transition from manual operation to mechanisation and automation, though, does not just involve a change at the corporate level. As it also affects the day-to-day operation of employees, management needs to secure staff support for the implementation of automation and the optimisation of these work processes. This should be done by offering training and encouragement to them, while giving them time to adapt to the transition.
In helping companies adopt automation, Derek emphasises that HKPC's support covers both technical as well as operational issues. It can even help companies which lack funding for R&D or technology application identify and apply for the appropriate government funding schemes. These include the Research and Development Cash Rebate Scheme and the Dedicated Fund on Branding, Upgrading and Domestic Sales (the BUD Fund).