https://origin.hkmb.hktdc.com/en/1X09ZJUL
China's Jewellery Shoppers: Creating Demand with New Products
According to the Survey on Jewellery Shoppers in Chinese Cities: Purchasing Habits and the Hong Kong Premium [1] released by HKTDC Research, the majority of respondents reckon that the current sales channels and product styles of jewellery meet their expectations, however, the satisfaction level of product variety is relatively low.
To better understand the satisfaction levels of consumers towards jewellery shopping in their city of residence, respondents were asked to give a score of 1 to 5 ("1" means "very dissatisfied" and "5" means "very satisfied") to indicate their satisfaction in six areas, namely jewellery purchase channel, product style, brand, design, customer service and product variety.
The results show that the overall average is 4.22, up from 4.08 in 2011. Scores in various aspects have also gone up, of which purchase channel and product style have the highest satisfaction level, both at 4.29. In contrast, product variety gives the least satisfaction at 4.11, a score indicating a tendency towards satisfaction.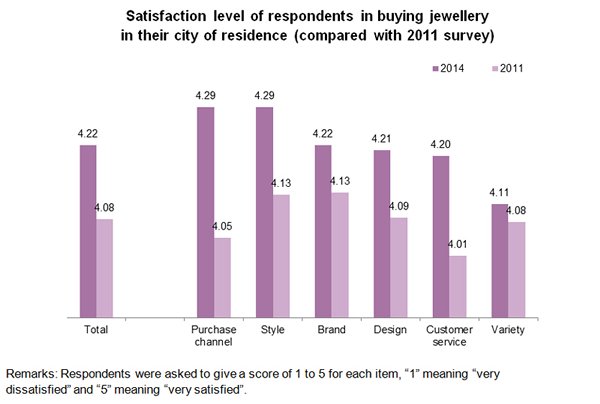 In most cities the satisfaction levels of the respondents are quite high, with nine out of the 10 cities getting an overall score of above 4, of which the overall scores of Beijing, Dalian and Shenyang are the highest at 4.4, 4.38 and 4.33 respectively while the score of Wuhan is the lowest, at 3.96. Compared with the 2011 survey, the satisfaction levels in most cities have all gone up. Only Chongqing and Wuhan have lower scores than in 2011. In Chongqing and Chengdu, variety scores lower than 4 and in Wuhan, brand, design, customer service and variety also score lower than 4.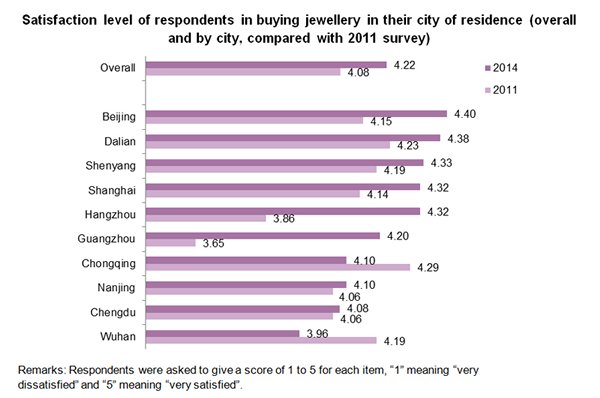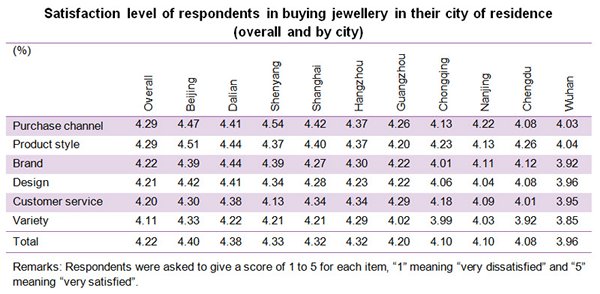 To make inroads in the highly competitive market, businesses need to be innovative to tap market potential. Overall speaking, the satisfaction level of respondents in buying jewellery is higher than in 2011. In particular, purchase channels and product style give the highest satisfaction while product variety is relatively low. The industry may consider developing new jewellery types, setting the trend. In fact, transit beads, longevity locks and other non-traditional, non-mainstream jewellery are quite popular in the mainland in recent years. In addition to product variety, the industry should make use of different materials to further develop the market.
---
[1] The survey was conducted in May 2014, covering the 10 cities of Beijing, Shanghai, Guangzhou, Hangzhou, Nanjing, Chengdu, Chongqing, Dalian, Shenyang and Wuhan. The total sample size was 3,000, with 300 consumers interviewed in each city. The 300 respondents in each city were divided equally among three age groups, namely 18-30, 31-45, and 46 or above.