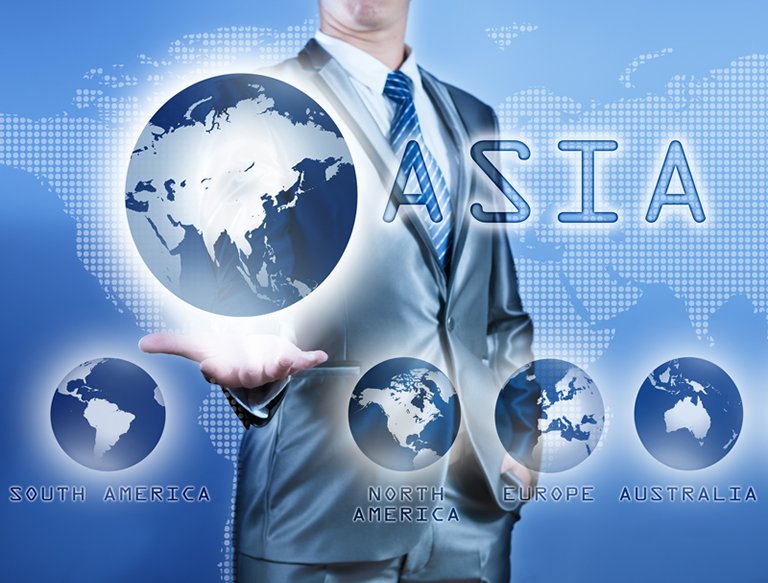 https://origin.hkmb.hktdc.com/en/1X0A02CI
Intellectual Property Strategies: Capitalising on Asia's Growth
Continued growth in IP trading across Asia boosts demand for IP professional services
Along with increased corporate spending on research and development (R&D), Asian companies have become more acutely aware of the commercial value and importance of intellectual property (IP) protection. Asia has been the fastest growing region in the world in terms of its number of IP applications, be they patents, trademarks or industrial designs. This is widely seen as indicative of the business potential of Asia's IP market for both domestic and international IP owners, as well as service suppliers.
Accounting for 56% of the world's total, patent applications in Asia registered a compound annual growth rate (CAGR) of 7% during the period 2007-2012. In particular, the combined patent applications in China, Japan and Korea accounted for 50% of the world's total during that time, compared with the 23% share represented by the US. With its advanced technological development, Japan has been a well-established leader in IP creation, actively exporting its IP to other Asian countries. Meanwhile, Korea is catching up and showing signs of becoming Asia's technology powerhouse. China, with increasing domestic IP creation, is also emerging as an IP exporter, despite its persistent demand for overseas IP.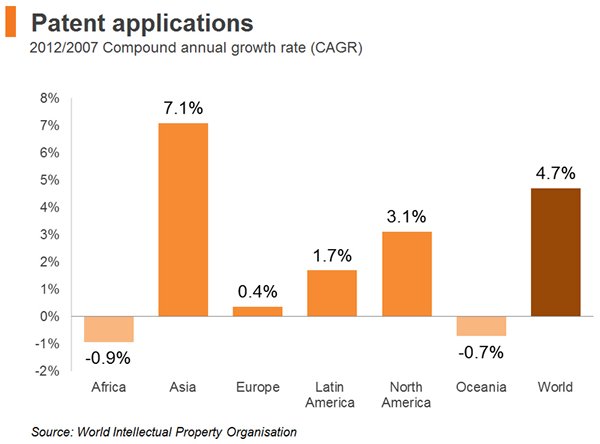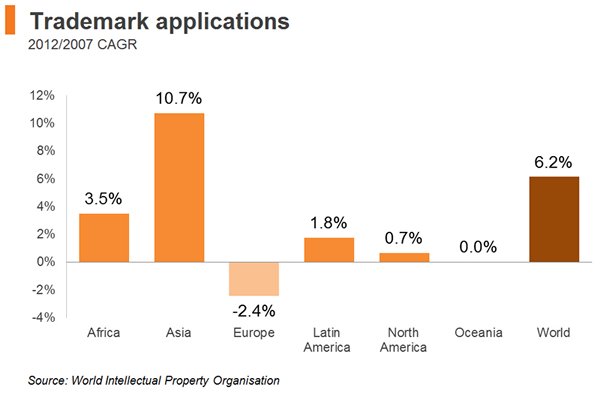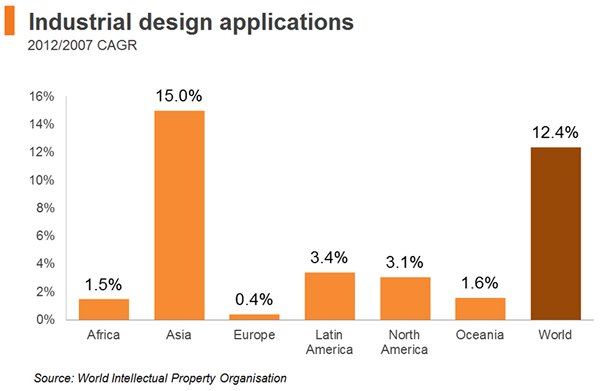 More intra-regional and inter-regional IP transactions
In recent years, perceptions with regard to IP exploitation have been changing in Asia, with more and more companies recognising the benefit of utilising overseas IP, resulting in an accelerated growth in IP trading activities across the region. As the leading IP exporter in Asia, Japan is eager to license its IP to other Asian countries, in particular its technology-related IP. Generally, developing Asian countries rely more on imported IP than boosting local IP supply. Japan's technology exports to Asia increased at a double-digit CAGR over the past decade, with strong growth in exports to China, India and Indonesia. Asia started to overtake other regions to become the largest export market for Japanese technology in 2009, accounting for more than 40% of Japan's total technology exports for that year, up from 28% in 2000.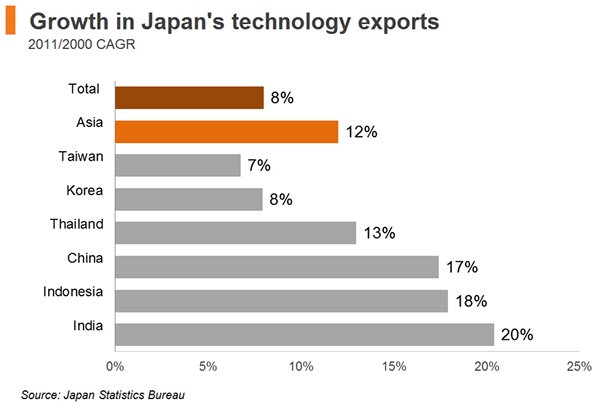 Asian companies are pursuing expansion through the commercialisation of in-house R&D, as well as forming joint ventures with multinationals entering the regional markets, capitalising on the technology lead of their overseas counterparts. At the same time, though, Asian companies are also starting to develop their own patent portfolios and monetising IP assets, as well as using patents for their own business development. China's Huawei and Japan's Panasonic, for example, have sold their portfolios of more than 600 patents to Inventergy Global, a US-based patent licensing and investment company - or a non-practising entity (NPE) - which purchases patents to generate royalty streams. As with their counterparts in developed markets, some companies in Asia have reached the point of purchasing overseas patents in order to beef up their investment portfolios, profiting from outright patent sales or licensing them for longer-term returns.
With the global economic gravity shifting eastward, IP trading is becoming more active as foreign companies are increasing their presence in the region's booming consumer market, something that is also spurring IP licensing and trading in the region. Retail sales of licensed merchandise in Asia grew 5% to US$18.8 billion in 2013, exceeding the world's average growth of 3% [1]. The strong growth in Asia was boosted by the impressive growth of 19% in China, the world's fastest-growing market for licensed products. Despite the relatively smaller markets in Southeast Asia, the rapid growth in some countries, such as Indonesia and Thailand, are attracting many IP owners from within and outside the region.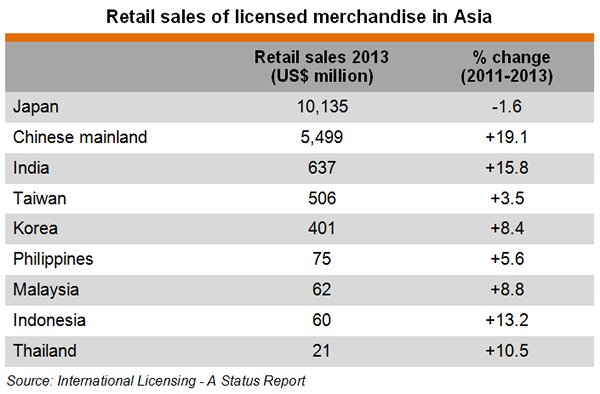 Rising significance of IP – Asia's perspective
The upgrading and expansion of the region's various manufacturing bases has driven up the demand for technologies supplied by overseas IP owners. The expanding demand for IP in Asia, particularly on the Chinese mainland, is boosting the demand for IP intermediaries and related professional services. Unlike the mature markets of North America and Europe, the IP supply chain in the Asian markets is less developed, with immature institutions and lower awareness among market participants. With marked differences in the business environment and industry structures within Asia, IP professional services are in particular demand, especially by those overseas companies that have just landed in the Asian markets.
Due to their complexity, IP commercialisation and technology transfer readily create an inherent demand from Asian companies for IP intermediary and supporting services. In Asia, government-affiliated IP offices also play an important role in fostering the development of IP trading. For example, Japan's National Centre for Industrial Property Information and Training (INPIT), the Korea Invention Promotion Association (KIPA) and the Shanghai Technology Transfer & Exchange (STTE) encourage the strategic exploitation of IP rights among local companies and inventors, through the provision of technical assistance and consulting services on IP commercialisation.
These government organisations, however, have yet to evolve to the stage where they can completely bridge the market information gap. Most IP transactions are still conducted in private. With IP trading activities becoming increasingly sophisticated, the private sector has a keen demand for customised IP brokerage and intermediary services. Functioning as the "honest brokers" or middlemen in bridging the supply and demand sides of IP, many of the IP intermediaries, covering both service suppliers and industry events, are specialised in different types of IP trade.
In light of the strong growth in cross-border IP trading between the Asian markets, plenty of opportunities exist for Hong Kong IP intermediaries and professionals to connect IP owners and users in different parts of Asia. Offering a range of supporting services - such as IP portfolio management, valuation, consulting, financing and legal services at international standards - Hong Kong IP professionals can play a vital role in facilitating a myriad of licensing and acquisition deals for IP trading in Asia. Under CEPA, Hong Kong service suppliers are allowed to provide patent agency and trademark agency services on the mainland [2]. Thanks to their expertise and familiarity with Chinese laws, they can offer specialised IP registration and related services for both Hong Kong and overseas companies unfamiliar with the registration and regulatory systems on the mainland, such as trademark protection for Internet domain names.
---
[1] Retail sales of licensed merchandise covered different types of properties, including corporate trademarks, brands, entertainment/characters, sports and fashion.
[2] For details of liberalisation measures under CEPA, please refer to: Patent agency, Trademark agency
Licensing
intellectual property