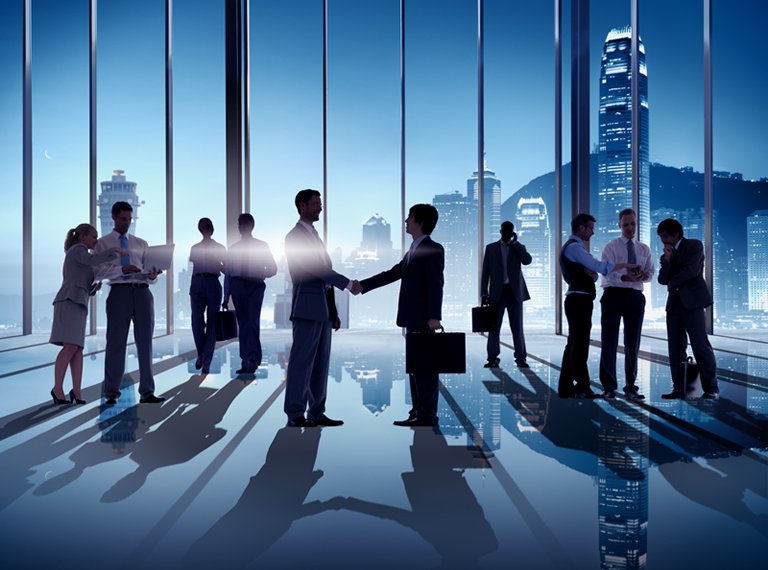 https://origin.hkmb.hktdc.com/en/1X0A0EBJ
Hong Kong: The Heart of Asia's Intellectual Property Market
Hong Kong's role as an IP intermediary for the Asian market could be further strengthened by leveraging its edge in IP-related services.
As well as being a prominent services platform and an international Asian sourcing hub, Hong Kong is also a key marketplace for a variety of IP services. While Hong Kong may not appear to be a popular choice for front-end scientific R&D activities, the city plays an important role in IP value-chain activities and in facilitating IP trading across the region. Statistically, Hong Kong ranks among the world's top 20 IP application centres for patents, trademarks and industrial design.
Compared to other IP application offices in Asia, Hong Kong has a relatively high share of non-resident IP applications [1]. Almost all of the patent applications in Hong Kong are of overseas' origin, with non-resident patent applications accounting for 99% of the total in 2012 (the most recent year for which statistics are available). This is far higher than Asia's average of 23% and the world average of 36%. The major sources of non resident patent filings in Hong Kong are the US, Japan, Germany and Switzerland. Hong Kong may not be a serious contender in terms of high levels of patent creation, but it can comfortably position itself as a key trading platform for patents in light of the strong overseas interest in filing in the city.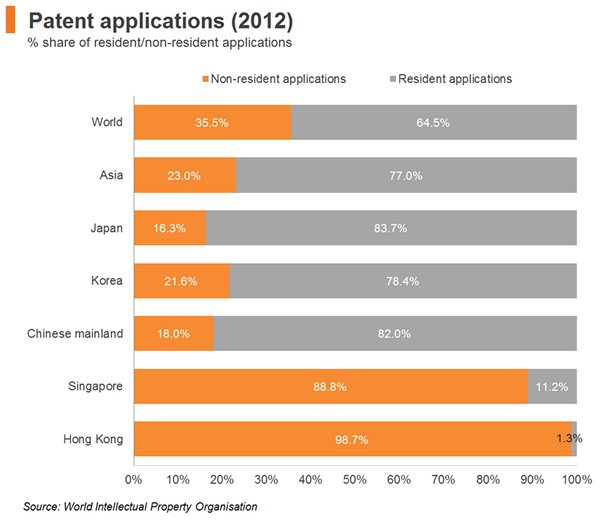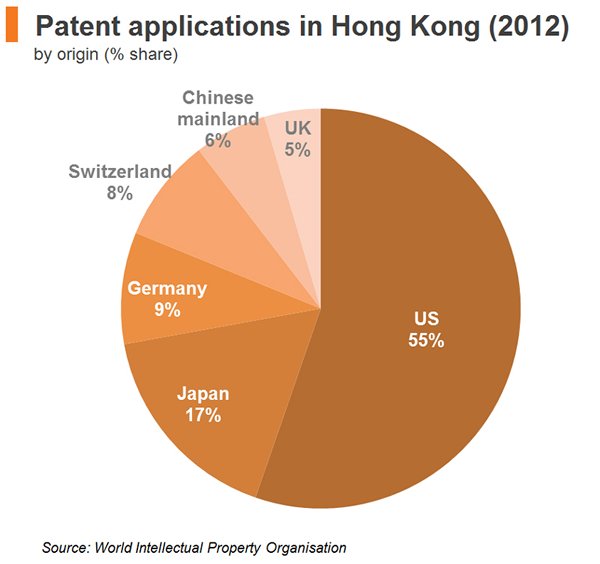 In Hong Kong, small- and medium-sized enterprises (SMEs) account for more than 98% of all business establishments, with a high proportion of SMEs generating a substantial volume of local trademark activity. This, along with the growing original design manufacturing (ODM) capability of Hong Kong companies, has underpinned the prominence of Hong Kong in the local trademark and industrial design creation section, seeing it compare well with other Asian economies, such as Singapore. In 2012, for example, Hong Kong residents lodged a total of more than 40,600 trademark applications worldwide, representing a CAGR of 11% during 2007-2012 – more than double the average growth of Singapore over the same period. In addition, Hong Kong has also seen a relatively larger share of resident applications for either trademarks or industrial designs than that for patents.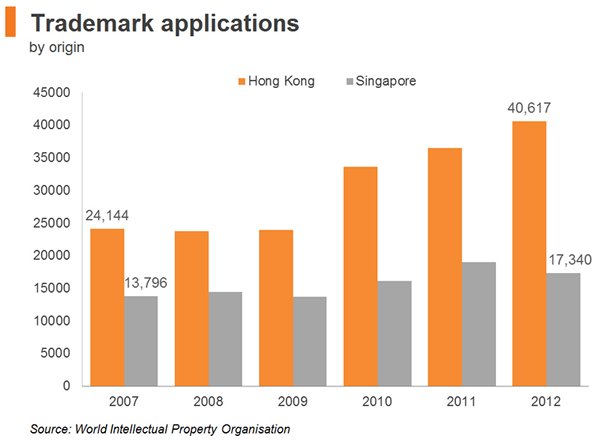 The regional trading, marketing and sourcing platform for the IP industry
Hong Kong hosts a number of the world's largest trade fairs, thereby providing a highly-efficient business matching and trading platform for the region. In 2013, Hong Kong hosted more than 300 conferences and exhibitions, many of these featuring a high proportion of international buyers and exhibitors in the IP trade. These events included the Inno Design Tech Expo, the International ICT Expo and Eco Expo Asia. These trade events not only showcased the latest technologies and equipment, but also connected exhibitors with potential IP acquirers from all over the world. In addition, many IP-embedded products and services were showcased at other trade fairs - such as the Hong Kong International Licensing Show, the Hong Kong International Film and TV Market (FILMART) and the Hong Kong Book Fair -where trademarks and copyright issues are promoted to buyers from across the world.
The third Business of IP Asia Forum (BIP Asia), a networking event for IP industry players, was held in December 2013. The forum was attended by more than 1,700 IP professionals and business leaders, double the number that attended its 2011 launch. Of the participants, representing some 24 countries and regions, 29% of them were IP owners, 40% were IP users and 31% IP services providers. With 60 renowned IP experts and industry leaders as speakers, all sharing their insights about the latest developments in the IP ecosystem, the BIP Asia forum serves as the ideal venue to explore IP business collaboration opportunities.
Asia's online IP marketplace launched in Hong Kong
With an aim to facilitate the IP trade in Hong Kong and to connect global IP players, the Asia IP Exchange (AsiaIPEX) was launched in December 2013. AsiaIPEX is a free online platform and database showcasing worldwide IPs and related services. Boasting a portfolio of more than 25,000 tradeable IPs, including patents, trademarks and copyrights, AsiaIPEX is currently utilised by IP industry players from more than 70 countries and regions.
AsiaIPEX: http://www.asiaipex.com

In addition, Hong Kong is a popular destination for multinational companies (MNCs) looking to manage their business in Asia, particularly with regard to the Chinese mainland. It also functions as a strategic base from which overseas companies can expand their IP-related businesses in Asia. As of June 2014, there were more than 3,700 foreign companies with regional headquarters (RHQs) and regional offices (ROs) in Hong Kong. Overall, 21% of these came from the US, followed by Japan (19%) and the UK (9%). The majority of these RHQs and ROs were responsible for conducting business on the Chinese mainland. About half of them were engaged in trading and retail businesses, which involved the licensing of IP properties, notably trademarks and copyright.

Hong Kong as a regional IP services provider
The complexity of IP trade naturally creates demand for specialised support services, including legal, financial and consulting services. The availability of financing resources and financial services in Hong Kong, which is increasingly assuming the role as China's most prominent offshore RMB centre, reinforces its role as the preferred regional hub for IP business, particularly with regard to transactions involving mainland enterprises. Hong Kong is the second largest private equity centre in Asia, managing US$96.8 billion (or about 19% of the total capital pool in the region) as of the end of 2013. Venture capital is one of the common strategies used by private equity firms in Hong Kong, an important source of funding for start-ups essential for generating innovation and new designs.
IP Nexus – a Hong Kong start-up
IP Nexus is an online IP trading platform with an IP services marketplace, where IP industry players can offer and source IP-related services for product development, IP protection and monetisation. Founded in Hong Kong by a Japanese IP litigator in 2012, IP Nexus started as a partially self-funded IP intermediary company with support sought from the Hong Kong Cyberport incubator platform. In addition, IP Nexus recently secured its first seed funding from a venture fund and a number of individual angel investors. As of May 2014, there were more than 27,000 IPs listed on IP Nexus.
IP Nexus: www.ipnexus.com
As IP infringement is a major concern across Asia, IP litigation, along with alternative dispute settlement services, such as arbitration and mediation, is essential for IP industry players. Such services also constitute an important income stream for IP-related legal services providers. As the internationally-acknowledged law capital of Asia, Hong Kong is home to thousands of practising solicitors and barristers, with hundreds of local and foreign firms also establishing a presence, including more than half of the Global 100 law firms. As such, Hong Kong is home to many of the region's top IP attorneys, such as Deacons, Baker & McKenzie and Jones Day. All of these provide a wide range of IP-related legal services, including IP registration, enforcement and consultancy for international and regional IP transactions, technology licensing and franchising. Generally, the IP ecosystem in regional economies lacks the maturity and sophistication of that in the developed economies, be they related to IP registration, valuation or enforcement. This means Hong Kong service providers could find opportunities to help foreign companies secure better IP protection and handle infringements, while mitigating risks in the process of IP transactions. This is particularly the case with technology transfer, which is relatively more complex than the outright sale or licensing of a trademark or industrial design.
According to the Global Competitiveness Report compiled by the World Economic Forum (WEF), which compares the competitive rankings of a wide array of attributes among 144 economies, Hong Kong ranks high in the region in the areas of financing capacity, legal regime and IP protection.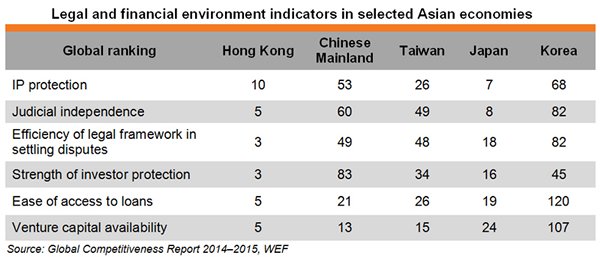 Apart from trade fairs and conferences, IP trading has also been facilitated by connecting owners with potential buyers and licensees through referrals and other intermediaries (further examples of IP intermediaries can be found at Intellectual Property Strategies: Capitalising on Asia's Growth). With its extensive business networks and in depth market knowledge of the Chinese mainland, Hong Kong has always been a platform for those foreign IP owners who are keen to sell their IP to the growing mainland market.
With the presence of various IP professionals, consultants and value-chain stakeholders, all of whom can facilitate IP registration, commercialisation and customisation, Hong Kong could play a still more pivotal role in IP trading in Asia. It can facilitate importation of IP to the Chinese mainland while, at the same time, it could develop customised IP solutions for the regional market.
Compared to either trademarks or industrial design, the application or commercialisation of patents in overseas jurisdictions is far more complex, with a clear understanding of the requirements of local operations often essential. Hong Kong companies, for example, can modify technologies sourced from developed countries into applications for Asian or Chinese buyers and users, as seen in a number of turnkey projects. Specifically, they may engage in technology consultancy in relation to the supply of the needed solutions, modules or components following the technology customisation.
---
[1] Non-resident application refers to an application filed by a resident of a foreign state or jurisdiction from the perspective of the office receiving the application.