https://origin.hkmb.hktdc.com/en/1X0A16SQ
Nanning and Guigang: Guangxi's Core Labour Markets
Currently, a number of companies are choosing to expand their production operations into the Guangxi region. This is largely because of the sheer size and stability of its labour force when compared with Guangdong. Additionally, central government policies now also offer multiple incentives to enterprises that settle in Guangxi. These include preferential policies for China-ASEAN free trade areas, for open coastal cities, for ethnic minority regions and for the "Go West" development drive. Up until June 2014, the cumulative number of Hong Kong-invested companies established in Guangxi stood at 6,551. Their total utilised investment amounted to US$8.4 billion[1], with their main areas of investment being manufacturing and real estate.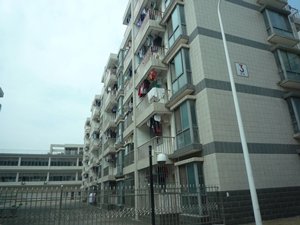 Nanning, the capital of Guangxi, has attracted a substantial number of electronics enterprises that have relocated from Guangdong. In 2010, its neighbouring city, Guigang, became one of four demonstration zones for accommodating relocated industries[2] in eastern Guangxi. The Guigang zone focusses on developing six particular industries - equipment manufacturing, raw materials production, light textiles and chemicals, new- and high-tech, modern agriculture and the modern services industry. In March 2014, the government of the Guangxi Zhuang Autonomous Region implemented its Several Policies on Supporting the Development of Hong Kong and Macau-invested Enterprises in Guangxi initiative. This rendered support to Hong Kong and Macau investors in the areas of industry projects, taxation, industrial parks, land, finance, approvals and labour.
In contrast to Guangdong province, Nanning and Guigang have a more abundant and stable supply of labour, while their average wage costs are also lower. Taking Guigang as an example, in order to attract returnees, a promotion campaign targeted at migrant workers returning home for the Lunar New Year was launched in 2011. This took place during the Spring Festival holiday and looked to publicise the development prospects in Guigang and to provide job matching. As a result, 26,331 Guangxi workers took jobs back in their hometowns. It is worth noting that Guangxi has a lower minimum wage than Guangdong. In 2014, the minimum monthly wage in Guangxi was Rmb830-1,200, whereas in Guangdong it was Rmb1,010-1,550.
As more enterprises have invested in Guangxi over recent years, some foresee recruitment difficulties arising in the future. In light of this, efforts are being made to invest in automated production so as to reduce the reliance on manpower. Meanwhile, product value is being enhanced to increase competitiveness. Most enterprises setting up in Guangxi will also retain certain factory operations in Guangdong. In this way, they can leverage on the advantages of having factories in the two locations by spreading out manufacturing processes across the factories and keeping down production costs.
Characteristics of the Guangxi Labour Force
Factory workers in Guangxi are recruited mostly from locals who have families to look after. Some of them are returnees from Guangdong. They want a stable job and regular work hours, so overtime is not appealing. As such, factories in Guangxi have to operate in shifts in order to cater to the needs of local workers. Generally, the morning shift is from 8am to 7pm (overtime included), while the night shift is from 8pm to 7am. As some Hong Kong enterprises in Nanning pointed out, however, only a small number of workers elect to stay overnight at the factory because they live too far away to commute. That is why workers' dormitories at Guangxi factories are much smaller than similar ones in Guangdong. Even those workers who stay overnight on weekdays often return home at weekends.
Wage Costs in Guangxi Still Lower than Guangdong
According to one electrical machinery company in the Nanning New & High-Tech Industrial Development Zone, while its head office is in Japan, its Hong Kong office is responsible for sales and logistics and its mainland factories for production. In 2008, an additional factory was set up in Guangxi. Its other factories, all operating independently, are located in Shanghai and in the provinces of Hunan, Jiangxi, Jiangsu and Guangdong (in Panyu and Humen).
The Guangxi factory imports the raw materials and parts it needs from overseas suppliers via Shenzhen or Hong Kong. These are then transported by truck to Guangxi by a third-party logistics company in Hong Kong. Finished products from the Guangxi factory are transported by truck to the Panyu factory in Guangdong province. After adding products from the Panyu factory, the cargo will then be delivered by road to the container port in Hong Kong for export shipment. It is understood that, on average, a truck makes around 12 round trips a month between the Guangxi and Panyu factories, at a cost of about Rmb12,000 each trip. This is an additional transportation cost. Taking into consideration the fact that the average monthly wage of a Guangxi factory worker is about Rmb2,500 (compared to about Rmb3,000 for a Guangdong worker – and the Guangxi factory currently has 1,700 employees ), the overall wage saving is enough to offset the increase in logistics costs.
Gradual Enhancement in Product Value
One Hong Kong garment group has production bases in Panyu, Guangdong and Wuxi, in Jiangsu. In 2011, it expanded its production to Guigang, in Guangxi. This has since become the largest production base for the group, with approximately 1,000 employees. The head of group says that the skill levels of Guangxi workers still fall short of Guangdong workers. As a result, they only transfer products that require relatively simple production procedures to the Guangxi factory. Other products, such as suits, knitwear and shirts, are handled elsewhere.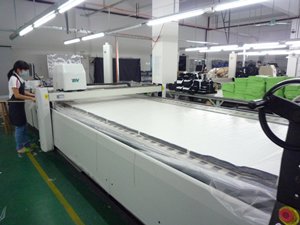 Although the group has joint-venture factories in Myanmar and Bangladesh, because of the political instability, the powerful trade unions and the relatively lower skills level of workers in these places, it plans to concentrate investment resources in China in future. The Guigang factory, for instance, will implement lean manufacturing, linking up its product data with the terminal data repository of customers in the UK, the US and Japan, optimising the connectivity of its production systems and enhancing the efficiency of "just-in-time" production. Meanwhile, in order to enhance the value of their products, the company has introduced two sets of computerised automatic cutting machines that can accurately position the seaming joints according to the design pattern of the fabric so that, after sewing, the original design pattern is reproduced.
Automation as a Way of Reducing Labour
A number of enterprises have relocated their factories from Guangdong to Guangxi as a way of tackling the problem of labour shortages. In the long-run, however, even Guangxi factories may face the same problem. Therefore, some enterprises have prepared for such a scenario by investing in automated machines so as to gradually reduce their dependence on manual labour.
In 2007, one company, with a head office in Japan and an office in Hong Kong, set up a new factory in the Nanning New & High-Tech Industrial Development Zone in order to produce electronic appliances, including earphones, car audio systems and household amplifiers. The company also has a factory in Panyu, Guangdong but, as it could not recruit enough workers, the Panyu factory had to be downsized. Production was relocated to Nanning in Guangxi, where the labour supply was more stable. Initially, the Nanning factory had only 3,000 employees. By 2011, the headcount was 13,000. In recent years, though, many skilled workers have moved to the coastal cities in order to find better opportunities. With more and more electronics firms setting up factories in Nanning, recruitment shortage (particularly of skilled workers) are now also becoming apparent in Nanning. As a result, the company is investing in technological development and trying to reduce the number of workers required by using automated production equipment. At present, there are some 7,000 workers employed at the Nanning factory, but it still manages to maintain the production quality and quantity output of 13,000 workers. Its head of operations envisages that the use of automated machines in order to lower production costs will continue in the future.
Several Guangxi technical colleges, in collaboration with local businesses, are now conducting training courses where students receive the appropriate technical training, allowing them to meet the needs of the market once they graduate. The Guangxi Youjiang Commercial College For Nationalities, for example, has worked with various enterprises (such as Foxconn and Samsung) in order to train the technical personnel needed by the industry. This means that its students can work in the factories of its collaboration partners after graduation. This ensures that enterprises get the skilled workers they need, while the graduates acquire practical skills.
Leveraging the Advantages of Different Production Locations
Products with large finished sizes may entail a heavier weight and, thus, substantially higher transportation costs. The solution for some enterprises is to assign production of semi-finished products to different factories, according to the requirements of the production processes. The semi-finished products are then only finally assembled immediately prior to export, ensuring that transportation costs are minimised.
One shoe manufacturer, which first set up a factory in Zhongshan, Guangdong, in 1990, later expanded to Guigang in 2007. Its Taiwan head office is in charge of procurement and order confirmation. Its Hong Kong office is in charge of export business and fund transfers, while the mainland factory is responsible for production. All of the companies' raw materials are imported. The leather for manufacturing its boots, for example, is imported from Italy, Argentina and Indonesia to Shenzhen via Hong Kong. Then it is transported by truck to the Guigang factory for dyeing, processing, and making uppers and linings. The semi-finished products will then be trucked to its Zhongshan factory. The Zhongshan factory will take care of the manufacturing of the heels as well as stitching the semi-finished products (uppers and linings) to the heels. The production process is complete when the shoes are packed into shoeboxes. Finally, the finished products are transported to Shenzhen or Hong Kong by container truck, to be exported to Europe or the US by ship.
As products like shoes and boots are rather large in size, if the whole production process was carried out in the Guigang factory, not only would the transport costs be higher than that for semi-finished products (uppers and linings), but the Guigang factory would also need to install machines for making heels. The business currently manages to cut its transportation costs by matching the various production locations to each stage of the production process.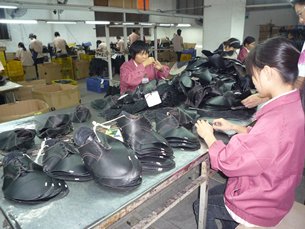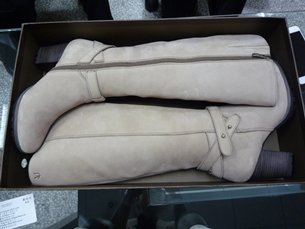 With the state government encouraging Guangxi to welcome relocating industries from Guangdong, the abundant and stable labour supply offered by Nanning and Guigang is enticing enterprises to set up new factories and to their expand production lines there. As more and more enterprises invest in Guangxi, a number of them have started to prepare for possible recruitment shortages by investing in automated machinery to minimise the need for manpower. In addition, enterprises can leverage on the differing production capabilities of their factories in Guangdong and Guangxi and spread out the production of semi-finished products among the various factories. In this way, transportation costs and investment in production machines can be cut, resulting in further reductions in production costs.
---
[1] Guangxi Zhuang Autonomous Region Development and Reform Commission.
[2] The four demonstration zones are located in Wuzhou, Guigang, Hezhou and Yulin.
Mainland China
Mainland China