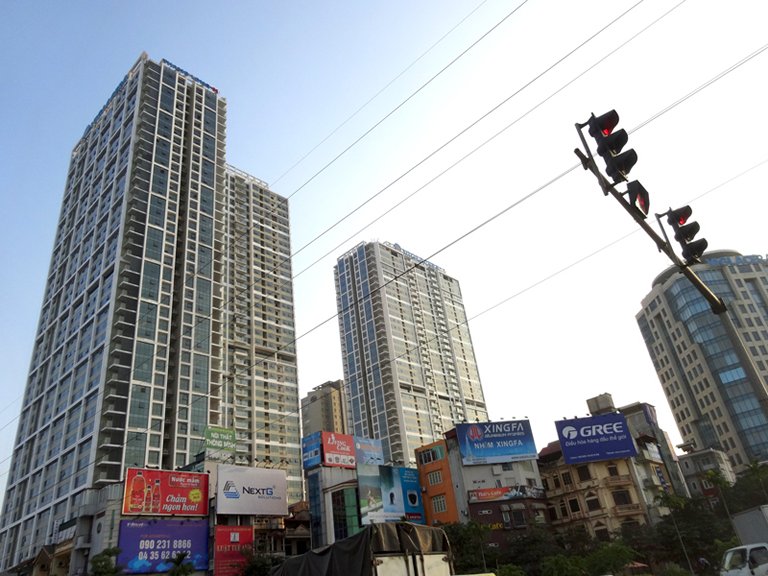 https://origin.hkmb.hktdc.com/en/1X0A1MHP
Opportunities in Vietnam's Infrastructure and Real Estate Services (IRES) Market
Sustained urbanisation and rapid industrialisation boost demand for construction and engineering services in Vietnam
Vietnam's expanding export-oriented manufacturing sector took its 2014 real GDP growth up to 6%, up from 5.4% in 2013 and 5.3% in 2012. Thanks to the country's accelerating industrialisation and continued urbanisation drive, its construction and real estate sector has been revitalised. Over the past decade, Vietnam's urban population has expanded at an average rate of 3.5% per year, with about nine million people leaving the villages for the cities during the 2003-2013 period. Despite the real estate market downturn in 2011-2012, the real value of Vietnam's construction sector continued to expand at a compound annual growth rate (CAGR) of 10% from 2005 to 2014. During the same period, foreign-invested construction sector grew at a CAGR of 14%, surging by 58% in 2014.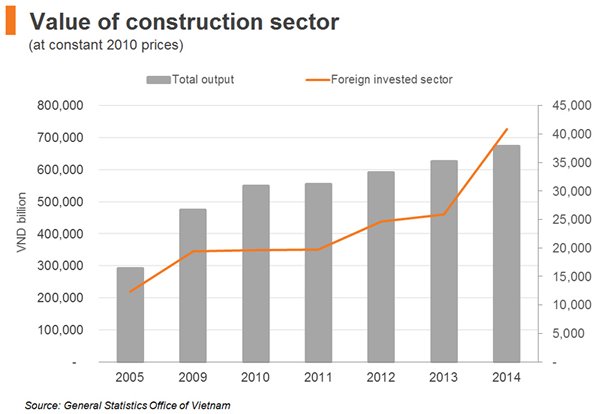 With a considerable number of foreign manufacturers setting up production bases in the country, demand is also on the rise for industrial properties, including industrial parks, warehouses and logistics facilities. As these industry clusters develop, the need for public infrastructure is increasing. As a result, the Vietnamese government is now planning a number of new transportation and utilities projects.
Apart from manufacturing, Vietnam's reviving real estate sector also has considerable appeal for foreign investors. In 2014, the value of foreign direct investment (FDI) in the real estate business and construction sector increased threefold to US$3.6 billion, accounting for 18% of the total FDI and representing the second largest FDI sector in Vietnam after manufacturing. With its improving growth prospects, Vietnam's infrastructure and real estate (IRES) sector presents plenty of opportunities for Hong Kong companies looking to provide IRES services, including architecture, engineering, planning and project management.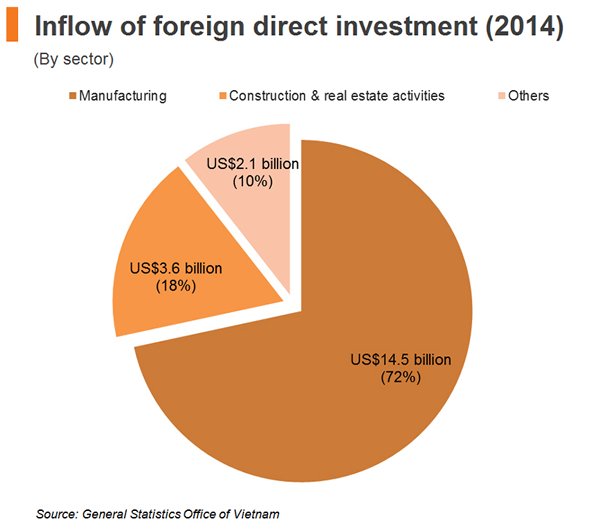 Foreign Investment boosts Industrial Properties and Infrastructure Development
As a relatively low-cost, alternative production base in the Asian region, Vietnam has welcomed the strong demand for industrial properties from foreign manufacturers (see also "Vietnam, an Alternative Production Base: 2015 Update"). In particular, industrial parks in the northern provinces, such as Hanoi and Haiphong, are becoming increasingly attractive to foreign enterprises. This has driven the need for infrastructure and supporting facilities, such as factory buildings, warehouses and utilities that meet international standards. Apart from the country's largest cities – Ho Chi Minh City (HCMC) and Hanoi – a number of the other areas that have been subject to rapid urbanisation and industrialisation - notably Binh Duong in the south and Bac Ninh in the north – have proved popular with industrial property developers. Such developments have proved particularly appealing to Japanese investors. The Sojitz Corporation, a Japanese conglomerate, for instance, has invested in and manages two industrial parks in Vietnam in order to meet the increased demand for Japanese-affiliated industrial parks.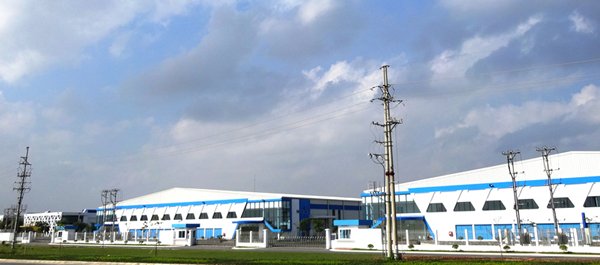 This influx of foreign manufacturers has seen Vietnam's rapid industrialisation outpace its infrastructure development, and resolving the country's infrastructure bottleneck is recognised as being key to the country's sustainable growth (see also "Vietnam's Logistics Market: Overcoming the Challenges"). The Vietnam Ministry of Planning and Investment (MPI) estimates that the country should be investing US$200 billion in infrastructure development during the 2010-2020 period. In this regard, the Vietnamese government has been increasingly active in rolling out infrastructure projects. In May 2014, the Vietnamese government issued a list of 127 infrastructure projects suitable for foreign investment in the run-up to 2020. These include transportation, utilities, industrial zones and energy infrastructure projects. Over the long-term, the extension of the country's transportation systems, such as its metro lines and highways, is expected to encourage the demand for residential and commercial properties in the sub-urban areas.
In Vietnam, foreign investment can take many forms, including wholly foreign-owned enterprises (WFOE), joint ventures, public-private partnerships (PPP), official development assistance programmes (ODA), build-operate-transfer (BOT) and build-transfer (BT) arrangements. Private investment, multilateral institutions (e.g. the World Bank and Asian Development Bank), and ODA from foreign countries (e.g. Japan) have spurred investment in infrastructure, although financing continues to be a major challenge. Vietnam is expected to disburse about US$3 billion in untied ODA funding annually from 2011-2015. The sectors prioritised for ODA funding are primarily related to infrastructure construction and modernisation.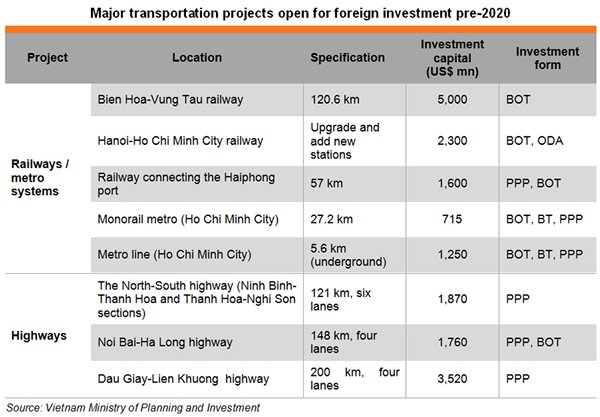 Foreign IRES services sought for urban development in Vietnam
AECOM, a US engineering and construction company, has been commissioned by the World Bank to provide consultancy services on the development of the water supply and sanitation systems in Vietnam. AECOM is also the consultant for the new town development of the Long Hung Commune in Soc Trang province (Southern Vietnam), providing transportation, waste management and utilities infrastructure engineering, design and planning services. It is also providing cost management services for the construction of the Bank for Investment and Development of Vietnam (BIDV) Tower in Ho Chi Minh City, which is scheduled for completion by end-2016.
Professional IRES Services in Demand
Vietnam's growing middle-income class and its influx of foreign investment has resulted in rising demand for better quality homes and commercial buildings and has also boosted the upmarket property segment, which is dominated by foreign developers. In order to stand out and differentiate themselves from other players in the local property market, foreign developers have worked hard to maintain their reputation for high quality, thereby spurring robust demand for advanced building and construction technologies. According to a number of the leading Vietnamese developers interviewed by HKTDC Research, many foreign developers prefer outsourcing their IRES services to companies that comply with international standards. With their internationally renowned expertise in construction-related services, Hong Kong IRES services providers could find a considerable number of opportunities in Vietnam's construction industry.
Since its accession to the World Trade Organization in 2007, Vietnam has made commitments to liberalise 11 services sectors, including architectural, engineering, urban planning, and construction and building services. Despite this, several limitations on foreign investment are still in place. In the case of a foreign company looking to provide general construction work for building and engineering services through a commercial presence, for instance, the branch head has to be resident in Vietnam [1].
In Vietnam, most provinces have their own socio-economic development master plans. The primary focus of these is on establishing general industrial and infrastructure development goals. In light of this, many foreign companies have found it useful to co-operate with Vietnamese firms, benefiting from their local market knowledge and experience. In order to better understand the market segmentation of each city - including land uses and specially focussed sectors -foreign companies are advised to contact the related industry associations (e.g. the Vietnam National Real Estate Association), which frequently offer practical assistance to foreign investors, including consulting services and business matching.
According to a number of IRES companies operating in Vietnam, it is important to establish strong networks with local business partners, including developers, and to gain the support of local authorities. Significantly, there is also a large variation in the service standards of Vietnamese contractors and subcontractors, many of which may not be as familiar with global practices as their Hong Kong counterparts. In light of this, close supervision and guidance is needed when working with local companies.
Real estate market opening up to foreign investors
In recent years, the Vietnamese government has taken steps to gradually open up the real estate market to foreign investors. The most notable measures here are the new 'Housing Law' and the 'Law on Real Estate Business' (passed in November 2014), which reduce the restrictions on foreign ownership of residential and commercial properties. Under the new Housing Law, foreigners and foreign-invested enterprises are entitled to purchase houses for a 50-year ownership period. The new Law on Real Estate Business permits foreign entities and individuals to purchase constructed facilities for use as offices, factories or for other business functions. Foreign nationals and enterprises are also allowed to lease the purchased houses and facilities. Effective from July 2015, these two laws are expected to provide positive support for Vietnam's property sector by addressing the demands of international investors.
Hong Kong's Involvement in the Vietnamese Real Estate Sector
A number of Hong Kong investors are already actively involved in Vietnam's real estate sector. In 2014, Hong Kong was the second largest source of FDI in Vietnam, with total investment of US$2.8 billion, of which almost 90% (US$2.5 billion), was devoted to 45 real estate projects. The Hong Kong-based Sunwah Group, for instance, is the developer of a number of high-end commercial, residential and mixed-use properties in HCMC. Similarly, the Luks Group has invested in Vietnam since 1991, engaging in property development and cement production, while also being active in property development across Southeast Asia. Hongkong Land has also invested in office and retail buildings in Hanoi since 1993.
Apart from property investment and development, a number of Hong Kong IRES services providers have already made inroads into other Vietnamese sectors. Several Hong Kong architectural firms, such as P&T and Aedas, have established offices in Vietnam and are now participating in both residential and commercial projects. Aedas is involved in a number of projects in Vietnam, including the Saigon Tower and the New Pearl residential building in HCMC.
Useful contacts
Related information: Vietnam infographics
---
[1] For more details on the related restrictions, please refer to Vietnam's WTO Schedule of Specific Commitments in Services
Building Materials
Machinery
Architecture & Planning
Building & Construction
Engineering
Real Estate Services
Real Estate Services
Viet Nam
Southeast Asia
ASEAN