https://origin.hkmb.hktdc.com/en/1X0A1RVW
China's Children's Clothing: A Market-driven Case Study
An interview with Zeng Weiping, General Manager, Foshan TQ-bebe Apparel Co Ltd
Founded in 2001, Foshan TQ-bebe Apparel Co Ltd (TQ-bebe) is a girls' clothing specialist that trades under two brands - "TQ-bebe" and "Ruo Bei Er". While TQ-bebe targets girls aged 4-16 years (height 120-160cm), Ruo Bei Er is aimed at younger girls, those aged in the 3-8 (height 90-130cm). Zeng Weiping, the General Manager of TQ-bebe, in sharing his experience in brand positioning and business operation and in analysing the development trends of children's clothing market on the Chinese mainland, provides useful reference for Hong Kong companies interested in entering the mainland market.
From Production-oriented to Market-driven
A decade or so ago, the mainland children's clothing market was still a relatively undeveloped sector. Back then, most of the players were cottage-style industries, mainly engaged in small-batch wholesaling. At the time, TQ-bebe was production-oriented and offered only a limited range of products. Production would only proceed after a customer had confirmed the design. Overall, there were few children's clothing manufacturers and they tended to be small-scale operations. Significantly, with no dominant player in the market, competition was far from as fierce as it is today.
With the development of the mainland economy, more and more companies have become aware of the potential of the children's clothing market. A number of large companies and famous brands – even established adult fashion brands – have begun to branch out into childrenswear, inevitably fuelling competition across the sector. Commenting on the mind-set needed to survive, Zeng said: "If we hadn't adjusted to market needs and established our own brand characteristics, we'd easily have gone out of business. That's why we set our mind on reinventing ourselves."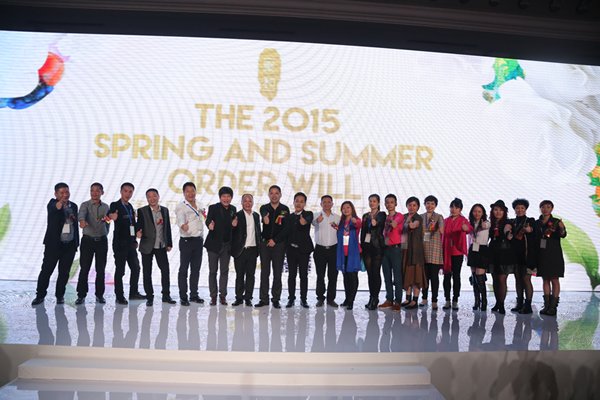 TQ-bebe's transformation and upgrade process began in 2012. It started by improving its internal management and marketing operations. Through feedback from first-tier agents and retailers, it was able to accumulate precise knowledge of fashion trends, and run product launches and ordering meetings one to two seasons ahead, as well as managing to plan product styles and quantities two seasons in advance. The company sought to create a market niche that gave equal emphasis to trendiness and comfort by offering "affordable, mass-market and fast fashion" products through transforming fashion trends into high-quality and inexpensive childrenswear in the quickest way possible.
Through transformation and upgrade, TQ-bebe succeeded in transforming itself from a "production oriented" business to a "market driven" one. Headed by one of China's top 10 childrenswear designers, the company's design team now adjusts and diversifies product lines according to market needs. With the efficient distribution capability of a large number of provincial agents and a thousand-plus retail outlets, TQ-bebe is committed to making its name in the childrenswear market through a fast fashion brand approach.
Knowing the Market and Grasping the Trends
Although demand in the mainland's children's clothing market is huge, Hong Kong companies should look to gain an in-depth understanding of the varying consumer preferences of the different regional markets. In the northeast, for example, where there is indoor heating, people are used to layering up during the winter months before venturing outdoors, putting on a thick down jacket over lighter weight tops. Hence product designs must be appropriate to the dressing habits of local consumers. In the southwest, consumers are slimmer and pay greater attention to style variations. In eastern China, demand for clothing and accessories is huge - as people there are better informed, they are more sensitive to fashion trends and more concerned about "face". Consumers there have a partiality for Western, top-of-the-line brands. In southern China, shoppers are more discerning and are concerned about value for money, while preferring casual styles.
Other than regional differences, there are also variations in consumer concerns with regard to children's clothing for different age groups. For example, in terms of clothing for infants and toddlers, consumers are more concerned about the safety of the materials used and prefer clothing and accessories made of pure cotton. For clothing meant for children aged above three years, there is more attention to variations in style, so manufacturers can create diversity by mixing and matching fabrics. Children over six have significantly more say, and tend to have more personalised style preferences. According to Zeng, overall there are two particular trends dominating the mainland children's clothing market at present: "diversification and personalisation" and "rational consumption".
Diversification and Personalisation
Given the trend towards diversification and personalisation in children's clothing, as with adult fashion and accessories, consumers expect items that specifically cater for different occasions. They also expect children's clothing brands to have their own brand personality and characteristics that align with the styles and preferences of different consumer groups. As the children's clothing market in the mainland is becoming increasingly competitive, a brand without unique personality and distinct selling points will be easily overlooked and disregarded by consumers.
Rational Consumption
Thanks to their rising incomes, mainland consumers now have a greater opportunity to travel. As their horizons broaden, they no longer pursue expensive brands indiscriminately and, instead, are learning to choose brands and products that offer higher value for money. Access to the internet has also speeded up the spread of information, so much so that, consumer now have access to far more data about different brands and products, as well as the facility to purchase brands and products from different regions. Brand competition is no longer confined to local, physical channel markets, with consumer awareness being more mature and rational. As a result, only those brands offer high quality and a distinct personality appeal to consumers.
Tapping New Channels and O2O Sales
At present, sales channels for children's clothing on the mainland mainly comprise speciality stores, comprehensive shopping malls, department stores, maternity and baby stores, hypermarkets/supermarkets, and online retailers. TQ-bebe's nationwide distribution is achieved through the physical sales channels of provincial level agents and franchisees that mainly target second- through fourth-tier markets. The sites of retail outlets are determined by the provincial level agents, depending on their resources. Certain agents/franchisees may opt to utilise bricks-and-mortar stores and online channels at the same time. To avoid problems of online-offline price conflicts and competition among agents/franchisees, Zeng said that TQ-bebe is now adopting a supervisory approach that entails developing a set of rules for agents and franchisees. For example, current season items may not be sold online, while online discounts may not exceed 35%. Penalties are also levied on any agents who breach those rules. This is intended to prevent damaging physical sales and so protect the interests of local agents.
While online sales are flourishing on the mainland, a number of the physical sales channels that have emerged in recent years are also significant for Hong Kong companies. Clear examples here are "one-stop maternity/baby stores" and "multi-brand stores".
One-stop maternity/baby stores refer to large chain stores specialising in mother and infant supplies, such as kidswant and allforbaby. With these chains, a typical store has a floor area of more than 1,000 square metres, though some may be as large as 5,000 to 8,000 square metres. Apart from selling products for expectant mothers and babies, they also feature children's play areas and offer temporary babysitting services, allowing parents to shop at their leisure. In the past, most maternity/baby stores specialised in products for children under three years old. Currently, though, this kind of one-stop mega maternity/baby store seeks to create an all-round environment for shopping and pleasure, offering everything from toys, food, supplies and garments to paddling pools, children's playgrounds, playgroups, skills training courses and post-natal classes. The target age of their child customers has also been extended and now includes the under-14 age group.
"Multi-brand stores" operate on a similar concept to buyers' stores. In each store, there is a collection of up to a dozen different children's clothing brands. Some of these stores are wholesalers with access to sales channels. Familiar with the consumer preferences in the local market, they will specifically source children's clothing brands that have distinctive features or focus on a certain area so as to establish a style of their own. Examples here are Kerry Bonny in the northwest and Citybobo in the southwest.
Close Co-operation and Trust Building
The provincial level agents that work with TQ-bebe are basically partners that it has grown and co-operated with for many years. Zeng advises newcomers to consider three points when choosing an agent. First, does the agent have local distribution network resources and financial strength? Second, is it willing to work with the manufacturer to transform and upgrade the brand? Third, does it have the ability to manage its frontline sales team effectively?
TQ-bebe and its agents divide up the areas of responsibility. TQ-bebe looks after production and supply, provides training at points of sale and gives guidance to its agents on a regular basis. It has also set up a TQ-bebe business school to enhance the business acumen of its agents. Meanwhile, the agents are responsible for setting up channels and sales in the local market and for providing TQ-bebe with information on market demand and suggestions for product improvement.
For specialty stores selling from fixed locations, TQ-bebe covers 50% of the renovation costs to ensure a uniform store image. This has the advantage of consolidating the brand's image while strengthening its partnership with the agents. In terms of settlement, TQ-bebe generally requires "prepayment of a 30% deposit, an annual plan for repayment, regular settlement and final settlement at year-end". As an incentive, any agents exceeding sales targets are rewarded with profit rebates.
Targeting Market Segments with Clear Brand Positioning
Hong Kong companies interested in expanding into the mainland children's clothing market must take the initiative and contact mainland agents, advises Zeng. Apart from participating in trade fairs, they can also consider paying direct visits to agents. In this way, they can introduce their products to prospective agents and gain a more thorough understanding of the mainland market. Agents can be identified through the internet, trade fairs or by liaising with local trade associations.
Although the demand for children's clothing in the mainland is sophisticated, as outlined above, consumer demands vary from region to region. Brands that are new to the mainland market are advised to first concentrate on one particular market segment rather than attempting comprehensive coverage from day one. When sufficient experience of a market segment has been gained, gradual entry to the national market can then be undertaken. At the same time, it should be noted that consumers in different markets have differing preferences. Hence a product that sells well in one market may not do as well in another.
Finally, Zeng advises Hong Kong companies to keep an eye on demand trends in the mainland children's clothing market, as well as on the modes of sales and operation. If they can also leverage their own resource advantages, he believes they will be able to tap into the emerging opportunities in the market.
Baby Products
Garments, Textiles & Accessories
Mainland China
Mainland China