https://origin.hkmb.hktdc.com/en/1X0A32VZ
Dalian: Profile of a Consumer Market
1. Economic Overview and Development Planning
Dalian is a major city in Liaoning province with a GDP ranking highest among all cities in the province. In 2014, its GDP grew 5.8% in real terms year-on-year to Rmb765.6 billion. In particular, the value-added of primary industry grew 2.9% to Rmb44.2 billion; that of secondary industry grew 5.0% to Rmb369.7 billion; and that of tertiary industry grew 7.0% to Rmb351.7 billion. The contribution ratio of these three industry tiers was 5.8%, 48.3% and 45.9% respectively.
Located at the southernmost tip of Liaodong Peninsula, Dalian is flanked by the Yellow Sea to the east and the Bohai Sea to the west. As the marine gateway to northeast China, Dalian is an important port, as well as a trading, industrial and tourist city. Based on its permanent population, the per capita GDP of Dalian stands at Rmb109,939.
Dalian is one of the most popular destinations for foreign investment in the country. The actual use of foreign investment was US$14 billion in 2014, ranking first and accounting for 51 % of the total of Liaoning. According to the Report of Chinese Cities Foreign Investment Attractiveness 2014, Dalian is China's most attractive city for foreign investment.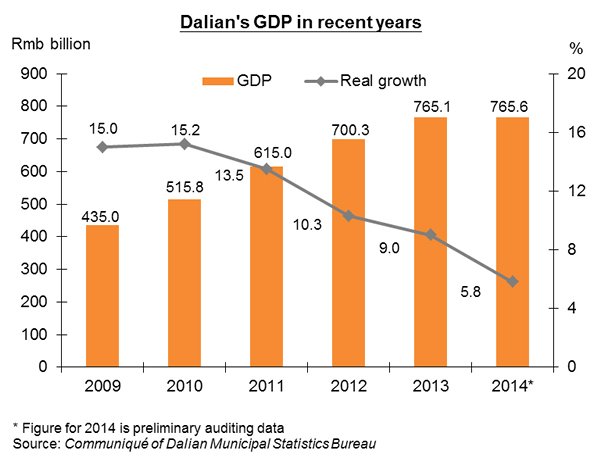 Heavy industry is the mainstay of Dalian's industrial structure. In 2014, the value added by its industries above a designated scale was Rmb301.7 billion, of which 76% was attributable to heavy industries. Major industries include petrochemicals, equipment manufacturing and shipbuilding. Dalian's economy is, by and large, externally oriented: the value of its exports accounts for 51% of the total exports of Liaoning province. As China's seventh largest container port, its container throughput grew 1.2% in 2014 to 10.13 million TEUs. Dalian will complete construction of the "three centres" during the 12th Five-year Plan period, which are northeast Asia's international shipping centre, international logistics centre and regional financial centre. Also, it will further strengthen its functions in the distribution and deployment of key production factors, including logistics, capital, personnel, technology and information, so that it will become an important resources deployment centre serving the whole of northeast Asia.
Dalian is also a tourist city, named among "China's Top 10 Smart Tourist Cities" in 2014. Domestic and foreign tourists amounted to 56.2 million and 970,000 people, respectively, bringing in total tourism income of Rmb99.4 billion during the year.
Dalian is the growth engine and core of Liaoning's coastal economic belt. In the course of implementing of its "Greater Dalian" strategy and its "westward and northward expansion" plan, urban construction has been continually improving to create new districts. In recent years Dalian has focused on the development of modern commerce, trade and tourism and quicken the pace of laying out plans for the construction of large modern commercial centres. It will develop in earnest businesses with special characteristics in the commercial districts of Qingniwa Bridge, Xian Road, Xianglujiao Logistics Park, Zhonghua Road and Olympic Square, so that a modern commercial centre and a trendy shopping centre with far-reaching influence in northeast China will eventually take shape.
On economic planning, the number of corporate headquarters in Dalian will exceed 200, of which 100 will be among the Fortune 500 by 2020, in accordance with the city's headquarters economy development plan. A spatial development plan of "4+4+4" will be formed in the city. The first "4" refers to four core zones for developing finance, commerce, software and service outsourcing, with the focus on the optimisation of the structure of headquarters economy. The second "4" refers to four key zones for nurturing innovation, high-end services, advanced manufacturing and logistics business. The last "4" refers to four growth zones for supporting technology R&D, maritime and logistics industry, with the focus on strengthening infrastructure construction and creating an environment suitable for development for headquarters economy.
2. Dalian's Consumer Market
2.1 Growth in Retail Sales
In 2014, Dalian's retail sales of consumer goods grew 12.0% year on year to Rmb282.8 billion. During the year, in retail sales of enterprises above a designated scale, Chinese and Western medicines rose by 18.2%, garment, textiles, footwear and headwear products by 6.2%, hardware and electrical materials by 27.2%, petroleum and petroleum products by 13.1%, and motor vehicles by 6%.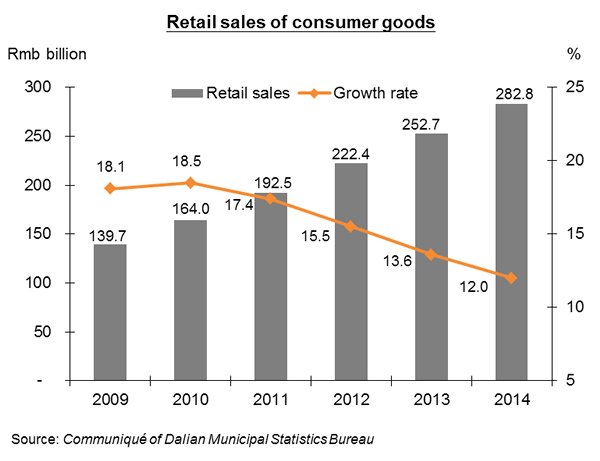 2.2 Per Capita Disposable Income and Consumption Expenditure
In 2014, per capita disposable income of urban households in Dalian was Rmb33,591, up 8.7% from the year earlier, while per capita consumption expenditure was Rmb27,482, up 7.4%.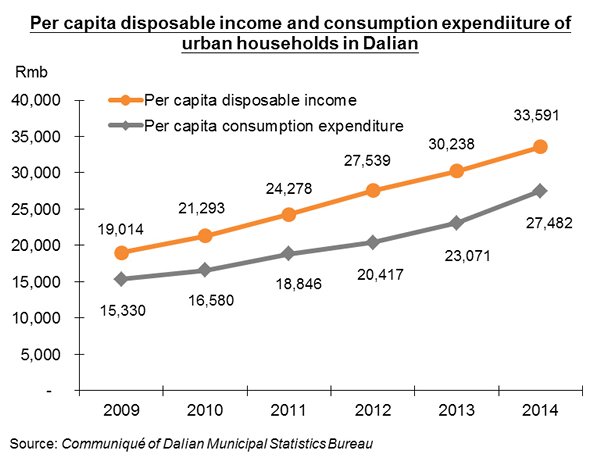 3. Characteristics of Dalian's Consumer Market
3.1 Population Structure
Dalian's permanent population in 2013 was 6.94 million, up 15.3% from 2005. Its household registration based population was 5.91 million.
According to the findings of China's sixth population census, among the permanent population, 50% were male; 9.9% were aged 0-14; 74.3% were aged 15-64; and 15.8% were aged 65 or above.
There have been marked increases in the education attainment of the permanent population: 17% have university education, 17% have senior high school education, 38% have junior high school education and 21% have primary school education. Compared with the findings of the fifth census ten years earlier, the proportion of Dalian residents with university education has increased from 8,646 per 100,000 to 17,367 per 100,000.
There were 2.32 million households in Dalian, with an average size of 2.63 persons. The average household size had decreased by 0.36 person from 10 years earlier.
3.2 Characteristics of Consumers
Dalian is a migrants' city, with a large number of its people being descendants of Shandong immigrants who made the move eastwards in the mid-19th century. It is a city with a high degree of inclusiveness and its consumers include not only local residents but also entrepreneurs, tourists, business travellers and workers from all over the country, or even the world.
Receptive to new consumption formats
The people of Dalian are "face" conscious and like to dress fashionably and smartly. They are highly receptive to new consumption formats, so they would not hesitate in trying out novel ideas, such as prepaid consumption, online shopping and TV shopping. They are pursuers of quality of life and are willing to shell out for fitness equipment and health services.
High-income earners chasing luxury
In Dalian, different age groups and different social classes have different consumption characteristics. For mid-to-high income groups, consumption of luxury products, such as designer clothing, luxury watches, upmarket luggage, cosmetics, the latest digital products, jewellery and fur, is most prevalent, and the frequency of trading up houses and cars is high. These groups are made up of owners of private enterprises, senior executives in state-owned or foreign-invested enterprises, practitioners in monopolised industries or in IT, image design, advertising and the media, radio hosts, teachers and doctors. To them, taking tours and resort holidays is very common. They prefer taking purely leisure trips on yachts and cruise ships or self-drive tours.
Dalian's elderly people are relatively well off, so there is a thriving seniors market. The elderly's consumption involves mainly two areas. On the one hand they are willing to spend on functional foods and visiting doctors, on the other hand, they like splurging substantial sums on foods and clothing for their grandchildren.
Middle-aged consumers' extreme spending habits
The spending habits of Dalian middle-agers are quite extreme and vary greatly from one district to another. These middle-agers are accustomed to shopping for top-tier consumer goods in the Qingniwa Bridge commercial district where the New-Mart and Parkland Mall are located. For second- or third-tier consumer goods, they would go shopping in the Xian Road commercial district and Wanda Plaza commercial district in the Dalian High-Tech Zone. Some upmarket consumers invariably patronise the Friendship Shopping Center, Mykal, Times Square and Parkland for their everyday shopping. For luxury items, quite a number of them would go shopping in Hong Kong, Japan or even Europe. Middle-agers are at a stage in life where they have parents as well as kids. They are often willing to spend on their older and younger family members, while scraping and penny-pinching for themselves.
Compared to their preceding generation, Dalian youths are more unrestrained and self-centred in their consumption. They like famous brands, are quality conscious and would tighten their belts to save enough money to buy one or two famous brand items. In Dalian, even students are knowledgeable in international renowned labels. Girls, for instance, are after luxury bags and watches and would be proud of owning a Louis Vuitton handbag. Even primary school pupils are familiar with and keen on brand names such as Adidas and Nike. Young people who have just started working would usually choose to shop with their credit cards. To them, incurring overdraft to buy a desirable luxury item is routine. In the last two years, online shopping has become very popular among this group, so much so that most young people would try it, particularly in regard to merchandise such as clothing, accessories and books. Out of geographical proximity and influence from movies or TV, Japanese and Korean products have been very popular in Dalian for a time. Yet, because north-easterners generally have larger body frames, in terms of clothing style and cut, they are more suited to European and American products.
The share of child-related consumption in the spend of average salary-earning households cannot be under-estimated. The buying of milk powder, supplementary food, prams, dining chairs, tricycles, clothing, toys, shoes, courses on parenting skills and tickets to amusement parks has become a main household expenditure item. Once a brand name has found favour with a new mother, it would be adopted for several years. Schooling expenses of children could easily take up 20-50% of the expenditure of an ordinary consumer household. Parents would embrace all types of learning courses, exam materials, private tuition and any means that could help learning.
Growing popularity of credit card spending
The incomes of most young people who have just entered the workforce are only moderate. So even if they have successfully applied for a credit card, the overdraft facility granted would be rather small. The main target groups of credit cards are public institutions, government employees and management executives working for the world's top 500 companies, or large and medium-sized enterprises. With credit card companies launching joint promotions with various major merchants (on products such as clothing, food and real estate), the frequency of credit card consumption has been growing every year.
Dalian's consumer market has distinctive seasonal characteristics and there is a different theme for each month. January and February are involved in Spring Festival and Valentine's Day promotion. In March and April the focus will be on spring collections and wedding articles. The themes for May and June are the 1 May holiday and the International Children's Day on 1 June respectively. In the tourist season of July and August, tourists are the main promotion targets. "Back to school" and the National Day holidays are the respective themes for September and October. November is the anniversary celebration month for many merchants. December is for Christmas and New Year promotion as well as for year-end stock taking.
Online consumption stays sizzling hot
Dalian people's online shopping transactions present a clear upward trend each year, especially in clothing, which has always ranked as the best-selling product category and among the first on the national league in terms of transaction volume. Growth in retail sales on the Internet grew by 165% in 2014.
As online consumption continues to rise, another consumption also gradually becomes popular - WeChat and overseas purchasing services. Since Dalian is located near Japan and South Korea, purchasing services for goods from Japan and South Korea have boomed in recent years, especially in Japanese and South Korean cosmetics. In addition, along with the popularity of WeChat, shopping via the WeChat platform has gradually become a trend, especially among young white-collar workers who usually do not have time do shopping in the mall. With WeChat they can now buy daily necessities and food from their own circle of friends.
4. Profiles of Dalian's Major Commercial Districts
Dalian has two main commercial districts: Qingniwa and Xian Road. In addition, there are six sub-centre commercial districts: Peace Plaza, Olympic, Zhanbei (Station North) Plaza, Tianjin Street, Sanba/Erqi Square, Huanan Plaza and Wanda Plaza in the Dalian High-Tech Zone.
Qingniwa
The Qingniwa Bridge commercial district, located on the southern side of Dalian Railway Station, has both shops with a long history and modern shopping malls erected in the last few years. Though it is the first commercial district to be fully developed by going through incessant re-structuring and upgrading, today it is still the commercial district with the best operations for differentiating the low, medium and high-end markets. Also, it is the commercial district with the heaviest shopper traffic and its drawing power reaches the whole of Dalian as well as to neighbouring cities and towns. There are four shopping complexes with an area of over 100,000 square metres each in the district: Parkland, New-Mart, Victory Plaza and Pavilion. In addition, there are four stand-alone department stores (Mykal, Jiu Guang, Dalian Market and Dashang Men's Shop) and three electrical appliance shops (Gome, Suning and Dashang). Specific details are as follows:
Parkland: A landmark building erected to commemorate the centenary of the founding of Dalian. In addition to Pacific Department Store, it is home to more than 130 brand-name stores and is a venue frequented by 25-35 year-old trendy white-collar workers and high-consumption groups.
New-Mart: In addition to meeting the daily shopping needs of the general public, it offers a venue for recreation and entertainment. It is a complex with facilities for shopping, recreation, dining, entertainment and fitness training and a place where young consumers and the masses like to hang out.
Victory Plaza: Most shops here are leased out for the retailing of chic fashion and accessories. It is a place where 15-30 year-olds like to browse around and have fun.
Pavilion: Pavilion Dalian is the first high-end shopping mall in China to attract investment from Malaysia's Pavilion Group. Opened on 30 April 2015, it features restaurants, clothing stores and leisure facilities. Target consumer groups are mainly young, trendy people of 25-35 years old who spend a lot on consumption.
Mykal: It defines the trends for upmarket fashionable consumption in Dalian. Inheriting the refinement and elegance of Japanese department stores, it has been the favourite of high-end consumers above 35 years old for many years.
Jiu Guang Department Store: It is the first Japanese-style department store and its target customers are younger generation females under 35 years of age with relatively high spending power.
Dalian Market (Dashang): It is a huge integrated commercial enterprise offering food, clothing and daily articles. Taking a mid-market positioning, this shopping mall has established a signature in its food operations and is nicknamed the "ease-of-mind shop" by the locals.
Dashang Men's Shop: It is the first shopping venue in China specialised in men's consumption. With its distinctive features, it is continuously trumpeting a male consumption culture.
Xian Road
With the westward expansion of the city and the exponential growth of the migrant population, Xian Road is gradually becoming a shopping and recreation destination for the salaried workers. The rise of this commercial district from the ranks is also due in part to the development and operation of Tianxing-Roosevelt International Centre and Fujia Xintiandi Shopping Plaza. In addition to these two large-scale shopping-cum-recreation centres, there are three traditional department stores (Parkson, Sunrise and Erbai Building) and one hypermarket (Carrefour). Specific details are as follows:
Tianxing-Roosevelt International Centre: With a floor area of 190,000 square metres, it houses, among others, Mykal Department Store, Gome Electrical Appliances, Huachen Cineplex and Bally Total Fitness. By bringing in brand-name stores such as Zara and Uniqlo, it has become a relatively upmarket shopping centre in this district.
Fujia Xintiandi Shopping Plaza: With anchors including Wal-Mart, Friendship Shopping Center and Suning Appliance, it offers facilities in shopping, dining, entertainment, recreation, culture and education, exhibitions and exchanges as well as parking. Its positioning is essentially the same as Tianxing-Roosevelt.
Parkson: It is a bustling shopping mall on Xian Road. In the 1990s it took the lead in adopting the strategy of using supermarkets to drive department store sales.
Sunrise: Sunrise Shopping Center is setting its sights on the young trend-setting group. With its non-stop upgrading of brands and the help from Carrefour on the ground floor, it is gaining popularity by the day.
Erbai: Erbai Building is a 50-year old shop that specialises in clothing for the elderly and middle-agers, as well as home appliances.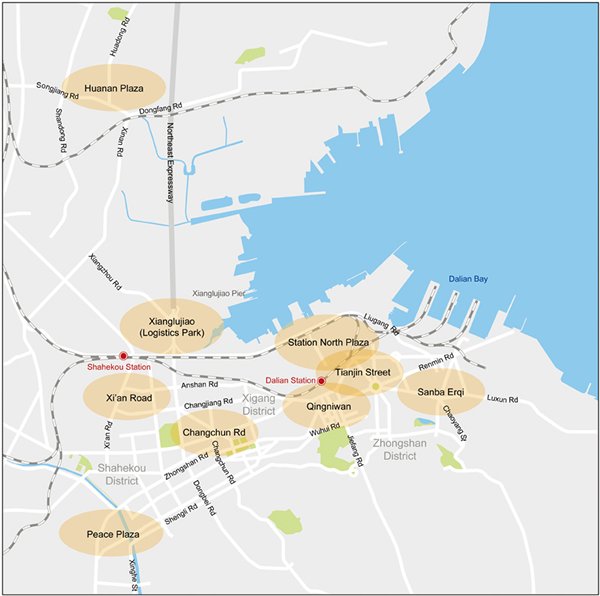 Changchun Road
Among Dalian's commercial districts, Changchun Road is a younger and trendier area. It is home to Fashion Parkson, Olympic Shopping Plaza, Wal-Mart, Olympic Electronic City and a number of shops for sports goods. In addition, the appreciable number of brands brought in by the commercial complement of the Dalian Wanda Mansion project is providing this commercial district with valuable reinforcement by offering a desirable shopping and entertainment venue. It attracts residents in the neighbourhood, as well as white-collar workers and young locals.
CapitaMall Peace Plaza
Xinghaiwan is designated the future central business district of Dalian. Here, different retail formats are flourishing. With CapitaMall Peace Plaza as an anchor, there are department stores (Kingson Department Store and Tesco Supermarket), chain stores (Watson's, Muji, Uniqlo, Gome Electrical Appliances and Pizza Hut) as well as recreational and entertainment facilities. Xinghai Square itself is known for its specialty dining establishments.
Tianjin Street
Tianjin Street has a long history and, in the 1980s and 1990s it nearly monopolised Dalian's commercial market, alongside with Qingniwa commercial district. Its main features include old-time upmarket department store, Friendship Shopping Center, New World Department Store and Kaisa Plaza.
Zhanbei (Station North) Plaza
Located to the north of the Dalian Railway Station and adjacent to the light rail terminal, this district is, in fact, a wholesaling hub formed by the northward extension of Qingniwa commercial district. It is the traditional transport hub and a distribution centre for wholesale commodities. At the centre of this commercial district lies the largest integrative wholesale market in the southern Liaoning region -- Dalian Shuangxing Commodity City -- and the well-known Xingye Building Materials Market. Also located within this commercial district are Triumph Plaza and Zhenfu Shopping Mall, which are shopping centres catering to general consumers.
Sanba/Erqi
Sanba/Erqi Square is the leading commercial district in the eastern part of the city. Backed by the advantages of residential areas in this district, a number of famous multinational and national chain-store enterprises have located here. These include supermarket chains such as Carrefour and Watson's, domestic and foreign restaurants such as McDonald's, KFC and Donglaishun, and home appliance stores such as Gome and B&Q.
Huanan Plaza
Located on the two sides of Zhonghua Road, this commercial district serves neighbouring areas such as Quanshui, Tianhe Road and Shandong Road. A total business floor space of more than 400,000m2 has been built, covering the Wal-Mart Supercenter, Huanan Commodity City and Huanan Decorative Materials & Furniture Mall. This commercial district features an integrated complex of facilities, including shopping centres, theme department stores, culture, recreation, dining and entertainment venues. The products on sale here are mostly mid-market, catering to the daily needs of the residents in the neighbourhood.
Xianglujiao (Logistics Park)
The area currently includes an Ikea store, a Metro supermarket, a Decathlon store and a Wal-Mart Sam's Club. There will soon be complementary facilities, such as outlet stores, serviced apartments, OSGH Cinemas and a real ice skating rink. To better meet the needs of residents in the neighbourhood, this commercial district has been upgrading its store portfolio continuously. In the meantime, Xigang District will be built into a logistics park to be a major logistics and distribution centre in northeast China.
Wanda Plaza in Dalian High-Tech Zone
Wanda Plaza is located to the north of Lushun South Road and to the east of Qixian Road in the Dalian High-Tech Zone. The commercial complex is the major force of the south Dalian commercial district, serving the peripheral regions of the high-tech zone, software park and Lushun South Road. With a gross floor area of 270,000 square metres, including 195,000 square metres above ground and 75,000 square metres underground, the Wanda Plaza comprises a commercial complex, outdoor mall and business offices. Well-known chain groups such as: Muji, Uniqlo, and Vanguard supermarket have started operations there. The commercial district offers a host of shopping centres, theme stores, restaurants and entertainment businesses.
Mainland China
Mainland China