https://origin.hkmb.hktdc.com/en/1X0A3AKM
Suzhou: Profile of a Consumer Market
1. Economic Overview and Development Planning
Suzhou is the largest economy among all cities in Jiangsu province. In 2014, its GDP reached Rmb1,376.1 billion, representing 21% of the provincial total, or a year-on-year real growth of 8.3%. Based on permanent population, per capita GDP has reached Rmb130,081. The industrial sector plays a key part in the local economy, accounting for 51% of total GDP. In 2014, the total output value of industrial enterprises above a designated scale amounted to Rmb3,058.6 billion, which represented an increase of 0.3% from the previous year. Heavy industry and light industry accounted for 74% and 26% of the total industrial output respectively.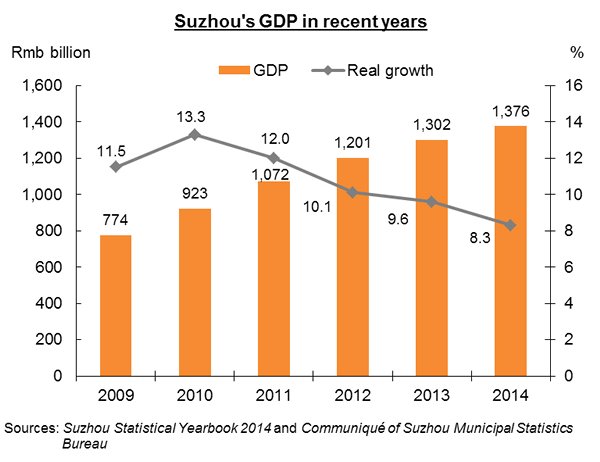 Suzhou has a thriving private economy. There were 296,000 private enterprises in the city by the end of 2014, a 15.6% increase from 2013 and accounted for 18.8% of the total number of private enterprises in Jiangsu province. In 2014, the number of individually-run businesses increased to 490,000, accounting for 13.2% of the provincial total.
In 2004, Suzhou was named one of the first national electronic information industrial bases. In 2014, the output value of new- and high-tech industries reached Rmb1,364.5 billion, accounting for 44.8% of the total output value of industrial enterprises above a designated scale in the city and 23.8% of the provincial total, ranking first in Jiangsu province.
As a tourism city, Suzhou received 100.29 million domestic visitors and 1.45 million foreign visitors in 2014. Total tourism income reached Rmb169.8 billion.
Suzhou has increased the density of its highway network in recent years. With better transport links between Suzhou and Shanghai, thanks to railways, expressways and national and provincial trunk highways, many people now choose to live in Suzhou and work in Shanghai. Following the official opening of the Shanghai section of the Shanghai-Changzhou Expressway in 2014, the travel time between Suzhou and Shanghai's Hongqiao by car has been shortened to half an hour.
According to the Plan of Overall Distribution of Urban Commercial Network in Suzhou, a "three cores, two sub-centres" setup will take place in urban Suzhou. The "three cores" are: the Old City core commercial zone, comprising Guanqian, Shilu and Nanmen; the Jinji Lake core commercial zone; and the Shishan core commercial zone. The "two sub-centres" refer to two commercial service functional zones at sub-city centre level, namely Yuanhe commercial service functional zone in Xiangcheng District and Wuzhong commercial service functional zone in Wuzhong District. Moreover, there is a commercial belt around Jinji Lake comprising the central business district (CBD) west of Jinji Lake, Hudong commercial service functional zone, Rainbow Walk, and Ligong Causeway commercial street; as well as the Old City scenic leisure belt and the Taihu tourist resort and leisure belt.
2. Suzhou's Consumer Market
2.1 Growth in Retail Sales
The total retail sales of consumer goods in Suzhou has shown double-digit growth in the past few years, reaching Rmb406.1 billion in 2014, representing a year-on-year increase of 10.9% and accounting for 17.5% of the provincial total. In 2014, of the city's retail enterprises above a designated scale, the retail sales of clothing, footwear, headgear, knitwear and textiles grew 16.5% over the previous year; daily-use articles grew 4.1%; and cars grew 3.0%.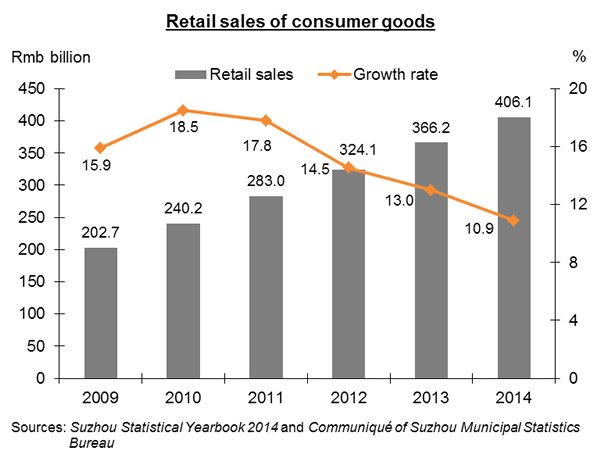 A comparison between urban household consumer goods ownership in 2005 and 2013 showed increases in most items, especially items like cars, computers and mobile phones, which middle-class families can afford and would like to buy.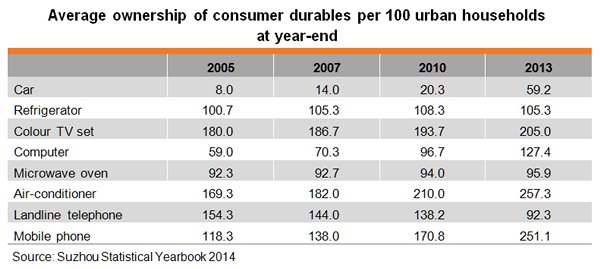 2.2 Per Capita Disposable Income and Consumption Expenditure
In 2014, the per capita disposable income of urban households in Suzhou amounted to Rmb46,677, while per capita consumption expenditure was Rmb28,973. In 2013, the per capita disposable income of high-income households reached as high as Rmb80,908 and their per capita consumption expenditure was Rmb42,682.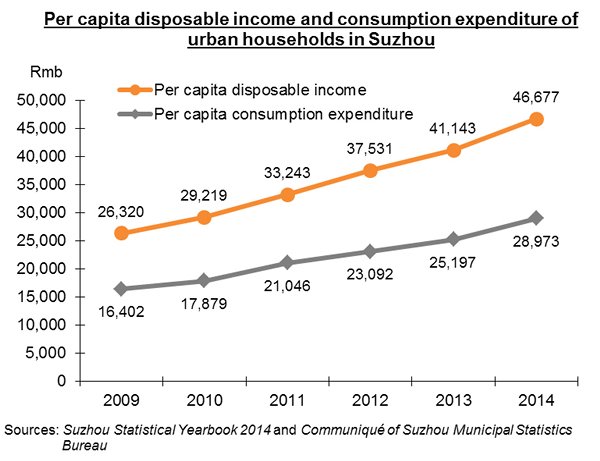 3. Characteristics of Suzhou's Consumer Market
3.1 Population Structure
In 2014 the permanent population in Suzhou reached 10.6 million, accounting for 13.3% of Jiangsu's provincial total, and a big jump of 10.0% from 2005. The fact that the total registered household population was only 6.61 million shows that Suzhou is a city that attracts residents from other places.
According to China's sixth population census in 2010, 51% of the permanent population in Suzhou were male, with 9.2% belonging to the 0-14 age group, 82.3% belonging to the 15-64 age group, and 8.5% aged 65 and above.
The education level of the permanent population has increased significantly. Among the city's population, 14% have reached university level, 19% have received senior high school education, 38% have received junior high school education, and 22% have received primary school education. Compared with the fifth population census performed a decade earlier, the number of people with university education has risen from 4,745 to 13,972 per 100,000 people in Suzhou.
There were 2.92 million households in Suzhou, with an average size of 2.84 persons. The average household size had decreased by 0.31 persons from 10 years earlier.
3.2 Characteristics of Consumers
Living in a prosperous city hailed as "heaven on earth", Suzhou people work hard to make money while they also spend lavishly. Statistics show that where spending is concerned, online shopping is the major channel. Leveraging their price advantage and the shopping convenience they offer, e-commerce operators have been winning the hearts of more and more consumers. In 2014, the total online sales of wholesale and retail enterprises above a designated scale in Suzhou amounted to Rmb14.498 billion, an increase of 56% over the preceding year.
Suzhou people's online spending ranks first in Jiangsu
Figures released at the Yangtze River Delta Economic Belt Electronic Commerce Development Forum 2014 showed that Jiangsu's transaction amount on taobao.com ranked among the top three positions nationwide, and that Suzhou ranked first in Jiangsu. In 2013, the per capita spending on online shopping by Alipay users in Suzhou reached Rmb9,433, with spending on clothing and food accounting for over 60% of all online shopping expenses. Analysis of online shoppers showed that income and education level are directly proportional to the amount of online spending, with the monthly per capita online spending of people at university level and above being the highest. Analysis of online spending by age group showed that consumers aged 30 to 39 are the major online shoppers. People in this age group generally have a relatively stable income, broader scope of consumption and bigger consumption demand.
Brisk consumption of cosmetics and jewellery
As Suzhou people's standard of living continues to rise and they pay increasing attention to their looks, cosmetics sales have been rocketing. According to figures released by the Suzhou Municipal Statistics Bureau, in the first quarter of 2015 consumption of cosmetics in the city exceeded Rmb800 million, with female consumers being the principal buyers. It is generally agreed that women are more easily persuaded to buy than men. Taking advantage of this consumption characteristic of females, business operators in the city have been trying hard to promote such festivals as Women's Day, Mother's Day and Valentine's Day, which are becoming increasingly important.
Growth of overall car consumption slows, but popularity of luxury cars continues
As of March 2015, private car ownership in Suzhou amounted to 2,098,800 units. However, the growth rate of overall sales of cars faltered due to such negative factors as traffic congestion and car purchase restriction policy. While the overall auto market remains flat, sales of certain luxury car brands are impressive. For instance, Porsche, Ferrari and Maserati, riding on their strong brand image, have attracted not a small following of buyers. There are mainly three types of luxury car consumers on the Suzhou market: the first is the aspiring business elite, the second is the rich and the famous, and the third is the rich second generation who go after lavish lifestyle.
Urbanites' expenditure on food, cigarettes and liquor continues to drop
The consumption structure of Suzhou people has moved up the ladder markedly. In the first half of 2014, while all the eight major types of consumption of the permanent population in urban areas increased across the board, the share of expenditure on food, cigarettes and liquor in daily-life consumption expenditure continued to drop. People's spending on education, cultural activities and entertainment has risen significantly, and analysis of the reasons shows that: first, as salary income increases, travel (including outbound travel) has become a new consumption favourite. Second, as people have a richer life in their time after work, they tend to pay more attention to keeping fit and healthy, and hence they enthusiastically participate in various sporting and fitness activities. At the same time, intense competition at school has led to more expenses on education.
3.3 Modes of Business Operation
The upgrading of Suzhou's urban-rural integration drive to a national pilot project has greatly expedited the city's pace of urbanisation. Commercial development in Suzhou's Old City District is mature and the core zone comprises the three major commercial districts of Guanqian, Shilu and Nanmen. In recent years, these three commercial districts have developed rapidly, evolving from general retail to a diversified mode of business operation, embracing large shopping centres and commercial complexes. As Suzhou develops in leaps and bounds, the Old City District has begun to find it more and more difficult to meet the needs of the fast expanding urban population. Consequently, an increasing number of people have started to move out of the city to the suburbs. It can be expected that new commercial districts and businesses along the metro lines and centring around the inter-city railway and light-rail lines will emerge, propelling the development of commercial properties all over Suzhou.
HOPSCA (hotels, offices, parks, shopping, convention centres and apartments), as a multifunctional and highly-efficient new mode of business operation, is increasingly gaining favour with Suzhou consumers. In 2015, the scale of Suzhou's commercial market has been expanding rapidly. A great number of commercial projects under construction will open business this year, including Wuzhong Wanda Plaza, Eslite Bookstore, Aeon Mall, Shin Kong Mitsukoshi, Golden Eagle shopping centre in Gaoxin District, and Harmony Plaza (in High-speed Rail New City).
The emergence of a great number of hypermarkets, shopping centres and HOPSCAs has brought about huge changes to the life of Suzhou people. Meanwhile, the development of community commerce such as "neighbourhood centres" and 24-hour convenience stores has also offered great convenience to people meeting their daily needs. According to the Project 515 proposed by the Suzhou Bureau of Commerce, it is planned that it would take people living in the city only five minutes on foot to reach a convenience store, 10 minutes by bicycle to a hypermarket, and 15 minutes by car to a shopping mall. According to the statistics compiled by the commerce bureau, in 2014, there were already 90 hypermarkets in the city with an area of over 5,000 square metres. Industry players including RT-Mart, Carrefour, Auchan and CR Vanguard are all quickening their pace of expansion. On top of that, there are over 1,000 convenience stores and supermarkets in Suzhou.
4. Profiles of Suzhou's Major Commercial Districts
There are five major commercial districts in Suzhou: Old City commercial district, Jinji Lake commercial district, Wuzhong commercial district, Gaoxin commercial district, and Xiangcheng commercial district. In the east-west direction of the city are Jinji Lake and Gaoxin commercial districts, which are higher class. In the south-north direction are Wuzhong and Xiangcheng commercial districts, which are late starters, but their potential strength should not be overlooked. As for Old City commercial district, it is located in the central business district (CBD) of Suzhou and its core position is invincible.
Old City
The Old City commercial district not only caters to local Suzhou people, but also visitors from all over the country and around the world. Suzhou's unique cultural flavour laid the foundation for Old City commercial district's core competitiveness. The core zone of Old City encompasses three major commercial districts, namely Guanqian, Shilu and Nanmen. Guanqian Street is the busiest area in Suzhou's old city with over 100 years of history. Found in this commercial district are over 10 heritage buildings, five classical gardens, more than 10 national- and provincial-level intangible cultural heritage projects, and 35 traditional shops bearing long-established names. All these have made Guanqian Street different from other commercial streets in the city and have also made Guanqian commercial district more attractive to tourists. In spite of the fact that e-commerce and online shopping have been growing in leaps and bounds in the last few years, Guanqian Street still draws large crowds of visitors. During the National Day golden week period in 2014, sales of the six leading department stores in Guanqian commercial district, including Suzhou People's Shopping Center and No. 1 Department Store, rose 13% year on year.
In January 2015, the main structure of the Guanqian Street station of Suzhou Rail Transit Line 4 was topped out. Guanqian Street station is to be linked to Leqiao station and between these two stations is the busiest area of Suzhou's city centre. The Suzhou government plans to build another underground commercial street stretching 300 metres between Guanqian Street and Leqiao. This project can effectively utilise underground space on the one hand and divert customer flow in the Guanqian district on the other. Commercial facilities in the new underground commercial street include leisure, trendy shopping, catering and entertainment.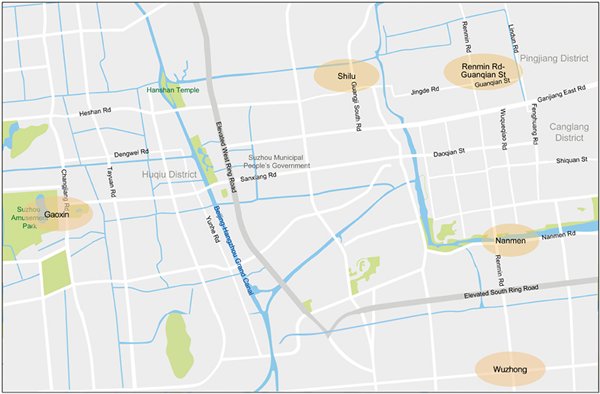 The Shilu commercial district, located in the heart of Suzhou's old city area, is a traditional commercial district in urban Suzhou. This district is a vibrant business area boasting a pedestrian shopping street and a food street. Also found here are an urban complex housing shopping, entertainment, leisure, catering and office facilities under one roof, large commercial buildings, large supermarkets, and five-star cinemas, making the district a new hot spot for leisure and consumption in Suzhou. Moreover, the intersection of Rail Transit Lines 1 and 2 at Shilu commercial district has raised the commercial value of this district.
The Nanmen commercial district is a late starter in the Old City commercial district. With Renmin Road as the centre, Nanmen commercial district stretches along the Xiangcheng District – Renmin Road – Wuzhong District axis. After over 10 years of integrated development and construction, this district has not only evolved into a section of the Old City offering the greatest natural and cultural interest, but has also gathered together businesses which had been scattered all over the place before. Today, with the clustering of large-scale retailers such as Suzhou Tower, Linkup digital mall, Carrefour and Jiaye Department Store, as well as leisure and entertainment establishments such as Workers Cultural Palace, an interactive setup is gradually taking shape in this district. According to the development plan, Nanmen will, by taking advantage of the Old City River, Panmen scenic spot, the ferry pier and scenic footbridge, develop into a multi-dimensional commercial district characterised by commerce on water, land, above ground and underground. It is also planned that in the next three years commercial and business supporting facilities covering a total area of 1.5 million square metres will be built in Nanmen commercial district, turning it into the largest commercial and business centre in the Old City District.
Gaoxin
The Gaoxin commercial district comprises Emerald City (the earliest shopping mall in Suzhou), Gaoxin District commercial street and the commercial district along Shishan Road. Shishan Road is a core zone in Gaoxin District spreading from the Beijing-Hangzhou Grand Canal in the east to Changjiang Road in the west, and housing a great number of financial institutions, office buildings and upmarket residential blocks. At present, a host of large-scale commercial facilities including Emerald City, Matro Department Store, Izumiya Department Store, and Aeon Maxvalu have established a presence here. Shishan Plaza (獅山廣場) is the core of the whole Gaoxin commercial district. The fact that Metro Lines 1 and 3 intersect here has enhanced the commercial value of Shishan Plaza.
In 2015, IKEA, a home and living megastore widely popular with the younger generation, commenced construction in Gaoxin District and is scheduled to open for business in August 2016. In terms of geographical location, IKEA and Aeon Mall, another shopping centre in Gaoxin, are only one footbridge away from each other. The supporting facilities of these two commercial facilities put together will not only stimulate the local retail business, but will also expedite the pace of maturity and enhance the convenience of this district.
According to Suzhou's city planning, the Shishan area will be developed into Suzhou's city proper. This unique position defines the bright development prospects for commercial properties in this area. Moreover, Light Rail Line 1 and Rail Transit Line 1 traversing Shishan will undoubtedly bring about massive people flow and potential consumers to this area, propelling the development of commercial properties here.
Jinji Lake
The Jinji Lake CBD is situated to the east of Suzhou city. With a planned area of about five square kilometres, it spreads around Jinji Lake and boasts Ligong Causeway, the country's longest water street with international flair, and Suzhou Central Plaza, the largest commercial complex in the city. Jinji Lake CBD has already come of age, clustering a multitude of high-end office blocks and commercial complexes including Gate of the Orient, Global 188, Phoenix Bookstore, Harmony Times Square and Suzhou Central Plaza.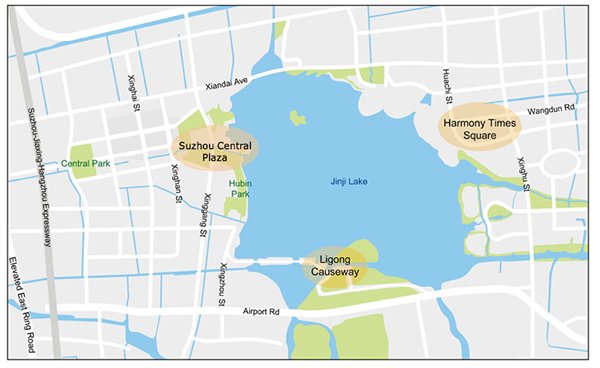 The Jinji Lake CBD is also the only "national-level business travel demonstration zone" in China. Within this zone are well-known tourist spots such as Ligong Causeway, where traditional domestic architecture in Suzhou has been preserved, Ferris Wheel Park, and Harmony Times Square, which boasts the longest sky screen in the country. Located in Suzhou Industrial Park, the Jinji Lake CBD is well supported by a full range of cultural, exhibition, catering and leisure facilities. As the industrial structure of Suzhou Industrial Park has been upgraded from "industrial park" to "comprehensive commercial city", and Suzhou has designated the eastern part of the city as a prime area for development, the Jinji Lake CBD is set to become Suzhou's "city centre" and a secondary "commercial centre" of the YRD region.
Wuzhong
The Wuzhong commercial district is the core zone of Wuzhong District. Following the rapid growth of the economy and property market, this commercial district has gradually developed into an important new commercial district in the vicinity of Suzhou's city proper. With Baodai East Road and Dongwu North Road as its core, Wuzhong commercial district extends north to Canglang, south to Wuzhong development zone, east to Suzhou Industrial Park, and west to Suzhou New District. Clustering here are administrative organs, commercial banks and financial institutions of all sizes, as well as a multitude of well-developed commercial supporting facilities.
On Baodai East Road at the heart of Wuzhong District is Zhongrun's Suzhou Center. To the west of Suzhou Center is Wuzhong Phoenix Square (鳳凰廣場), which houses a cultural hall, exhibition hall, youth activities centre and convention centre under one roof. Wuzhong Phoenix Square has attracted the entry of Phoenix International Book City under Jiangsu Phoenix Publishing & Media Co, as well as premium bookstores, theme restaurants and creative cultural enterprises, which together form a one-stop consumer hangout place for the local people, encompassing leisure, entertainment, reading and lifestyle facilities.
With the aid of hardware and supporting facilities, Rail Transit Line 2 already in operation, Line 4 under construction, Line 3 and Phase I of Line 7 will all drive the development of the Wuzhong CBD commercial district. As Suzhou city continues to grow, Wuzhong is being integrated into the city proper.
Xiangcheng
Unlike other commercial districts in Suzhou, the Xiangcheng commercial district is dominated by specialised markets. Yuanhe Town commercial district, which mainly features specialised furniture markets, is the largest market of its kind in Jiangsu province. In Cailian Road commercial district there are mainly retail and catering facilities, but not many entertainment and leisure facilities. Lumu Town commercial district is an area in Xiangcheng District where commercial facilities concentrate, with specialised markets as the mainstay and other commercial supporting facilities as ancillary. Businesses here are mostly in the medium to low end.
The Huoli Island commercial district, a new commercial district in Xiangcheng District, can meet the demands of modern consumers in terms of grade, scale, image and business mode. The core of this commercial district is the Huoli Island city centre square, with Fanhua Center, China Resources Fun2 and Wanda Plaza to its south; Value New Land shopping mall to its north; and complexes such as Central Parkway Plaza and Wow City to its west. Huoli Island commercial district in Xiangcheng District has formed a commercial corridor in the northern part of Suzhou city. This commercial district not only encompasses large commercial projects like Wanda Plaza and Value New Land, but has also built a middle- to low-end mass consumption area in conjunction with RT-Mart, Carrefour and a number of community businesses. The official opening of Suzhou's Metro Line 2 at the end of 2013 had also ushered in the vibrant development of the Xiangcheng commercial district.
Mainland China
Mainland China