https://origin.hkmb.hktdc.com/en/1X0A3EAK
Guangzhou: Profile of a Consumer Market
1. Economic Overview and Development Planning
Being the capital city of Guangdong province and a major financial and commercial centre in southern China, Guangzhou occupies a significant position in the whole country and commands strong influence. According to the 2015 Blue Book on Urban Competitiveness released by the Chinese Academy of Social Sciences, Guangzhou ranks fifth among all large and medium-sized cities in terms of its competitiveness. Guangzhou's GDP reached Rmb1,670.7 billion in 2014, corresponding to a year-on-year growth of 8.6%. The tertiary industry takes up an important share in the city's GDP, which has risen from 53% in 2005 to 69% in 2014. The per capita GDP of the permanent population in Guangzhou was Rmb127,725.
The private economic sector in Guangzhou is booming. Up to the first quarter of 2014, private enterprises in the city totalled 307,000 in number, up 18% from the end of 2012. In 2014, there were 709,000 individually-owned businesses, a rise of 5.3% from the end of 2012.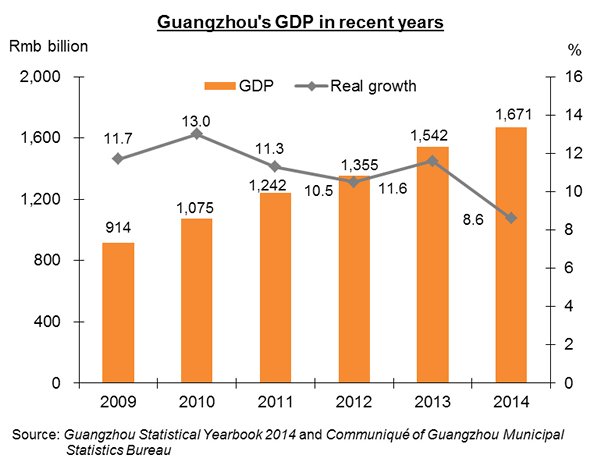 Guangzhou is a major hub in southern China, where there is a heavy flow of people, goods, capital and information, as well as a core city in the region for political, economic and cultural exchanges with other places. In 2014, the city's total imports and exports reached US$130.6 billion. Passenger throughput of the Baiyun International Airport approached 55 million passenger journeys, ranking second in the country, with the volume of air cargo ranking third in the country. By 2020, the cargo throughput and container throughput of its port are poised to soar to 600 million tons and 25 million TEUs respectively. It aims to become one of the top 10 ports in the global shipping centre assessment system.
In keeping with the Guangzhou City Master Plan 2011-2020, Guangzhou will develop itself into a "multi-centre multi-axis structure" with "one metropolitan area, two new districts and three sub-centres". The metropolitan area will shoulder the function of a national central city; the new districts will lead transformation and upgrade; while the sub-centres will be important carriers for urban-rural integration. The "metropolitan area" will embrace 11 important strategic platforms and core functional areas, including Guangzhou International Finance City, Haizhu Eco City, Tianhe Intelligence Business District (IBD), Guangzhou International Health Industry Town, Airport Economic Zone, Guangzhou South Station Business District, Guangzhou International Innovation City, Huadi Eco City, Huangpu Harbour Business District, Beijing Road Cultural District and Baiyun Comprehensive Service Area. The "two new districts" are the Nansha Coastal New Town and Eastern Shanshui New Town. The "three sub-centres" refer to Huadu, Zengcheng and Conghua.
Guangzhou will lead the innovation of systems and mechanisms, as well as technological innovation as a city for opening up and cooperation, a coastal port and an international air hub under China's "One Belt One Road" (OBOR) strategy. Following the launch of the Guangdong Free Trade Zone, construction of the Nansha sub-zone and international shipping centre will commence to integrate Nansha with the OBOR initiative. Logistics, trade, shipping and finance will become the priority areas for development.
2. Guangzhou's Consumer Market
2.1 Growth in Retail Sales
In the past few years, Guangzhou's total retail sales of consumer goods has registered double-digit growth, reaching Rmb769.8 billion in 2014, a rise of 12.5% year on year and accounting for 26.8% of the provincial total. In the sales of retail enterprises above a designated scale in 2014, the sales of Chinese and western medicine increased by 8.8%, cars by 19.6%, daily-use articles by 32.5%, clothing, footwear, headgear and textiles by 11.8%, and food, beverages, tobacco and wine by 9.3%.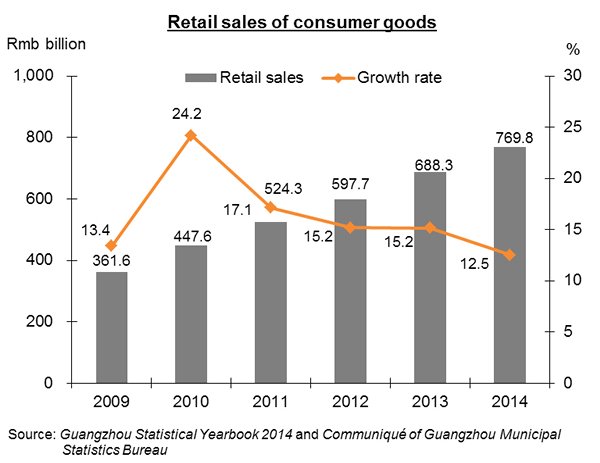 Between 2005 and 2013, urban households' ownership of most consumer goods had shown an upward trend. This is particularly so for affordable products appealing to the middle class, such as cars, computers and mobile phones.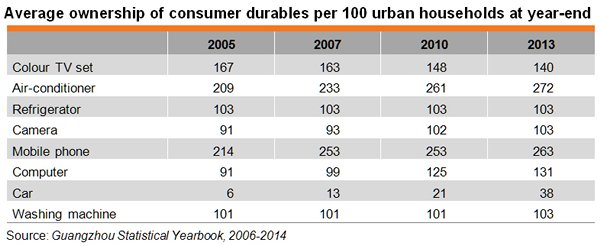 2.2 Per Capita Disposable Income and Consumption Expenditure
In 2014, the per capita disposable income of urban households in Guangzhou was Rmb42,955, while the per capita consumption expenditure stood at Rmb33,385. In 2013, the per capita disposable income of the highest-income urban households was Rmb74,712, while the per capita consumption expenditure of the highest-income urban households was Rmb56,181.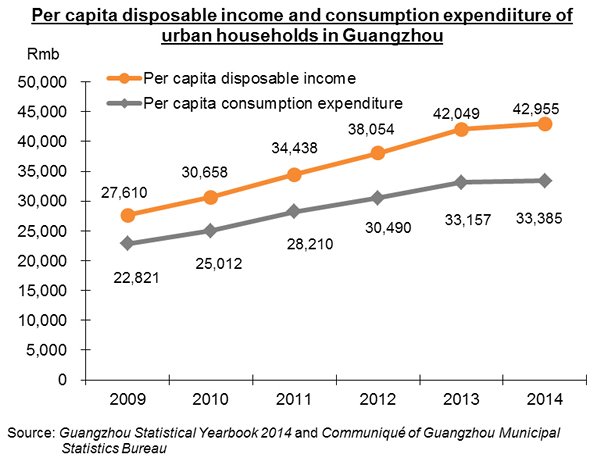 3. Characteristics of Guangzhou's Consumer Market
3.1 Population Structure
Guangzhou had a permanent population of 12.93 million in 2013, up 36% from 2005 and making up 12.1% of Guangdong province's total population, which is slightly higher than the 10.3% in 2005. Given that the population with household registration in Guangzhou was only 8.32 million, Guangzhou is very much a migrants' city.
According to China's sixth population census, 52% were males among the city's permanent population in 2010. In terms of age distribution, 11.5% were between 0 and 14, 81.9% were between 15 and 64, and 6.6% were 65 or above.
The education level of Guangzhou's permanent population has risen; 19% have attained university level, 23% senior secondary level, 36% junior secondary level and 16% primary level. As compared with the findings of the 5th census conducted 10 years earlier, the proportion of population that has attained university-level education has risen from 9,309 to 19,228 per 100,000 people.
There were 3.68 million households in Guangzhou, with an average size of 2.73 persons. The average household size had decreased by 0.48 person from 10 years earlier.
3.2 Characteristics of Consumers
Other than having a household registration-based population of 8 million, Guangzhou, also known as the southern gate of China, has a large transient population comprising tourists from other parts of China and overseas, business travellers and large numbers of migrant workers. Despite the differences of different customer groups in terms of cultural background, income level and consumption preference, the "customer comes first" concept is deep-rooted in the minds of consumers in Guangzhou. Therefore, when they go shopping for goods and services, they tend to be "picky", placing emphasis on the quality of the goods and services and their price-performance ratios. Consumers in Guangzhou are accustomed to attentive services offered by sales attendants. For instance, free alteration service - usually within 20 minutes - is available at the pants section of most department stores; free tasting is always available at snack shops; and consumers shopping for fruit and vegetables may hand pick which ones they wish to buy.
Generally, consumers in Guangzhou are pragmatic and rational. Although they are not known for showy consumption and conformity consumption to "keep up", they are not parsimonious on spending for own enjoyment. People in Guangzhou are more fastidious about foods and drinks than their clothes and appearances. They enjoy dishes which are fresh, novel and distinctive. As their living standards go up, they begin to pay more attention to healthy diet. Middle-class or more well-off families are particularly concerned about the diet of their children. Green and organic foods, which are more costly, are selling well. For clothes, they are fastidious about comfort and fashion sense. Instead of high quality and elegance, casual fashion made of natural materials, such as cotton and linen is popular. Although Guangzhou people are quite familiar with international well-known brands, they are more down-to-earth and pragmatic and not as passionate as their peers in other large cities about brands.
This does not mean that consumers in Guangzhou do not have the capacity to purchase luxury goods. The big spenders include white-collar workers who are young and smart, "gold-collar" workers, successful businesspeople, senior executives and other members of the high-income bracket. Despite the impact of the global financial crisis, sales of world-class jewellery, watches of internationally-renowned brands and high-end apparel have continued to go up.
Government employees, doctors and teachers with stable income are another group of consumers which should not be overlooked. Despite their dispassionate and rational attitude towards luxury goods, they are capable and willing to spend on housing, automobiles and their children's education. A considerable proportion of second flat buyers are from government employees, doctors and teachers. Apart from these people, businessmen from places such as the Chaozhou-Shantou area, and Zhejiang and Fujian provinces have become another main force in flat buying. Thanks to their desire to buy local property and the rigid demand of local residents, property prices in Guangzhou have been steadily going up in recent years.
Meanwhile, the market for children's products is very lucrative. Expenditure on children's daily necessities, education and recreation account for an increasing share of total household expenditure. Parents are willing to buy the best clothes and food for their children and invest in their education. They are willing to pay for extracurricular activities, such as piano lessons, learning foreign languages from native speakers and other tutorial classes. Many children begin to attend music, dancing and drawing classes when they are in kindergarten. Following China's official announcement of the policy of allowing couples to have a second child if one of the parents is from a one-child family, expenditure on children's products is bound to further increase, and so will demand on the quality of products.
Teenage students and white-collar workers who are fresh graduates are people most keen to pursue latest trends. College and secondary school students are still financially dependent on their parents and thus have to be thrifty. Newly recruited white-collar workers, with relatively low incomes, have to make ends meet. Consequently, these trendy youngsters will try to achieve the "hippest" appearance with the smallest budget possible. They like to purchase trendy, distinctive and relatively cheap products. Instead of durability, they look for the latest trend or unconventionality, changing their clothes, mobile phones and accessories frequently. Trendy electronic products, such as iPhone, iPad and trendy wearable devices, are popular among these consumers. When purchasing trendy products, white-collar workers with more than five years of working experience and higher salaries consider more about quality and branding. Young people in Guangzhou are becoming increasingly fond of online shopping. E-commerce platforms, especially cross-border platforms, which have mushroomed in recent years have become the main shopping channels for the local young people.
Health and elderly care service is becoming a sunrise industry as population aging increases. Reports show that Guangzhou's elderly population will reach 1.75 million by 2020, accounting for 18.78% of the city's total population. According to Layout Plan for Elderly Care Service Establishments and Facilities in Guangzhou 2013-2020, Guangzhou will build 53 nursing homes in 10 designated locations and increase the number of beds by 51,000 by 2020. People will attach greater importance to quality of life, health care and old-age social activities as their family income increases. This will spur the consumption of relevant products.
The rapid construction of highways and bridges in Guangdong province and their connection with high-speed railways and city-rail networks in the surrounding areas, coupled with the fast growth of car ownership, makes it more convenient for Guangzhou people to travel around. People living in the old parts of Guangzhou like to visit surrounding cities like Nanhai, Shunde, Foshan, Zhongshan, Dongguan and Zhaoqing during holidays, while residents of the Pearl River Delta region enjoy shopping in the bustling business districts in downtown Guangzhou.
The people of Guangzhou are known in the country for their passion for travel. Guangzhou people of all ages are generally willing to spend money on travelling, and the journeys can be long, short, within the mainland or overseas, including Hong Kong and Macau. Nowadays, Cantonese speaking tourists can be found in every part of the world. Many of them are no longer satisfied with sightseeing tours with packed itineraries and are instead increasingly turning to leisure tours, in-depth tours and other themed tours, such as photography, fine food and study tours.
The consumer market in Guangzhou, while sharing many of the similarities of other mainland cities, shows marked seasonal characteristics. Peak seasons occur during public holidays, such as the Chinese New Year, the Labour Day on 1 May, the Mid-Autumn Festival and the National Day. Other peak times fall on New Year's Day, Qingming Festival, Dragon Boat Festival, Valentine's Day and Mother's Day. Furthermore, the period from September to the end of the year is a popular wedding season, and long school holidays, such as winter and summer vacations, are also peak times when brisk sales are often reported for catering, tourism, furniture, household appliances, computers, air-conditioners, cameras and video recording equipment, wedding photography, fashion and accessories, toys and stationery.
4. Profiles of Guangzhou's Major Commercial Districts
Tianhe Road Commercial District:
Located on the new city axis of Guangzhou, it is Guangzhou's core commercial district as well as one of China's largest clusters of high-end commercial establishments. Renowned as the "First Prime Commercial Belt in South China", it is home to over 70% of international brands that entered Guangzhou for the first time. It brought in over 100 lifestyle brands in 2014, including Victoria's Secret and Dintaifung. The luxury goods mall, Taikoo Hui, has a portfolio that includes big names like Givenchy, Giuseppe Zanotti Design, Roger Vivier, Valentino, TWG Tea and Yuecuitang, 21 of which were opening business in Guangzhou for the first time. Grandview Mall brought in 59 famous international and domestic brands, including GAP, Attilio and Bakerz180. Meanwhile, TeeMall has signed up 14 more brands, including Montblanc, Lilybrown, Tai Hing Café, Teawood Café and Godiva.
TeeMall is Located on Guangzhou's new city axis in Tianhe District. It is a modern shopping mall for high-end goods offering shopping, dining, entertainment, leisure and other services under one roof, as well as being a new major tourist attraction. With Grandbuy Department Store to the west, Grandview Mall to the east and the bustling commercial streets surrounding it, the TeeMall shopping district has become the most sophisticated and largest prime business area of Guangzhou.
Grandview Mall sits at the intersection of Tianhe Road and Tiyu East Road at the centre of the city's central axis and is linked to the Sports Centre. It is directly connected to the interchange station of Guangzhou Metro Line 1 and Line 3. In addition, with transport links to the Guangzhou East Railway Station, Guangzhou-Foshan Metro and PRD inter-city light rail network, as well as being accessible by Guangzhou new airport buses, various shuttle bus services in southern China and direct bus services to Hong Kong and Macau, the Mall has become the biggest transport interchange in southern China. With a wide customer age range between 3 and 60, the Mall is an ideal choice for modern families and tour groups from Southeast Asia seeking leisure activities.
Taikoo Hui shopping mall lies in the heart of the Tianhe central business district. Boasting a large shopping mall, two grade A office blocks, a cultural centre, and Guangzhou's first Mandarin Oriental Hotel and Service Apartments, it is an integrated commercial complex for leisure, recreation, commerce, culture and art.
One Link Walk houses hotels, service apartments, grade A office space and a major shopping mall under one roof. Situated at the junction of Tianhe Road and Tiyu East Road, this major integrated commercial complex provides one-stop services like shopping, office and luxury apartments, with the pricing and range of services/goods targeting the high-end consumers. One Link Walk is situated at the centre of Tianhe District where there is a cluster of white-collar workers and expatriates. Many restaurants offering Chinese and western delicacies have been brought in, making up a 25% share in One Link Walk's turnover.
Gangding Mopark Department Store, adjacent to Tianhe Buynow Computer Mall and next to Tianhe Entertainment Plaza, is one of the new commercial districts developed in recent years. The flagship shop in the district is the Gangding branch of Guangzhou Mopark Department Store. Mopark breaks away from the traditional operation model by selling mid-range quality goods targeting customer groups who are after the latest trends and have a strong fashion sense.
Guangzhou Times Square is located near the junction of Tianhe North Road and Guangzhou Avenue North, opposite the landmark Citic Plaza. Since many high-income white-collar workers frequent the Citic Plaza, Times Square has adopted a high-end business operation strategy. The mall mainly offers apparel, audio and visual equipment, children's goods, cultural products and housewares.
Popark Shopping Plaza sits between Tianhe North Road and Guangyuan East Road, with Guangzhou East Railway Station to the north and Guangzhou's landmark Citic Plaza to the south.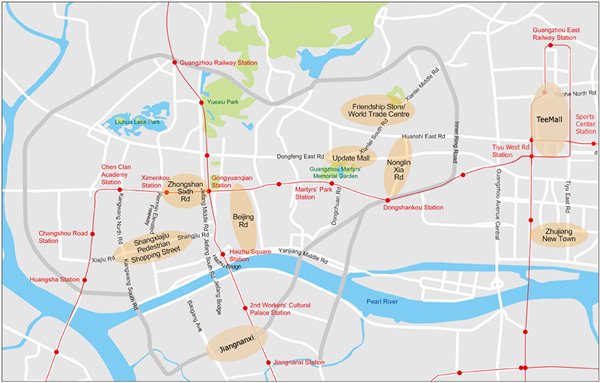 Zhujiang New Town:
This is a young, new commercial district in Guangzhou built by the Guangzhou government with an investment of Rmb20 billion as a "new name card of the city". Within the entire Zhujiang New Town, shopping and leisure activities take up an area in excess of 700,000 sqm, including the Happy Valley Shopping Mall, Underground Shopping Mall of Central Plaza, GT Land Plaza mall, Mall of the World and Guangzhou IFC (West Tower). With abundant grade A office space and high-grade residential blocks, the New Town is positioned as a high-end, commercial-led shopping district. As a core in the central business district marked by up-market properties, the New Town entertains a high-end consumer group composed of residents of high-class apartments, white-collar workers in grade A offices and patrons of five-star hotels. The New Town is also home to the headquarters of many finance institutions and companies, and will hence be a gathering place for business travellers.
Beijing Road:
Often the choice for first-time visitors to Guangzhou the area is the most bustling commercial centre in the history of Guangzhou, enjoying the same reputation as Wangfujing in Beijing, Nanjing Road in Shanghai and Hanzheng Street in Wuhan. Despite the rapid development of other commercial districts in the city, Beijing Road retains its charm as a commercial district and remains one of the most popular shopping spots among local residents. The local government is committed to developing this district into a world-class pedestrian street, with extensive geographic reach and influence. Stretching several hundred metres, it is currently one of the pedestrian streets in Guangzhou linked up with shopping hot spots like Jiaoyu Road, Xihu Road and Gaodi Street in the vicinity, where large city-level department stores, such as Guangzhou Department Store, Xin Da Xin Department Store, and branded fashion shopping malls are found. This business district mainly sells middle to high-end products.
Update Mall:
Located at the intersection of Zhongshan Third Road and Jiaochang West Road, this is where trend lovers can find the latest products. Having a business area of more than 15,000 sqm, Update Mall is the "flagship" in the district and the first large shopping mall that is directly connected to a metro station in Guangzhou. If offers easy access for commuters as it is only a few minutes' walk from the Martyrs' Park station. Once stepping into the mall, one can experience the colourful, trendy atmosphere and find products such as fashion, delicacies, watches, handbags, hats, stationery, sports shoes, beauty salons, cell phones, cosmetics, ear accessories, and more. There are also shops targeting the young market of teens and twenty-somethings with the latest Hong Kong, Taiwanese, Japanese and Korean pop idol products.
Lingyuanxi is a shopping area popular among the young as well as the earliest and most sophisticated subway business street. China Plaza, Update Mall and Dongchuan Sport City offer a selection of the latest, most trendy items in Guangzhou, attracting a vast number of young customers. Starting initially from Update Mall and followed by the opening of Diwang Plaza and shops in the basement level of China Plaza in the past few years, the underground commercial city in the area is getting hotter as a shopping spot. Together with Lingyuanxi and Dynamic Digital Plaza (新動力數碼城), the China Plaza commercial district targets mainly local young consumers, different from those of TeeMall and Beijing Road. This has helped instil new vigour into the Yuexiu District.
Zhongshan Sixth Road:
The area features shops offering medium- to low-end and specialised items. In Six Computer City, Jiang Jun Dong Electric City (將軍東電器城), He Run Second-hand Trade Market (和潤電器舊貨交易市場) and Tao Street are landmark shops. Two major integrated shopping centres in the district, CTS Center and Kangwang Business City (康王商業城), have gained strong influence soon after their opening. Within the CTS Center, the second basement level is connected to the Gongyuanqian Station of the subway and is dominated by small, trendy shops targeting teens. The first to fourth floors house branded specialty stores catering to white-collar workers.
Shangxiajiu Pedestrian Shopping Street:
One of the most famous pedestrian shopping streets in Guangzhou, it embodies the strongest local cultural characteristics among various commercial streets in the city. It preserves not only the unique south China architecture qilou buildings, but also sculptures depicting the lives of Guangzhou people. From dining to shopping, the street is lined with shops of all kinds. Many reputable old shops, like Lianxianglou and Nanxin Custard are clustered in this street. It offers the best place for shopping and entertainment from which one can learn more about local culture and taste the local delicacies.
Zhuangyuan Fang is located near Renmin South Road in Yuexiu District, in the neighbourhood of Shangxiajiu Pedestrian Shopping Street. It is an ancient alley, measuring 260 metres in length and 2 to 7 metres in width. With more than 700 years' history, the district was the home of Zhang Zhensun of Song Dynasty. It was so named after Zhang came first in the imperial examination and got the title of Zhuangyuan. Filled with shops devoted to trendy fashion articles and food, Zhuangyuan Fang is now the centre of trends and fads, making it a shopping paradise for youngsters.
Jiangnanxi:
Located on Jiangnan West Road, it encompasses Grandbuy's Sunny Mall, Jiangnan Xindi (江南新地) and shops lining the streets. Among them, Sunny Mall on Jiangnan West Road and Jiangnan Xindi at the junction of Baogang Road are the first trendy one-stop shopping malls in Haizhu District. Sunny Mall is a shopping mall that houses a Grandbuy department store, Grandbuy supermarket and UME International Cineplex and caters to consumer demand at different levels. The first to fifth floors have specialty restaurants catering to trendy consumers.
The underground pedestrian street of Jiangnan Xindi is divided into five sections, each having its own theme. It is connected with the Jiangnan West Station of the Guangzhou Metro. Mid- to high-end brands are predominant, with clothing, cosmetics, leather goods and dining as their main business. The second basement level mainly houses individually-owned boutique stores selling clothes, quality goods, toys and snacks. The prices of clothing sold at the branded stores on the first basement level and at the boutique stores on the second basement level range from one or two hundred yuan to eight hundred yuan at the most. Unlike Taikoo Hui and TeeMall, Jiangnan Xindi appeals more to trendy youngsters.
Friendship Store:
A reputable, long-established store on Huanshi East Road, a street which used to be the major venue for upmarket shopping and popular among the high-income urban families and tourists, thus serving as a window on trends and luxuries. These characteristics remain and the shop boasts a steady customer base. Although the main store only has an area of 20,000 sqm, it is well known for its classy, spacious and comfortable environment. Friendship Store is connected to the World Trade Center by an elevated walkway and to the Baiyun Hotel to the west. The trio form a three-in-one shopping complex offering world-class quality goods.
World Trade Center is situated at Huanshi East Road opposite The Garden Hotel. This mall stands out from other commercial districts in Guangzhou by gathering under one roof all kinds of high-end luxury shops and international famous fashion brands. As such, it ranks among the top-class commercial buildings in southern China and a shopping hub of high-end foreign brands in Guangzhou. Featuring a wide variety of chic restaurants, World Trade Center offers customers different cuisines and flavours. Together with the adjacent Friendship Store, it forms a premier commercial district for luxury goods.
Nonglin Xia Road:
This has been one of the main commercial streets in Yuexiu District of Guangzhou for the past several decades. With Wangfujing Department Store to the north and Dongshan Department Store to the south, the 800 metre road is lined with a wide variety of shops, most of which have no more than two storeys. The shops are mostly brand name specialty stores and mid- to high-end restaurants. With the emergence of various commercial streets with their own characteristics, Nonglin Xia Road has lost some of its lustre but still retains its competitive edge.
Baiyun Wanda Plaza:
Wanda Group's third-generation integrated commercial complex, where consumers can enjoy an array of services including shopping, movie-going, electronic games, dining, retail, cultural services, sports and entertainment in "one stop". Major stores which have established a presence here include Van's Department Store, Wanda International Cinemas, Wal-Mart, Dagexing KTV, Super Player, Gome Electrical Appliances, Wanda Hilton Hotel, Cheer kids play park and Daye Fengfan restaurant.
Mainland China
Mainland China