https://origin.hkmb.hktdc.com/en/1X0A3G2M
Chengdu: Profile of a Consumer Market
1. Economic Overview and Development Planning
Chengdu has been the economic, financial and commercial hub of western China since ancient times. In 2014, its GDP grew 8.9% year on year to Rmb1,005.7 billion. The city's key economic indicators such as GDP, value-added by industrial enterprises above a designated scale, retail sales of consumer goods, per capita disposable income of urban residents, and amount of fixed asset investments are all top ranking among cities in the central and western regions.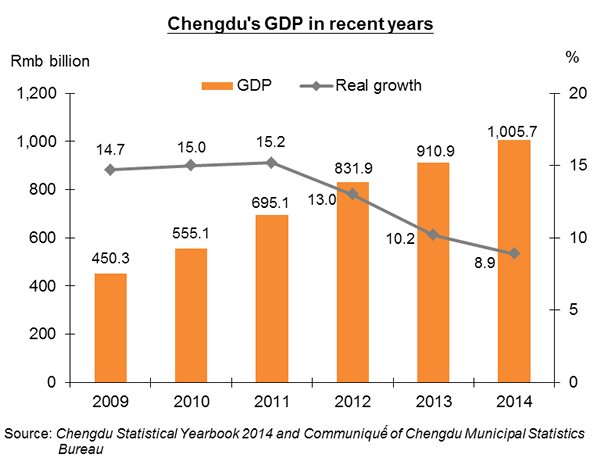 Primary, secondary and tertiary industries account for 3.7%, 45.3% and 51.0% of Chengdu's economy respectively. Of these, the eight major competitive sectors with special characteristics, including electronic information products manufacturing, machinery, automobile, petrochemical, food, beverage and tobacco, metallurgy, building materials, and light industries, achieved a year-on-year increase of 13.2% in industrial value-added. The value-added of the petrochemical industry exceeded the other industries with a year-on-year increase of 84.2%.
Renowned as 'the home of pandas and good food', Chengdu has a flourishing tourism industry. In 2014, total tourism revenue reached Rmb166.3 billion, up 25.0% year-on-year. It received a total of 186 million visitors, an increase of 20.0%. Of these, 184 million were domestic visitors and 1.978 million were international. Chengdu is the first city in western China to implement the '72-hour visa free transit' policy, which allows tourists from 51 countries who hold valid third-country visas and onward plane tickets to stay in the city for up to three days without a visa. The New York Times recommended Chengdu as one of the "52 places to go" in 2015. In the next few years, Chengdu will promote high-end tourism, accelerate the building of clusters of tourist attractions with unique elements, and focus on the development of new tourism products, including ecological tourism, recreation and wellness tourism, as well as medical tourism. It is estimated that by 2018, per capita consumption by tourists will increase by more than 30% over 2013, with total tourism revenue exceeding Rmb270 billion.
Chengdu is designated by the State Council as the logistics and commercial centre, financial centre, technology centre as well as a transportation and communications hub of western China. It is also one of China's key bases in new and high-tech industries, modern manufacturing, modern services and modern agriculture. In recent years, Chengdu has been making serious efforts to bring about the integrative and sustainable development of its rural and urban areas so that it will become a modern megalopolis with the best business start-up environment, the best living environment and the highest overall competitiveness in central and western China. It is also pushing for regional economic structure adjustments and industrial upgrading, as well as focusing on key industries in headquarters economy, modern services, new and high technology, and advanced manufacturing.
Chengdu is a city in central and western China with the highest number of Fortune 500 companies. The investment and sectoral coverage of these companies is also larger than anywhere in the country. Up to June 2015, there were 265 Fortune 500 companies in the city, including 196 overseas companies and 69 domestic companies. The Chengdu High-tech Industrial Development Zone (the High-tech Zone) has played an important role in attracting investment. In 2011 it was the first of the development zones in Sichuan to be billed as a '100 billion-yuan-class development zone'. In fact, in recent years, in the overall rating by the Ministry of Science and Technology, the High-tech Zone has been able to maintain the fourth position among all high-tech development zones countrywide and the first place in central and western China. It has devised an industrial development pattern, with new-generation information technology industry forming the mainstay and with biotechnology, high-end equipment manufacturing, energy conservation and environmental protection and producer services providing diversified support. It has successively brought in major investment projects from global high-tech companies, including Intel, Texas Instruments, Foxconn, Siemens, Philips etc. In June 2015, the High-tech Zone was given the green light to build the western region's first, and China's eighth, national independent innovation demonstration zone and to basically complete the construction of a 'world-class high-tech park' by 2020.
Chengdu's commodity market has witnessed rapid development. At the end of last year, there were 47 commodity exchange markets with annual turnover exceeding Rmb100 million, five more than a year ago. The total annual turnover of these commodity exchange markets amounted to Rmb203.2 billion, an increase of 27.5% over the previous year. Among these, 30 markets had a turnover of over Rmb1 billion. According to the Chengdu Commodity Market Layout Plan 2009-2020, Chengdu will focus on developing 11 types of commodity markets, including markets for Chinese and western drugs, daily consumer goods, like clothing and office appliances, furniture, car and motorcycle parts, foodstuff, metallic materials, chemical materials and products, hardware and electromechanical products, building and decoration materials, electronic and electrical appliances, and flowers and saplings.
2. Chengdu's Consumer Market
2.1 Growth in Retail Sales
In 2014, Chengdu's retail sales of consumer goods reached Rmb420.2 billion, representing a real growth of 12.0% year-on-year. As the largest consumer city in Sichuan, Chengdu's retail sales of consumer goods in 2014 accounted for 36% of the province's total, and is about six times that of other key cities in the province, such as Mianyang. In the retail sales of enterprises above a designated scale, retail sales of foodstuff, tobacco and alcohol grew by 7.7%, cosmetics grew by 13.9%, telecommunications products grew by 7.3%, furniture grew by 20.5%, and cars grew by 15.6% compared with the previous year.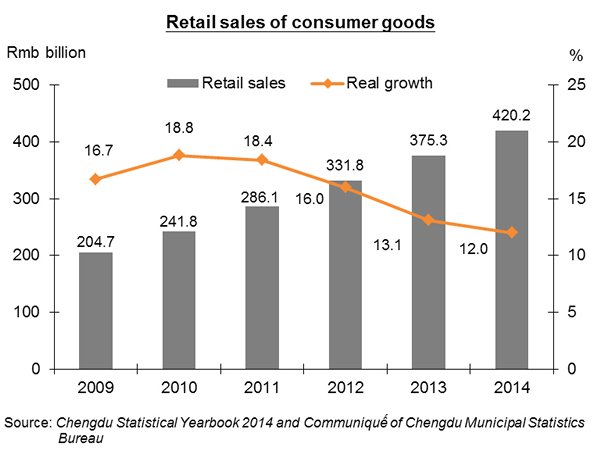 2.2 Per Capita Disposable Income and Consumption Expenditure
In 2014, per capita urban household disposable income in Chengdu was Rmb32,665, up 9.0% from 2013.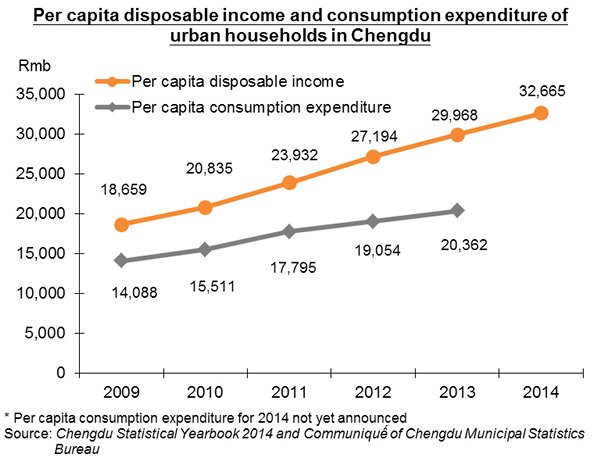 3. Characteristics of Chengdu's Consumer Market
3.1 Population Structure
In 2014, Chengdu had a permanent population of 14.42 million, representing an increase of 18% compared with 12.21 million in the census conducted in 2005.
According to China's sixth population census, among the permanent population, 50.8% were male. 10.94% were aged 0-14, 79.35% were aged 15-64, and 9.71% were aged 65 or above.
Among Chengdu's permanent population, 16.7% had a university (college or above) education, 16.8% had senior high school (inclusive of vocational high school) education, 35.2% had junior high school education, and 24.3% had primary school education.
The 4.55 million households comprising the permanent population had an average of 2.72 persons per household, or 0.37 person less than the 3.07 average in 2000.
3.2 Characteristics of Consumers
The people of Chengdu are known for their leisurely and carefree lifestyle and this attitude directly affects their spending habits: spontaneous enjoyment is regarded as good relaxation after a hard day's work.
Economic and urban development
Consumption will no doubt increase as people's income goes up. At the same time, the massive influx of high-end consumer goods into Chengdu makes it the west China city with the highest concentration of international labels. The city's commercial establishments, including department stores and shopping malls, have a total floor space of 5.39 million sqm. These changes have significantly increased the ratio of high-end catering, clothing and services in Chengdu's consumption structure.
Chengdu people are quite satisfied with the completion of one shopping mall after another in recent years, the service attitude of business operators and the shopping environment in all aspects of life. A survey shows that Chengdu consumers think that they can 'spend to their heart's content' on clothing, food and tourism, with electronic products, cars and property being their top three big spending items. Consumers also speak positively about the trendiness and international level of their consumption.
Young people's attitude towards chic consumption becomes more rational
In 2014, Amazon China, based on its analysis of consumption by category in different cities, drew the conclusion that the people of Chengdu love beautiful things most. Consumers in Chengdu's specialty stores and shopping malls have good taste and attitude, and this is especially true for those belonging to the post-80 and post-90 generation. In chic consumption, they think more of the concept behind the product than the product itself. Therefore, if famous labels are still merely selling products, they will have difficulty satisfying the needs of Chengdu consumers. Rather, they need to provide consumers with more interactive experience and professional advice.
Luxury consumption: well-heeled supporters and blind followers
Among Chengdu's consumers of luxury goods, those from secondary markets both outside and inside the province make up 20%. The rest are all local Chengdu people. Moreover, 80-90% of Chengdu consumers purchase luxury goods for their own use, unlike in most other cities where people only buy these items as gifts. In the past, Chengdu consumers were particularly fond of luxury brands that are well known in China, such as Louis Vuitton, Gucci, Prada and Burberry, and were not very interested in some of the low-profile luxury brands. As more international brands found their way into the city in recent years, Chengdu people are beginning to know more about these brands. In general, consumers over 45 years of age still tend to blindly follow the trend when buying luxury items, but people of the post-80 and post-90s generation will pay more attention to labels with substance, such as designer labels.
Other consumption trends
In recent years, more and more people are choosing more remote places with natural scenery as travel destinations. This tendency, coupled with the self-driving craze, has drawn the attention of many Chengdu travel lovers to premium outdoor brands. In the consumption of food and beverages, Chengdu people always give the impression of being at leisure. They also have high demands for taste. Food and beverages are available at all price levels, so that consumers of all income brackets can find something nice they can afford. With the arrival of more and more upmarket restaurants, Chengdu consumers are increasingly attracted by mid- to high-end restaurants that provide a tasteful environment and good service.
4. Profiles of Chengdu's Major Commercial Districts
Chengdu's major commercial districts have started to take shape. In addition, many other centres of commercial activities have developed around 28 neighbourhoods with distinctive characteristics. In June 2015, Chengdu announced its 'five-year action plan to build itself into an influential international shopping paradise'. It also put forward a strategy to accelerate the development of this shopping paradise, with Jinjiang district as its centre.
Chunxi Road - Yanshikou
This is currently the most well-known, largest, most developed and busiest commercial district in Chengdu. The district is centred around Chunxi Road and spreads out to cover Yanshikou, Zongfu Road and Hongxing Road. Daily shopper traffic is more than a million. Ranking third among China's top 10 most famous commercial streets, Chunxi Road is famous for its clothing boutiques, restaurants, optical shops and watch shops. Furthermore, the Sichuan or western China flagship stores of major sports brands and domestic leisure brands are mostly found on this road, making it the first stop for famous brands making their forays into Chengdu and a place of strategic importance to merchants.
In recent years, Chunxi Road commercial district has been expanding gradually, adding Hongxing Road pedestrian street, Dongda Street, Dacisi Road and Dasheng Road. With the convergence of medium to large-scale shopping malls, such as Wangfujing Department Store, Pacific Department Store, Ito Yokado Department Store, Isetan Department Store and Chicony Plaza, the area has now evolved into a commercial district with the addition of big commercial developments such as the Chengdu International Financial Centre (IFC), Sino-Ocean Taikoo Li, Xiongfei Centre and The One. Among these, the IFC alone has a business floor space of 760,000 sqm and has brought in nearly 300 well-known brands, 90 of which are entering Chengdu or its southwestern district for the first time. Sino-Ocean Taikoo Li, which opened for business in November 2014, is a classic, open and low-density shopping centre.
On the other hand, the Yanshikou commercial district is flanked by Renmin East Road, Renmin South Road and Daye Road and is linked to the time-honoured Qingnian Road and Ranfang Street. It is not far from the Chunxi Road commercial district and has historically been the commercial heartland of Chengdu city centre and the convergence point for old and new shopping malls alike. This commercial district is well developed, boasting a large number of department stores including Maoye, Far Eastern, Renhe Spring and Mall Business.
Tianfu Square - Hongzhaobi
This commercial district lies just next to Chunxi Road - Yanshikou. Centred around Tianfu Square and Renmin South Road in downtown Chengdu, it has now become the most upmarket commercial district in the city. The district is now home to a cluster of high-end shopping malls for luxury goods, including Yanlord Land, the Rendong store of Renhe Spring Department Store, as well as the Chuanxin Branch and Tianyi Branch of Maison Mode Lessin, and Star Plaza, which is still under construction. Renmin South Road, which benefits from the popularity of Tianfu Square, has also become the economic artery of Chengdu. Chengdu Metro Lines 1 and 2, which stop right in the Tianfu Square – Hongzhaobi commercial district, are already operating. Now this district is home to top international luxury labels, including Louis Vuitton, Gucci, Ferragamo, Dior, Hermes, Cartier, Tiffany and Bottega Veneta.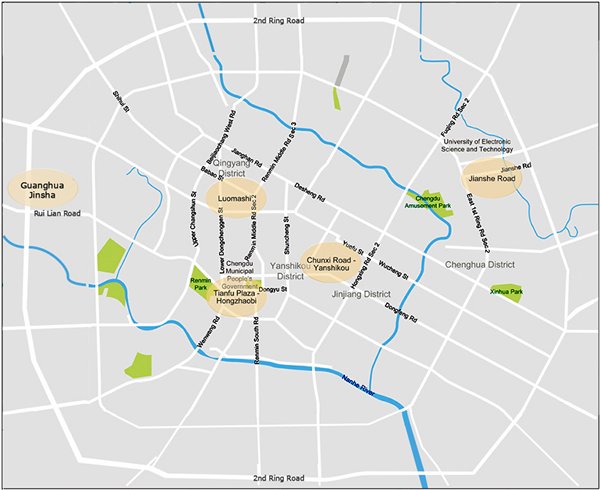 Luomashi
This is one of the longest established commercial districts in Chengdu. Located in Luomashi, it is now an old commercial district. It is developed around Renmin North Road and Babao Street, the section currently with the highest concentration of financial institutions in Chengdu and where the headquarters of many state-owned and joint-stock banks are located, as well as the Chengdu branches of many foreign banks. This district is host to the Pacific Department Store Quanxing Branch, Parkson at Xinchengshi Plaza, Park'n Shop and Platinum Age City.
Jianshe Road - Fuqing Road
Jianshe Road commercial district is located in Chenghua district on the eastern side of Chengdu. After undergoing development in the last few years, a new urban commercial structure with urban leisure business characteristics is taking shape and will become a major point of interest in Chengdu's commercial landscape. It is home to more than 30 major commercial establishments, including the MixC, Central Department Store, Sichuan Tower of China, SM City, CapitaMall, Fusen-Noble House, Chengdu Hualian, Beijing Hualian, Paradise Walk, Fortune Festival Walk, Ito Yokado, Eastern Suburb Memory, 339 Fun Plaza, Park'n Shop, Walmart, Shengdiya Furniture, Gome, Suning and Five Star Appliances. In 2014, it became one of Chengdu's commercial districts with total sales turnover exceeding Rmb10 billion.
Guanghua Jinsha
Guanghua Jinsha has 17 large shopping malls, each boasting a floor space of over 5,000 sqm. The Guanghua Village branch of Renhe Spring Department Store, at the junction of the Second Ring Road and Guanghua Road, is the first time a high-end department store has located outside of the city centre and the southern side of Chengdu. The opening for business of the Guanghua branch not only upgrades the business in the area, but also serves to lift the existing campus and community commerce to a regional level. Nearby, Dadi New Guanghua Plaza (大地•新光華廣場) is becoming more sophisticated by bringing in Robbinz Department Store and Renrenle supermarket, which, together with the existing Guanghua branch of Carrefour and Metro Supermarket, have formed a new commercial centre at Guanghua.
Tianfu New City
Tianfu New City commercial district is located to the south of Chengdu's city centre on both sides of Tianfu Road, outside the Southern Third Ring Road. This area has been designated as Chengdu's new political, financial and convention and exhibition centre, while new city government and financial institutions have either moved or will soon be moving here. Located adjacent to Tianfu Avenue and Chengdu Metro Line 1, Tianfu New City mainly comprises the Zhannan and Dayuan blocks on the southern side of the High-Tech Industrial Development Zone. In these blocks, New Century Global Center, Galleria Mall, Suning Plaza, IKEA, Decathlon Sports Supermarket, Fusen-Noble House, Auchan Supermarket complement one another with their different market positioning. Following the opening of shopping malls, including Intime City, CapitaLand Tianfu, Maoye Centre and Xinnan Centre, competition became increasingly intense.
Xinbei (New North)
Chengdu's Xinbei Commercial District has undergone its transformation following the opening of the Jinniu Wanda Plaza. This 'golden triangle' in northern Chengdu, centring around the Northern Third Ring, Rongdu Avenue and Qinglong elevated expressway, has become a new-generation commercial district with great potential. Jinniu Wanda is home to over 500 famous international and domestic brands.
Mainland China
Mainland China