https://origin.hkmb.hktdc.com/en/1X0A3NTA
Changsha: Profile of a Consumer Market
1. Economic Overview and Development Planning
Changsha is the capital of Hunan province. In 2014, the GDP of Changsha amounted to Rmb782.5 billion, up 10.5% from the previous year. Calculated based on its permanent population, the per capita GDP of Changsha in 2014 was Rmb107,683, a growth of 9.2% year on year. Where economic output is concerned, Changsha accounts for 28.9% of the provincial total, while its per capita GDP is 2.7 times that of the provincial average. This reflects the leading role of Changsha in the region and its relatively strong economic strength. In 2014, the city's industrial value-added total reached Rmb357.5 billion, an increase of 11.4% over the preceding year. With Changsha's non-public economy developing rapidly, the value-added total of this sector in 2014 amounted to Rmb497.9 billion, 63.6% of the city's GDP. According to the 2014 Blue Book on Urban Competitiveness published by the Chinese Academy of Social Sciences, Changsha ranks 20th among all large and medium-sized cities in terms of its competitiveness. It is the only city in Hunan on the top 20 list.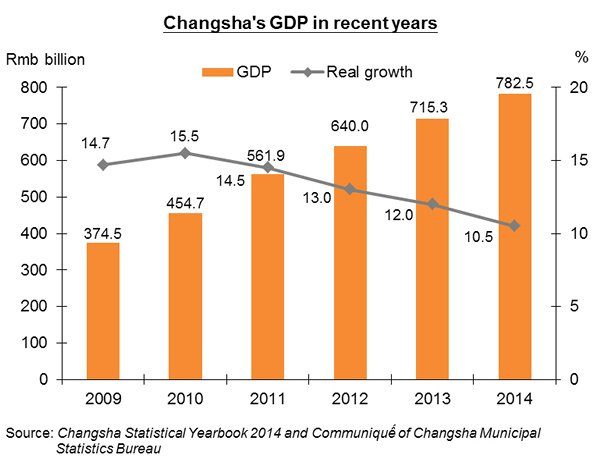 Changsha's foreign trade has expanded rapidly, with total imports and exports in 2014 reaching Rmb77.25 billion, accounting for 40.5% of the provincial total and posting an increase of 26.0% over a year earlier. Total exports amounted to Rmb53.85 billion, a rise of 41.0%. Of the export total, machinery and electronic products (Rmb26.42 billion) and new and high-tech products (Rmb9.37 billion) made up the bulk, taking up 49.1% and 17.4% respectively. Of the total imports, machinery and electronic products (Rmb12.69 billion) and new and high-tech products (Rmb5.02 billion) accounted for 54.2% and 21.4% respectively.
Heavy industries play a dominant role in Changsha. In 2014, enterprises above a designated scale generated an industrial value-added of Rmb304.2 billion, up 12.0%. The value-added of heavy industries of the city was Rmb17.51 billion, rising by 12.7% over the preceding year and accounting for 57.6% of the value-added generated by industrial enterprises above a designated scale. Engineering machinery, automobiles and electronic information products are the three pillar industries in Changsha.
In 2014, Changsha received 106.07 million domestic and foreign tourists, generating Rmb119.21 billion in tourism revenue, up 18.5% over the preceding year. Domestic tourists were the major source of revenue, ringing in Rmb114.36 billion, a rise of 19.4% and accounting for 95.9% of the city's total tourism receipts.
Under the Urban Commercial Network Layout Planning for Changsha (2005-2020) (revised in 2011), Changsha will continue to develop its city-level commercial centre and form 33 regional commercial centres by 2020. The city-level commercial centre is Wuyi Square. Focusing on major projects, including Kaifu Wanda Plaza and Dong Pai Lou (of Wharf Holdings), efforts will be made to build the district into a landmark commercial carrier of Changsha, even Hunan province as a whole, to attract big international names, upgrade the level and scale of commercial networks in the district and create an international commercial centre with unique characteristics.
In order to promote the development of the service industry, the city government formulated the Action Plan of Changsha City for the Development of Modern Service Industry (2015-2017). It plans to develop 10 key industries, including modern logistics, e-commerce, information consumption and cultural and creative industries, foster a number of big enterprise groups, industrial clusters and leading brands that have fairly high reputation at home and abroad, as well as core competitiveness. The city expects to see its fixed asset investment in the service industry increase by 20% annually and will strive to make the value-added of the service industry account for over 42% of the city's GDP by 2017. Priority will be given to modern logistics in industrial development.
2. Changsha's Consumer Market
2.1 Growth in Retail Sales
In the past few years, Changsha's total retail sales of consumer goods have registered double-digit growth, reaching Rmb316.2 billion in 2014, up 12.9% year on year and accounting for 31.4% of the provincial total, a share far greater than other major cities in the province, such as Yueyang (about 8.7%). In the retail sales of enterprises above a designated scale in 2014, the sales of food, beverages, tobacco and wine increased by 19.0%, clothing, footwear, headgear and textiles by 5.8%, cosmetics by 15.4%, precious jewellery by 10.7%, petroleum and finished products by 17.8%, communications equipment by 22.1%, home appliances and audio-visual products by 4.7%, and cars by 13.1%.
Between 2005 and 2013, urban households' ownership of most consumer goods showed an upward trend. This is particularly so for products affordable and favoured by the middle class, such as cars, computers and mobile phones.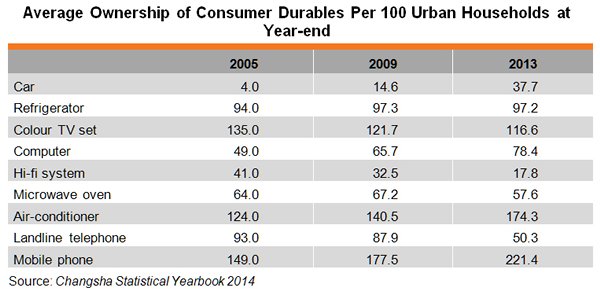 2.2 Per Capita Disposable Income and Consumption Expenditure
In 2014, the per capita disposable income of urban households in Changsha was Rmb36,826 and per capita consumption expenditure was Rmb26,779. In 2013, the per capita disposable income of the highest-income urban households amounted to Rmb70,334, while their per capita consumption expenditure was Rmb37,555.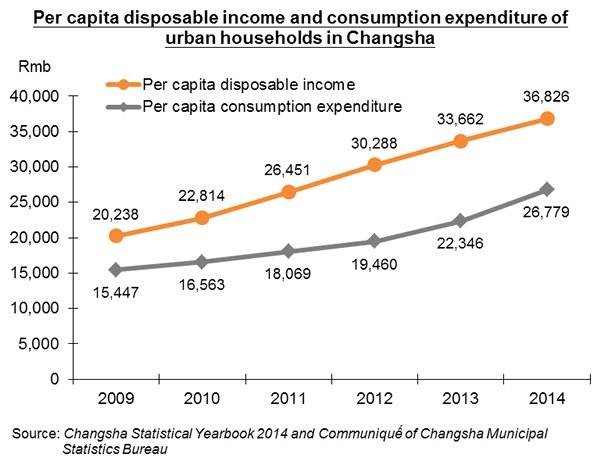 3. Characteristics of Changsha's Consumer Market
3.1 Population Structure
The permanent population of Changsha was 7.31 million at the end of 2014. According to China's sixth population census, the population with household registration in 2010 stood at 6.51 million. Among the permanent population, 51% were males; 13.6% were aged between 0 and 14, 77.4% were aged between 15 and 64 and 9.0% were aged above 65.
The education level of Changsha's permanent population has risen notably. About 19% of Changsha people have received education at university level, 18% senior high school, 34% junior high school and 22% primary school. Compared to the results of the fifth population census 10 years earlier, the number of people in the city who had received university education rose from 8,000 to 19,000 per 100,000 people, a figure higher than the provincial and national average.
There were a total of 2.08 million households in Changsha, with an average 2.94 persons in each household, representing a drop of 0.26 person from 10 years earlier.
3.2 Characteristics of Consumers
Changsha consumers are known for being keen followers of trends and spending extravagantly and ostentatiously. The Maison Mode Department Store in the city houses some 40 international brand shops, such as Louis Vuitton, Salvatore Ferragamo, and Ermenegildo Zegna, as well as specialty stores of other famous worldwide brands.
Owing to the fact that many Hunan people took part in the construction of Shenzhen in the early days and that a lot of Shenzhen enterprises have investments in Changsha, the business practices and consumer habits in Shenzhen have a great impact on Changsha and on Hunan at large. Changsha is also influenced by Hong Kong, Guangzhou and Shanghai. In Changsha, many young people have all their savings in their wallet. It is said that if a Changsha youngster has 20 yuan on him, he would borrow five yuan more from someone to buy a packet of Furongwang cigarettes. Although this might sound a bit exaggerated, it more or less reflects Changsha people's willingness to part with their money.
Changsha may not be a very big city, but it boasts a large number of five-star hotels. The occupancy rate of Changsha hotels has averaged over 70% since 2009. Top-notch international hotel bands like Hilton, Westin, Hyatt and Kempinski have ventured into the city, making it the city with the largest number of international hotel brands in central China. Dining and hanging out at star-grade hotels is a common pastime of many local people. Most of the patrons of five-star hotels are local people who go to hotels to play mahjong or watch ball games.
As the urban population is relatively small, the service industry is not well-developed. The number of white-collar workers in Changsha is low and their share in the social structure is not high. However, more and more young people in the city are becoming keen on 'peer' consumption, and herd mentality is common among this consumer group. They are greatly influenced by the trendy lifestyles featured in magazines.
Changsha people's love of face is also expressed in their car purchases. In particular, young people are willing to spend more than what they earn to buy their favourite car. As the number of cars grows, traffic congestion in the city centre is serious, causing more and more people to drive to remote areas to shop at warehouse-style hypermarkets such as Metro, which are located farther away from the city centre but provide plenty of parking spaces.
As people's living standards improve and investment in various types of education increases, people's propensity to spend on education, culture and recreation also rises significantly. At the same time, greater attention is devoted to fitness, leisure, recreation and tourism. 'Enjoy life' has gradually become a new trend in people's life.
According to a survey on Changsha people's spending habits, jointly conducted by the Changsha Commerce Bureau and Changsha Evening Newspaper Group last year, Changsha people love lounging about the streets and going shopping and are willing to spend, but they also care about good value for money and are generally receptive about product brands. Discount is the single most important enticement to persuade them to dig deep into their pockets. People are generally quite receptive to brands and grades, with as many as 49.65% of consumers thinking that well-known domestic brands are good enough, followed by 41.96% who favour trendy brands, 32.17% going after first-line domestic brands, 29.37% hoping to buy second- and third-line international brands, and 11.19% craving for first-line international brands. Among the respondents, 60.84% said they would be tempted to spend because of sales promotions.
Changsha people are not particularly sensitive to trendy, novel things. They are unwilling to try new products and are not too interested in the culture of other places. Their way of thinking is rather conservative and they have high respect for traditional customs. Family ties are very important to them and they place great emphasis on spending time with family members. They also have a strong sense of social responsibility and find bearing responsibilities more important than seeking self fulfilment.
Brand loyalty is very high among Changsha consumers who stick to the brands they like. They are rather indifferent to foreign brands and would not make a special effort to buy foreign goods, with the exceptions of luxury goods and top brands. For instance, buying LV or Gucci handbags is a popular trend. On the other hand, consumers are not greatly influenced by ads and do not pay much attention to brand image. When they shop, they do not necessarily choose heavily advertised brands.
Where wealth management is concerned, Changsha consumers in general are conservative and would save their spare money in the bank. Although they are ready to spend, they do not like spending on credit. When they shop, they prefer paying by cash to using credit cards.
Just like the weather of Changsha, consumers in the city are a complex mixture embracing extreme attitudes. In short, their major characteristics are: open and receptive, positive and progressive, and ready to enjoy life.
4. Profiles of Changsha's Major Commercial Districts
Wuyi
Wuyi commercial district is the core commercial district in Changsha. It is also a comprehensive commercial district in Hunan province as a whole with the most extensive coverage, richest business modes, and most intense market competition.
This commercial district is positioned as a multi-function business streets area under the integrated themes of trendy shopping, commerce and business, culture and leisure, catering and entertainment, sightseeing and tourism. It includes Huangxing South Road commercial pedestrian walk, Pozi Street delicacy food street, Jiefang West Road bar street, and Hualongchi bar street.
Large domestic and foreign department stores, such as Heiwado, New World, Wangfujing and F&A Spring100, as well as shopping centres including ID Mall, Wanda Plaza and Jinxiu Plaza (錦繡廣場), are found in this district. Other major retailers in this district include large chain home appliance stores, such as Gome and Suning; hypermarkets such as Wal-Mart and Trust-Mart; specialty stores such as jewellery store CRD and shoes shop Baixing; as well as all kinds of Chinese and Western eateries, such as Haagen-Dazs and Yangyuxing.
Wuyi's attractive business environment and heavy shopper traffic have drawn investment from a number of Hong Kong companies. Located at the century-old Pozi Street, the ID Mall, which opened for business in May 2012, is a project of CITIC Capital under CITIC Pacific. With an investment of Rmb1.5 billion, the 120,000-sqm mall provides one-stop shopping for consumers. Another Hong Kong property developer, Wharf Holdings, is said to be investing US$900 million to build a major shopping centre in Wuyi Square.
North Wuyi is emerging as a new commercial district following the opening of Line 2 of the Changsha Metro. With the arrival of the subway era, conditions are ripe for the integration of North Wuyi and South Wuyi. As the present commercial layout shows, South Wuyi has reached saturation, with very little scope left for further expansion, whereas there is still plenty of room for development to the north of Wuyi Square. Following the construction of the subway, the opening of the river tunnel and the northward extension of Huangxing North Road, a new Wuyi commercial district with greater appeal and capacity will take shape. The interest shown by the business community in this district will also make it a place with great potential.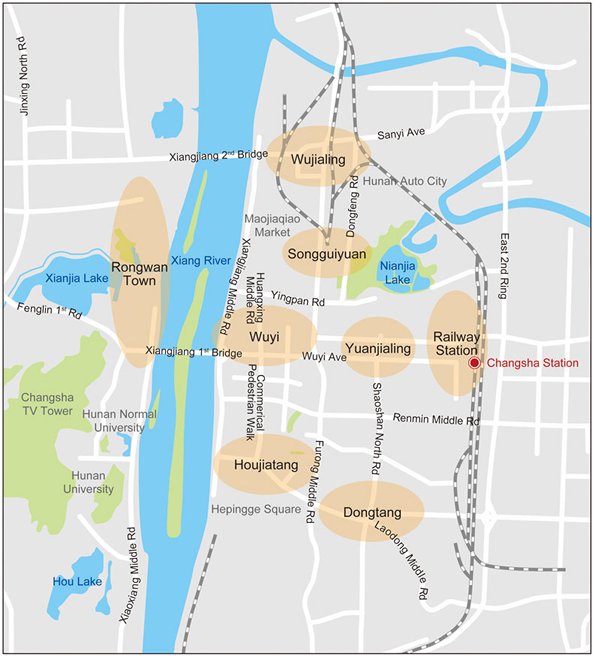 Dongtang
The southward extension of the city of Changsha has accelerated the emergence of Dongtang commercial district, which is now only second to Wuyi commercial district in terms of coverage and prosperity. It mainly serves consumers east of the Xiang River (or Xiangjiang) in the southern part of the city, most of whom are mid-to-high end consumers. In the neighbourhood of this commercial district are the Hunan University of Chinese Medicine, the Hunan Provincial People's Congress office, and a large number of prestigious schools. Hence, shopper traffic is busy and purchasing power is strong. Following the acceleration of the integration of Changsha, Zhuzhou and Xiangtan, the southward relocation of provincial-level government offices, the continuous southward extension of Shaoshan Road and Furong Road and the gradual improvement of transport networks, the average shopper traffic has reached 150,000 persons a day, exceeding 400,000 persons on a peak day. Urban transformation and upgrades will bring even greater opportunities to this district.
Railway Station
The Railway Station commercial district was very busy in the 1990s. Today, this district is well-known for computers and digital products shopping, due to the clustering of all kinds of computer malls along the nearby Chaoyang electronics street. Famous computer malls include: Guochu IT Mall, QQ, Digimax Plaza and Hefeng. Other leading shopping malls include Apollo Commercial Plaza. Suning, Gome, Tongcheng and Your-Mart also sell a wide range of IT products. Together, they form the biggest distribution centre for computers and electronic products with extensive coverage in Hunan. Also in this district is Changsha's oldest wholesale market for clothing, footwear and headgear -- Changsha Golden Apple Great Market, as well as Hunan's largest market for building materials and household goods -- Sanxiang Great Market.
Wujialing
Wujialing is one of the traditional commercial districts. As the construction of flyover bridges has diverted the flow of people and goods in this district, the commercial landscape has also undergone changes. Currently, the district is served by neighbourhood store Shirble Department Store. As a result of the development of several large residential and office blocks here, this district is gradually evolving from a traditional commercial district into a regional commercial district. HC International Plaza, the first commercial complex in this district, is expected to soft launch at the end of this year.
Hongxing, Gaoqiao, Xingsha, Datuo and Lituo
Among the five new commercial districts (i.e. Hongxing, Gaoqiao, Xingsha, Datuo and Lituo) on the drawing board, Hongxing commercial district possesses the greatest potential for development. In addition to having Hongxing Super Market and Red Star International Exhibition Center as its backbone, this commercial district also has such advantages as convenient transportation, proximity to the provincial government offices, and a large number of newly developed small communities. Five-star hotels and large department stores (e.g. Tongcheng Department Store) are scheduled to open for business in the next year or two. However, since this commercial district used to comprise urban and rural areas, the range of business operation modes is limited and consumer behaviour is unsophisticated.
Gaoqiao commercial district houses more than 10 comprehensive and specialised markets, with Gaoqiao Great Market as the leader. Shanghe Street, a large-scale comprehensive shopping centre, is being built and will be developed into the icon of a new regional commercial centre, with huge market potential and extensive coverage. Yuhua District put forward its three-year overall plan for the improvement and transformation of Gaoqiao commercial district last year. Against the backdrop of the policy decision of the Changsha city government to relocate markets away from the city, the Gaoqiao Great Market is the only market not having to move out. Through future improvements and upgrade, the Gaoqiao commercial district may develop into a modern commodity exchange centre and a modern commercial cluster with the combined functions of commodity display, e-commerce and financial settlement.
Xingsha commercial district is centred round Xingsha town in the suburbs of Changsha but has now integrated with the Changsha urban area. According to planning, the Changsha Economic and Technological Development Zone and the new city of Xingsha town will complement each other to form a modern regional commercial centre with complete supporting facilities and functions. Following the improvement of its commercial supporting facilities in recent years, Xingsha commercial district has gradually become an important part of Changsha's commercial landscape. The opening of the Mixc, Xingsha's first chic one-stop shopping mall, will generate new opportunities for the transformation and upgrade of this commercial district.
Datuo commercial district, drawing on the advantages of the Datuo Airport, will develop along the line of economic integration of the three cities of Changsha, Zhuzhou and Xiangtan. At present, construction of the large-scale residential development Citic New Town is underway, but the business climate of this district has yet to be built up.
Capitalising on the opportunities brought about by the construction of the Lituo passenger terminal of the Wuhan-Guangzhou Railway, Lituo commercial district is building excellent commercial supporting facilities. Along with New Sports Town, it will develop into a new commercial centre embracing commercial, cultural, fitness and leisure facilities, as well as upmarket residential housing.
Houjiatang
The Helong Sports Centre forms the core foundation of Houjiatang commercial district, which is positioned as a central business district (CBD). This commercial district is currently the driver of Changsha's new commercial corridor. Landmarks here include the New Century Sports and Cultural Center and Changsha Ferris Wheel.
The New Century Sports and Cultural Center, yet another new entertainment area after Jiefang West Road, embodies all kinds of entertainment establishments and a great variety of famous restaurants. Many star-grade hotels, banks and securities firms are also found here. Commercial buildings, such as Best-one International New City and No. 1 Motian (摩天一號), provide strong driving force for the development of commercial activities in this district.
Compared with established commercial districts, such as Wuyi commercial district, the geographical position of Houjiatang commercial district is more outstanding. The district is dotted with star-grade hotels, complete with supporting facilities for the financial, commercial, cultural and education sectors. The leasing rate of high-class offices here is high.
Yuanjialing and Songguiyuan
In Yuanjialing, the leading retailer is the A and B Blocks of Friendship Store, a well-established upmarket department store in Changsha, offering mainly luxury goods and famous trendy brands such as Gucci. In Songguiyuan, Maison Mode Department Store is the leader.
Rongwan Town
Rongwan Town commercial district is currently the only sizeable commercial district west of the Xiang River. With its proximity to the university city, purchasing power in this commercial district is weaker than that in commercial districts east of the river. At present, two three-star hotels (Dolton Lushan and Fenglin), Tongcheng Commercial Plaza, A. Best Supermarket, and three electrical appliances stores (Gome, Suning and Tongcheng Market) are found here. Following the rapid development of the area west of the river in recent years, apart from students, a large number of urban white collar workers have also moved in as the occupancy rate of new homes rises, boosting the spending power in this commercial district. The Greenland Construction Group bought a prime lot at Yaoposhan in the Wangyue Lake area at a record Rmb2.8 billion in March 2014 in its quest to secure a stronghold in the Rongwan Town commercial district, which looks set to become Changsha's new commercial clustering area.
Mainland China
Mainland China