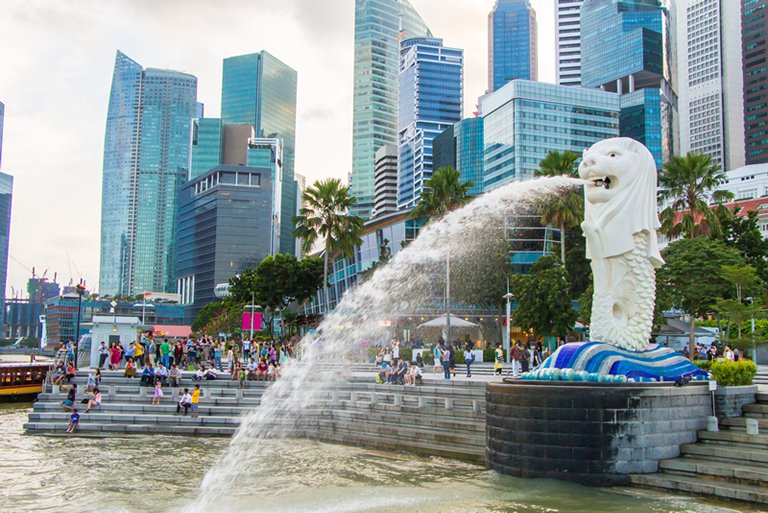 https://origin.hkmb.hktdc.com/en/1X0A4FDE
The Myth of Hong Kong Losing Out to Singapore
Hong Kong appears to have lost out to Singapore in recent years, as observed in the 40% differential of their 2014 per-capita GDPs. However, Singapore's labour productivity is only 15% higher than Hong Kong's, and there is no vast difference between the two in terms of their business environment. Against the backdrop of regional integration and cooperation, it may be more meaningful to focus on the complementary roles of the two economies.

Both Hong Kong and Singapore enjoyed phenomenal growth in the 1980s and 1990s amid their economic restructuring into services-based economies. But since 2004, Singapore's per-capita GDP has surpassed Hong Kong's. In 2014, Singapore's per-capita GDP was US$56,300, compared with US$40,200 for Hong Kong.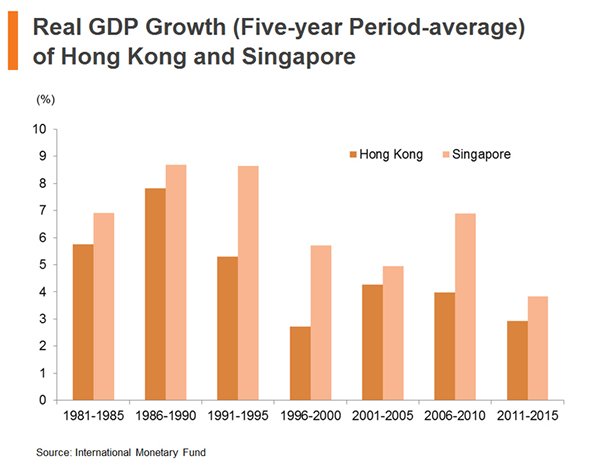 The most direct and apparent reason for Singapore's higher growth and per-capita GDP is its active labour policy, which has boosted the size of the working population. In recent decades, the Singapore government has implemented various programmes to attract new immigrants who are either young, highly educated and skilled, or low-wage workers in sectors with labour shortages. This has resulted in higher labour productivity and labour-force participation in Singapore.

By contrast, Hong Kong's major source of population growth in recent decades has been Mainland Chinese spouses and accompanying children of Hong Kong residents, who applied to settle in Hong Kong through the One-Way Permit Scheme. The scheme, administered by the Chinese authorities, is designed primarily for family reunion. Other admission schemes in Hong Kong target talents, professionals and entrepreneurs, but these immigrants have not contributed to the labour force as significantly as they have in Singapore.

In 2014, Singapore's labour-force participation rate was 64.6%, much higher than Hong Kong's 53.5% and well above that of major industrial economies. In fact, in terms of GDP per worker, i.e., labour productivity, Singapore (US$89,500) was only 15% higher than that of Hong Kong (US$77,600) in 2014, versus the differential of 40% observed in their per-capita GDPs.

However, Singaporeans have started to blame the influx of workers for overcrowding, soaring home prices and depressed low-end pay. The Singapore government has responded by tightened immigration controls and increasing social benefits. Some businesses have started to face rising labour costs and difficulties in hiring.


Composition of Singapore's Total Population

In 2014, Singapore's total population was 5.47 million, made up of 3.87 million residents – 3.34 million Singapore Citizens (SCs) and 0.53 million Permanent Residents (PRs) – and 1.6 million non-residents who work, study or live in Singapore on a non-permanent basis.

Resident Population

Immigrants are individuals who are granted PR or SC and are counted as part of Singapore's resident population.

Each PR and SC application is evaluated holistically on a set of criteria, which includes the individual's family ties to Singaporeans, economic contributions, qualifications, age and family profile. This assesses the applicant's ability to contribute to Singapore and integrate into society, as well as their commitment to sinking roots.

Some 48% of successful PR applicants were working individuals, and the remainder were dependants (spouses and children) of SCs and PRs. Of all the PRs granted, 63% were for applicants under 30 years old, who help to mitigate the country's ageing population. Most new PRs also have good educational qualifications. Of those aged 20 and above, 74% had a diploma or higher qualification.

About 38% of new SCs were working individuals, while 62% were dependants. Like new PRs, new SCs are generally young and have good educational qualifications. Of the new SCs, 53% were under 30 years old, and of those over 20 years old, 61% had a diploma or higher qualification.


Non-resident Population

Singapore's non-resident population is made up of foreigners who are in Singapore on a non-permanent basis. They are a diverse group.
20% of the non-resident population are family members of residents or employment pass holders, and international students. Family members hold either dependant's or long-term visit passes.
There is also an increasing number of international marriages in Singapore – about 40% of citizen marriages in recent years were to non-citizen spouses. Foreigners married to Singaporeans are usually issued with a long-term visit pass, and many eventually naturalise as PRs and SCs. As the number of international marriages rises, the more foreign-born spouses are expected to be in the population.
13% of the non-resident population are foreign domestic workers (FDWs). They live in the homes of Singaporeans and do not require additional provisions for housing or transportation during the workday. By helping with the housework, or looking after children or the elderly, they allow more Singaporeans, especially women, to be in the workforce.
46% of the non-resident population are lower-skilled/semi-skilled workers on Work Permits. They are mainly in sectors that face difficulties hiring Singaporean workers (e.g., construction and marine).
10% of the non-resident population are mid-level skilled foreigners (e.g., technicians), who supplement the local workforce. They are typically S Pass holders who support the economic and social needs of Singaporeans. They work in sectors such as retail, food and beverage, manufacturing (e.g., electronics) and healthcare services (e.g., as nurses or allied healthcare workers), as well as in the social services and voluntary welfare sectors where they care for the aged and the disabled.
The remaining 11% of the non-resident population are higher-skilled foreigners such as professionals, managers, executives and specialists who hold Employment Passes (EP). These higher-skilled foreigners enhance the competitiveness of Singapore-based companies by complementing their limited Singaporean workforce or by providing skills and expertise that the country does not possess, and by helping Singaporean companies expand into regional and international markets. Sectors that have benefitted from the capabilities brought in by foreigners include financial services, aerospace engineering, and research and development.

Source: HKTDC from National Population and Talent Division, Prime Minister's Office, Government of Singapore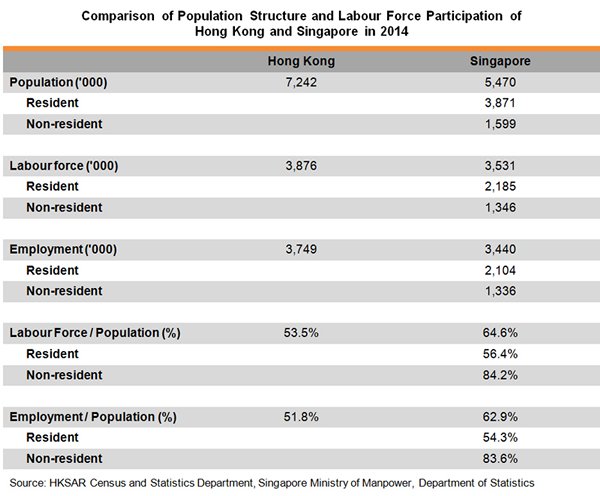 There are other explanations regarding the GDP differential between Hong Kong and Singapore. For example, according to economics professor Dr Yue Chim Richard Wong [1], the market values of government-subsidised housing units in Hong Kong are not adequately reflected in GDP figures because they cannot be traded on the open market, unlike the subsidised housing units of Singapore's Housing Development Board. Also, the expansion of post-secondary education in Hong Kong did not gain traction until after 2000, in contrast with sustained investments in education by the Singapore government.

Apart from economic growth, the global rankings of Hong Kong and Singapore are often compared. In most rankings concerning the business environment, both economies rank near the top. The results of such studies are highly dependent on the methodologies.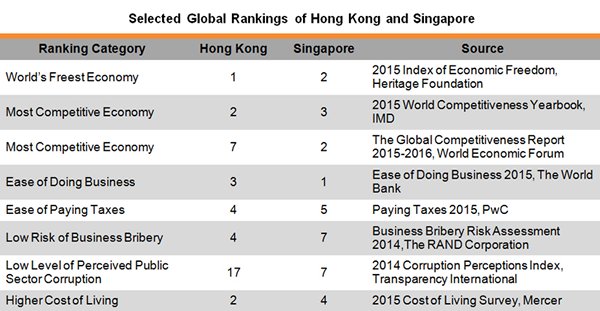 In fact, Hong Kong and Singapore share a lot in common. Both are small, open economies with no natural resources, but have developed into international trade and services centres in Asia. From a regional development perspective, the two economies are nodes connecting the hinterlands of Mainland China and ASEAN countries, which are set to strengthen economic ties and integration. Rather than a zero-sum game, Hong Kong and Singapore may complement each other in many ways that could contribute to the prosperity of the region.
---
[1] Hong Kong vs Singapore: Human Capital Investment Makes the Difference, South China Morning Post, 18 June, 2014.
Singapore
ASEAN
Southeast Asia