https://origin.hkmb.hktdc.com/en/1X0A5ET1
Estonia: A Switched-on, Tech-Savvy Baltic Partner
While having the smallest population of the three Baltic States, Estonia is nevertheless the region's ICT powerhouse, besides being one globally in many ways too. Innovative e-solutions and the omnipresence of high-speed internet and wi-fi services are good examples of how a tiny, post-Soviet nation has created the enabling conditions for an information society. This goes hand in hand with its strategic location in terms of regional logistics and Eurasian connectivity.

Given its small domestic market, innovative Estonian companies with ambitions to grow have to go beyond the country's borders for development and expansion. Hong Kong can therefore be an ideal catalyst for Estonian companies that wish to exploit opportunities in Asia, especially under the umbrella of the Belt and Road Initiative (BRI).

Estonia as E-stonia

Among the three Baltic States, Estonia is the richest in terms of per-capita GDP, and also the highest ranking in the United Nations' Human Development Index. Thanks to a forward-thinking government, a pro-active ICT sector and a switched-on, tech-savvy population, Estonia, a small country along the eastern shore of the Baltic Sea, has gained worldwide recognition for its digital economy. It has developed pioneering e-government initiatives, a high degree of cyber-security and groundbreaking e-solutions to daily life problems.


Even in Soviet times, radio-electronic and semi-conductor industries were well developed in Estonia. Following the formal declaration of independence in August 1991, the country underwent rapid economic transformation characterised by a favourable taxation system, free trade and large-scale privatisation.

The Estonian government has been very supportive of the country's ICT industry and the country hosts both the NATO Cooperative Cyber Defence Centre of Excellence and the new headquarters of the European Agency "for the operational management of large-scale IT systems in the area of freedom, security and justice", EU-LISA. Deeming it a basic human right, the government also made free wi-fi the norm throughout the country back in 2000. And it has incorporated data privacy and security protections into national laws to bolster long-term technology development and future ICT advances.

From developing the code behind Skype, Hotmail and Kazaa (a peer-to-peer file sharing application) to numerous e-government initiatives, Estonia continues to excel in terms of next-generation e-solutions that make a difference at a grassroots level, connecting people with people, with the state and with the wider world. As a member of Digital 5 (D5), a network of digital governments who share the goal of strengthening the digital economy, Estonia (together with Australia, Singapore, South Korea and the UK) presents a wealth of possibilities not only for business, but also for cooperation between governments and between business and government in the era of e-government.

Nowadays, 99% of bank transfers are performed electronically in Estonia, where many young people have never seen a cheque or cheque book in their lives, while 95% of income taxpayers file their annual tax returns online. In addition to banking and taxation, 98% of medicines are prescribed electronically and 66% of the population participated in the country's last census online. As the world's first country to allow online voting in a general election, in 2007, more than 30% of votes cast by Estonians in the 2014 EU Parliament elections were done so online.

Also in 2014, Estonia became the first country in the world to offer e-residency — a transnational digital identity. With 10 million e-residents targeted by 2025, it is open to anyone in the world interested in administering a business online. E-residents can sign and verify documents and contracts digitally, conduct e-banking, make remote money transfers and pay Estonian taxes online. They can effectively run an Estonian company online and administer it from anywhere in the world.

The e-residency and its embedded digital signature allows people to perform most business and personal transactions online, except for marriage, divorce and sales of property. This initiative is a big help to many international financial and technology companies looking for new platforms or markets in which to conduct R&D. Since May 2015, Estonia has allowed online e-resident applications and payment for a smart ID card. So far, the initiative has been best received by applicants from Finland, Russia and the US – countries where Estonian ICT and knowledge-based companies are accustomed to seeking out partners and venture capital.

Strong ICT Sector and Strategic Location

In ancient times, goods bound for Scandinavia which had travelled the Silk Road went through Estonia. In addition to its distinct geopolitical location, Estonia is again proving an increasingly important logistics platform for moving goods, knowledge and people from east to west. Combined with the country's strong ICT background, this makes Estonia a ready candidate for greater regional and inter-regional integration, in keeping with the BRI.

Situated on a busy trading route between East and West, Estonia operates nearly 30 well-developed ports. Among them, the five harbours (Old City Harbor, Muuga Harbour, Paldiski South Harbour, Paljassaare Harbour and Saaremaa Harbour) operated under the umbrella of the state-owned Port of Tallinn (a port authority rather than a single seaport) constitute the nearest Baltic ports to Russia (apart from the exclave of Kaliningrad, which is surrounded by Poland and Lithuania). Altogether the Port of Tallinn handled 22.4 million tonnes of cargo, 208,784 containers and 9.8 million passengers in 2015, when 1,684 cargo ships and 5,397 passenger ships called in.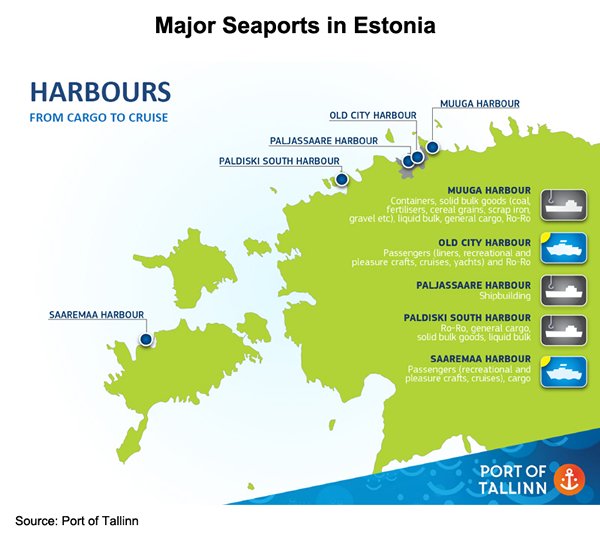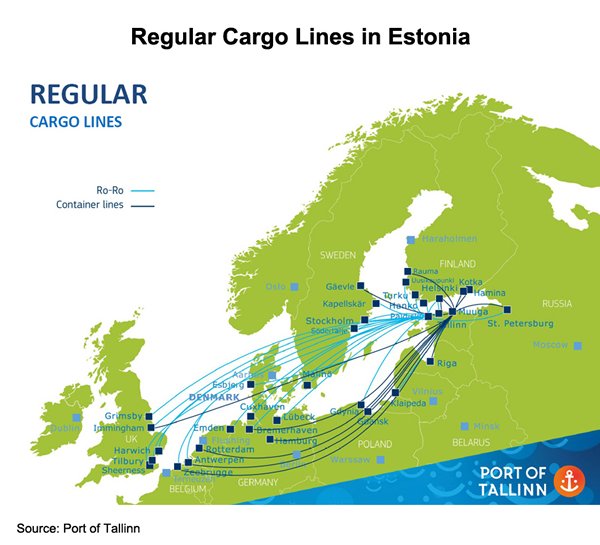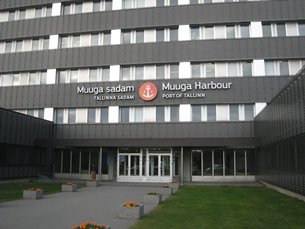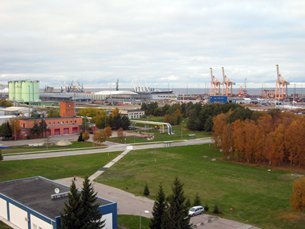 With the aim of connecting the peripheral Baltic States to "the heart of Europe", the European Commission in 2004 initiated Rail Baltica, a strategic project linking Estonia (Tallinn), Latvia (Riga), Lithuania (Kaunas, Vilnius) and Poland (Warsaw), with the route also set to be extended to countries such as Germany (Berlin) and Italy (Venice) in the future. Rail Baltica is a Trans-European Transport Networks (TEN-T) Priority Project.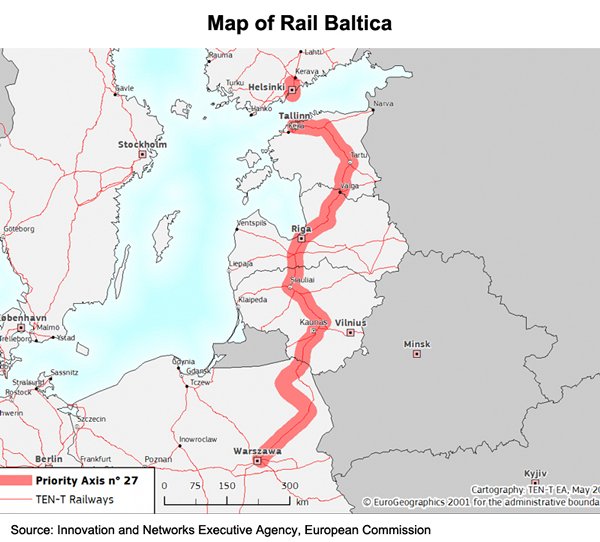 It is also the first step in the Baltic countries' transition to European railway-gauge standards. With road transport accounting for more than 97% of total cargo flows between the Baltic States and Poland, it creates the possibility to shift the heavy freight traffic between Estonia, Latvia, Lithuania and the rest of EU from road to rail, in turn helping to reduce commuting times, traffic congestion and air pollution. With the signing of a memorandum of understanding (MOU) on 5 January 2016 to build a 92km underwater tunnel connecting Tallinn and Helsinki, for example, the commuting time will be slashed by 70%, from 100 minutes to 30 minutes, upon completion.

As regards air transport, Estonia recently earmarked €40.7 million (or HK$346 million) as initial capital for a new, fully state-owned carrier, after the ailing Estonian Air was found to be in breach of the EU's state-aid rules and ceased operations as of 7 November 2015. Estonia also plans to team up with regional air hubs such as Helsinki in Finland for more regional air services cooperation. This will help compensate for the loss of business due to Estonia Air's wind down, while also enhancing the country's air connectivity for both freight and passengers.

Together with its strong ICT background and infrastructure, Estonia's strategic location and enhanced multimodal connectivity provide a fertile breeding ground for cross-border e-commerce businesses. In September 2015, the state-owned Estonian postal company, OMNIVA, signed an MOU with S.F. Express, China's largest private-capital-funded courier company, to set up a joint venture called Post11. This includes warehouses in Estonia to make the import and export of goods between China and Europe faster and more efficient. The joint venture will first focus on the delivery of goods from China to the Baltic States, Russia, Ukraine and the Scandinavian countries, before extending its reach to the whole of Europe.

With nearly half of all the goods Estonians order from abroad coming from China, the joint venture and its new supply chain solutions will likely strengthen Sino-Estonian and Sino-European e-commerce as cooperation between Chinese e-stores and Estonian ICT and logistics solutions becomes more seamless.

Ready for the BRI

Constrained by its small population, Estonia is no longer positioning itself as an ICT manufacturer as it did during the Soviet times. Boasting one of the world's highest per-capita business start-up ratios, it is, however, aiming to strengthen a dynamic and competitive knowledge-based economy, providing an environment for ongoing digital success stories.

Hong Kong, as Asia's top IP and technology marketplace, can be an ideal trading platform for Estonian technology and innovative e-solutions. Its easy access to equity financing and its robust legal and IP regimes can also help Estonian startups looking for venture capital, local business opportunities and strategic partners.

As a pioneer in cyber-security and many e-government initiatives, Estonia has companies which can be ready partners for Hong Kong's professional services providers and financial institutions, especially with regard to the development of FinTech. It is reported that one Russian company is looking to connect Estonian tech startups with investors from Asia via Hong Kong, while also marketing their technology and practical e-solutions to big financial services clients located and headquartered in the city.

Aside from technology and financial opportunities, Estonia's ongoing improvement in its multimodal connectivity is also conducive to the successful implementation of the BRI, which aims to facilitate and promote greater integration among the 60-plus countries along the Belt and Road. The economic ties between Estonia and China will also be strengthened through membership of the "16+1" formula.

Hong Kong's connectivity with much of Asia, its privileged free-port status and its cost-effective multimodal logistics options are helping Estonian companies reach out to Asia. This role will be further strengthened as the Second Eurasian Land Bridge takes shape and new railway routes are established. In particular, the recent opening in Hong Kong of the development office of KTZ Express, a wholly-owned subsidiary of Kazakhstan Railways, in order to promote multimodal freight logistics through Kazakhstan between Europe and China, indicates the city's key role in Belt and Road logistics.
Information Technology
Logistics & Supply Chain