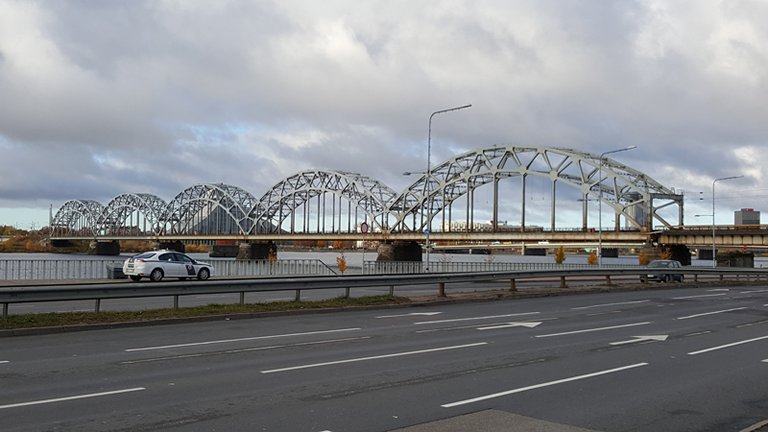 https://origin.hkmb.hktdc.com/en/1X0A5FED
Latvia: A Ready Business Platform in the Baltics
Sandwiched between Lithuania and Estonia, Latvia provides a strategic location in the Baltics for business operations targeting developed economies of the EU as well as the emerging markets to its east. On top of a well-developed rail, road and pipeline infrastructure, Latvia is privileged to also have the busiest airport among the three Baltic States. On the financial front, the mushrooming of Latvian banks in Hong Kong and the ongoing talks regarding a Latvia-Hong Kong comprehensive double taxation agreement (CDTA) further illustrate how Latvia is keen to develop itself into a business platform in the Baltics for Hong Kong and Asian traders and investors. Meanwhile, in tandem with closer economic ties, Hong Kong, with its heightened role as a "super-connector" under the Belt and Road Initiative (BRI), can be a vital hub and springboard for Latvian entrepreneurs such as green tech companies. Latvia can also be a cost-effective and convenient location for high-tech, high-value manufacturing.

Latvia as a Regional Transit Point

Situated on the EU's eastern border with Russia and Belarus, two million-strong Latvia is one of the main transit points for both north-south and east-west trade flows. It connects not only the EU with the CIS countries and Asia, but also markets further afield such as the Americas. Accounting for 8% of GDP and more than 8% of employment in 2014, the transit and storage sector remains one of the country's strongest. It is estimated that nearly 90% of the turnover in Latvian ports, more than 80% of Latvia's rail cargo and a large proportion of its oil and oil products transported via trunk pipeline systems are in transit. Such a pivotal role gives Latvia the region's busiest airport and several of its leading seaports.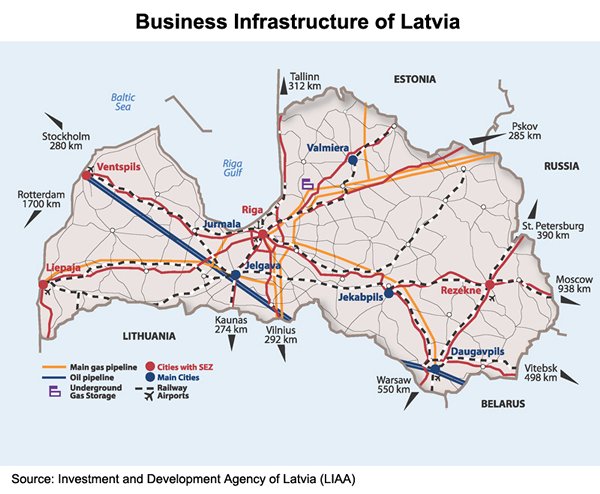 Contributing almost 3% of GDP and supporting 2% of jobs in Latvia, Riga International Airport (RIX) is the regional air hub in the Baltics for both cargo and passengers, connecting to 69 destinations in winter and 89 destinations in summer. With traffic bigger than that of Lithuania and Estonia combined, RIX welcomed a record number of 5,162,675 passengers in 2015, exceeding the 5.1 million passengers registered in 2011. Popular destinations included London, Moscow, Frankfurt, Oslo and Helsinki.

Based at RIX, Latvia's national airline airBaltic offers easy connections from Riga to over 60 destinations spanning the European Union, Scandinavia, Russia, CIS and the Middle East. Last year, airBaltic opened 14 new routes for the Baltic region – the largest expansion since completing restructuring and achieving profitability in 2013. In addition to a new highlight in Reykjavik, Iceland and the enhancement of the existing network around the Baltic Sea in 2016, direct flights between Riga and Chengdu, China are also in the pipeline, in accordance with the Memorandum of Understanding (MOU) for transport cooperation signed between Latvia and Chengdu municipality in September 2015.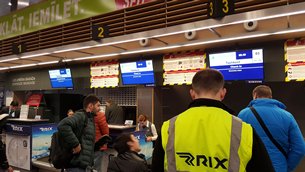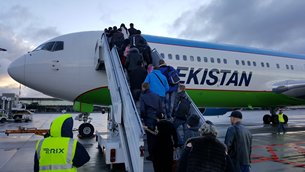 Having a keen eye on Asia for a suitable strategic partner for the national airline, the Latvian government has been in talks with a variety of aircraft manufacturing firms in China, and with two South Korean airlines – Korean Air (KE) and Asiana Airlines (OZ) – over possible cooperation. This accords with the shared development goals of governments in Asia and Latvia in terms of increasing global connectivity.

To this end, Latvia has been paying special attention to its integration with the Trans-European transport network through the development of short sea shipping (such as roll-on/roll-off or "ro-ro" shipping) across the Baltic Sea and multimodal transport infrastructure such as railways and logistics and distribution parks.

Thanks to the former Soviet Union railway-gauge standards, which have been in operation in Latvia for many decades, the country is readily connectible to Asia-Europe rail trade arteries coming to and from Japan and Southeast Asia through the Russian Far East. Such a role will strengthen as the Second Eurasian Land Bridge takes shape and new railway routes better complement existing services. To this end, the growing multimodal freight logistics options between Europe and China facilitated by Kazakhstan Railways and the ongoing "Rail Baltica" project to improve railway connections between Central and Northern Europe, and Germany, give supply chain professionals all the more reason to consider Latvia.

Forming part of the first pan-European transport corridor connecting Finland and the Baltic states to Poland and Western Europe, the Via Baltica (route E67) is the most important transport corridor traversing Latvia in a north-south direction. Given that maintenance funds are collected from excise tax on fuel and vehicle registration fees, all roads, including the Via Baltica, are public and toll-free in Latvia. Along with the financial support from the EU for road improvement, this gives logistics companies another attractive component in their multimodal transport operations.

According to Kreiss International Frigo Transportation, one of the biggest fleet operators in the Scandinavian and Baltic region, Latvia's logistics cluster is ready to partner with Hong Kong and Asian logistics players to welcome the growing cargo flows expected from the BRI. Running a fleet of more than 1,200 trucks and more than 1 million full truck loads in 2014, Kreiss has extensive experience of bringing in goods from such far-flung markets as Portugal, Spain, Morocco and North Africa and delivering to Scandinavia, Russia and Central and Western Asia.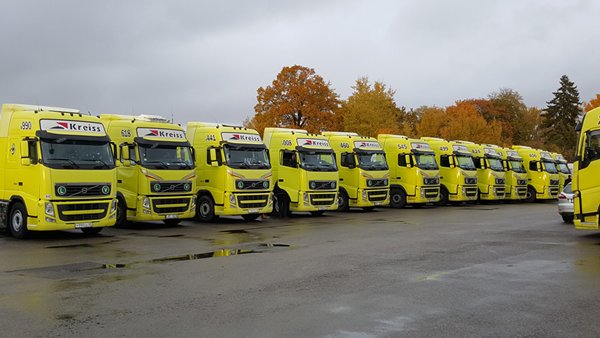 Furthermore, while Latvian trucks cannot drive directly into China, many Latvian forwarding companies have set up branches, affiliated companies or distribution centres in Russia and Kazakhstan to handle cargo coming from the Far East. In the case of Kreiss, some 1,000 trucks can be quickly deployed to connect goods from the Sino-Kazakh border if demand arises. As an authorised cargo transport company for non-military NATO cargo in Afghanistan and a regular freight forwarder for telecommunications equipment heading from Scandinavia to Iran, Kreiss is optimistic about the unblocking of Asia-Europe trade relations brought by the BRI.

Last but not least, the three major ice-free ports – namely Ventspils, Riga (handling mainly coal, forestry products and containerised cargo) and Liepaja (coal, forestry products and metals) – are an important component of Latvia's multimodal transport infrastructure. Ventspils offers the shortest ferry trip to Sweden in the Baltics (approximately 60km from Stockholm) and ready connection to one of the longest European road routes – the two-track E22, which runs from the UK to Russia and other CIS countries. It also boasts a transshipment hub not only for commodity exports from Russia and CIS countries, such as coal, oil, chemicals, minerals, grains and fertilisers, but also general cargo and regular ro-ro to and from Scandinavia (Nynäshamn, Sweden) and Central Europe (Travemünde, Germany).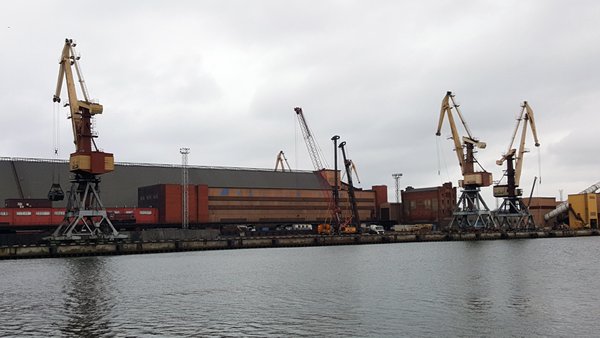 As one of the four special economic zones in Latvia, Ventspils enjoys favourable incentive schemes for new business such as 80% relief on direct taxes (corporate income tax and real estate tax) and significant discounts on VAT and excise tax. It has aroused the interests of a number of Chinese investors to assess the possibilities of setting up a logistics and distribution centre there for better supply chain management and timelier support/after-sales services to both buyers (EU companies buying from China) and suppliers (Chinese companies selling to the EU).

The free-zone status is also attractive to non-EU manufacturers – including those from Asia, Russia and CIS countries – looking to set up plants for local production or assembly. This means they can enjoy "Made in the EU" status and are therefore exempt not only from import tariffs but also anti-dumping and countervailing controversies or even trade sanctions such as those in place between the EU and Russia.

Latvia as a Financial Partner

Despite its small domestic market, Latvia has a diverse economy. With limited natural resources, however, it relies heavily on the services sector. Aside from logistics, finance and green technology are among the bright spots for Hong Kong companies looking for opportunities in the Baltic country.

In the wake of the economic crisis of 2008, Latvia has implemented several pro-business reforms, with a focus on developing itself into an investment destination, including adopting the euro as its currency on 1 January 2014. These measures, together with the 16+1 formula promoting regional co-operation between Central and Eastern Europe and China and the ongoing negotiation of a CDTA with Hong Kong, is set to make business and trade co-operation between Hong Kong and Latvia flourish.

Taking advantage of this growing momentum, several Latvian banks – ABLV and Expobank – have established formal representation in Hong Kong. Their operations in the SAR remain largely related to their Russian and CIS clients' payments to and from China. However Expobank has chosen Hong Kong for its debut in Asia and is applying for a banking licence to prepare for broader business coverage, including international clients such as traders who need banking services in the Baltics, the CIS and Russia.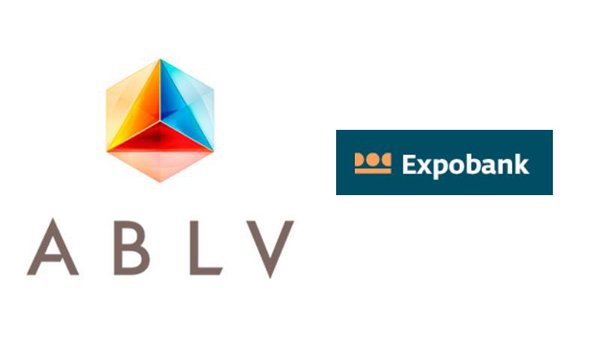 Nowadays, with EU and US banks becoming generally more risk-averse towards Russian clients, Latvia, with 38% of residents claiming Russian as their mother tongue, can provide partners for Hong Kong banks and financial institutions to conduct due diligence investigations such as know your customer (KYC) and anti-money laundering (AML) requirements on Russian and CIS clients.

On the other hand, Latvian companies are small in size and capital. It is estimated that even the top-10 Latvian companies do not have enough capital to list in Hong Kong. With a typical project size of around €5-25 million (HK$43-213 million) Latvia is therefore not very attractive to state-controlled Chinese investors who are looking for big projects such as container terminals, distribution centres, and electronics and F&B (food and beverage) processing facilities. To attract smart money and angel funding, Latvian companies, despite their small size, need to make themselves visible to prospective investors. In this regard, Hong Kong can be an ideal platform for Latvian project owners to look for cooperation opportunities with Asian investors hunting for investment projects of different sizes.

Latvia as a Green Tech Supplier

Recognised as one of the greenest countries in the world, Latvia is active in promoting green technology in everything from recycling technologies to smart grid technologies. Getliņi EKO was created in 1997 to run the largest waste treatment project in the Baltic States – the Getliņi waste landfill (which has been in operation since the beginning of the 1970s) – and turn it into a modern waste management site that generates electricity by collecting methane gas from the decomposing garbage in the landfill. The company has been developing new technologies capable of being deployed elsewhere.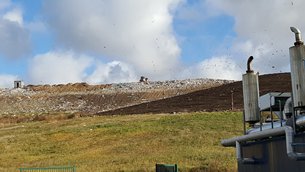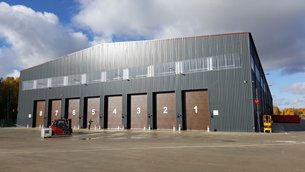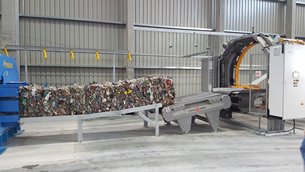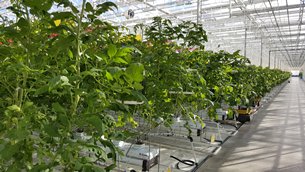 Handling half of the country's rubbish by accepting solid municipal waste from private and corporate clients every day within the Riga waste management area from 7am till 10pm, Getliņi EKO Ltd is focused on achieving three inter-related goals in the waste management process – reducing air pollution from methane gas, preventing ground water pollution and modernising the Getliņi landfill.

As the first company in Latvia to introduce full utilisation of methane gas from the landfill for production of electricity via internal combustion engines, Getliņi EKO has transformed the Getliņi landfill from being a rat-infested health hazard – once an obstacle to Latvia's EU membership. Now, more than 450 tonnes of yellow tomatoes are grown with the heat generated from the cooling of the energy generators, with the facility now acting as a model of good practice in waste management for EU policymakers to promote. Following the opening of a recycling factory near the landfill site in October 2015, Getliņi EKO has a new, 10-year goal of reusing up to 90% of the waste deposited in the Getliņi ecological landfill every year and better, earlier sorting of recyclable materials.

With solid waste management becoming an increasing challenge for governments in developing countries amid fast-paced urbanisation, Latvia's experience offers an example to follow. Indeed, Getliņi EKO is ready to export its business model and provide consultancy services covering everything from the establishment of landfills and the installation of energy generation and ground water purification devices to design, securing financing and ultimately construction and operation.

In all likelihood, Latvia's green solutions can suit the needs of many BRI countries where solid waste management (including sewage treatment) and heating for agricultural and even industrial purposes are common headaches. In terms of facilitating technology transfer and the development of new applications in new scenarios, especially the Chinese mainland, Hong Kong offers a ready platform for facilitators such as Latvian banks (which have representation in Hong Kong) to approach prospective clients from China and other parts of Asia.

Latvia as a Production Base
Despite the dominance of services, Latvia, given its competitive land and labour costs and tariff-free access to the 500 million-plus consumers living in the EU, can be a cost-effective and convenient location for high-tech, high-value manufacturing. An extension of the Tongyu Group's facilities in Guangdong, Tongyu Communication is the company's first manufacturing project overseas, in Riga. There it has built an assembly plant making quality microwave antenna products using key components imported from the group's factory in Guangdong since 2014.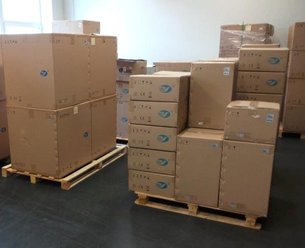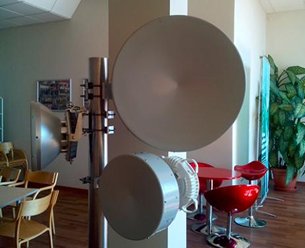 Fully compliant with EU standards, the assembly plant in Riga enables the company to provide European clients with Ex Works Riga (EU) invoicing and extended technical design and R&D services from its headquarters in Guangdong. Technical and logistics support have also become far easier to provide, not just in the EU market, but also to Russia, the CIS and other nearby markets.

Given the rising production costs in the Chinese mainland and the enhanced connectivity promoted under the BRI, more and more manufacturers (including those run by Hong Kong entrepreneurs) on the mainland will likely consider the feasibility of relocating their value-added production closer to final markets such as the EU. This will also help them to stay competitive in terms of response time and after-sale services.

Latvia, thanks to its cost advantages to investors, as well as its competitive tax rates (including incentives for R&D and state credit guarantee to foreign investors), can be considered an attractive option in the EU for firms considering relocating parts of their manufacturing.
Finance & Investment
Logistics & Supply Chain
Environmental Protection