https://origin.hkmb.hktdc.com/en/1X0A5JKV
Lithuania: A Maritime Link between East and West
As the largest country among the Baltic States in terms of population, territory and size of economy, Lithuania has been the largest recipient of China's outbound direct investment (ODI) in the Baltics in recent years. Home to the region's largest container port and its largest retail chain, Lithuania provides an important maritime and distribution link not only to the Western markets of the EU and Scandinavia, but also the Eastern markets of Russia and other former Soviet states. The recent decision by China Merchants Group (CMG) to invest in the Klaipeda Container Terminal and the Kaunas Free Economic Zone, as well as a joint venture to develop the Klaipeda-Minsk rail corridor and a "One Belt, One Road Cooperation Centre" in the country, are notable examples of how Lithuania is becoming a crucial link between East and West under the Belt and Road Initiative (BRI).

The fastest-growing economy and the largest recipient of China's ODI in the Baltics

Boasting nearly half of the region's population and GDP, Lithuania is the largest and southernmost of the three Baltic States. Thanks to its extensive liberalisation and privatisation programmes initiated after independence in 1991 and the benefits gained from accession to the EU in 2004, Lithuania has enjoyed robust growth. Since 2004, it has had the fastest growth of the three Baltic states, and its average growth of 3.4% between 2004 and 2015 mean it has outpaced not only Latvia and Estonia, but the EU, (which registered, on average, only 1.3% growth over the same period) as a whole.


Given its larger population and industrial base relative to the other Baltic nations, Lithuania has been a magnet for foreign investment. While the Nordic countries (Denmark, Finland, Norway and Sweden), the US, the UK and Germany remain the top investors in Lithuania, China's investment in the country witnessed a massive increase of 218% over the decade ending 2014. Now accounting for more than 75% of China's outbound direct investment (ODI) in the Baltics, Lithuania has seen ever-rising interest from Chinese investors, especially in the manufacturing, technology and IT sectors, with first-movers including Huawei and ZTE. The growing presence of Chinese enterprises in Lithuania prompted the establishment of the Lithuania-China Business Council in January 2014 to further promote bilateral investments between the two countries.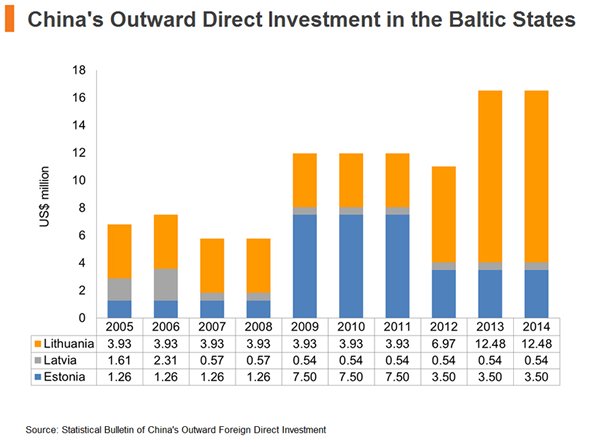 The Council's membership encompasses such diverse players as the North China Power Engineering Co., Ltd. (NCPE[1]), which is part of the China Power Engineering Consulting Group, Hanil Exhibition & Planning Co., Ltd, the ALITA Group (alcoholic beverages), LITEXPO (exhibitions and conferences), the management company of Klaipeda Free Economic Zone and the Lithuanian Association of Sea Stevedore Companies.

Sino-Lithuanian investment will likely extend further with the gradual implementation of the BRI. There have already been some clear signals showing China's intention to partner with Lithuania for long-term investment projects related to the BRI, including the "One Belt, One Road Cooperation Centre", an industrial park in Minsk (the capital of neighbouring Belarus), a container terminal at the Port of Klaipeda (the largest in the Baltic region) and a rail corridor linking Klaipeda (Lithuania's third-largest city) and Minsk.

The largest container port in the Baltic region

Despite a 3% year-on-year decrease in general cargo turnover, the Lithuanian Port of Klaipeda registered record overall cargo turnover (including general, liquid, dry and bulk cargo) in 2015, as it reached 38.51 million tonnes, up 5.8% on 2014 and 5.2% higher than the previous record of 36.59 million tonnes achieved in 2011. As the region's biggest container port, the Port of Klaipeda handled 392,000 TEUs (twenty-foot equivalent units) in 2015, compared to 355,000 in the Port of Riga and 208, 000 in the Port of Tallinn.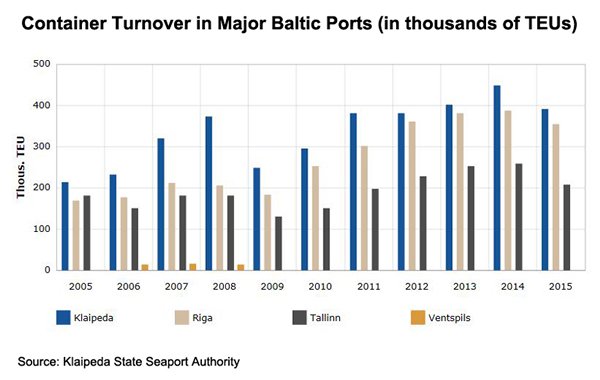 Many Asian manufacturers, especially Chinese enterprises, are looking to take advantage of lower production costs in inexpensive overseas labour markets. As they have tried to get closer to the EU market, CIS countries such as Kazakhstan, Belarus and Ukraine have become favourable options for both Asian and EU companies who had previously produced their goods in coastal China.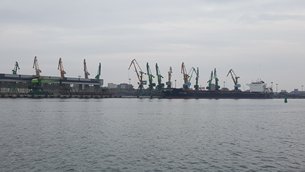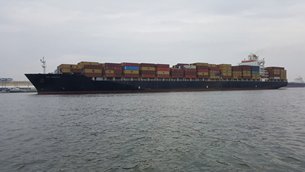 With the strengthening of intra-regional road and rail connectivity, attractive alternative cargo routes to and from China are now possible and are becoming a catalyst for drawing freight traffic to Lithuania for distribution in Europe, especially Scandinavia. With ocean freight, it takes on average 35-45 days for goods shipped from Coastal China to arrive at the Port of Klaipeda by sea, while the enhanced Eurasian rail routes such as the Yuxinou railway (a freight rail route linking southwest China with Germany) can shorten this to 15-18 days. It is true that rail transport can easily cost 80-100% more than sea shipping; however, the alternative land routes remain attractive for cargo that is not so urgent that it must be shipped by air, but time sensitive enough that shipping by sea would be too long.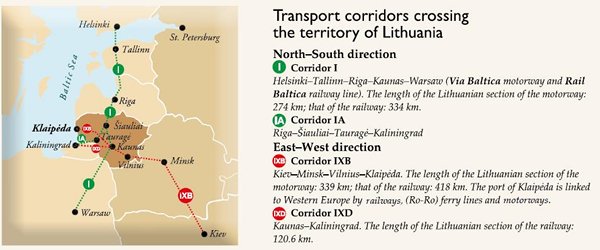 In conjunction with the development of the New Silk Road Economic Belt (SREB), this gives the Port of Klaipeda an unrivalled advantage as it provides the shortest connection with industrial regions in Russia, Belarus and Ukraine. Investment incentives such as tax breaks on corporate incomes, dividends and real estate offered in the Klaipeda Free Economic Zone (FEZ), one of seven special economic zones in Lithuania, are also attractive.

According to the Klaipeda FEZ Management Company, companies from Thailand are now producing plastic products and Japanese businesses are producing electronics for trucks operating in the FEZ. It also makes good business sense for Chinese investors to set up their logistics, production, warehousing and services units (excluding banking and finance) to better serve the Baltics, Scandinavia and the rest of Europe, given both the strategic location and generous investment incentives available.

Last year, the China Merchants Group (CMG) – one of China's largest state-owned enterprises and a leading port operator – signed several agreements with the Klaipeda port authority, the Klaipeda FEZ and the Lithuanian Railways. Its investments will see it become a partner for the port's future development, establish a logistics park for Chinese manufacturers in Klaipeda and also a logistics joint venture to handle freight transportation between Lithuania, Belarus and China.

These investment initiatives, together with the CMG's ongoing plan to enhance cooperation between the FEZ in Kaunas, Lithuania's second largest city, and the Industrial Park Great Stone near Minsk, are clear signs of the country's strategic importance in conjunction with New Silk Road developments. In addition, the heavy reliance of Belarus on the port of Klaipeda will create a new wave of business opportunities for regional supply chain operations.

According to Lithuanian Prime Minister Algirdas Butkevičius, CMG has shown a clear intention to choose Lithuania as a partner for implementation of the BRI. CMG has plans to set up a "One Belt, One Road Cooperation Centre" in Lithuania to better coordinate the increasing and more diversified (away from fertilisers, oil products, grains and minerals) flow of freight passing through Lithuania from other Belt and Road countries, for example landlocked countries in Central Asia.

Other BRI benefits and opportunities

Besides the opportunities stemming from the ongoing improvements in multimodal connectivity and deepening Sino-Lithuanian cooperation under the BRI, Lithuania is also striving to boost its export competitiveness through product and market diversification.

Riding on a solid foundation in industries such as electronics, chemicals, machinery, textiles, apparel and food processing under the Soviet regime, Lithuania excels in many different fields of engineering and technology, including cutting-edge life sciences and biotechnology related to innovative cancer treatments and scientific laser applications.

Some Lithuanian companies, such as those developing laser technology, have already successfully made inroads into the Chinese mainland market. However many remain hesitant to make their debuts for fear of intellectual property difficulties and the massive marketing inputs required by such a vast market.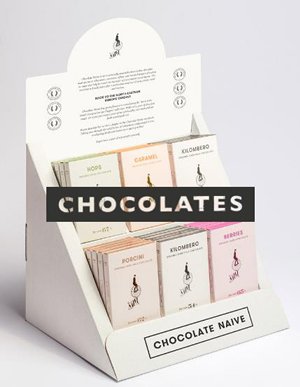 To this end, Hong Kong can be an ideal marketplace and IP trading hub in Asia for Lithuanian technology companies, while professional services providers such as intellectual property law firms and multi-disciplinary branding and marketing agencies (both local and international) can be ready partners.

Aside from technology, Lithuania has also been promoting a number of consumer goods that may hold promise for export to Asia. In addition to Baltic amber, which is key to Lithuania's national heritage, organic cosmetics (BIOK laboratorija) and food and beverage items such as natural mineral water (Vytautas, Birutė, Akvilė), chocolates (Chocolate Naive), beer (Svyturys), cheese (Dziugas), liqueur (Stumbras 999), sparkling wine (Apriori), cider (KISS), cold meats, cereals and condensed milk are among the country's products believed to be marketable in Asia, particularly the Chinese mainland market.

According to the Chemcentral Group – the agent for Svyturys Beer and BIOK cosmetics in Hong Kong and the Chinese mainland – many Lithuanian consumer goods companies are looking for new markets but generally find it difficult to handle the intricate marketing and distribution dynamics abroad.

When selling to Asia, the problems Lithuanian companies encounter usually relate to limited fulfillment capacity, brand recognition and product standards compliance. In line with the country's positioning as a niche supplier of high-quality products (instead of a mass-market supplier), Lithuanian products, especially food and beverages, may not be price competitive in Asia where many well-established brands from developed markets such as Western Europe, Australia and the US have long been known and consumed.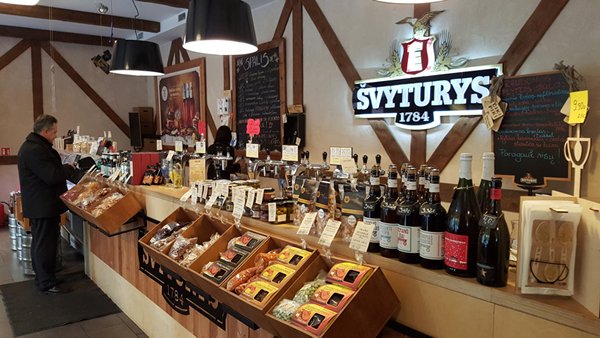 To overcome this difficulty, Lithuanian companies are taking advantage of fairs and exhibitions in Hong Kong to better promote their products and brands in Asia, where people are seeing ongoing improvement in their living standards. Also, by appointing agents and/or distributors in the city, Lithuanian companies are in a better position to calibrate their regional distribution strategies and handle product-specific issues such as labelling, product testing and even trademark registration.
---
[1] It is a large state-owned enterprise specialising in engineering survey and design, engineering consultation and general contracting.