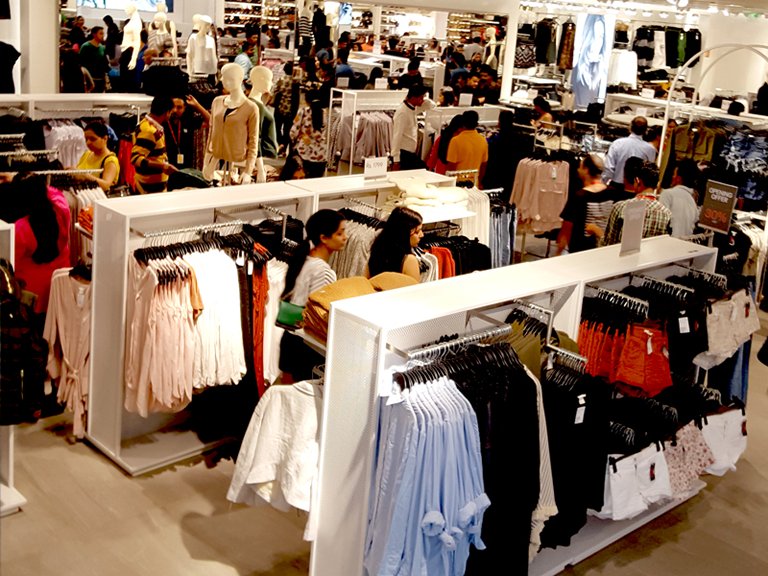 https://origin.hkmb.hktdc.com/en/1X0A5YVB
Make in India: Domestic Sales Opportunities for Hong Kong Garment Companies Considering Factory Relocation
India offers not only an increasingly maturing environment for garment production, but also the added advantage of domestic sales.
India offers not only an increasingly maturing environment for garment production for Hong Kong companies considering relocation of their factories from Southern China, but also the opportunity of selling into a huge potential domestic market of 1.2 billion people. This article, the fourth of HKTDC Research's India series, looks at the drivers of India's garment market, including the ongoing reforms to indirect tax, which have a clear bearing on domestic sales and the wider economy.
India Sells More Garments in Local Than Overseas Markets
India's textiles and apparel industry is valued at more than US$100 billion. Domestic demand is the major contributor and accounts for more than 60% of the industry's total output, which is expected to increase by 6% during the fiscal year ending March 2016 (FY2015-16) and estimated to reach US$100 billion by 2017, up from US$67 billion in FY2013-2014.[1]
The growth of India's retail market, of which apparel sales are an important part, has been driven by the country's phenomenal economic growth over the past decade or so amid a surge in business processing outsourcing (BPO) activity, which has quickly fueled a growing middle-class in India. For the apparel market, there has been an increasing penetration of apparel brands, both local and international, through traditional as well as e-commerce channels, with strong domestic sales during major Indian festivals.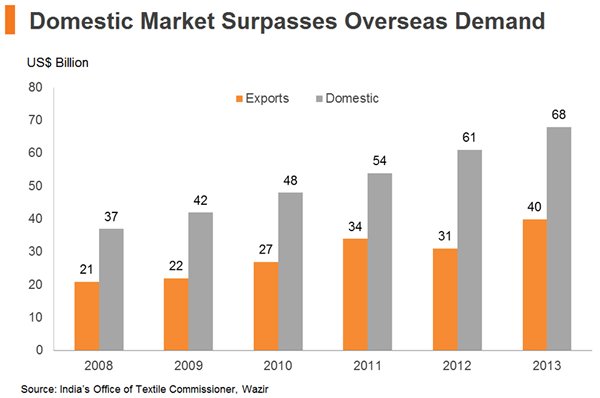 During an HKTDC Research trip to India, interviews with local garment manufacturers and associations invariably pointed to the importance of the domestic market in India. Meanwhile, less than one-tenth of India's retail sales are in the organised sector, which includes department and chain stores selling a lot of branded apparel from local and international fashion houses, including Raymonds, Gap and H&M. Rather, it is the thousands of micro, small and midsize enterprises (MSMEs) that have come to supply the lion's share of India's unorganised retail market with garment products.
Indian Apparel Makers More Focused on Domestic Market

For a long time, Indian garment manufacturers have predominantly placed their attention on the domestic market, as most of the country's MSME suppliers have not acquired the sophistication and supply chain management capability to produce export-grade garments. Further, they are situated close to the small-scale weaving entities scattered over various Indian states, which makes it easier and more expedient to target local rather than export markets. Among the apparel exporters, many of them produce within India's special textile parks and export processing zones (EPZs), which offer tax incentives for exports including 100% VAT rebates on exports made of Indian-originating materials.[2]

As noted in the third article in this series, Make in India: Production Relocation Opportunities for Hong Kong Garment Companies, Indian apparel exports are subject to relatively high tariffs compared to some developing economies in Asia. Nonetheless, these import duties by themselves have not turned out to be a big deterrent to the surge in exports of textile and apparel products from India during FY2012-2014.[3] India is among the top five apparel exporters in Asia, ranking second in the world in terms of its combined textile and apparel exports.

Thanks to such arrangements as GSP and free trade agreements (FTAs), India enjoys a higher proportion of preferential exports than China to major markets including the US.[4] Nonetheless, India had been seen as being relatively sluggish in forging preferential trade and tax treaties, maintaining a stronger focus on steering its own textiles and apparel production to serve the domestic market. The most dramatic change came in September 2014, when the Narendra Modi government launched the 'Make In India Initiative' (MIII) with the clear goal of turning India into a global manufacturing hub, creating jobs and boosting exports. The textiles and apparel sector is one of 25 target sectors under the MIII. Under the automatic route, 100% FDI is allowed for garment manufacturing in India.

Overall, Indian merchandise imported into major markets is not subject to especially high tariffs. However, textile and apparel products are considered sensitive items in a country's import tariff lines, and are thus excluded from GSP. Also in the event of an FTA being concluded, there will normally be a fairly long phase-in tariff reduction schedule. Currently, most Indian textiles and apparel are subject to import tariffs of about 10%, which are similar to those applying to Chinese exports. This in part explains the keen interest of the Modi government in enhancing India's export competitiveness through securing an FTA with the EU, upgrading the FTA with ASEAN, and partaking in negotiations with Regional Comprehensive Economic Partnership (RCEP). The country is also not yet a member of the Trans-Pacific Partnership (TPP) arrangement.
India Operates a Complex Indirect Tax System Affecting Many Sectors
Like many countries, including China, India operates an indirect tax system comprising many taxation forms including excise duties, sales taxes, cess and VAT. This indirect tax system is notably complex, with a myriad levies being charged by the local, state and central governments. For example, an excise tax is levied on goods manufactured or produced in India under the authority of the Central Excise Act, 1944, with the precise excise rates specified under the Central Excise Tariff Act, 1985. Certain textile products such as yarns and fibres are chargeable under this Act. Additional excise duty is also levied under the Additional Duties of Excise (Textiles and Textile Articles) Act, 1978,[5] as well as the Miscellaneous Cess Act, both of which mandate collection of additional excise and cess for many products on top of the basic excise duty authorised by the Central Excise Act, 1944.
In short, all of this has strengthened calls for a substantial tax reform to replace indirect taxes with a single Goods and Services Tax (GST) that will be applied across all Indian states and territories. In February 2016, India's finance minister indicated that the central government is prepared to accept the demand from the opposition party that the proposed GST rate should not go beyond 18%. This has brightened prospects of an eventual passage of the GST, expected by the Modi government in the second half of the Parliament's Budget session in April 2016. GST implementation is expected to lower business compliance costs and enhance the ease of doing business in India, which has already made substantial improvement over the past two years in the World Bank's Ease of Doing Business rankings. Besides, a study by the National Council of Applied Economic Research (NCAER) predicts that roll out of GST will boost India's GDP growth by 1% to 2%.
Indian Garments Continue to Face Excise Levies Prior to GST Implementation
In the first half of the 2016 Union Budget, India's finance minister proposed reducing the basic excise duty from March 2016 on inputs relating to a variety of products, including textiles, IT hardware and capital goods. This attempt at excise duty rationalisation was seen as an essential step to promoting the MIII by providing economic incentives for relevant industry sectors.
While encouraging production of the relevant textile products, however, the Modi government also surprised many by raising the basic excise duty on branded garment articles with a retail sale price of more than US$15 (Rs.1,000) to 2% from nil (where there is no CENVAT credit) and to 12.5% from 6% (where CENVAT credit is availed),[6] regardless of the composition of the garment articles. This is expected to push up prices of the affected branded garments by about 2% to 5%, including many imported items being sold at between US$15 to US$38 a piece (or a price range of Rs.1,000-2,500). Further, the move has been lamented as bringing MSMEs engaged in garment manufacturing under the ambit of indirect tax, somewhat contradicting the central government's push for implementing tax reform. Prior to the full implementation of the GST, excise duties will continue to apply to relevant textile products.
Apparel Sales Expanding in India's Booming Retail Market
With the world's second largest population, India's retail market is not only one of the largest but also one of the fastest growing. Estimated at US$600 billion currently, the Indian retail market is projected to grow at an average annual growth rate of 12% to reach US$1,000 billion by 2020, with readymade garments (RMG) accounting for about 8% of the retail market. Aside from the rise of Indian middle-class consumers, a number of other factors are giving a fillip to the continued solid growth of RMG retail in India.
Changing Lifestyles and the Influx of Foreign Brands
With rising disposable incomes, India's middle-class families are broadening their clothing purchases. In India, clothing was traditionally or primarily acquired for work, home and special events such as wedding and festival celebrations. However, the past decade or so has witnessed a clear shift in the lifestyles of urban dwellers, driven by higher household incomes as well as discretionary spending. The rise of middle-class Indians has come hand in hand with quickening urbanisation rates in major Indian states and cities, and many shopping malls have opened. Nowadays, Indian people buy clothes for various occasions such as clubbing, parties and sports. They are also more willing to spend money on branded and higher quality clothing.
During HKTDC Research's trip to India, a lot more international apparel brands were found in shopping centres than when we last visited three years earlier. They can be found either operating their own stores or under the concession format in department stores. Just recently, US casual fashion retailer Aéropostale entered into a licensing agreement with Arvind Lifestyle Brands Ltd to open stand-alone stores in India, with 30 stores and 25 concessions locations planned over the next three years. It was also reported in March 2016 that The Walt Disney Co. was talking with India's DLF Brands to open a few large-format flagship stores and other outlets of different sizes, capitalising on the expanding demand for branded kids clothing, accessories and toys. Increasing brand identification and loyalty should also be welcome news for Hong Kong's garment suppliers and retailers, who are focussed on mid- to high-end products.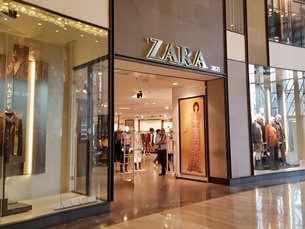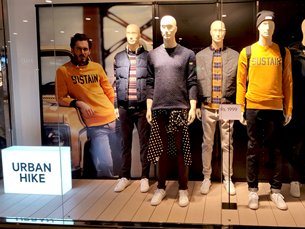 Growing Female Participation in the BPO Sector
The agricultural and textiles sectors are the top two employment sectors in India. HKTDC Research visited some garment factories in India and found that many garment workers were males, in contra-distinction to what is observed in many Southeast Asian countries. Nonetheless, HKTDC Research was informed that female workers in India's light manufacturing industries are on the rise, along with a growing shift into services as well as knowledge-based industries. However the overall female participation rate in India remains one of the lowest in Asia. According to the World Bank, less than 30% in Indian females aged 15 and older participated in the workforce in 2014, less than half of China's rate for the same year.
Despite a growing challenge from the Philippines in voice-based BPO services, India remains number one in overall BPO and IT-enabled services (ITES), which combine to provide numerous job opportunities with higher pay for Indian women. Many Indian women like to wear sarees, many of which are custom-tailored. HKTDC Research found that in Indian workplaces where many females put on traditional sarees, spending on branded apparel articles has also grown on the back of a higher degree of financial autonomy.
Indians are Big Spenders during Festival Seasons
India is a vast country with a great deal of diversity in cultures and religious practices among Indian states. For most Indians, the major festival season starts with Navaratri in early October, followed by Dussehra in mid-October, and Diwali, which is the biggest festival of the year. With many overseas Indians returning to the country and bringing with them western cultural influences, more and more Indians, especially those working in foreign corporations or having lived abroad, are also likely to celebrate during Christmas and the New Year periods.
As India's major festival season lasts for about three months, it also turns out to be a peak time for Indian consumers to splurge on discretionary purchases. HKTDC research found that before and during Diwali, department stores and lifestyle boutiques tend to step up their festive decorations and displays as well as providing special offers to encourage spending.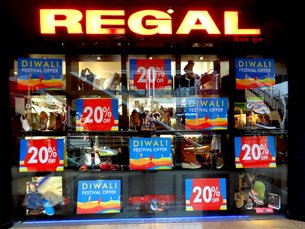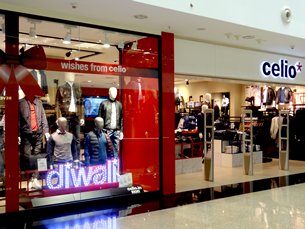 E-retailing an Increasingly Powerful RMG Sales Platform
As incomes in India rise, Indian consumers are increasingly inclined to make online purchases. In a report entitled Retail in the Era of the Connected Consumer published jointly with the Retailers Association of India in March 2016, AT Kearney found that Indian customers have entered an era of unprecedented technology adoption, with more than 300 million mobile Internet users. In 2015, there were 50 million online customers, and that figure is expected to more than triple to 160 million in 2017. The survey found that in response, some 93% of Indian retailers were keen to adopt new technologies, 69% read reviews of their outlets on mobile store apps, and 72% would use Visual Search, a facility which allows users to photograph a product and find out if it is in-store. A significant number of Indian retailers also showed a willingness to accept payments via digital wallets as an alternative to cash.
As noted above, the rise of middle class consumers has generated greater demand for brand products, but the emerging pervasiveness of online shopping is in fact making many middle-class consumers become less brand loyal, as they hop from one brand to another on online sales platforms. Indian consumers are price-sensitive on the whole, and will invest time in gathering information on product features and pricing. During the past two Diwali festivals, online sales platforms have been found offering discounted brand products more frequently than physical stores, which has successfully diverted some buyer traffic towards online purchases.
While online retail accounts for only a small portion of overall retail sales in India, it is worth noting that RMG ranks among the top three discretionary purchases in the country's e-commerce industry. In 2014, India's online sales for RMG and accessories were valued at US$560 million, with the turnover expected to surge to US$35 billion in 2020 to represent about one-third of total online sales.
On our field trip, HKTDC Research met with Myntra, a Bangalore-based online fashion retailer, which expects phenomenal growth in online apparel sales and has shut down its website in favour of the mobile platform in handling online sales. In May 2014, Myntra was acquired by e-commerce site Flipkart, as the latter expected RMG retail to be the next major area of growth, targeting a 60-70% share of Indian online fashion.
Currently, India allows 100% FDI in B2B ecommerce companies but bars it in the B2C segment. This has led to complaints by offline retailers that e-commerce sites including Flipkart, Amazon India and Snapdeal have violated this policy. The Modi government is expected to issue a clear definition of what constitutes an e-commerce marketplace in its FDI policy, in the hope of ending disputes over popular retail websites and encouraging entrepreneurship in cyberspace. This should also provide clarity for Hong Kong companies interested in online RMG sales in India, whether they are manufacturers, suppliers or e-commerce platform operators.
Challenges in Tapping India's RMG Market
Although India's domestic clothing market is full of potential, there are also challenges for those interested in exploring the market. As mentioned above, India is a country with diverse cultures and hence different consumer preferences. This implies that companies preparing to sell into the domestic RMG market will require a strong handle on consumer preferences, while also striking a proper balance between achieving lower average production costs through mass production and producing more customised products to suit different tastes.
During HKTDC Research's trip, some of the local garment manufacturers remarked that there is a need to modify their products to cater for varied consumer preferences in different regions of India. In other words, a greater variation in terms of style, colour and size of products is warranted and each lot manufactured for a particular product may therefore be smaller than might otherwise be the case.
As in many developing markets, HKTDC Research was not surprised by the pervasiveness of counterfeit products in India. These products can be found essentially in every shopping district in major Indian cities – their prices are low and quality is poor. According to a local garment association in India, the most popular counterfeit product category is clothing, followed by footwear and other accessories. International luxury brands such as Gucci, Louis Vuitton and Burberry are pirated frequently. The problem is found to be worsening amid ineffective implementation of anti-counterfeit measures.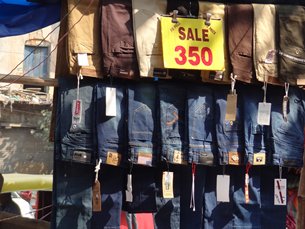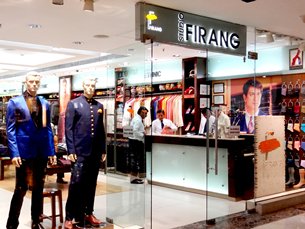 ---
[1] Official website of the Government of India's Make in India campaign
[2] India Briefing official website
[3] According to the WTO, Indian exports of clothing increased from US$13.9 billion to US$17.7 billion during the period of 2012-2014, while textiles exports surged from US$15.3 billion to US$18.4 billion.
[4] India's overall exports comprising textiles and apparel are only a fraction of Chinese exports in value terms.
[5] http://www.cbec.gov.in/htdocs-cbec/excise/cx-act/cx-addl-duties-act
[6] CENVAT Credit stands for Central Value Added Tax, a scheme introduced in India in 2004 to allow manufacturers to off-set the taxes paid on the inputs and capital goods used in making products.
Garments, Textiles & Accessories
India
Other Asian Countries