https://origin.hkmb.hktdc.com/en/1X0A6FBG
China's 13th Five-Year Plan: Smart Solutions Required to Upgrade Chinese Robots
China's 13th Five-Year Plan outlines that the country will launch a number of key scientific and technological projects in the course of upgrading its industries. This intention is echoed by the Made in China 2025 strategy, which the Chinese government issued last year. In particular, smart manufacturing and robotics are identified as key development areas in both documents. However, apart from certain high-tech and high-precision facilities, China has not developed robots "smart" enough to raise its production efficiency. It can therefore be expected that Chinese companies will look outside for standards and solutions developed by their foreign counterparts, including advanced countries like the US and certain European countries. Coupled with the fact that China is the world's largest market for industrial robots, all of this points to opportunities for relevant technology players and smart solution suppliers.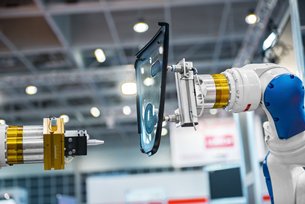 World's Largest Market for Robots
China's Ministry of Industry and Information announced in April 2016 that the Development Plan for the Robotics Industry (2016-2020) was issued[1], with the aim of accelerating the industry's development, enhancing production capacity and competitiveness, and strengthening the innovative capacity of the robotics industry in the next five years. In fact, China is already the world's largest market for industrial robots, accounting for about 28% of global unit sales in 2015 (66,000 units), according to the International Federation of Robotics.
Undoubtedly, the industry upgrade targets designated in the 13th Five-Year Plan will lead to a surge in demand for robotic facilities, which are considered crucial to enhancing the automation and efficiency of China's industries. It is forecast that total shipments to China will surge to 150,000 units by 2018, up from 57,000 units in 2014[2]. However, it is important to note that most of these industrial robots are currently supplied by foreign companies, including those with manufacturing facilities in China. In 2014, foreign suppliers accounted for 68% of shipments of industrial robots to China.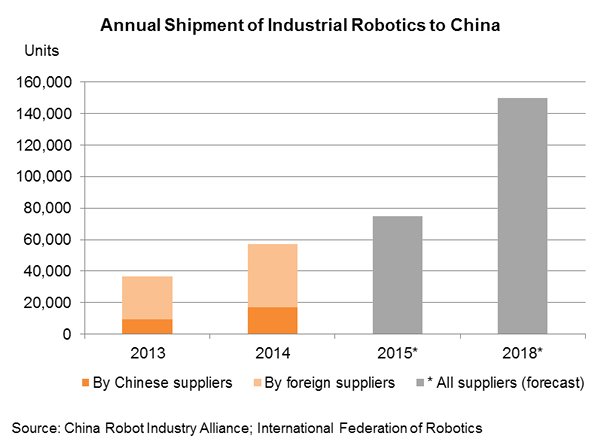 It is also worth noting that China's current level of industrial robotic automation is still far behind other advanced countries. Its robotic density[3] stood at around 36 in 2014, or about half the global average density of 66. This significantly lags behind the level of global leaders such as South Korea (478), Japan (314), Germany (292) and the US (164).[4] Therefore, if China is going to raise its levels of automation, this will certainly lead to surge in installation of robotic facilities, thereby creating enormous demand on the supply side.
Accelerated Installation of Robotic Facilities
The Development Plan explicitly calls for the accelerated development of China's robotics industry, as well as increased installation and application of robotics to general manufacturing activities. The Plan aims to raise China's robotic density above 150 by 2020. Along with Made in China 2025's targets to develop smart manufacturing, this will not only elicit huge demand for industrial robotic facilities, but also related parts, components and services.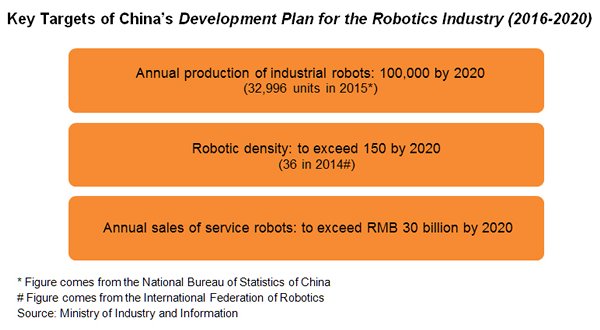 Various kinds of robots, as well as automation facilities, have been deployed in a wide range of production processes by Chinese enterprises for years. These range from, for example, pick-and-place automated machines for SMD processes in microelectronics assembly, to the robotic equipment used in fully-automated production lines in the automotive industry. However, such installed "robots" generally lack "smart" or intelligent elements. Moreover, the demand for robotic facilities still mainly comes from the automotive and electronics manufacturing industries. Other production activities on the whole tend to have greater reliance on standard machinery with hefty manual labour inputs.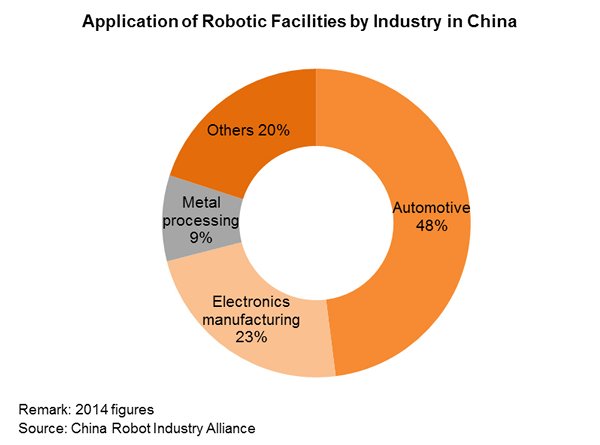 In view of dissipation of cheap labour bonus, and the government aims to raise production efficiency, it is therefore eager to boost the development of the country's robotics industry and facilitate the application of robotic processes to enhance industrial automation. However the Development Plan also points out a number of difficulties faced by the local robotics industry, including a lack of quality standards, a lack of core technology and a reliance on imported key parts and components. In addition, the robotics enterprises concerned are mainly small or medium-sized, with limited resources to undertake R&D activities.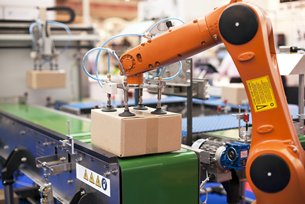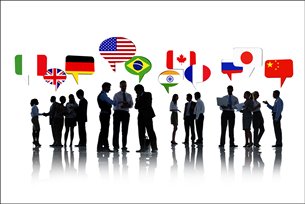 Tapping the Demand for High-tech Solutions
It is anticipated that in the years ahead, as China's industries upgrade, this will create huge demand for key parts and components for the production and installation of industrial robots and related automation facilities. Made in China 2025 outlines plans to foster the local production of such parts and components for most industrial machinery, setting a target of achieving 70% local production by 2025. However, such demand, including for certain high-tech and high-precision items is highly unlikely to be met fully by local enterprises, even in the medium term.
More importantly, China still lacks the standard solution to make robots "smart" enough to raise production efficiency, which is among the major objectives of Made in China 2025 to develop smart manufacturing capacity in the country. In this regard, it can be expected that Chinese enterprises will increasingly look outside for standards and solutions developed by their foreign counterparts, including advanced countries such as the US and certain European countries. This reality means there will be opportunities for relevant technology players and smart solution suppliers. While Hong Kong is the first port of call for Chinese mainland enterprises to go out seeking foreign partners, the strength of the technology sector and a conducive environment in the territory – including its sound protection of intellectual property rights – also make it an ideal place for foreign companies to tap into the Chinese mainland market.
(Remark: for further details about the opportunities stemming from Sino-foreign cooperation, please refer to the HKTDC research article China's 13th Five-Year Plan: Made in China 2025 and Industrie 4.0 Cooperative Opportunities)
---
[1] 《機器人產業發展規劃(2016-2020年)》
[2] Forecast of International Federation of Robotics
[3] Robotic density = robotic units per 100,000 employees
[4] Source: International Federation of Robotics
Technology
Electronics & Electrical Appliances
Mainland China
Mainland China