https://origin.hkmb.hktdc.com/en/1X0A73XU
Cross-border E-commerce: The Mainland Department Store that Became an Importer (Interview with Grandbuy)
Interview with Liang Hailing, General Manager, GBHui.com (e-commerce branch of Guangzhou Grandbuy Co Ltd)
"Grandbuy's high trustworthiness and large mid- to upmarket clientele have helped its e-commerce branch GBHui.com (GBHui) expand into the cross-border e-commerce importing business through GBHui's cross-border shopping platform," says Liang Hailing, General Manager of GBHui, as she shares with HKTDC Research the business model and operating experience of GBHui's cross-border shopping. She also explains how resources in Grandbuy's physical stores have been utilised in setting up "neighbourhood" experience stores to bolster consumer confidence in GBHui's cross-border shopping.
First-Mover Advantage in Online Shopping Market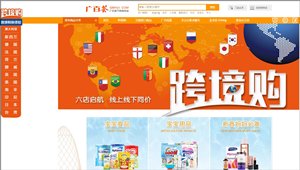 Guangzhou Grandbuy Co Ltd (Grandbuy Group) is a state-owned conglomerate with 25 department stores in Guangdong. As early as 2009, it set up igrandbuy.com (the predecessor of GBHui) to cater to online shopping and to serve as a channel for publicising the Grandbuy brand name and to display merchandise. As online shopping enthusiasm increased relentlessly, it set up an e-commerce branch in 2011 dedicated to running igrandbuy.com operations. In 2014, igrandbuy was renamed GBHui.
The positioning and operations of GBHui are entirely different to those of igrandbuy. "Previously, igrandbuy only served to supplement offline sales, but GBHui is now assuming the role of expanding into new business areas," says Liang. GBHui is not a branch store of Grandbuy, but an independent Grandbuy entity operating online." In 2014, seeing that cross-border e-commerce had become popular on the mainland, GBHui quickly seized on the opportunity and set up a team for its cross-border shopping business. By May 2015, the webpage GBHui's cross-border shopping was added to the GBHui website.
Clientele Consolidation Boosts Cross-border E-commerce Business
Liang points out that Grandbuy's many years of experience in running department stores, its solid clientele base and stable number of stores are definite advantages in GBHui's expansion into the cross-border e-commerce business. "Grandbuy's offline customers are mid- to high-income individuals whose pursuit of tasteful living and quality fit together well with those core consumers targeted in cross-border e-commerce business," she says. "Grandbuy boasts more than 800,000 members in its loyalty programme and this solid clientele base is the source of confidence for GBHui's expansion into cross-border shopping."
"Differentiated Operation" Strategy
Grandbuy's department stores are also selling merchandise imported under general trade, so GBHui's cross-border shopping business adopts a "differentiated operation" strategy to avoid head-on competition with the physical stores. "Take hot-selling merchandise like milk powder and diapers as examples," says Liang. "Even for the same brand, there are differences in place of production and in packaging. GBHui's cross-border shopping simply offers more choice to consumers."
Like Grandbuy's offline customers, GBHui's customers are also mid- to high-end. The addition of the GBHui's cross-border shopping webpage has enriched the range of products offered by GBHui, while the "differentiated operation" strategy has succeeded in driving up its overall sales volume. Previously, GBHui's hottest-selling items were mainly mid- to high-end electrical appliances, gold ornaments, and mother-and-child products. With the addition of GBHui's cross-border shopping, milk powder, cosmetics and household products have become the most popular imported cross-border goods.
Backed by "Neighbourhood" Experience Stores
As cross-border e-commerce goods are mostly connected with brands that are new to the mainland market, consumers may not be familiar with either the goods or the brands. Because of this, many consumers practice "showrooming" – examining the merchandise at a physical store and then buying it online. GBHui has therefore set up six cross-border shopping experience stores within Grandbuy department stores in Guangzhou, Panyu, Zhanjiang and Foshan to serve as "neighbourhood" experience stores by making use of Grandbuy's existing physical resources. As all Grandbuy department stores are located in prime shopping districts in Guangdong, the presence of cross-border shopping experience stores there makes it convenient for consumers to experience imported cross-border merchandise. Since some consumers find the transactions on cross-border e-commerce platforms more complicated than on ordinary online shopping websites, PCs are available at these experience stores to allow customers to place orders with the help of sales staff.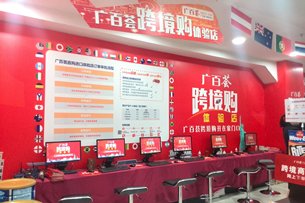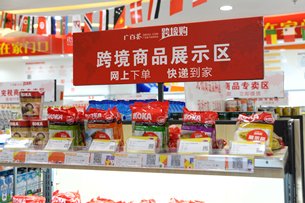 To consumers, GBHui's cross-border shopping experience stores not only offer convenience in proximity, but also represent part of Grandbuy Group's integrated operations. This is in contrast to some cross-border shopping centres where the presence of multiple operators gives rise to the phenomenon of "same product but different prices". Liang says that as well as its online shopping mall, GBHui is seriously developing mobile sales via channels such as the GBHui app and WeChat public account online mall in order to carry out multi-channel online sales. According to Liang's analysis, GBHui's advantages mainly lie in the following areas:
Grandbuy is a retail brand with high visibility and trustworthiness in southern China, and which has built a large community of mid- to high-end customers. Goods sold by Grandbuy are all genuine products and represent value for money. Because of this, its online shopping website has also found favour with customers.

Compared with other cross-border e-commerce platforms, GBHui has more cross-border shopping experience stores. Furthermore, they are all located in prime shopping districts. To consumers, the practice of "showrooming" in turn increases their buying desire and strengthens their confidence in the merchandise.

Capitalising on the resources of Grandbuy to source directly from brand owners or their agents can help to reduce intermediary costs and make the prices of merchandise more competitive. Furthermore, the fact that Grandbuy is a listed company of considerable size can strengthen the confidence of suppliers in collaborating with it.
The Operation Model of GBHui's Cross-Border Shopping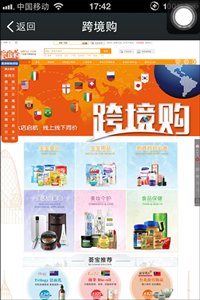 The sales turnover from GBHui's cross-border shopping currently accounts for 30-40% of the total turnover of GBHui's online sales. Almost 100 suppliers are now collaborating on the online platform, offering 1,000-2,000 SKU[1] of merchandise. Direct mailing imports account for 60% of the merchandise, which is mainly kept in warehouses in Hong Kong. Overseas suppliers also have the option of sending their goods to supply chain companies that are overseas partners of Grandbuy and would be responsible for onward distribution. Bonded imports account for the remaining 40% of the merchandise, which is kept in warehouses in Guangzhou, Dongguan or Chongqing.
Liang says GBHui wants to import more and better products into the mainland market. The company initially established relationships with suppliers through consulates and trade co-operation agencies of various countries, and by attending trade fairs in a bid to learn more about suppliers and products. Liang says the company has established co-operative relationships with several Hong Kong companies, which supply goods such as health products, beauty products, etc.
Most of the goods on sale at GBHui's cross-border shopping webpage are secured on a consignment basis, with a fee charged according to the type of goods and the brand concerned. Settlement is flexible and can be made on a weekly or monthly basis depending on contract stipulations. GBHui will also get some goods that are very attractive and competitively priced through outright buying. The supplier is responsible for any return due to quality problems or expiry of shelf life, and the shipping party is responsible for any loss during transit. Liang says Grandbuy picks its suppliers based on the following:
Proof of origin of merchandise: A supplier has to provide proof of company credentials, proof of brand owner authorisation, and logistics evidence such as shipment documents starting from ex-factory delivery onwards.

Stability of supply: A supplier should have a stable supply of goods to avoid stock disruptions. Unless under special circumstances such as extreme weather conditions or customs hold-ups, Grandbuy may charge for appropriate compensation against losses due to stock disruption.

Extensive product range: If a supplier owns/represents a number of brands or owns/represents a number of products, operation costs could be lowered.
Publicity and Promotion
Liang says companies new to the mainland market would be advised to position their brands and products through promotion activities, such as online-offline joint promotions, publicity staged in the experience zones inside physical stores (such as posters, hanging banners and streamers), light-box advertising or road shows. Taking Grandbuy Group as an example, Liang says: "Every year Grandbuy will involve its offline stores and its online mall in four major activities, including Grandbuy Nights in March and November, Grandbuy Tourism Festival in July and Grandbuy Wedding Festival in September, all of which are effective in driving sales for the group."
Opportunities for Hong Kong Companies
Liang says that Hong Kong companies, with their rich resources in external trade, can scour the world for superior sources of merchandise and help to bring in more foreign products to the mainland market. She believes that, compared to foreign peers, Hong Kong businesspeople have a similar culture and habits to people on the mainland. Together with their extensive experience working with foreign companies, Hong Kong businesspeople are well positioned to act as connectors between foreign and mainland enterprises.
---
[1] SKU: Stock Keeping Unit.
Mainland China
Mainland China