https://origin.hkmb.hktdc.com/en/1X0A75J2
Cross-border E-commerce: The Shop-in-Shop Experience of One Mainland Supermarket (Interview with Vanguard)
Interview with Michael Li, General Manager, Shenzhen China Resources Vanguard E-Commerce Co. Ltd.
"While traceable quality assurance for cross-border imports can increase consumer confidence in the products, the group's business model can improve the quality of supply chain management and help improve operational efficiency," says Michael Li, Shenzhen China Resources Vanguard (CRV) E-Commerce General Manager. "Focusing on cross-border shopping, China Resources Vanguard's flagship online shopping mall, ewj.com, takes traditional supermarket retailing towards the era of cross-border e-commerce." Li shares the operational experience of ewj.com, which may be of reference value to companies looking to enter the mainland cross-border e-commerce retail market.
Cross-Border Shopping Platform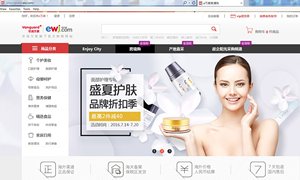 China's online retail sales in 2015 amounted to RMB3,242 billion – 10.8% of the total retail sales of RMB30,093 billion, according to China's National Bureau of Statistics. The figures show that online shopping has gradually become a habit for mainland consumers. In view of this, the traditional retail industry has to expand online sales and adopt the online-to-offline (O2O) business model. CRV's online shopping website ewj.com began operating in June 2015, with a dedicated cross-border shopping platform (global.ewj.com) to facilitate cross-border sales of imported goods.
Vanguard stores mainly sell fresh food, which Li says provides a challenge for online sales, especially with buyers spanning the whole country. Consumers are used to selecting fresh produce from the market, and rarely choose to do so online. For business operators, while the unit price of fresh food is not high, the delivery requirements are strict, often involving cold-chain logistics and distribution methods, for example. And the greater the distribution range, the higher the cost, making it difficult for businesses to make a profit.
Taking this into account, ewj.com has adopted a "differentiation" strategy, selling mainly daily household items, such as cosmetics, mother-and-baby goods, kitchen and bathroom supplies, packaged food and small appliances. For these goods, delivery is convenient and costs are easier to control. To satisfy the multi-level shopping needs of consumers, ewj.com's cross-border shopping platform also sells imported beauty products, mother-and-baby goods and personal-care items.
O2O Integration and Connectivity
Li says that after a year of operation, ewj.com needs to actively expand its customer base through O2O interaction, as it is still considered to be a new brand in e-commerce. For example, promotions can be carried out in Vanguard supermarkets in order to strengthen ewj.com's branding, taking customers from the offline sphere to the online shops.
To further take advantage of the company's network of stores, cross-border goods areas have been set up in selected Vanguard supermarkets, with an equal number of bonded goods on exhibition and duty-paid goods for sale. Li says cross-border goods areas are available in more than 20 supermarkets, each with about 200-300 SKU (stock keeping unit) bonded imports on exhibition. These goods can be purchased through the ewj.com cross-border shopping platform and, after customs clearance, delivered to consumers' doors. Customers can take immediate delivery of the duty-paid goods on sale. The entire cross-border goods area has a total of 500-600 SKU goods.
Meanwhile, the ewj.com cross-border shopping platform has opened a 500-square-metre experience shop in the Haiyun Building in Qianhai, Shenzhen, showcasing baby skincare products, leisure snacks, nutritional supplements, and health products, among other items.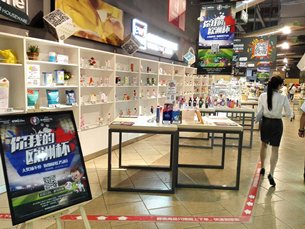 A Predominantly Female Clientele
The ewj.com cross-border shopping platform attracts clientele mainly from first- and second-tier cities, some of which overlap with the prime locations of Vanguard supermarkets, including Shenzhen, Beijing, Guangzhou, Hangzhou, Nanjing, Tianjin, Xi'an and Nanchang. Consumers of the ewj.com cross-border shopping platform are mainly young people, the majority being female. Li says the most popular product categories of cross-border shopping relate to women's products, such as beauty and skincare, mother-and-baby and personal-care items.
Warehouse Location Planning
Ewj.com has set up bonded warehouses in Shenzhen, Guangzhou and Tianjin, with different goods stored in warehouse in different cities. Li says that to meet the demand of the south China market, food supplies and beauty products dominate the Shenzhen Qianhai bonded warehouse. Nansha bonded warehouse in Guangzhou is the prime location for milk, as it is mainly imported by air through the city's Baiyun International Airport. Tianjin bonded warehouse is being prepared for future collaboration with South Korean companies. It also specialises in preparing cargo for sea-land multi-modal transport connecting Europe. CRV also has warehouses in Hong Kong, mainly for storing bulk cargo and keeping stock for Hong Kong suppliers. Logistics and transport are arranged once inventories reach certain levels.
Advantages of ewj.com
Compared to other e-commerce platforms that have been operating for many years, ewj.com does not have a large customer base. However, its strengths lie in the following three areas:
Specialised procurement: With access to a huge overseas supply chain, ewj.com can make use of the procurement resources of CRV Hong Kong as well as Tesco. The group's direct procurement mode allows direct connection with high-quality goods suppliers.

Highly efficient supply chain: The China Resource Group has a comprehensive supply chain system, capable of monitoring product procurement and distribution, and order tracking, as well as helping clients accelerate goods circulation and reduce inventory levels, so as to enhance operational efficiency and improve performance.

O2O integration and connectivity: CRV is one of the largest supermarket groups in China in terms of store network and customer numbers. Ewj.com can expand its customer base through Vanguard supermarkets, and can make use of the supermarket resources to run O2O experience areas, strengthening online consumers' offline experience.
Supplier Co-operation Model
The ewj.com cross-border shopping platform offers more than 1,000 SKU items under more than 100 imported brands. Li says ewj.com hopes to introduce more and better quality imported goods to the mainland market to satisfy the increase in demand resulting from consumers' rising incomes. Ewj.com is keen to co-operate with Hong Kong companies to jointly develop the mainland market, he says, and has signed up with a number of Hong Kong suppliers of goods ranging from skincare products to instant noodles to biscuits.
Most products sold on the ewj.com cross-border shopping platform are sourced on an outright purchase basis, with the filing, customs clearance and distribution taken up by ewj.com. Some products on a consignment basis are charged according to an agreed revenue-sharing ratio, at a rate (of 3-20%) depending on the brand and type of goods. Except for the return of goods caused by quality problems, which is the responsibility of the supplier, other operational wear and tear (such as wear and tear of goods during transport, or goods lost in the delivery process) will be borne by ewj.com. Li says that suppliers interested in working with ewj.com must meet the following conditions:
Traceable quality assurance: Suppliers must provide proof of origin of the goods, proof of brand authorisation and procurement contracts with brands, so as to certify product sources.

Active collaboration: Suppliers need to actively collaborate with ewj.com – for example, by offering advice and assistance in providing product samples and marketing resources.

Stable supply: Suppliers need to ensure a stable supply of goods in order to avoid stock disruptions. If a supplier can offer a comprehensive range of goods, it will be more advantageous and will help to control operating costs.
Opportunity for Hong Kong Companies
Li says that Hong Kong trading companies, with their years of experience working with foreign businesses, have certain advantages in introducing foreign imports to the mainland market, as they are familiar with the products of overseas suppliers and always stay abreast of global consumer trends. Indeed, some quality Hong Kong brands and products are well received by mainland consumers. Hong Kong companies could consider expanding into the mainland retail market through the cross-border e-commerce platform. Furthermore, transport costs can be saved by capitalising on Hong Kong as a logistics hub for transiting imports of cross-border e-commerce where bulk goods (of unsteady circulation and quantity) can be consolidated and shipped (to the final destination) as a single batch.
Mainland China
Mainland China