https://origin.hkmb.hktdc.com/en/1X0A9SI6
Hong Kong's E-commerce Ecology: Exporting to the World
Hong Kong's e-commerce export business started in the late 1990s and has begun to blossom since the 2000s amid the emergence of eBay, the undisputed leader in global online marketplaces. For the past decade, eBay has been the dominant platform for Hong Kong people and small businesses conducting e-commerce around the world. According to industry estimates, there are currently more than 1,000 active eBay sellers in Hong Kong.
There are good reasons why Hong Kong became a pioneer in the global e-commerce market. The city has a long history of international trade with a huge number of SMEs and individuals who are experienced merchandise traders. In the early 2000s when China's e-commerce market was still at a nascent stage, Hong Kong was considered more advanced in ICT infrastructure than other places in the region; Hong Kong individuals and businesses were easily able to source low-cost merchandise from the Chinese mainland close by, and resell online.
More importantly, Hong Kong is a free port with good air connectivity, resulting in the low cost, efficient and reliable shipping of goods. In some cases, delivery times for international shipping from Hong Kong can be faster than those for domestic shipping within the US and European countries. On the other hand, Hong Kong's low and simple tax regime – no import tax and no VAT – has facilitated the city's parallel trade of electronic products, which constitutes a significant portion of e-commerce exports in Hong Kong. Indeed, well-known brands and standardised products are particularly suitable for re-selling via online channel as buyers are subject to little uncertainty over product specifications.
In addition to companies that resell products of established brands to exploit the tax differentials, an increasing number export their own products. A recent HKTDC survey found that 12% of traditional exporters in Hong Kong have adopted the e-commerce model to sell directly to overseas end-customers. There are also more pure-plays riding on the e-commerce wave to sell to the world. A prominent example is Grana, an e-commerce clothing business founded in Hong Kong in order to tap into the city's ready supply of skilled clothing industry professionals and leverage its efficient logistics services.
Another example is Zalora, which bills itself as an online fashion destination, and uses Hong Kong as a sourcing base. Hong Kong has long been a sourcing hub for consumer and lifestyle products, and many global and Asian brands and suppliers have their regional headquarters in the city. Frequent flights connecting Hong Kong with major Asian cities are relatively short, making recruiting and co-ordinating with suppliers in the region much simpler. Zalora takes the view that the city's high concentration of global fashion brands, abundance of skilled clothing designers and ready access to efficient sourcing helps to deliver fast-fashion collections to its customers.
On the other hand, some logistics service providers are taking advantage of their extensive distribution networks and knowledge of overseas markets to transform themselves into an online platform. The fine line between e-commerce exporter and logistics service provider is fading in the e-commerce world, while e-commerce itself is reshaping and redefining Hong Kong's export trade.
Market Opportunities
According to Euromonitor International, the value of internet retailing amounted to US$1,163 billion in 2016 and is forecast to grow at an annual rate of 14.6% for the next five years. The estimated share of online goods in total retail goods is expected to increase to 13% in 2021 from 8.5% in 2016.
Asia aside, North America and Western Europe are the two biggest markets by region. But in both regions, the estimated shares of online goods in total retail goods were only 10.1% and 7.9%, respectively, in 2016, representing plenty room for growth in e-commerce. Hong Kong's wealth of legal, financial and engineering know-how, its global networks, entrepreneurial spirit, and all-round efficiency have made it a leading re-export centre for Chinese goods to the West. Hong Kong is expected to play the same role in the future, but with e-commerce as a vehicle. While most consumers in North America and Western Europe communicate in English, there is virtually no language barrier for Hong Kong merchants selling to these markets, whether via online marketplaces or standalone websites.
Within Asia, Japan and South Korea are the biggest markets among developed economies. With approximately 80% of Japanese consumers shopping online – approximately 100 million shoppers, there is ample inducement for a foreign retailer or manufacturer to enter the Japanese market. Moreover, the average dollar value of an online order in Japan is significantly larger than in the US. However, due to the language and cultural barrier, Hong Kong merchants have generally found it difficult to sell directly to end-consumers in these markets.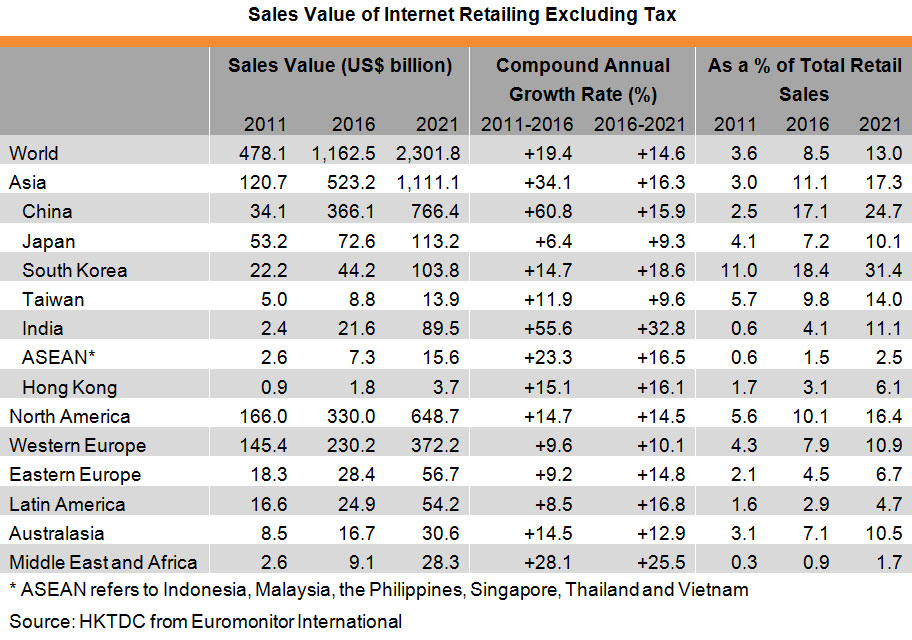 In Japan, the three big e-commerce sites, in order of market share, are Rakuten, Amazon Japan and Yahoo Japan Shopping. Taken together, these sites account for about 50% of total Japanese annual B2C e-commerce revenue. Amazon is the easiest for sellers and suppliers to get started with, followed by Rakuten and then Yahoo Japan Shopping. One effective approach for selling on Rakuten is to partner with an existing Rakuten supplier, which is usually faster and easier than becoming a new seller directly.
South Korea's current population is 50 million. As a consumer society with an internet penetration rate of more than 84% of the population, it is no surprise that e-commerce holds a strong position in South Korea. The country also boasts the highest e-commerce penetration in the Asia-Pacific region, with a 62% online shopping reach. The most popular online-shopping property is online auction and shopping mall Gmarket, which has more than 12 million unique monthly visitors. Similarly, instead of selling directly to Korean consumers, which is subject to communication problems, Hong Kong manufacturers should consider working with a local partner or acting as a supplier to local online merchants.
Belt and Road Countries
The Belt and Road Initiative is an important and ambitious development strategy of China's 13th Five-Year Plan (2016-2020), creating, expanding and enhancing trade routes connecting the Asia-Pacific and European economies through more than 60 countries and regions in Central Asia, Southeast Asia, South Asia and eastern Africa. The initiative will cover areas encompassing some 65% of the world's population, about a third of the world's GDP, and approximately a quarter of all the goods and services the world moves.
The initiative's major goals are to achieve policy co-ordination across Belt and Road countries, build the infrastructure to enhance connectivity among these countries, increase trade and investment flows, promote financial integration, and foster better relations among the peoples of the Belt and Road region. China plans to negotiate free-trade agreements with many, if not all, of the Belt and Road countries, as well as agreements to streamline customs, inspection and approvals.
Enhancing connectivity will focus initially on removing bottlenecks and providing the missing links in existing transportation routes, building port facilities, and improving inter-modal operations. The final goal is to provide high-quality transportation and telecommunications infrastructure throughout the Belt and Road region.
In order to facilitate trade in the Belt and Road region, a series of measures and actions will be taken to reduce trade and investment barriers, lower trade and investment costs, and promote regional economic and financial integration by enhancing co-ordination in monetary policy and deepening financial co-operation.
According to a recent HKTDC survey on how Chinese mainland enterprises would capture the Belt and Road opportunities, 88.1% of respondents expressed their strong interest in selling to Belt and Road markets, which include industrial products, services and technologies, and light industrial products. In addition, Southeast Asia is the major location of interest among Belt and Road countries. One can expect that e-commerce will play a major role in future trade between China and these countries – and Hong Kong businesses can form the platform for that role.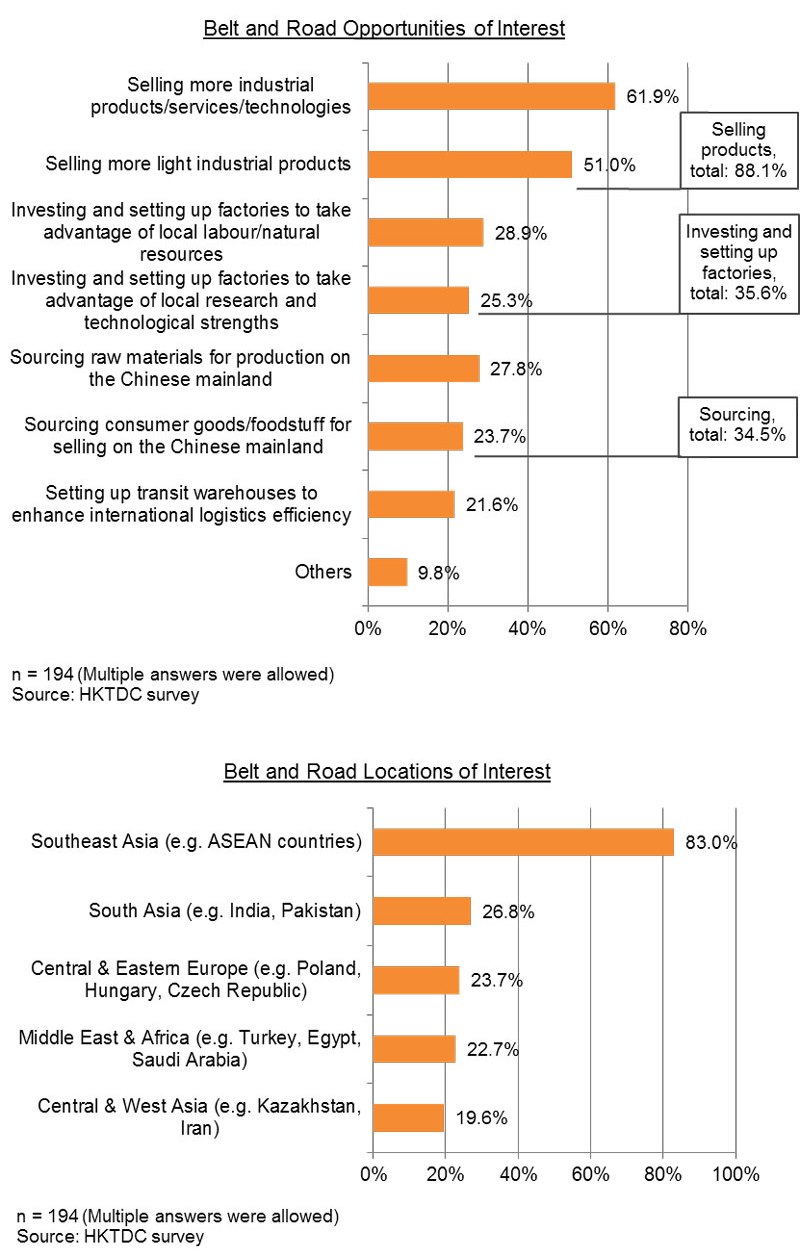 Southeast Asia's population is 620 million people, and about 250 million are now connected via smartphone, with 100 million engaged in online transactions. The current penetration of online retail in Southeast Asia may be small, but consumers are highly influenced by digital content.
Despite the large growth potential, the biggest challenge to e-commerce in Southeast Asia is the highly fragmented nature of the region with regard to cultures, languages, regulations, infrastructures and customer preferences. These may be big obstacles for foreign companies seeking to enter the Southeast Asia market, but they present great opportunities for Hong Kong.
Historically, Hong Kong and Southeast Asia have enjoyed a strong bond. The two regions have a rich history of dealings not only in business, but also in cultural exchanges, knowledge transfer, and even cross-border marriage and migration of the workforce. Hong Kong people have set up businesses in the region, going back more than 100 years. Hong Kong also presents Southeast Asia with the advantage of being a major international gateway to the Chinese mainland, particularly the Pearl River Delta.
Concurrently, China's "Internet Plus" action plan seeks to drive economic growth by integration of internet technologies with manufacturing and other traditional industries. "Internet Plus" and the Belt and Road Initiative are helping to create a fertile land that compels innovation in e-commerce.
The most obvious opportunity, apart from the construction of new infrastructure and facilities, is to generate substantial demand for information and communication systems. Improvements in transportation and communications that reduce the time and cost of the land and sea links should enhance trade between China and Belt and Road countries. This means that manufacturers in China and Belt and Road countries should have quicker and cheaper access to each other's markets.
In sum, this presents a unique set of opportunities for Hong Kong and foreign merchants, marketplaces and other professional services providers, including those involved in logistics, payment, e-commerce-site building, as well as digital-marketing experts.