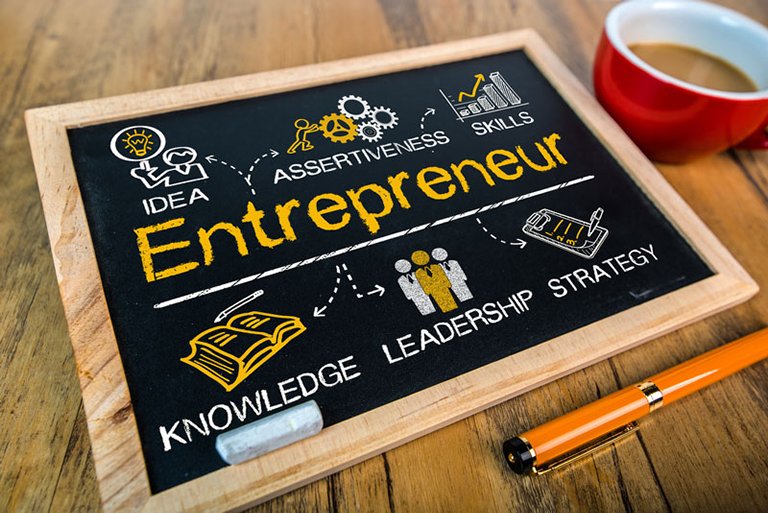 https://origin.hkmb.hktdc.com/en/1X0A9YSE
Understanding the New Generation of Businesses in Hong Kong: HKTDC Start-up Survey
Currently, a new generation of businesses are established themselves in Hong Kong. In order to understand the challenges that these companies face and their demand for promotional activities, HKTDC Research recently conducted an online survey [1] targeting start-ups that have been in operation for five years or less, particularly those in the technology sector or those that have adopted particularly innovative business models. The survey received 180 valid responses, representing about 9.3% of the total start-ups in Hong Kong [2].
Current Stage of Development
The survey sample covers the four major stages of start-up development. Most of the respondents surveyed are currently at the market launch stage (37%), followed by those in the growth/expansion stage (28%), the prototype and/or testing stage (20%) and the early and/or concept development stage (12%). This suggests that the next year or two will be a make-or-break period for many start-ups in Hong Kong, as they move from the beginning of the business lifecycle to a becoming a growth-stage company. Only 4% of respondents regarded themselves as being in the maturity, late or pre-exit stages.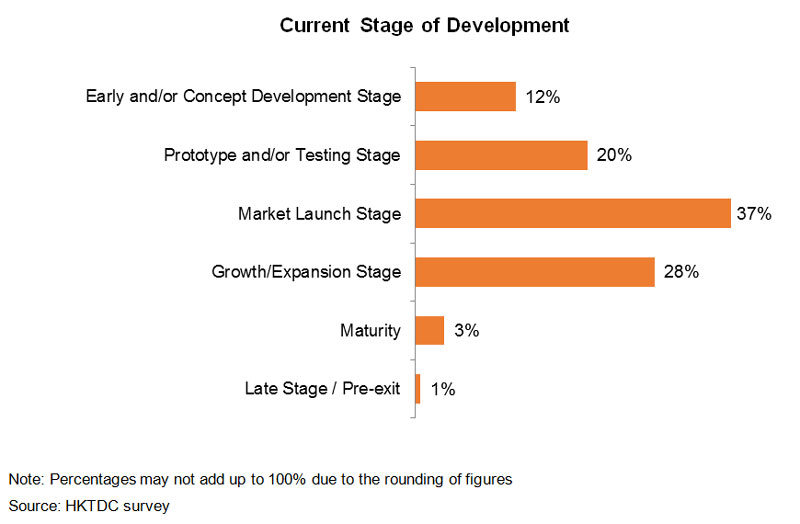 Core Technology and Applications
The majority of respondents (72%) identified as being tech companies, as they have developed or applied a core technology. The remainder (28%) indicated that they have adopted particularly innovative business models.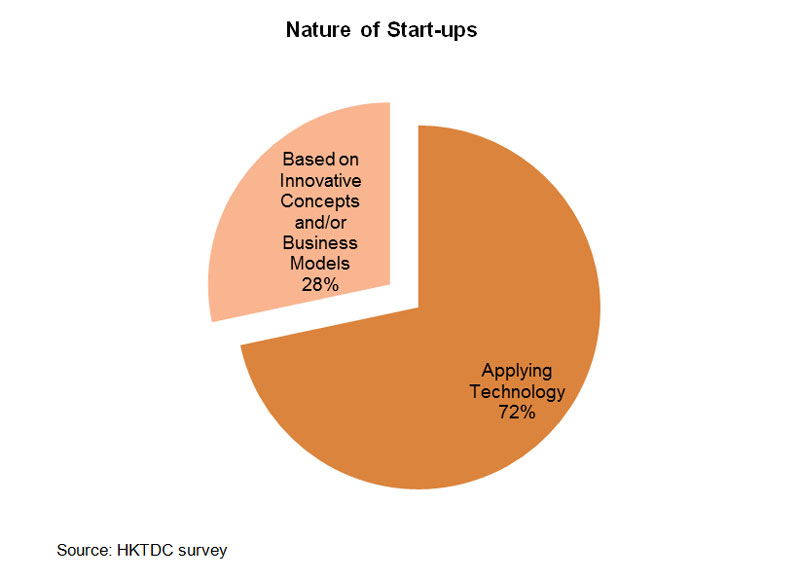 Among the tech companies surveyed, almost half of the respondents (47%) said that their core technology is software, apps or Information, Communications and Technology (ICT). Just 22% have developed hardware, electronics, Internet of Things (IoT) tech or wearables. The rest take in a diverse set of technology development interests, including biotech, medical or life science (8%), artificial intelligence or robotics (5%), virtual reality or augmented reality (5%), and new materials, nanotech or chemical-related tech (4%).

Many of these technologies are applied to a whole assortment of sectors and applications. Topping this list are retailing, advertising, marketing & e-commerce (21%), ICT or telecommunications (21%), media, entertainment & gaming (18%), and smart home and smart city (16%). Notably, the start-ups are not particularly involved in traditional industries such as fashion, toys & baby products, food & beverages, and jewellery/watches. In fact, the applications are usually multi-field or multi-sector, rather than relating to just one conventional category of industry.
By way of contrast, companies operating in traditional business models are usually confined to just one industry, for instance toys, garment, electronics, lighting and jewellery. These companies are restricted by the particular types of products that they offer, and they may still think that their major competitors are from within their given 'industries'. The failure of these companies to recognise the emergence of new models could be fatal. They may become vulnerable to new entrants who could leverage technologies to create a more attractive value proposition for customers. This helps to explain why new start-ups often cause disruption within conventional industries.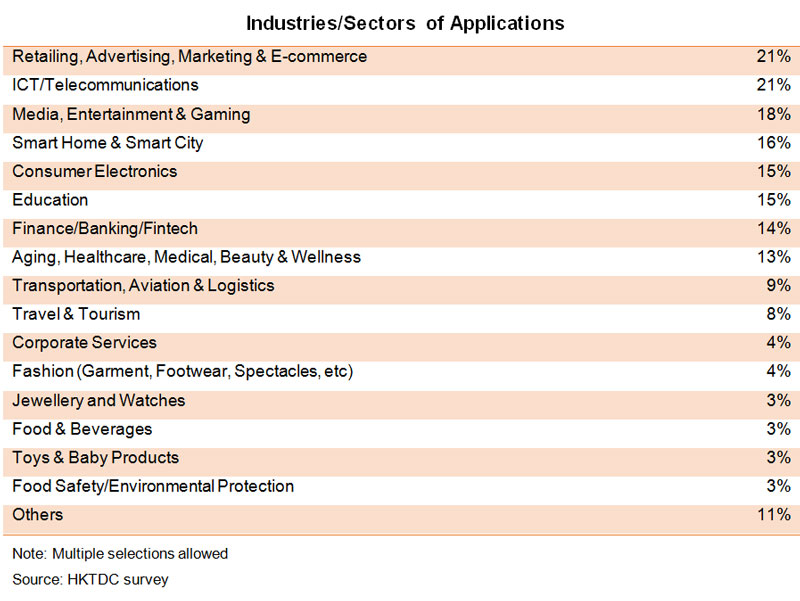 Business Type and Capital Invested
It is interesting to note that 52% of the start-ups who responded to the survey are not restricted to either a consumer or an enterprise market model. Instead, they will sell through business partners while simultaneously selling direct to the consumer market. For example, Incus Company Limited is a local start-up which has developed a hearing aid device based on its own state of the art noise cancelation technology. The company intends to sell through dealerships as well as offering direct sales to individual consumers. Again, this is markedly different from traditional industries, which generally sell through an array of distributors and resellers.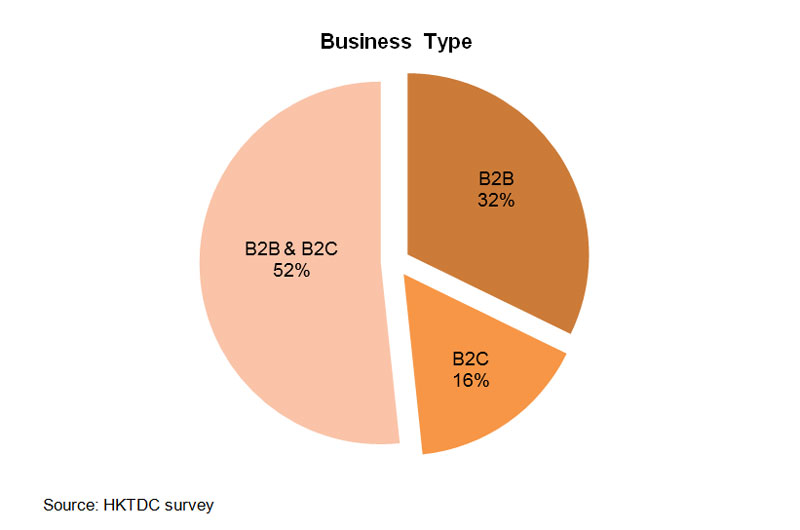 Even though the majority of the survey respondents are still at early stages of development, more than half of them (56% in total) have already invested more than HK$500,000 in their chosen ventures. It is highly likely that they will need more capital for advertising or marketing as they expand further, especially when moving on to the market launch and growth stages.
Unsurprisingly, most of the start-ups (87%) list Hong Kong as their major current market, while the Chinese mainland is a distant second (36%). These are then followed by the mature markets – the Americas and Canada (27%), and the European Union (26%).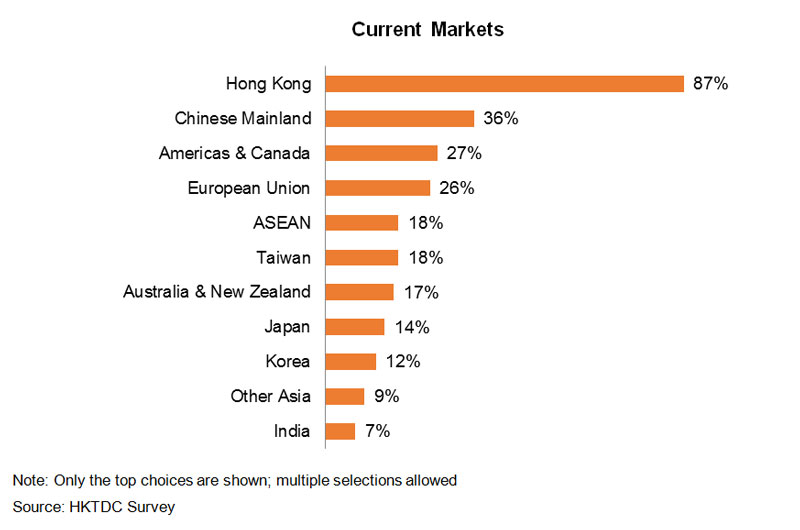 One key attribute of a start-up is its ability to grow quickly. When start-ups grow to a certain size, Hong Kong becomes too small for their ambitious business owners. Naturally, their next move would be to enter the international arena. The chief reasons for start-ups to go global are to improve their potential for expansion and growth, and to reduce their dependence on one single market. For instance, Curehab is a Hong Kong-based start-up that has combined ergonomics with artificial intelligence (AI) and augmented reality (AR) to develop home-based therapies. The company is targeting Hong Kong as its primary market, but plans to go global for its next move, through participating in thematic exhibitions such as aging and healthcare international fairs.
Survey findings indicated that the foremost potential market choice for start-ups is across the border on the Chinese mainland (56%), then followed closely by Taiwan (49%), and Americas and Canada (41%).
Priorities for the Next 12 Months
In terms of their priorities for the next 12 months, 66% of the surveyed start-ups would choose to focus on product or service development. Other significant priorities include increasing advertising and promotional activities (51%), developing sales and distribution in Hong Kong (47%) and exploring the business applications of current offerings (43%).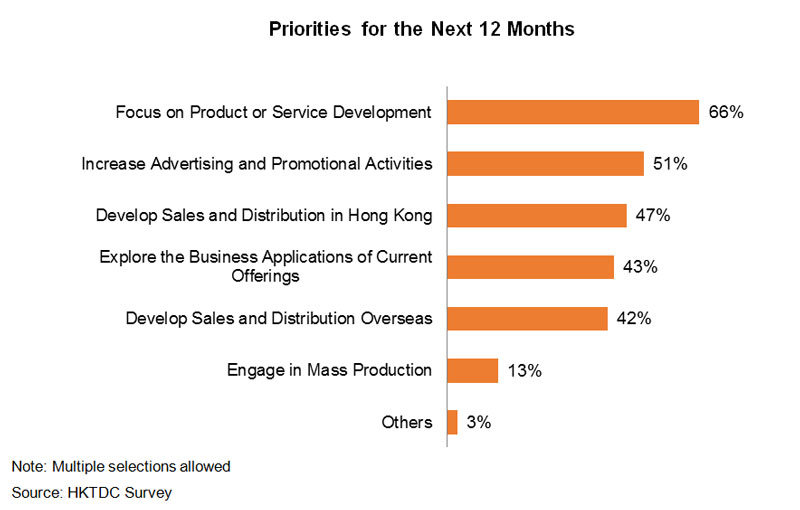 Focusing on product or service development is consistently the top priority for start-ups in the initial three stages of development – that is, early and/or concept development stage, prototype and/or testing stage and market launch stage. These results make perfect sense, as it's natural for a start-up to shape up the existing industry and improve incumbent practice with a better solution.
When start-ups are developing a new product or solution, it is effectively an experiment. They don't produce a standard product by a proven process in the way that established companies can. Instead, they have to make many assumptions – about how the design should work, what configuration will help optimise performance, what kind of architecture will be most efficient, and most important of all, who will use their products. If any of these assumptions are proven to be wrong, the entrepreneurs need to go right back to the drawing board. Product or service development for start-ups is not a one-off procedure: it is a repeated process. The only way to find out whether these assumptions are correct is by putting the product in front of real users as quickly as possible, rather than waiting until a mature and stable product is built.
As start-ups progress through their entrepreneurial route, their priorities will change as their companies mature. As the survey results show, increasing advertising and promotional activities gains importance in the later stages. Start-ups focus more on exploring the business applications of current offerings during the third and fourth stages. In addition, during the growth/expansion stage, their focus shifts from local to overseas markets.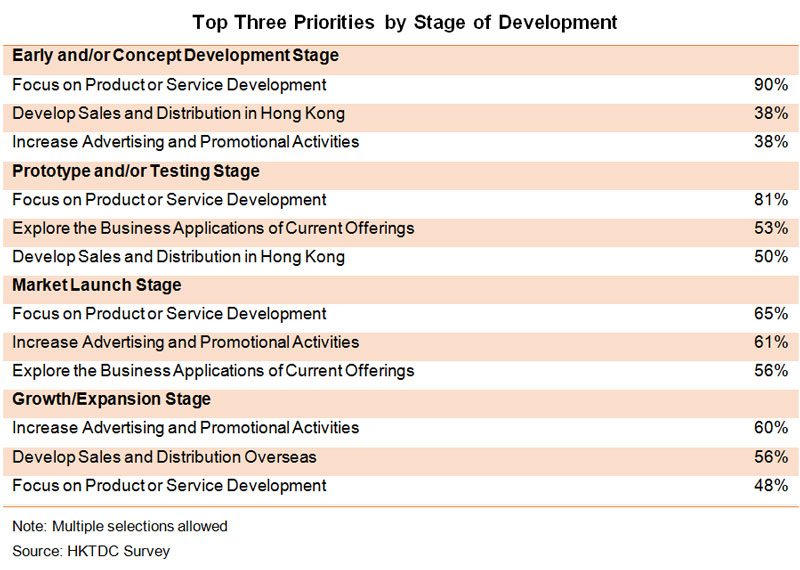 Key Challenges
Overall, 58% of respondents expressed the view that obtaining adequate access to capital is the biggest challenge they face. The other major challenges, in descending order, are hiring and retaining talent (41%), overseas expansion (38%), customer scepticism with regard to new products/services (37%), and cost/cash flow control (33%).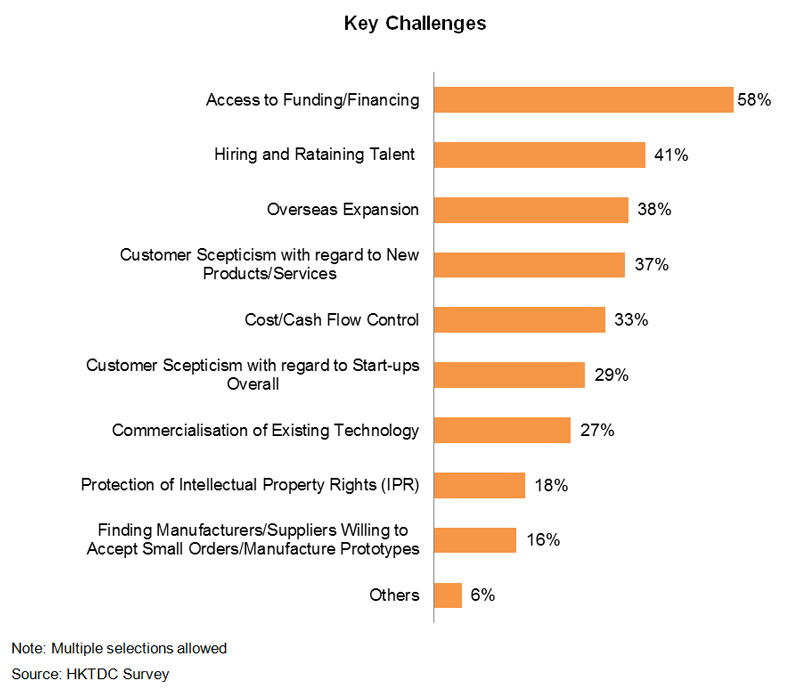 Over the various stages of development, start-ups are confronted with different challenges. The top challenge at every start-up stage is access to funding/financing, as capital is required for all types of business functions, including concept development, R&D, prototype building, product testing, business development and market expansion.
Although the majority of them are tech companies, start-ups at the prototype/product testing stage usually need technical staff in order to run experiments and conduct testing. However, once they have reached the growth/expansion stage, these companies may need to hire more business development staff. At this point, human resources management will become a key to the start-ups' sustainability and continuous growth.
Those start-ups based in Hong Kong may focus on first building a strong base there, but most have a broader vision. During the market launch and growth/expansion stages, the question of expanding business overseas becomes a major challenge. There are numerous hurdles to overcome before a company can break through its national borders and establish a multi-country operation. Factors which must be considered carefully here include cultural and language differences, regulators, trade barriers, currency and infrastructure.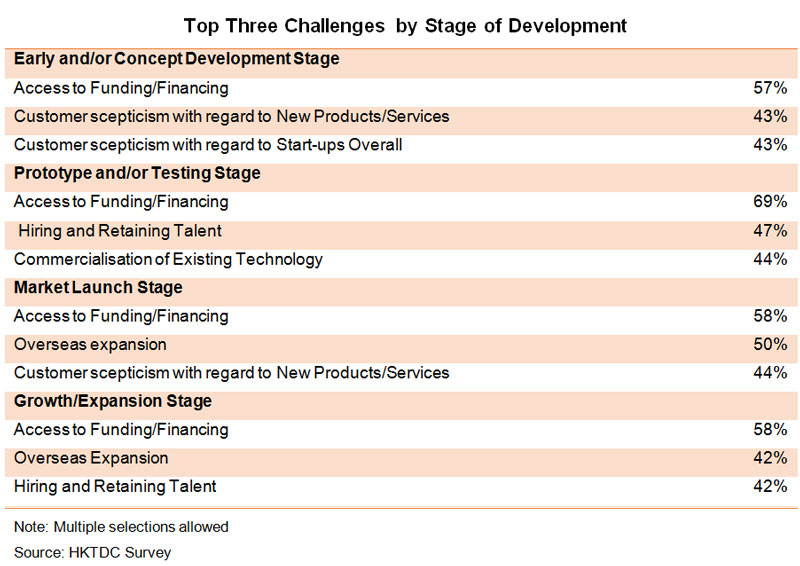 An Interest in Certain Activities
As part of the survey, respondents were asked to rate their interest in a list of activities based on a 5-point scale, where 1 indicated 'not interested at all' and 5 indicated 'extremely interested'.
As noted earlier, start-ups face numerous challenges at different stages, from access to funding to commercialisation and go-to-market. As such, opportunities to meet up with potential customers and/or partners and investors all rated highly, with average scores of more than 4.
In order to address the challenges of business management, start-ups owners realise that they need to acquire new knowledge and skills in many areas. For instance, they showed a strong interest in seminars on business development and brand management (a score of 3.62), and seminars on market trends and development (3.57).
Most high-impact start-ups do not fall into a conventional category of industry and start-ups' technologies can apply to multi-fields and sectors. As a result, they tend to be more interested in theme-base (3.98) and start-up focused events (3.84) rather than industry-specific fairs (3.24).
Other activities in which start-ups show a strong interest are pitching (for funding) (3.86), networking with other start-ups (3.78), incubation programmes/accelerators (3.73), mentorship programmes (3.61), and competition (for reputation) (3.5).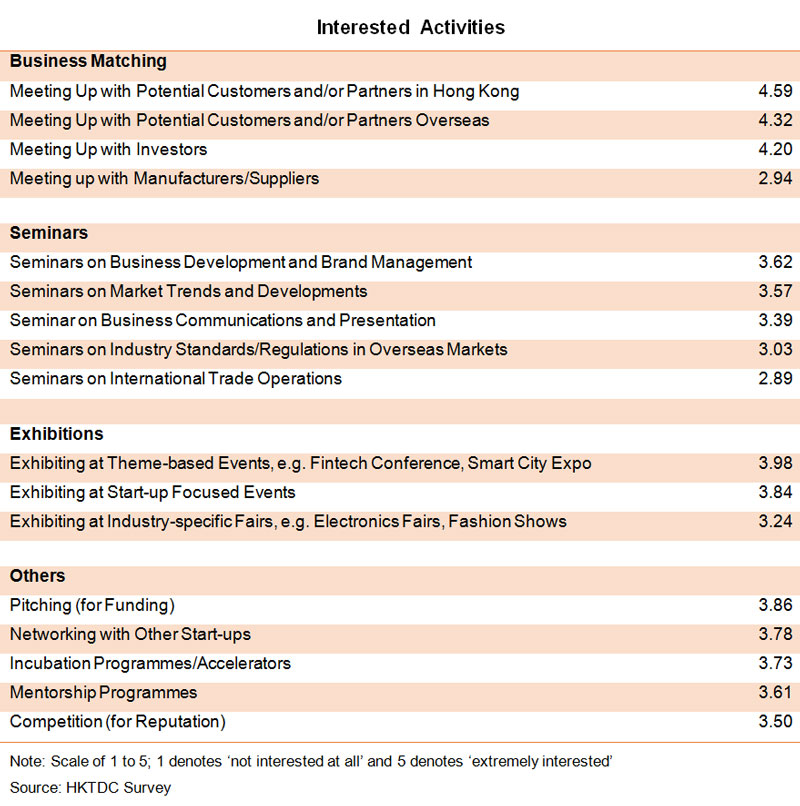 ---
[1] HKTDC Research would like to acknowledge the help extended by Hong Kong Science and Technology Parks Corporation, Cyberport, InvestHK, The Office of the Government Chief Information Office, Hong Kong Baptist University's Knowledge Transfer Office, The Hong Kong Polytechnic University's Institute for Entrepreneurship, The Hong Kong University of Science & Technology's Entrepreneurship Center, The University of Hong Kong's Technology Transfer Office, The Chinese University of Hong Kong's Centre for Entrepreneurship, The Hong Kong Federation of Youth Groups, StartupsHK, Cocoon, Campfire, Blueprint, Garage Society and Playground in conducting the surveys.
[2] According to InvestHK's latest survey on Hong Kong's start-up ecosystem, there were 1,926 start-ups in 2016.
Technology
Information Technology