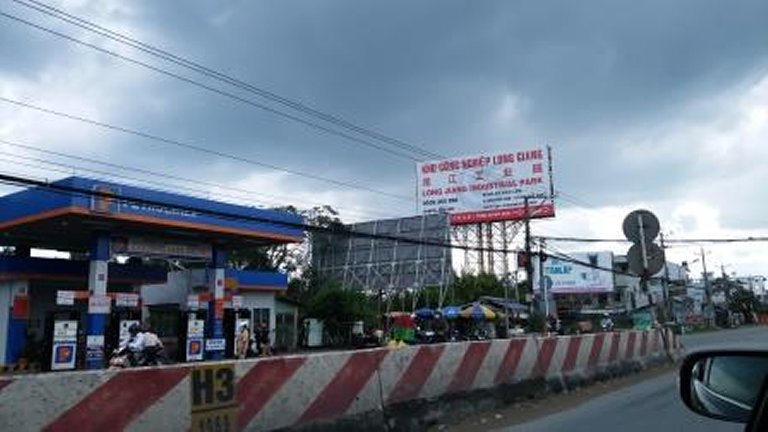 https://origin.hkmb.hktdc.com/en/1X0AAGSW
Belt and Road: Development of China's Overseas Economic and Trade Co-operation Zones (2)
Longjiang Industrial Park in Vietnam
Bordering China's southern region, Vietnam is one of its most important ASEAN trading partners. In 2016, the bilateral import and export trade between China and Vietnam amounted to US$88.2 billion, accounting for approximately 20% of the overall trade value between China and ASEAN countries. Many Chinese enterprises, as well as conducting general trading activities with their Vietnam counterparts, have recently invested in the country and set up manufacturing plants there. The textile, garment and electronics industries of China and Vietnam have gradually moved into co-operation as industrial chain partners, further stimulating the export of Chinese upstream products to Vietnam.
China's direct investment in Vietnam reached US$560 million in 2015, equivalent to 1.8 times the investment in 2010. At the end of 2015, China's total stock of direct investment in Vietnam was about US$3.37 billion. Chinese manufacturers investing in Vietnam are not only able to lower their production costs by capitalising on the local labour force and land resources, but their operations in Vietnam can also tie in with their overall production plans and development in China as well as the Asia-Pacific region.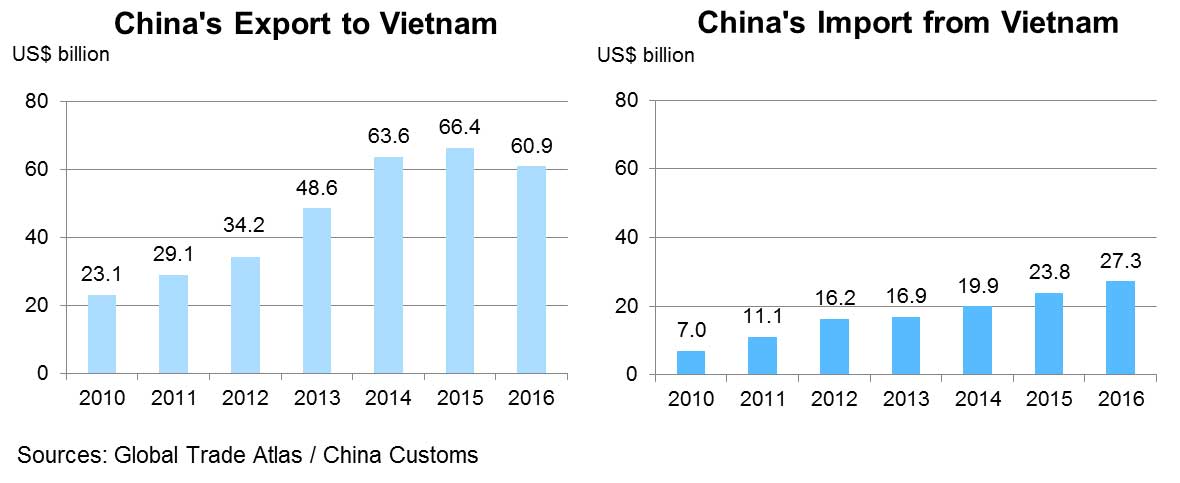 More than 320 industrial parks in Vietnam are dedicated to manufacturing activities. As of mid-2016, the cumulative total foreign direct investment (FDI) in these industrial parks amounted to US$150 billion in terms of registered capital, accounting for about half of all FDI inflows into Vietnam. While the majority of provinces in Vietnam have industrial park management offices offering single-window services to help investors choose the most suitable location, most of the large parks are operated and managed independently by private companies. Foreign investors can approach these industrial park management companies directly to learn about the preferential policies available in the parks.
The Longjiang Industrial Park (LJIP), located in Tien Giang Province of Vietnam, is one of them. A comprehensive industrial park invested and developed by Zhejiang Qianjiang Investment Management Co Ltd, it is a key project undertaken by Zhejiang Province under the Belt and Road Initiative. Tien Giang Province is located in the Mekong River Delta region close to Ho Chi Minh City, Vietnam's leading commercial hub, in the south of the country. At the end of 2015, with a total of 78 foreign-investment projects, Tien Giang Province's cumulative FDI inflows reached US$1.53 billion, accounting for 0.5% of Vietnam's total.
Tien Giang Province has a population of about 1.73 million, according to the General Statistics Office of Vietnam, of which 0.28 million are urban residents and 1.45 million live in the countryside. LJIP is located in Tien Giang Province's rural Tan Phuoc District. According to the park's estimates, the population within a 15km radius of LJIP is between 800,000 and one million, which provides an abundant young labour force.
LJIP was granted a 50-year investment licence by Vietnam's Tien Giang Industrial Park Authority in November 2007. The park has a planned area of 600 hectares, including 540 hectares of industrial area and 60 hectares of residential and service area. Total investment is estimated to be US$100 million.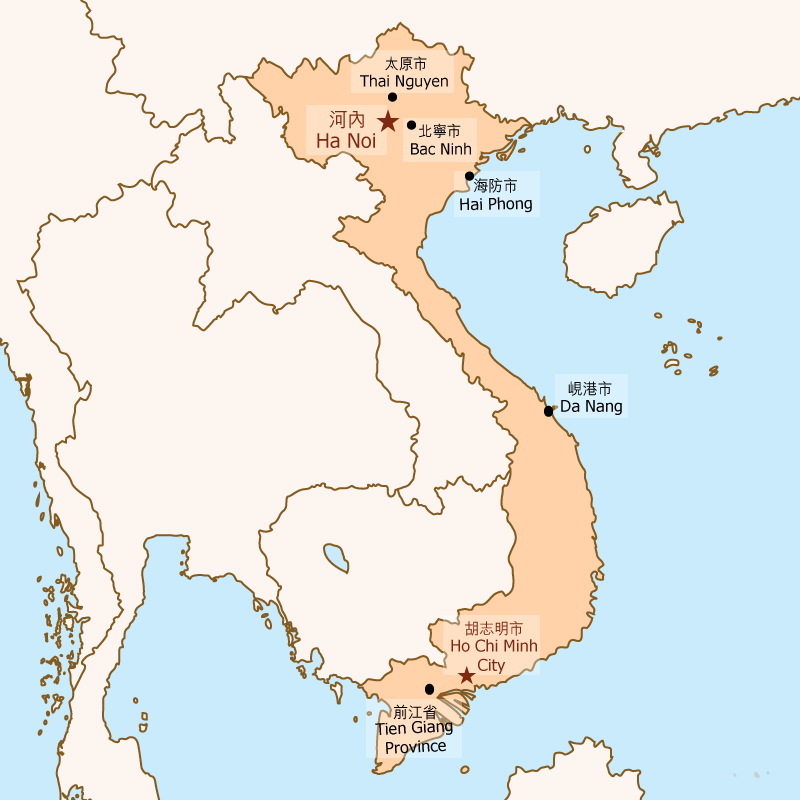 Positioned as a comprehensive industrial park, it aims to attract industries in the fields of (1) electronic and electrical products; (2) machinery; (3) wooden products; (4) light industrial products for home use; (5) rubber and plastic products; (6) drugs, cosmetics and medical apparatus; (7) agricultural and forestry products; (8) building materials; (9) papermaking; and (10) new materials.
The park has all necessary infrastructure, such as an internal road network, broadband communications, as well as power, water and sewage systems – including a sewage-treatment plant with a daily capacity of 40,000 cubic metres. LJIP also provides a full range of supporting services for companies entering the park, such as assisting in processing enterprises' registration and import/export procedures, and even referring factory design and construction agencies to them in order to ensure their smooth development in the park.
By the end of 2016, 36 companies had established a presence in LJIP, occupying 75% of its usable land. About 70% of these are mainland Chinese companies primarily engaged in the production and processing of metal products, agricultural products, foodstuffs, grain and oil, and packing and industrial materials. There are also investors from Japan, Korea, Singapore, Malaysia and Taiwan involved in production projects. Moreover, a number of Hong Kong-incorporated companies have also invested in setting up factories in LJIP to produce textile fibres, polyurethane materials, edible sausage casings, and knitted garments. The annual total output value of the companies operating in LJIP was estimated at US$470 million in 2016.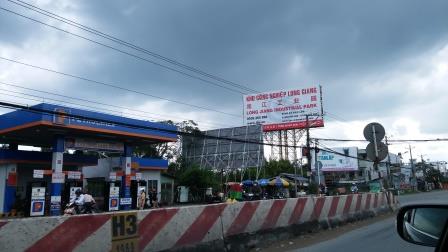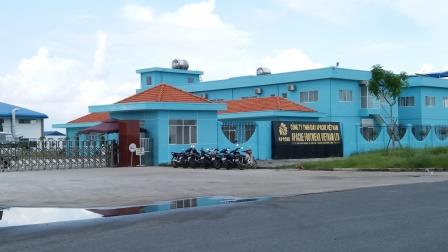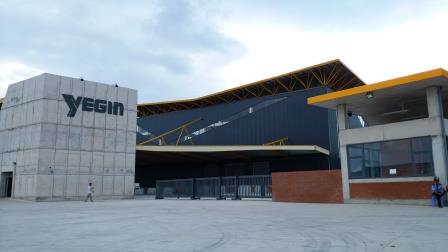 Tax and Cost Advantages
Companies operating in LJIP are entitled to corporate income tax concessions for up to 15 years. Furthermore, companies engaging in export processing can enjoy import-related preferential tax policies, which include exemption of import tariffs and value-added tax on materials imported for processing and production of products for export purposes. This preferential policy also applies to the import of related production machinery and equipment. [1]
Corporate Income Tax Concessions for Investments in Industrial Parks in Vietnam
Current standard tax rate: 20% (since 1 January 2016)
Tax concessions:
- Preferential tax rate at 10% for the first 15 years; plus
- Tax holiday for four years (counting from the first profit-making year), and
- 50% reduction in corporate income tax rate for subsequent nine years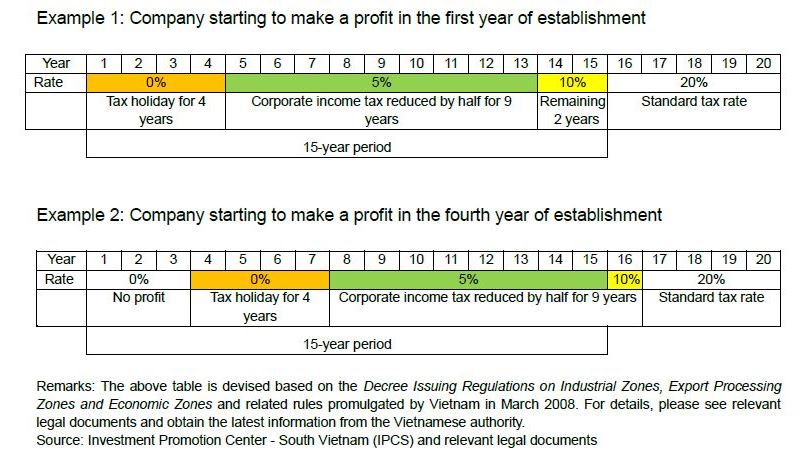 It is understood that a number of companies currently operating in LJIP are mainly engaged in export processing, with some of the consumer goods produced exported to markets in Europe, the US and Asia. However, more are engaged in producing industrial materials or intermediate goods, which are supplied to downstream manufacturers in mainland China and Southeast Asia. Some of these products are sold to other manufacturers in Vietnam for further production and export. As such processing activities primarily rely on various kinds of imported raw materials, the exemption of import tariffs offered by the Vietnamese government is of prime importance to these manufacturers.
The convenient transport network and highly efficient logistics services available in LJIP also help enterprises enhance operation efficiency and lower production costs. LJIP is linked to Ho
Chi Minh City, only about 50km away, by the HCM City-Trung Luong Highway [2], which also connects directly to Saigon seaport, Hiep Phuos seaport (also about 50km from LJIP) and Bourbon port (about 35km from LJIP). This road link greatly facilitates the transportation of goods for import and export.
Labour Supply and Upstream Supporting Industries
Companies aiming to invest in establishing factories in Vietnam have to choose the right industrial park and take note of the country's overall investment environment, especially where labour supply is concerned. The minimum wage in Vietnam is currently less than US$200 per month. However, with the various mandatory fees, such as statutory social security and medical insurance, as well as higher salaries for more experienced and qualified employees, the actual labour costs borne by the employer start from about US$200-250 per worker per month.
While this minimum-wage level is lower than in many regions in China, and while the majority of workers in Vietnam are aged under 35, the workforce available in the local area is mainly made up of farmers, according to LJIP, most of whom lack experience working in modern factories. Moreover, Tien Giang Province itself is in short supply of skilled labourers and technical personnel.
According to statistics compiled by the General Statistics Office of Vietnam, nearly 80% of Vietnam's labour force have not received any formal education, only 9% are university graduates and 11% have received secondary education or vocational training. Besides, only 21% of the people in employment in the country have received more than three months' technical training, with the majority of them being classified as non-skilled workers. [3] Hence, manufacturers investing in Vietnam wishing to carry out more sophisticated production processes or conduct semi-automated or fully automated production may have to rely on the Chinese mainland or other neighbouring regions to provide various kinds of support in management, training and technology to their factories in Vietnam.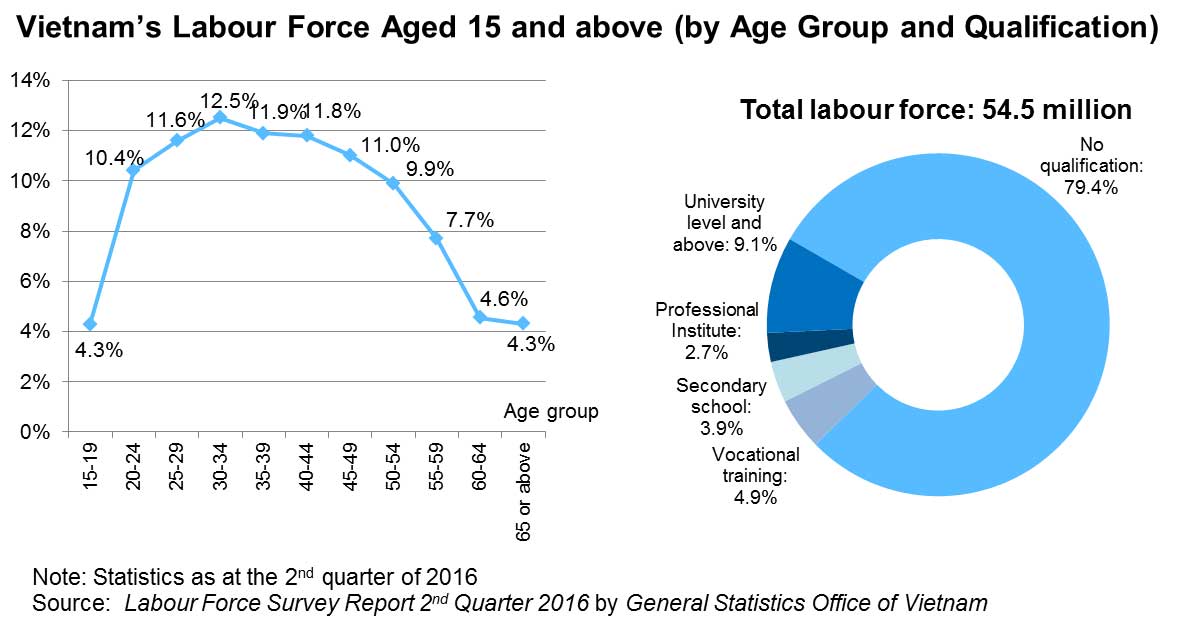 Moreover, Vietnam lacks support industries and falls short of various kinds of industrial raw materials and upstream production materials, as well as equipment and moulds for processing and production. The Vietnamese government has said it would introduce incentive policies and offer funds to nurture support industries, but even by 2020 these industries will only be able to meet 45% of local production demand. [4]
Vietnam is also short of technical design and engineering personnel, posing challenges to companies investing in R&D in the country in a bid to enhance their capability to design and manufacture the necessary production equipment. Most of the manufacturers currently investing in LJIP have to handle the import and export of production materials and finished products themselves, and at the same time take note of whether their investment projects are able to access effective technical support.
Hong Kong Enterprises Count on South China to Support Production Activities in Vietnam
The operator of a Hong Kong enterprise engaged in plastics injection, metal stamping and die casting business in Hai Phong in northern Vietnam told HKTDC Research that he followed his foreign downstream clients to invest in the country and set up a factory there. He hopes the company can reduce the time required to deliver products to this downstream clients and, at the same time, enjoy the tax benefits offered by Vietnam.
According to this Hong Kong enterprise, however, operating in the production field in Vietnam involves various challenges – notably, that local workers tend to be untrained with lower productivity than their counterparts in South China. Although labour costs in Vietnam are lower, the cost differential between the workforce of Vietnam and China becomes insignificant when productivity is taken into consideration. In order to enhance production efficiency, the company plans to introduce further automation in its factory and reduce the use of labour. In this way, labour costs will become a less-important factor in the consideration of investment plans.
However, there is a lack of support industries, such as sophisticated mould manufacturing and technical backup, in Vietnam. Coupled with its lack of technicians and engineers, the Hong Kong company could hardly embark on its own mould and tool manufacturing business there. Instead, it has had to seek various kinds of supporting services and material supply from mainland China. On the one hand, it had to co-ordinate the deployment of in-house technical personnel and other production facilities such as Computer Numerical Control machinery so as to have the moulds and production tools manufactured in South China for delivery to Vietnam for subsequent processing. On the other hand, the company had to rely on efficient logistics services to have the plastic and metal materials for production transported to Vietnam as they mainly came from China and other Asian countries. The company, therefore, had to count on China for various kinds of support services in order to follow in the footsteps of its downstream clients to invest in Vietnam.
Policy Risks
According to LJIP and relevant government departments of Vietnam, where attracting foreign investment is concerned Vietnam continues to welcome mainland Chinese enterprises. However, given the intricacies of international politics and sporadic outbursts of anti-Chinese sentiment, mainland investors must ensure that their operations comply with Vietnamese laws and regulations, as well as local conditions, so as to avoid unnecessary misunderstandings and problems.
Of particular note is that compared with developed countries in Europe and the US, Vietnam still does not have a sound legal system in line with international standards. Its laws and regulations governing foreign investment have much room for improvement and the government departments concerned do not have enough experience in dealing with more complicated foreign investments.
Although this may not affect the examination and approval process for investment projects, it is possible that the government may introduce retrospective restrictions and even demand re-negotiation of investment projects to ensure they are suited to local conditions and do not pose a threat to certain industries or sectors. This could have an adverse impact on the investor's budget, which in turn undermines the sustainability of the project.
For instance, Vietnamese people are becoming increasingly concerned about industrial pollution, and the government is placing more emphasis on environmental protection in the course of attracting foreign investment. The issue of pollution is particularly sensitive in the rural areas, where protests are becoming more frequent.
In recent years, Vietnam has promulgated a number of national emissions standards aimed at restricting the discharge of pollutants by different economic entities. Since the country's new Environmental Protection Law came into effect in 2014, many industrial projects are required to undergo environmental impact assessments, while production activities carried out in economic zones and industrial parks must meet the relevant environmental and emissions standards. Meanwhile, LJIP has stated that all companies entering the park must comply with the relevant environmental regulations, and that any acts of unlawful emissions or unauthorised disposal of wastes are strictly prohibited. [5]
When companies set out to plan their investments, action must be taken to ensure that their projects pass the environmental impact assessment and meet the emissions regulations stipulated by the local authorities. They should also gain a good understanding of the actual environment where their investment is located and consider the reactions of local residents.
Where necessary, companies should take the initiative and offer opinions to its investment partners and local government authorities on how it will meet the relevant international environmental standards. By so doing, both parties can thoroughly assess the environmental requirements of the project at the initial planning stage, and conduct consultations to achieve a win-win investment plan rather than simply meet the minimum legal requirements.
What's more, since mainland enterprises tend to give people a negative impression where environmental protection is concerned, they must strengthen environmental due diligence and observe Vietnam's laws and regulations as well as local conditions so as to avoid unnecessary hiccups.
Investors should also keep an eye on Vietnam's foreign-investment policies and its changing business environment to ensure the sustainable development of their investment projects. For instance, when Vietnam opened up to the outside world at the end of the last century, great efforts were made to attract foreign investment in labour-intensive and low value-added industries.
In recent years, however, some foreign investors, including multinational companies from Japan, Korea and Taiwan, have begun to invest in production activities with higher technology content in Vietnam. While such investments mostly involve export processing, the Vietnamese government has on various occasions indicated that, in order to promote industrial modernisation, it hopes to encourage foreign investors to invest in high value-added and high-tech industries, while avoiding obsolete technologies and highly polluting production.
In view of this, when investors formulate their investment plans, they must take into consideration the possible changes that may occur in Vietnam's industrial sector in the short to medium term instead of focusing on its current or past policies on foreign investment, so that their projects can take advantage of the relevant preferential policies and other industrial support.
In order to plan their projects, investors in Vietnam may refer to the government's long-term development blueprint for guidance in areas such as the connection between private and public facilities, logistics arrangements and integrated supply chain planning. For example, LJIP is actively upgrading the road system within the park to help take advantage of the HCM City-Trung Luong Highway. It has also expedited negotiation with the local government in the hope of advancing the construction of roads in the park connecting with the highway in a move to enhance the overall transportation and logistics efficiency of the park.
Risk Management of Belt and Road Investment
China has investments all over Europe, the Americas and Asia. However, as China gradually extends its outbound investment to countries along the Belt and Road routes, enterprises "going out" may face higher investment risks because the legal environment leaves something to be desired in some of these countries. Strong professional support is clearly imperative. Betty Tam, a Partner of Hong Kong law firm Mayer Brown JSM, said, "Some of the countries along the Belt and Road routes are not popular recipients of foreign investment, and some have not set up any sound legal systems in line with international standards nor any laws and regulations governing foreign investment.
"Through their extensive international networks, Hong Kong legal practitioners can act as team leaders of international projects and lead the professionals of different countries.
"They also have access to experts with local experience who can help conduct due-diligence investigations for Belt and Road investment projects and offer customised strategic proposals and feasibility reports that suit the actual situations of different places of investment. Hong Kong's service platform boasts a mix of advantages, such as free movement of funds and a simple and low-rate tax system.
"Together with Hong Kong's efficient business environment, this platform can facilitate investors in setting up companies for special purpose, restructuring their M&A transaction structure for future holding, transfer or alienation of equity or asset in the target company, and help carry out financing and handle cross-border tax arrangements for the projects concerned. It can provide mainland investors with one-stop professional services and assist them in capturing opportunities arising from the Belt and Road Initiative."
Notes:
(1) For further details, please see HKTDC research article (July 2016):
"Going Out" to Capture Belt and Road Opportunities (Expert Opinion 1): Key to Risk Management
(2) Mayer Brown JSM is a law firm established in 1863 in Hong Kong with offices set up in Hong Kong, mainland China, Singapore, Thailand and Vietnam. It has a multinational and multilingual service team underpinned by hundreds of lawyers who are qualified in local and international jurisdictions. To learn more about Mayer Brown JSM, please visit www.mayerbrown.com
Investors that have thoroughly evaluated all aspects of their projects at the initial planning stages can not only better ensure their competitiveness but also enjoy the policy concessions and facilitation offered by Vietnam in support of local development. They can also avoid the prospect of having to re-negotiate with the government at a later stage. Nevertheless, Vietnam still has to resolve many administrative and bureaucratic issues. If an investment project lacks thorough planning resulting in a grey area, such administrative issues could bring problems when the investor negotiates with the government at a later stage, which will in turn incur extra costs in terms of money and time on the part of the investor. Although the government has pledged to deal with these problems and improve administrative efficiency, such difficulties are expected to remain in the short term.
Hong Kong's professional service providers can make use of their extensive international networks to obtain information on Vietnam and details about investment projects in the country.
Apart from studying the background and data of these projects, they can also make professional assessments of the prospects of investing in Vietnam, offer detailed analysis of the strengths and weaknesses of proposed investment plans, provide accurate future performance and risk forecasts, and make all-round strategic investment recommendations.
As far as environmental protection is concerned, Hong Kong also has a pool of service providers rich in international experience, which can offer custom-made solutions to mainland enterprises for their investment projects in Vietnam. These solutions can meet the needs of the investor and comply with local laws and regulations.
Please click here to purchase the full research report.
---
[1] For more details, please see HKTDC research article (March 2017): Vietnam Utilises Preferential Zones as a Means of Offsetting Investment Costs
[2] Opened to traffic in 2010, the 62km HCM City-Trung Luong Highway connects Ho Chi Minh City with Tien Giang Province and other areas in the Mekong River Delta region
[3] For more details on labour costs, please see HKTDC research article (April 2017): Vietnam's Youthful Labour Force in Need of Production Services
[4] Source: Vietnam's Master Plan on Supporting Industry Development to 2020, Vision to 2030
[5] For more details, please see HKTDC research article (April 2017): Vietnam's Increasing Demand for Environmental Services
Belt and Road: Development of China's Overseas Economic and Trade Co-operation Zones (1)
Belt and Road: Development of China's Overseas Economic and Trade Co-operation Zones (3)
Belt and Road: Development of China's Overseas Economic and Trade Co-operation Zones (4)
Belt and Road: Development of China's Overseas Economic and Trade Co-operation Zones (5)
Viet Nam
Mainland China
Southeast Asia
Mainland China