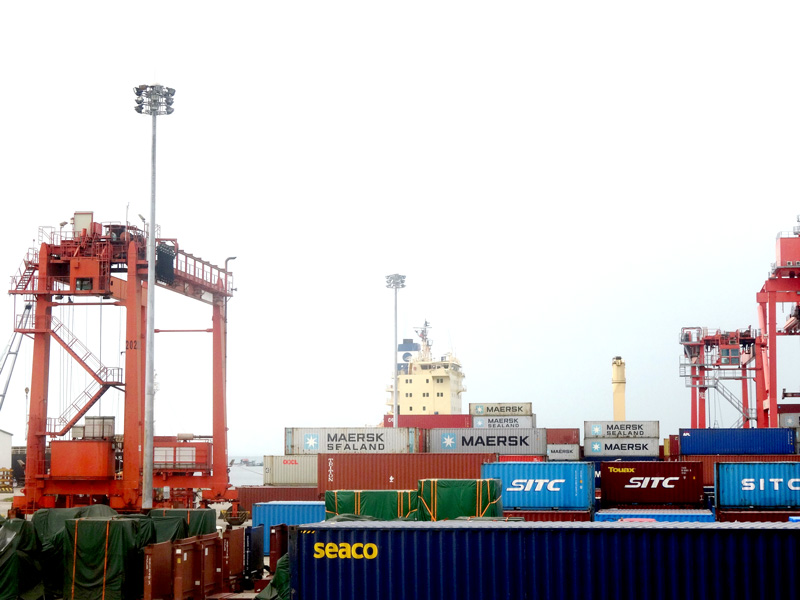 https://origin.hkmb.hktdc.com/en/1X0AAGXR
Belt and Road: Development of China's Overseas Economic and Trade Co-operation Zones (3)
Special Economic Zone in Sihanoukville, Cambodia
Cambodia, an important country along the 21st Century Maritime Silk Road, is on friendly terms with China. With low-level development, it is the second-smallest economy among the 10 ASEAN countries. Since Prime Minister Hun Sen came to power, however, the political situation has been generally stable, enabling vigorous development of the economy. Along with efforts in encouraging foreign investment and relatively low labour and production costs, Cambodia liberalised most of the industries to the outside world after joining the World Trade Organization (WTO) in 2004, enticing many foreign manufacturers to transfer labour-intensive production processes to the country. Taking into account the minimum standard wage of US$153 per month and other expenses, the actual labour cost ranges from about US$160 to US$180 a month.
Meanwhile, many products from Cambodia are offered special trade privileges and additional tariff concessions by the developed countries of Europe and the US. For example, except for some textiles, clothing, shoes and watches, the US currently provides special import treatment under the Generalized System of Preferences (GSP) to about 5,000 products from Cambodia and other Least Developed Beneficiary Developing Countries (LDBDCs), expanding to include travel goods from July 2016. Cambodia continues to be listed as a recipient of "Everything But Arms" arrangement under the European Union's (EU) Generalised System of Preferences, which came into effect on 1 January 2014, in which, except for arms supply, all Cambodian products are exempt from import duties by the EU. Furthermore, Japan offers a variety of tax privileges for Cambodian imports.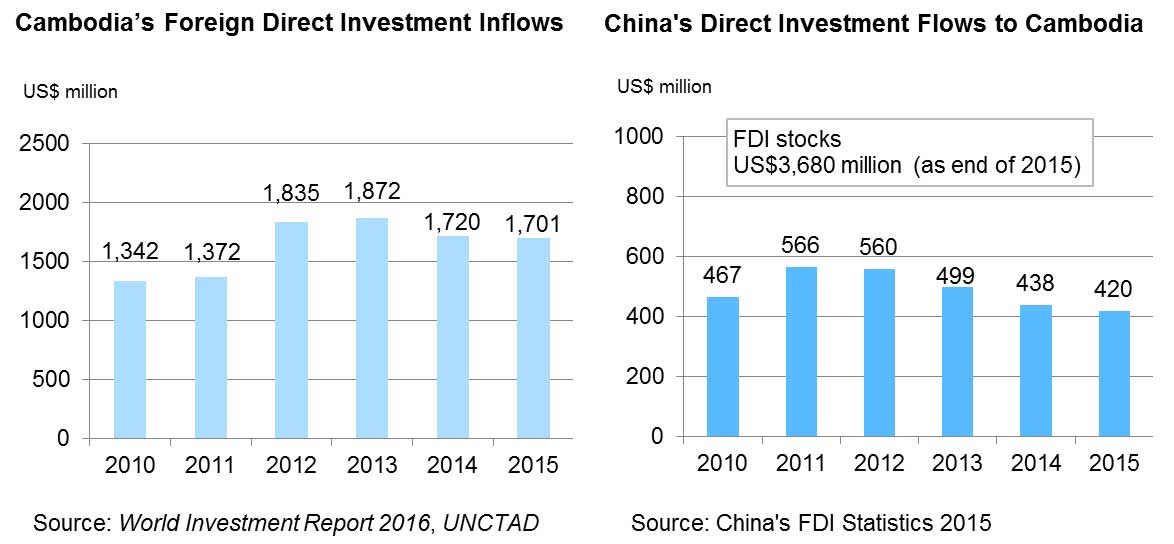 Foreign direct investment has continued to flow into Cambodia in recent years, amounting to about US$1.7 billion of funds in 2015, including about US$400 million from China for investment in local manufacturing, real-estate development, agriculture and various types of services. The continued strong performance of, in particular, the local garment industry and other light manufacturing/processing industries, as well as the construction industry, directly stimulates Cambodia's economic development.
At present, the service industry is Cambodia's largest economic sector, accounting for about 40% of GDP, followed by agriculture, making up about a third. Together, these two sectors employ about half of the country's working population. The industrial and construction sectors make up the rest.
The International Monetary Fund (IMF) projected economic growth in Cambodia to be about 7% in 2016 and 2017. Indeed, the country's current development goal is to drag millions of people out of poverty through sustained economic growth programmes.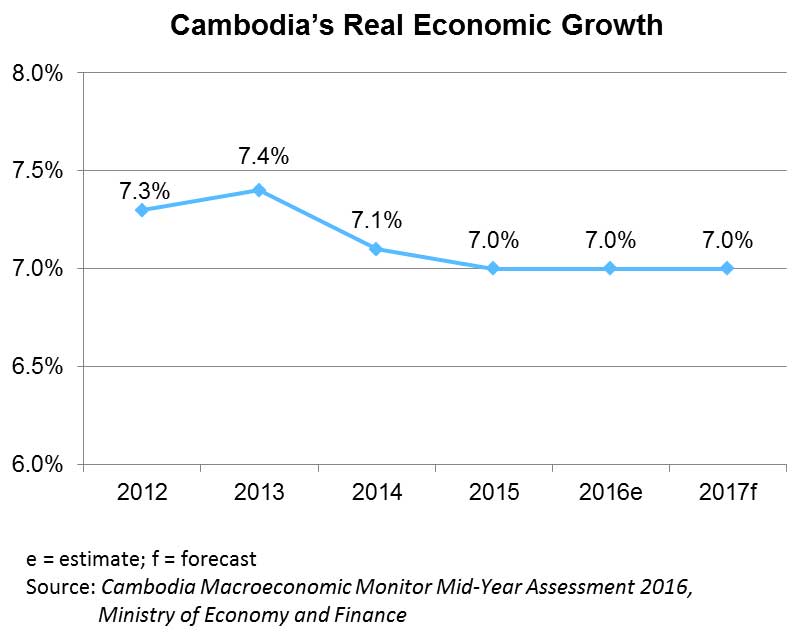 Cambodia has utilised special economic zones since 2005, setting up about 30 industrial parks to attract overseas investment in manufacturing. These zones or industrial parks are authorized by the Cambodia Special Economic Zone Board, while mainly planned, constructed and managed by private enterprises or investors. The government only plays an investment promotion role and provides qualified enterprises with tax concessions. By the end of 2016, 11 of the zones had been put into operation, including the Sihanoukville Special Economic Zone (SSEZ), a joint development between enterprises from China and Cambodia.
Located in Sihanoukville, Cambodia's only international port city, the SSEZ is a leading state-level foreign economic and trade co-operation zone lead-managed by Hodo Group, a key enterprise of Jiangsu Province, and co-managed by four Chinese and Cambodian enterprises. It is the only Cambodian-Chinese state-level economic zone recognised by the governments of the two countries, and the first co-operation zone signed under bilateral government agreements to establish mutual government co-ordination mechanisms.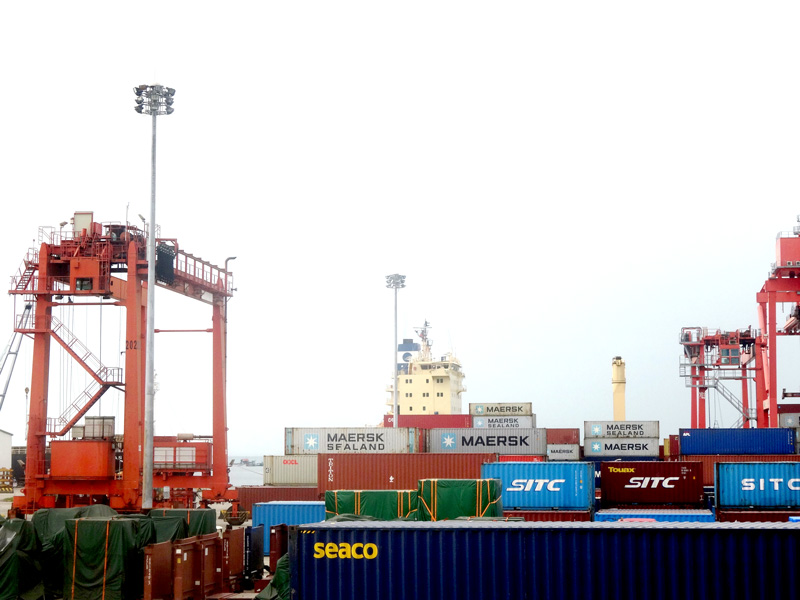 Sihanoukville is located in the south of Cambodia, about 210km from the capital Phnom Penh. The SSEZ is ideally positioned with road access to major transport routes such as National Highway No. 4, as well as Sihanoukville Airport and Sihanoukville Autonomous Port, the country's only deep-sea port, which handled more than 70% of Cambodia's total container throughput in 2016.
The overall development area of the SSEZ is 11.13 square kilometres, with an initial development area of 5.28 square kilometres. The basic infrastructure construction has been completed, including a road transport network, a water/electricity supply system, a sewage and sewage treatment system, and a communications system. There are also some standard plants and a multi-functional integrated service centre housing office, residential, dining and entertainment facilities.
The SSEZ, with Hodo Group as the primary investor, is looking to develop industrial clusters of companies in the fields of textiles and garments, hardware machinery and light-industry appliances. After the completion of all the facilities in 2020, the zone is expected to house 300 enterprises generating 100,000 jobs. At the end of 2016, about 100 enterprises from mainland China, Europe, the US and Japan had been established in the SSEZ, mainly in the sectors of textiles, light-industrial products, accessories and other production operations, with some having come on stream.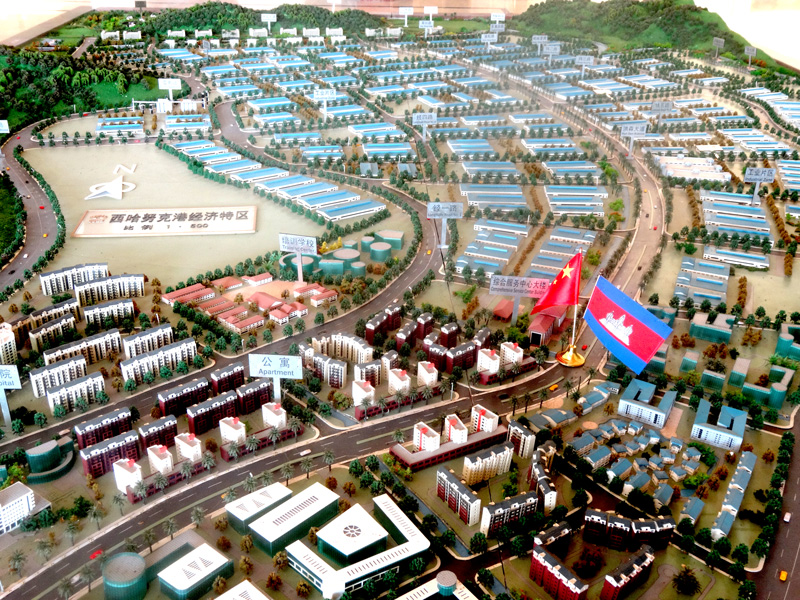 Tax and Management Advantages
Enterprises that set up in the SSEZ can enjoy a series of tax incentives, including:
Imported equipment, building materials, spare parts and raw materials used for production are exempt from import duties.
According to the type of product, enterprises in the SSEZ can enjoy a profit tax holiday of six to nine years. (Cambodia's current general corporate income-tax rate is 20%, while the income-tax rate of relevant resource extraction is 30%.)
Exports are exempted from export tax.
Production equipment, building materials, and raw materials of export market service industries are exempt from value-added tax.
Notwithstanding that Cambodia is a low-growth country with poor infrastructure development, the SSEZ's self-built water plant, power plant, and municipal water and electricity network can ensure 24-hour water and electricity supply for enterprises in the zone. At the same time, it collaborates with the relevant government authorities to provide a "one-stop" service window to help enterprises deal with registration, customs declaration, commodity inspection, and certification of country of origin. It also assists in ensuring logistics support including import and export transport, customs clearance and warehousing by introducing logistics service companies into the zone.
Industry Chain and Enterprise Development Strategy
A growing number of Chinese enterprises engaged in light industries, including textile products and clothing, are interested in setting up factories in the SSEZ and elsewhere in Cambodia to take advantage of the low labour costs and GSP tariffs concessions granted by developed countries to Cambodian products. Mostly medium to large enterprises, these investors not only actively map out production activities in mainland China, Southeast Asia and other regions, but many are also adopting transformation and upgrading strategies to develop original design products for sale by mainland and international customers, with some even hoping to carry out their own brand business in mainland China and Southeast Asian markets.
The Cambodian government also rolled out the Industrial Development Policy 2015-2025 in 2015 to develop a roadmap to promote investment and expand the foundations of domestic manufacturing. The vision is to promote industrial upgrading from labour-intensive to skill-driven industry development in Cambodia by connecting regional and global value chains by 2025 to enhance the level of modernisation and productivity.
As a result, Chinese mainland investors setting up factories in Cambodia do not limit themselves to producing low-end products, but also turn out high value or fashion items and accessories. Taking advantage of local production capacity to enrich their product portfolios, which align with the development of brand image and product lines, they can meet Chinese mainland and Asian market needs, supplying mainland and international brand customers with products of higher grades or original designs. Hong Kong's brand design planners and marketing service providers are well-positioned to provide these investors with a comprehensive corporate and brand development strategy, formulating long-term business and investment development plans rather than narrow or piecemeal strategies.
Rich Experience in International Brand Promotion
Philip Tse, Account Director of Paco Communications Ltd (Paco), told HKTDC Research: "In the past few decades, Hong Kong's practitioners in marketing and branding have been planning and executing all sorts of branding and promotional activities for many well-known international brands in the Asia-Pacific region, the mainland included. This is one of the reasons why multinationals are choosing to have their Asia-Pacific headquarters in Hong Kong. Paco specialises in spatial design and promotion for brands. Its creative and project-management teams have served a large number of international clients, including renowned luxury labels, famous fashion brands and international consumer chains. Over the years, it has completed more than 3,000 design-and-production projects of all sizes and has helped clients expand into Hong Kong, the mainland, Southeast Asia (including such Belt and Road countries as Vietnam and Myanmar) and other Asia-Pacific markets. Paco is particularly strong at providing its clients with services in creative designs as well as in the planning and construction of commercial space, including visual merchandising projects such as image counter, brand boutique, exhibition, events & HPP [High Profile Promotion] designs and marketing services. It produces quality furniture and has set up retail image counters in order to provide its clients with all-round one-stop services."
Remarks: For further details, please see HKTDC research article (September 2016):
"Going Out" to Capture Belt and Road Opportunities (Expert Opinion 8): Marketing Global Brands
Labour Management
In order to implement commitments to US trade agreements, Cambodia launched the Better Factories Cambodia Programme in 2001, administered by the International Labour Organization (ILO), to improve the working conditions of employees engaged in the textile and garment industry and enact laws to make the relevant factory assessment a legal requirement for garment export factories. Nonetheless, Cambodia's garment industry is still plagued by strikes and protests. According to the Ministry of Labour and Vocational Training of Cambodia, 220 strikes took place at 211 enterprises in 2016, mostly over labour welfare and employees' demands for better working environments.
Labour disputes not only affect the production activities of investors, but may also have a negative impact on the image of investing companies. As such, investors must carefully assess the risks in the early stages of investment and consider the practical issues of employment. Apart from legal requirements and costs, investors are advised to keep abreast of local labour issues, culture and other employment conditions, make proper business arrangements and, if necessary, use third-party factories and related audit services in order to enhance labour and other production conditions to internationally recognised standards. They should develop appropriate contingency plans in advance to avoid individual events that may affect the overall image of the enterprise and brand, relations with the international brand customers, and the long-term development strategy.
Transportation and Logistics Support
Most of the production and export enterprises investing in the SSEZ, as well as other parts of Cambodia, rely heavily on imported materials and equipment. As investors accelerate towards producing higher grades of products, they need to import better value materials of a wider variety to support their production activities in the SSEZ. Efficient transport and logistics services are therefore essential.
China and Cambodia maintain close bilateral trade relations. With the continued flow of foreign capital into Cambodia to invest in local processing and export businesses, many Chinese and foreign transport companies are following in the footsteps of customers to step up the provision of international cargo transport services, including maritime transport and logistics services between China and Cambodia. Among them are Maersk, RCL, SITC, Samudera, COSCO, CMA and Hyundai, which are adding regular liner service to Sihanoukville Autonomous Port to capture the growing demand for international transportation.
Apart from transport services, enterprises investing in the SSEZ should also pay heed to the overall supply chain situation and use appropriate logistics services to ensure the smooth development of relevant production activities. In particular, the supply chain of light-industrial products is becoming more complicated. Accessories such as cloth, plastic and metal hardware for the manufacture of garments and other textiles can be produced in mainland China or other production bases including ASEAN countries. Automated or semi-automated production-line equipment, however, can be produced on the mainland, or in Germany or other developed countries. Overall, the supply chain is becoming increasingly complex.
Furthermore, the international market is changing. For example, mainland and international brand customers have to take into consideration the ever shortening product development cycles of higher-grade fashion products, increasingly requiring their suppliers to equip with "quick response" capabilities. As such, it is advisable for SSEZ companies to use appropriate management systems, information technology, or enlist Hong Kong and other overseas partners to enhance supply chain management services and provide efficient third-party logistics services to facilitate the enterprises' long-term development.
Please click here to purchase the full research report.
Belt and Road: Development of China's Overseas Economic and Trade Co-operation Zones (1)
Belt and Road: Development of China's Overseas Economic and Trade Co-operation Zones (2)
Belt and Road: Development of China's Overseas Economic and Trade Co-operation Zones (4)
Belt and Road: Development of China's Overseas Economic and Trade Co-operation Zones (5)
Finance & Investment
Advertising Services
Logistics & Supply Chain
Mainland China
Hong Kong
Cambodia
Mainland China
Hong Kong
Southeast Asia