https://origin.hkmb.hktdc.com/en/1X0AFV78
Upgrading the Modern Manufacturing Sector in Guangdong-Hong Kong-Macao Bay Area
In the face of rising production costs and uncertainties in international trade, enterprises in Guangdong are quickening the pace of transformation and upgrading. In addition to investing heavily in automated production equipment, many enterprises are also looking to advanced industry standards, such as "Industrie 4.0", in an attempt to incorporate technologies like the Internet of Things (IoT) and big data analytics into production processes in pursuit of smart manufacturing. By so doing, industry players can on the one hand enhance production efficiency and quicken market response, while on the other hand overcoming such bottlenecks as diminishing marginal benefits of industrial upgrading investment and raising overall competitiveness to meet challenges.
Currently, Guangdong, Hong Kong and Macao are collaborating in establishing an advanced manufacturing system in the hope of giving full play to the advantages of different cities in the Guangdong-Hong Kong-Macao Bay Area (the Bay Area). Joint efforts are being deployed to propel industries towards the high end of the value chain. Against this backdrop, Bay Area players can make use of the Hong Kong platform to "go out" and find the right technologies and cooperation partners. By taking advantage of Hong Kong's extensive professional services, strong financial sector and free flow of information, Hong Kong can help industries in the Bay Area to upgrade and improve competitiveness. Meanwhile, Hong Kong, with its sound legal system and worldwide recognition for protection of intellectual property rights, can serve as the bridgehead for enterprises in the Bay Area importing technologies from foreign partners to achieve higher industry standards.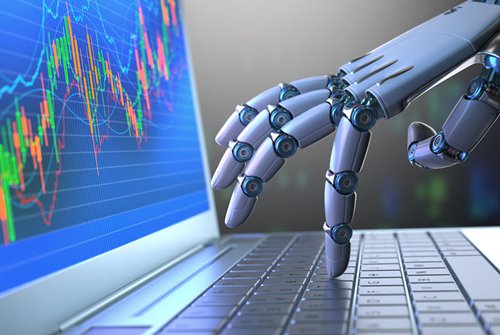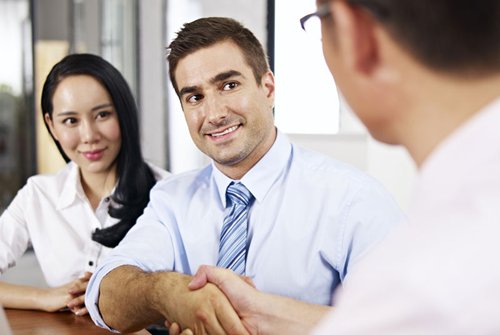 Responding to the Changing External Environment
Since the turn of the century, when developed countries started to relocate manufacturing activities to low-cost regions on a large scale, Guangdong has evolved into one of the major production bases in China, hailed as the "world's factory". However, in recent years problems such as rising production costs and labour shortages began to surface in Mainland China, coupled with the recent US-China trade disputes. This has resulted in enterprises facing increasing uncertainties. Moreover, as the international market has been slowing down, some enterprises are worried that the number of orders is likely to drop in the coming years. All these developments have driven further transformation and upgrade to better meet the challenges of the changing external environment.
A great number of enterprises in Guangdong have already started to adjust their business strategies years ago. According to a questionnaire survey conducted by the HKTDC Research in the south China region earlier, over half of mainland enterprises indicated that they would make greater efforts in developing mature and/or new markets overseas. Many also pointed out that they would further expand the mainland domestic market, enhance their product design and technological R&D capabilities, develop/strengthen own-brand business, as well as pursue transformation and upgrade by way of such business strategies as enhancing production technology/automation. [1]
Hence, although the rate of industrial growth in Guangdong has dropped from double-digit figures of previous years to 7.2% in 2017, the overall size of the industrial sector has still maintained a steady growth thanks to rising competitiveness. The average pre-tax profit margin of Guangdong's manufacturing enterprises has risen steadily from about 8.4% in 2000 to around 10.3% in 2017, suggesting that their efforts to transform and upgrade have been quite successful.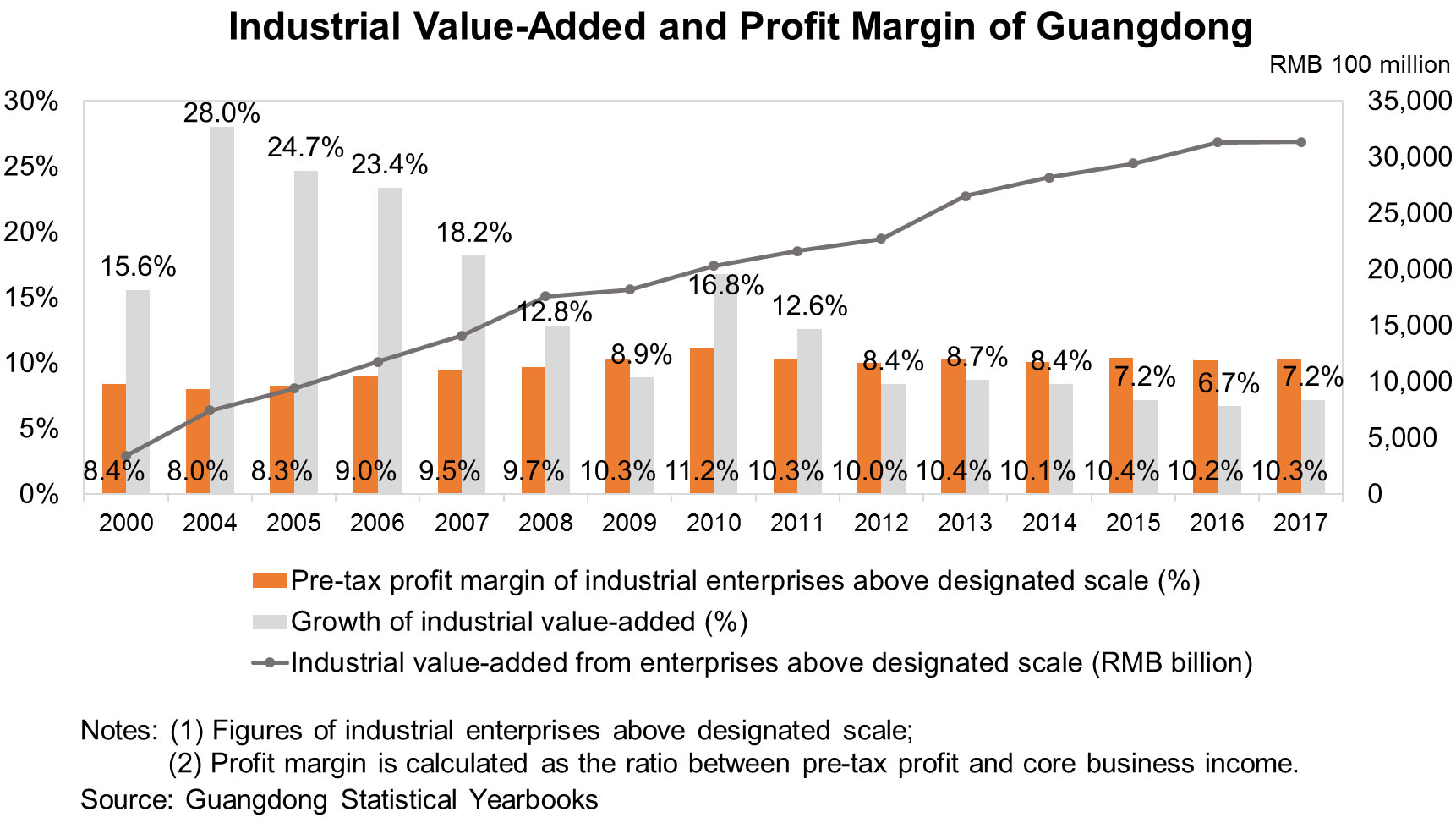 Transformation and Upgrade of Automated Production
Where production is concerned, Guangdong enterprises in general are proactive in enhancing their production capacities and are increasingly willing to invest in automated production lines as well as purchase more advanced automation equipment. By so doing, they hope to resolve the problems of labour shortage and rising wages. At the same time, as market competition intensifies and clients' requirements for various consumer goods and industrial products are becoming more sophisticated, many enterprises have increased investments in upgrading production equipment in recent years to turn out products of more intricate design and higher quality to compete in the increasingly competitive market.
As production capacities rise, the labour productivity of Guangdong enterprises, as measured by the average industrial value-added per worker, rose rapidly from less than RMB60,000 per capita in 2000 to over RMB220,000 in 2017, a growth of almost three folds. The strategy of using investment to raise production capacity is not only found in high-tech industries, but also common in certain labour-intensive sectors, such as garment and furniture manufacture, a trend that has long history.
The installation of more automated production lines has also, to a certain degree, helped raise the contribution from capital input to pre-tax profit. Between 2000 and 2010, the return on total assets (ratio of total pre-tax profit to total assets) of industrial enterprises in Guangdong almost doubled from 8.86 in 2000 to 15.63 in 2010. However, this figure dropped subsequently to 12.45 in 2017.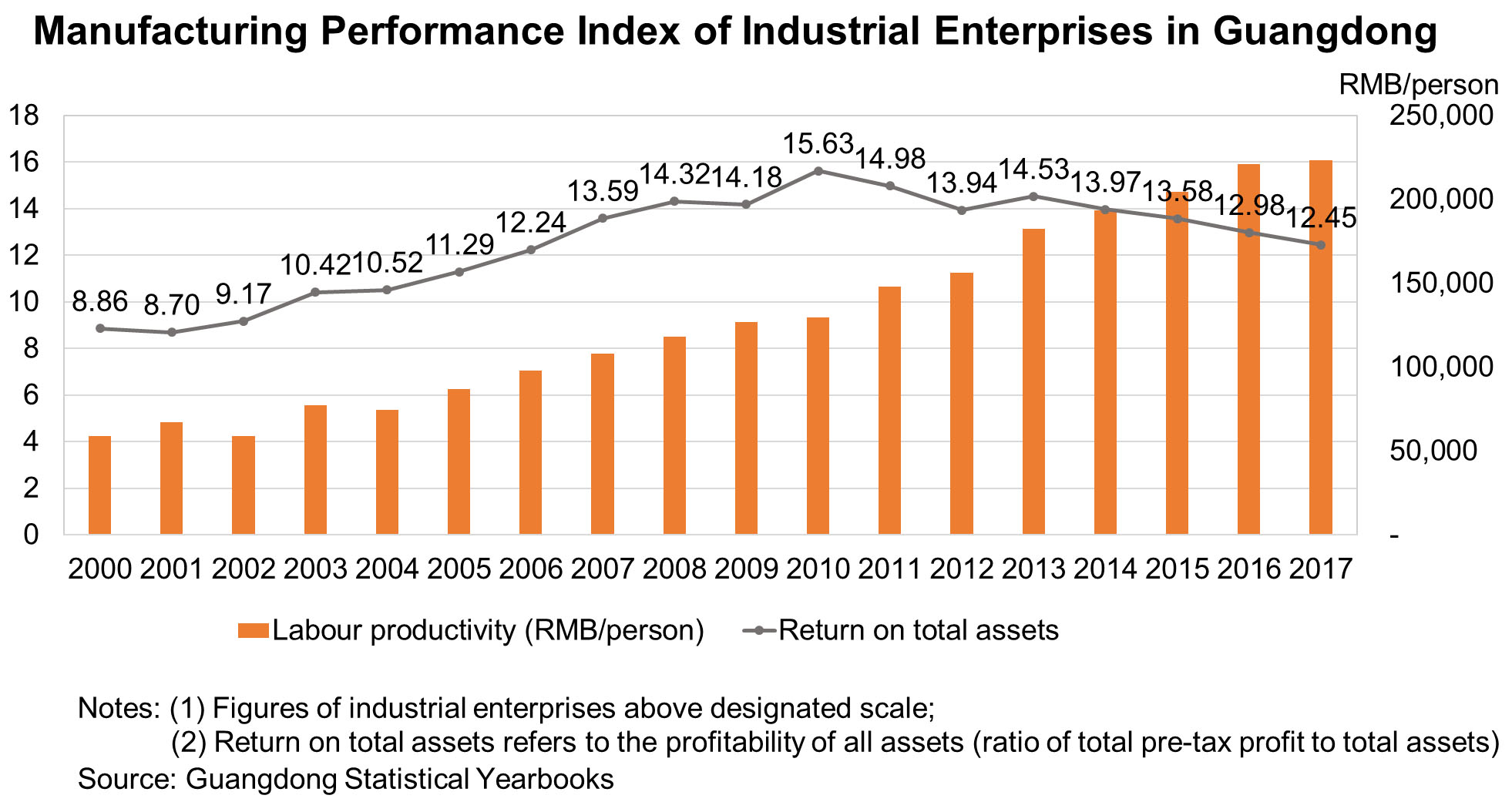 Resolving Problem of Diminishing Marginal Investment Return
One of the reasons for the diminishing marginal return is that rising production materials costs and a fluctuating renminbi exchange rate in recent years have undermined the low-cost advantage of Guangdong, including locations in the Pearl River Delta (PRD) region. This, coupled with economic slowdown and steep market competition the world over, has caused a significant drop in orders received by some factories. The failure of these factories to shift the rising costs to downstream clients and consumers has resulted in the gap between ex-factory price and materials purchasing price shrinking, exerting pressure on manufacturers.
From 2007 to 2017, the cumulative growth in the Guangdong industrial sector ex-factory price index was only 2%, yet during the same period the cumulative growth of materials purchasing price index shot up to 10.7%. The rise in purchasing price was mainly driven by increasing prices of production materials, such as agricultural by-products, textile raw materials, building materials as well as ferrous metals not including non-metallic minerals, and steel. The cumulative growth in the purchasing price index of these materials was 42.6%, 27.9%, 22.5% and 22.3% respectively during the same period.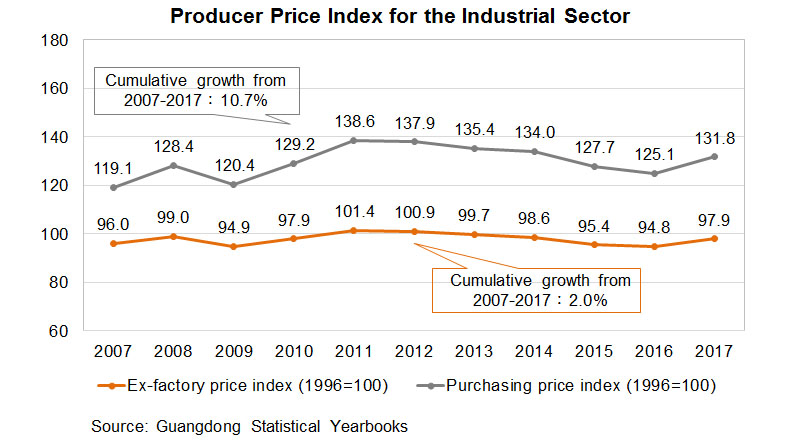 Although Guangdong is China's largest high-tech industrial production base[2], growth of the industrial sector in the province has been driven by foreign trade in the PRD. Most manufacturing activities in the region are conducted in the form of processing trade, with the majority of players being OEM enterprises engaging in activities of the lowest value-added on the value curve and earning a relatively thin profit or processing fee. In light of this, in recent years, enterprises in the PRD have been devoting great efforts to transformation and upgrade in the hope of developing higher value-added business and wriggling out of the low profit, low value-added processing business. Indeed, the share of processing trade in Guangdong's total trade has been shrinking steadily from over 70% in 2000 to 37.4% in 2017. But, compared with the national level of 29% in 2017[3], the PRD and Guangdong province at large still rely heavily on processing trade.
While increasing investment in automation and advanced production equipment can help enterprises eliminate obsolete production methods and raise production capacity, profit margin remains narrow. Furthermore, after years of development, the marginal return and extra benefits of investment are gradually diminishing. Making matters worse is the changing external environment, with the rise of new competing production bases in Asian countries and uncertainties brought about by the recent US-China trade disputes exerting pressures on Guangdong enterprises' international business. As such, how to map out strategies for further development leveraging automation and achieve sustainable business growth has become a primary concern for many enterprises in the province.
Many Guangdong enterprises are already actively tapping both the mainland and foreign markets in a move to diversify market risks caused by US-China trade friction. Meanwhile, efforts are also being made to strengthen ties with competitive production bases in other places on the mainland and in the Asian region, optimise the supply chain in terms of production and sourcing, and raise overall business operation efficiency. Where production management is concerned, apart from further enhancing automation to raise production capacity, how to respond quickly to fast-changing international market demands and keep in pace with the increasingly complex supply chain structure mentioned above is also key to Guangdong enterprises' future business development.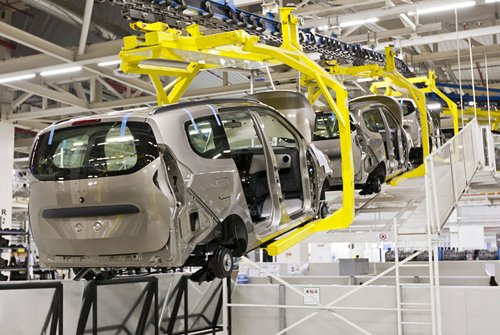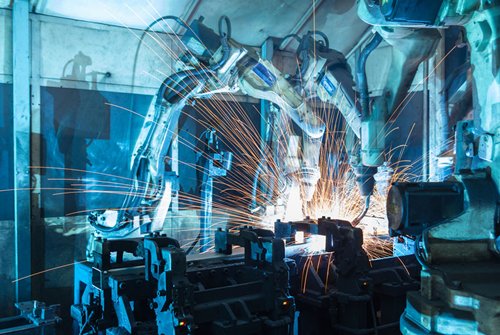 The Smart Manufacturing Option
It is worth noting that enterprises in Guangdong have been moving towards medium- to high-end businesses. Hence, their manufacturing technology needs are no longer limited to acquiring the necessary equipment. Instead, needs are gradually shifting towards acquiring the capability to produce high-tech products and handle advanced materials, as well as the use of applications such as IoT and big data analytics in raising overall production and operational efficiency. As a result, it is getting increasingly difficult for these enterprises to achieve their objectives merely through the acquisition of any single automated production equipment or through routine sourcing activities.
Consequently, quite a number of Guangdong enterprises have been collaborating actively with external partners in recent years, and are leveraging the "going out" policy to carry out various types of technology or direct investment projects with foreign enterprises as a way to obtain the necessary technology to raise production efficiency. In addition to continuing to acquire advanced industrial robots and other automatic production equipment from external partners, the enterprises concerned are also referencing industrial systems standards in advanced countries to speed up production processes upgrade.
HKTDC Research is interested in gauging the views of Guangdong enterprises located in the Bay Area, particularly on industry development. In November 2018, with help from the Department of Commerce of Guangdong Province, HKTDC Research exchanged views with several Bay Area industry representatives on how Hong Kong could further strengthen co-operation with other Bay Area cities. Some of the enterprises interviewed said they are taking a page from Germany's "Industrie 4.0" strategy by trying to incorporate advanced information and communications technologies (ICT) into manufacturing while bringing in external partners and technology solutions via the Hong Kong platform.
It is no coincidence that participants of the Symposium on Intelligent Manufacturing and Interconnected Production Processes on State Secretary/Vice Minister Level held in November 2018 pointed out that, as the pace of integration of ICT technologies into manufacturing is now picking up, and as the speed of transformation from digital manufacturing to web-based and smart manufacturing is also quickening, the new methods of production and new industry formats formed as a result will provide fresh impetus to high-quality economic development. Since the Chinese and German manufacturing sectors are highly complementary to each other, there is tremendous potential for co-operation between the two countries in the practical areas of setting up smart manufacturing demonstration sites, formulating technology standards and establishing industrial parks.[4]
Thanks to its strong machinery and equipment manufacturing industry and advantages in IT, embedded systems and automation engineering, Germany is now further consolidating its leading position in the global manufacturing engineering industry. With that as a foundation, the Industrie 4.0 strategy aims at creating "smart factories" through the application of a cyber-physical system (CPS) in conjunction with IoT, big data analytics, cloud computing and other technologies to improve on industrial production processes in manufacturing, engineering, materials utilisation and supply chains.[5]
With China and German industries at different stages of industrial development, there are more chances for co-operation than competition between the two countries. The similar experience, technology and industry standards involved should prove helpful for Bay Area enterprises in further enhancing their production capabilities and in overcoming diminishing marginal returns on investment as well as other bottleneck problems.
Additionally, HKTDC Research has the following findings from recent exchanges with Guangdong enterprises:
Training of technical personnel

Manufacturing enterprises mostly want to use more artificial intelligence (AI) technologies to carry out quality inspections of incoming materials, production assemblies, product testing and inventory management so that, in addition to upgrading their production systems, they can reduce reliance on unskilled labour. Many enterprises, however, also said that they are facing a shortage of skilled workers, including technicians for operating production equipment as well as hardware and software engineers for maintaining production systems. This problem is particularly acute in second- and third-tier cities in the Bay Area. Therefore, if they want to upgrade to industry standards, such as Industrie 4.0, enterprises should strengthen their ties with external partners in jointly training more skilled personnel in anticipation of automated or even smart manufacturing.
Upgrading supply chain management

Some enterprises said that, in the course of attaining automated manufacturing, they need to simultaneously upgrade the corresponding supply chain management and information systems to ensure that material procurement and logistics can more precisely meet the needs of higher production line efficiency, while minimising material and product inventories to lower the overall financial cost of supply chains. Moreover, as many enterprises in the Bay Area are gradually increasing business ties with lower-cost regions and other Asian locations in production and sourcing, while boosting production efficiency in the Bay Area, most would plan on upgrading their supply chain management system to cope with increasing trading activities with upstream and downstream enterprises within the industry. This way, they would be able to fully leverage the production advantages of various regions in raising their competitiveness.
Obtaining effective technological information

Though there are currently many international exhibitions and technology exchange activities on the mainland, some enterprises nevertheless want to obtain further information on production technology. They also want to understand development trends in future world industry standards via more platforms so that they can better choose suitable advanced technology and develop effective upgrading plans. This way, businesses hope to raise production efficiency in compliance with environmental laws and production regulations at the same time, while enhancing compatibility with upstream and downstream business partners in terms of production information exchanges.
Optimising financial planning

Enterprises carrying out upgrade and transformation must set aside an annual budget for purchasing new production equipment. While medium-sized and large enterprises have larger budgets compared with small businesses, the resources required to acquire more advanced production systems would need more money than in previous upgrades. So, in addition to wanting lower-cost funding to finance upgrade projects, enterprises would need to collect more information on market demand and supply chains to better set out a comprehensive financial plan for systems upgrade.
Joint Upgrading and Development within the Bay Area
Guangdong, Hong Kong and Macao are now co-operating in setting up modern industrial systems so as to exploit industrial advantages of different cities in the Bay Area. The aim is to facilitate the co-ordinated development of industries, to optimise the framework of industrial development and to accelerate the shift towards the high end of global value chains. Given such circumstances, other cities in the Bay Area can co-operate with industry players in Hong Kong by using the Hong Kong platform to foster industrial transformation and upgrade in the Bay Area.
For smart manufacturing in particular, many enterprises are still lacking in standard solutions. If they want to take leading standards from overseas as reference, they have to adopt the "going out" option to seek co-operation with overseas partners. But it should be noted that foreign industry standards like Industrie 4.0 are set out to raise industrial competitiveness of the corresponding foreign countries, and such industry upgrade strategies are not designed for industries in other countries. Therefore, if an enterprise in the Bay Area wants to co-operate with a foreign counterpart to carry out industrial cooperation, it will have to set its sights correctly in identifying a technical partner suitable for its own upgrading needs so as to avoid bringing in unsuitable or even outdated technology.
Furthermore, the way the intellectual property (IP) is handled on the mainland is also among the concerns of foreign companies. To effect smart manufacturing, large quantities of data must be crunched to optimise production processes, so security matters such as the protection of data and proprietary information will be a crucial issue in co-operation between mainland and overseas enterprises.
For this reason, Hong Kong can be a bridge linking the Bay Area with foreign technology companies. The array of professional services available in Hong Kong has long been valued by mainland enterprises, so Hong Kong is the platform of choice in seeking business partners overseas. For example, Hong Kong's professionals can carry out services such as market surveys, due diligence as well as risk management and assessing the suitability of the technology and equipment on behalf of mainland enterprises. Moreover, with a cluster of technology firms of different backgrounds, Hong Kong has the necessary might to bring suitable local and overseas technology partners into the Bay Area.
To make good use of the legal protection offered by Hong Kong, many foreign companies already have subsidiaries set up in Hong Kong to handle IP, manage the related operations or enter into contracts with their mainland clients. Hong Kong enjoys a worldwide reputation for its sound legal regime, its strict adherence to international industry practices and its long-held tradition and ethics of respecting and keeping commercial secrets. All these conditions can help Bay Area enterprises use the Hong Kong platform to carry out various kinds of technological collaborations with their foreign counterparts, thereby creating win-win partnerships for the stakeholders concerned.
As an international financial centre, Hong Kong offers a comprehensive range of financial services and is therefore in a position to provide Bay Area enterprises and foreign technology companies with the required credits and financing services, including the furnishing of cost-effective funds for industrial upgrade projects. Helping mainland enterprises lower financing costs is also a key consideration for foreign players in choosing Hong Kong as their operation base. In all, by virtue of its advantages in technology and financing, as well as market information and IP management, Hong Kong is poised to join hands with Bay Area enterprises to help achieve industrial upgrade and develop towards higher industry standards.
---
[1] The HKTDC Research conducted a questionnaire survey in the south China region in 2016. For details, please refer to: "Chinese Enterprises Capturing Belt and Road Opportunities via Hong Kong: Findings of Surveys in South China"
[2] Ranking of high-tech industrial production is based on the core business revenue of high-tech industries in various locations.
[3] Source: Guangdong Bureau of Statistics; National Bureau of Statistics of China
[4] The Vice Minister of China's Ministry of Industry and Information Technology presided at the second Symposium on Intelligent Manufacturing and Interconnected Production Processes on State Secretary/Vice Minister Level held on 19 November 2018. For details (in Chinese), please visit the webpage at http://www.miit.gov.cn/newweb/n1146290/n1146397/c6501493/content.html.
[5] For details about Industrie 4.0, please access the German Federal Ministry for Economic Affairs and Energy website.
Technology
intellectual property
Hong Kong
Macau
Mainland China
Hong Kong