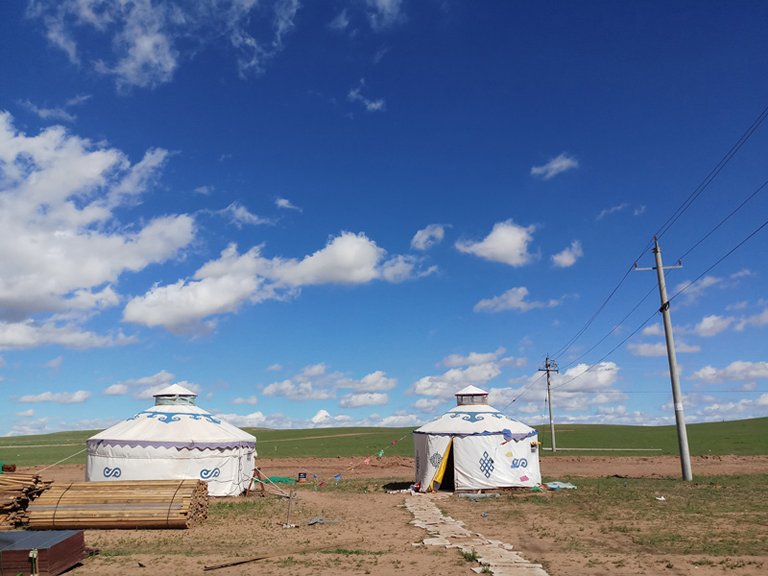 https://origin.hkmb.hktdc.com/en/1X0AG5BA
Belt and Road Inner Mongolia: Strategic Objectives and Key Deliverables
China's Belt and Road Initiative (BRI) aims to promote economic links between countries along its routes, and integrate regional development strategies. China, Mongolia and Russia are building the China-Mongolia-Russia Economic Corridor in a bid to strengthen existing cross-border trade and investment between the three countries and turn the region into an integral part of the BRI. Inner Mongolia, a border province in northern China, acts as a bridgehead between China and its northern neighbours. It serves as a logistics centre and trade hub along the China-Mongolia-Russia Economic Corridor and plays an important role in China's external-oriented economic development.
China-Mongolia-Russia Trade Hub
The Inner Mongolia Autonomous Region, on China's northern border, is a major trading partner of neighbouring Mongolia and Russia. Trade with the two countries accounts for over 50% of Inner Mongolia's import-export trade as well as a considerable share of China's trade with both countries. Two of the region's border cities, Erenhot and Manzhouli, are China's largest trade hubs with Mongolia and Russia respectively.
Major Import & Export Trading Partners of Inner Mongolia, 2017
Total trade with Inner Mongolia
(US$m)
Share of Inner Mongolia's total exports (%)
Share of Inner Mongolia's exports in China's exports to the country (%)
Share of Inner Mongolia's total imports (%)
Share of Inner Mongolia's imports in China's imports from the country (%)
Mongolia
3,909
10.5
33.6
42.2
67.6
Russia
3,044
12.9
1.2
30.6
6.1
Australia
589

0.8
0.1
6.7
0.6
USA
539
6.8
0.1
3.3
0.2
Source: Inner Mongolia Autonomous Region Statistics Bureau, National Bureau of Statistics of China
Since Inner Mongolia's foreign trade is mainly conducted with Mongolia and Russia, its export growth relies heavily on the economic conditions of the two countries. Between 2014 and 2016, falling commodity prices badly affected economic growth in Mongolia and Russia, which naturally led to a lacklustre performance by Inner Mongolia's exports in that period. Inner Mongolia's exports to Mongolia dropped by more than 40% in US dollar terms in 2016 from the year before, while its overall exports declined by 20% in the same year.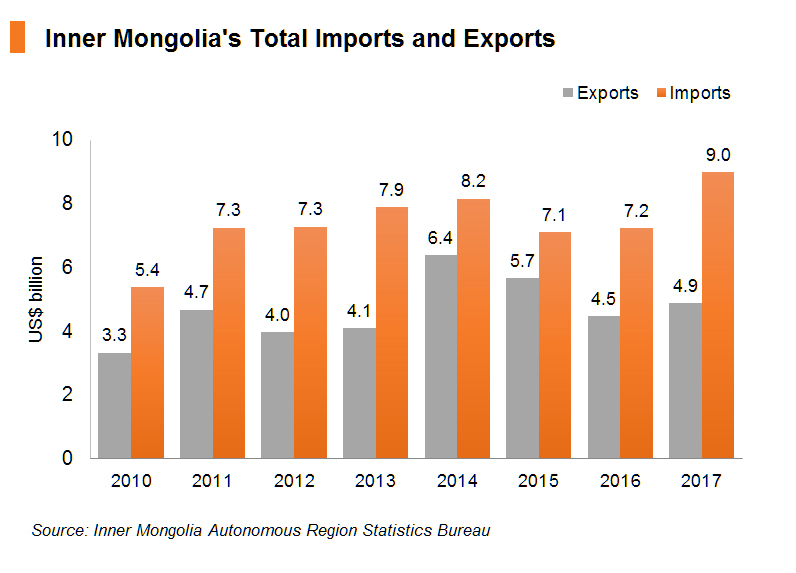 Processing Trade: Great Potential for Growth
Despite being China's base for trade with Mongolia and Russia, Inner Mongolia's advantages as a border province have not been fully made use of. Currently its import-export trade is conducted mainly in the form of "general trade" and "small-scale border trade".
Compared with other border provinces in the south, the share of Inner Mongolia's total trade accounted for by processing trade using local or imported resources is relatively low. In Guangxi, for example, processing trade accounts for about 20% of its total trade; in Yunnan, the share is about 10%. In Inner Mongolia, processing trade accounts for less than 5% of its total trade. In other words, its trade structure can be improved.
In light of this, Inner Mongolia has been trying to develop its processing trade in recent years. Construction of import-export resources processing parks has begun in Erenhot and Manzhouli. Imported resources (such as wood and animal and agricultural products) are used for processing and the products are either exported to markets in Europe and America or sold domestically to other regions in China. With processing facilities in Inner Mongolia becoming better and more advanced, the potential for developing import-export processing trade in the autonomous region is vast.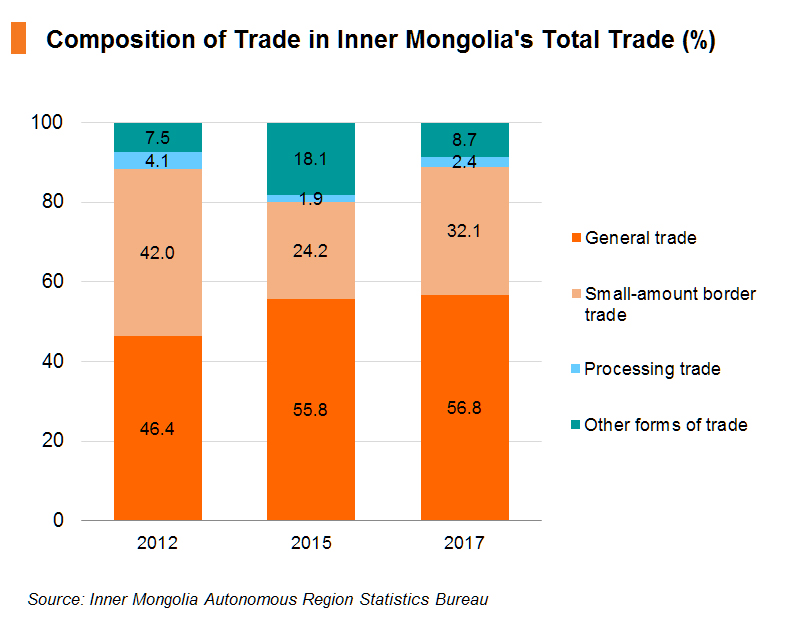 Pillar of China-Mongolia-Russia Economic Corridor
China, Mongolia and Russia signed the Plan on Establishing the China-Mongolia-Russia Economic Corridor in 2016, the first multilateral co-operation plan launched under the BRI. It aims to expand tripartite trade, raise product competitiveness, improve cross-border transport, and develop infrastructure facilities. Taking advantage of its role in China-Mongolia-Russia trade, Inner Mongolia serves as a strategic nexus along the China-Mongolia-Russia Economic Corridor.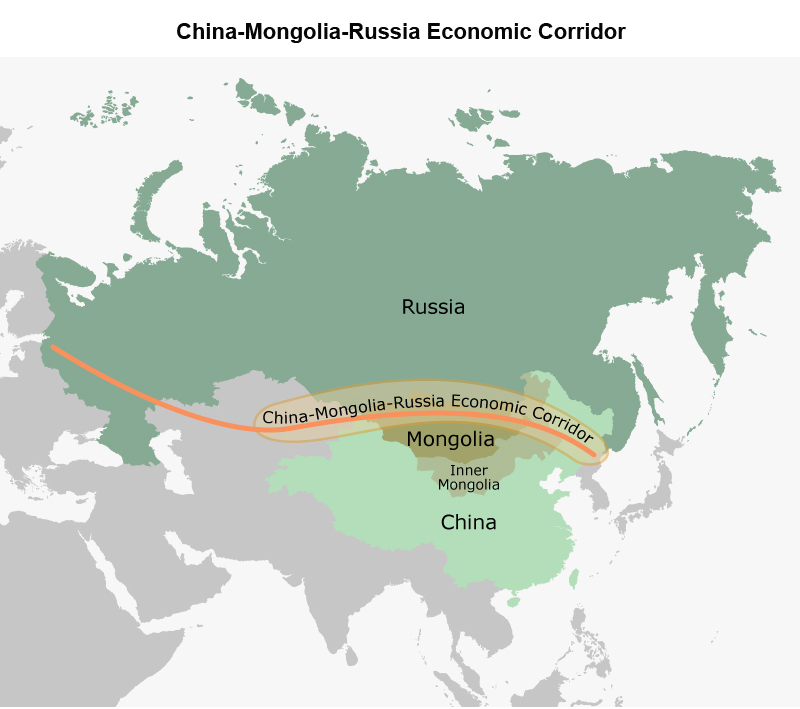 One of the key objectives in building the China-Mongolia-Russia Economic Corridor is to construct a logistics passageway crossing the three countries, which should promote tripartite trade between them. Of the seven railway routes outlined in the Plan, six will pass through Inner Mongolia. Two of the three China-Europe Railway Express (CR Express) routes connecting China with Europe leave Chinese territory via Inner Mongolia. Currently, about half of the trains running between China and Europe pass through Inner Mongolia.
In line with the objectives of the BRI, China, Mongolia and Russia are devoting resources to the construction of the Ulanqab-Ulaanbaatar-Ulan-Ude logistics channel. Comprehensive logistics parks are being built and business links strengthened to try to improve transport connections along the passageway, as well as linking the cities of Ulanqab and Ulaanbaatar in Inner Mongolia with the city of Ulan-Ude in Russia.
China, Mongolia and Russia have also prioritised working together to raise production capacity and investment, deepen economic and trade co-operation, and accelerate the synergy between China's BRI, Russia's Eurasian Economic Union, and Mongolia's Prairie Road development initiatives.
Industrial Upgrading a Boost to BRI
As well as promoting foreign trade, Inner Mongolia is also actively pursuing the transformation and upgrade of its indigenous industries, which will help boost the BRI. With its rich energy resources, vast land size and abundant and cheap electricity, Inner Mongolia is ideal for the development of modern industries requiring high power consumption, such as cloud computing. Its climate, with its low temperatures, also offers a natural, cool environment for businesses to house their data centres at low cost.
Hohhot Shengle Modern Service Industry District is the largest cloud computing industry base in Inner Mongolia. It has put a lot of work into developing cloud computing data centres and big data projects. China's top three telecommunications operators, China Telecom, China Mobile and China Unicom, have all established a presence in the park.
With its vast grasslands and well-developed animal husbandry industry, Inner Mongolia has also placed great emphasis on the reform, innovation and modernisation of animal husbandry. A large number of businesses in the Shengle district are engaged in collecting and analysing all kinds of data on sectors such as the dairy industry and grassland ecology. Others specialise in the 'smart' rearing of dairy cattle, providing services such as breeding and reproductive technologies to improve dairy cattle breeds.