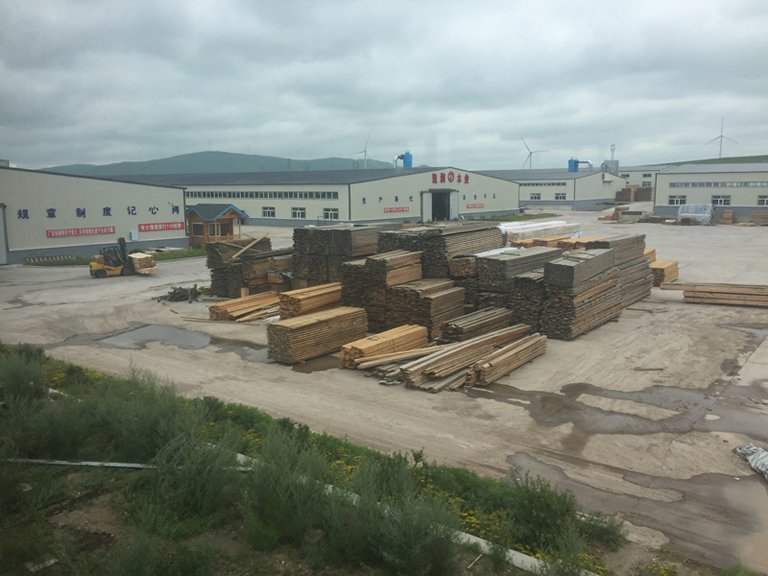 https://origin.hkmb.hktdc.com/en/1X0AG9BY
Belt and Road Inner Mongolia: Reinventing Manzhouli as a China-Russia Trade Hub
Ties between China and Russia have strengthened to different degrees across a range of sectors including economic and trade, culture and tourism, over the years. The city of Manzhouli in Inner Mongolia, on the region's border with Russia, is China's largest land port of entry from Russia. More than 65% of land transport in Sino-Russian trade passes through the city. In order to promote bilateral co-operation between the two countries and encourage economic reform, Manzhouli was made a key pilot zone for development and opening up in 2010. It is now an important platform for co-operation between China and Russia.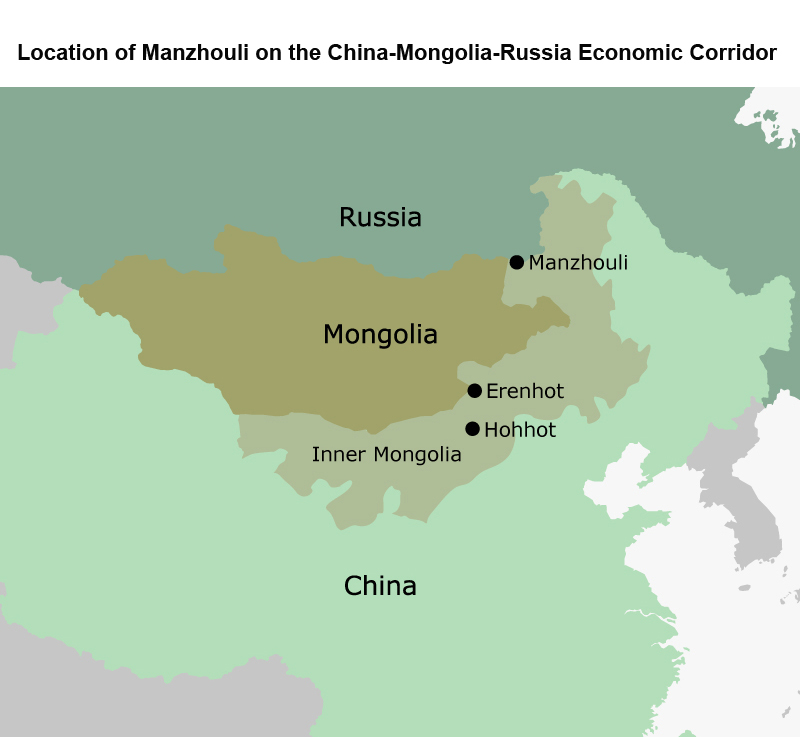 China-Russia Border Economic Co-operation
The border economic co-operation zone in Manzhouli was established over 20 years ago to boost links between China and Russia. Two major industries have developed in the zone – the processing of imported resources (mainly timber), and warehousing and logistics largely involving the export of minimally processed vegetables and fruit to Russia.
Today, about 30 warehousing and logistics enterprises operate in the zone, exporting minimally processed vegetables and fruit. They work from more than 600 warehouses with a total storage area of about 300,000 sq m and export close to 400,000 tons of vegetables and fruit to Russia each year.
Import processing in the zone centres on timber. About 80 timber processing firms operate there, producing timber boards, furniture, wooden doors and windows, and wooden cabins.
Proximity to Imported Resources
The Manzhouli Kairun Woods Co Ltd is one of the imported timber processing enterprises operating in the imported resources processing park. Its main business includes the design, production and installation of wooden cabins and the manufacture of solid wood furniture, flooring and laminated wood products. It primarily serves the domestic market, selling prefabricated wooden cabins to tourist resorts in southern China and other countries such as South Korea and Laos.
Capitalising on Manzhouli's proximity to Russia, Kairun uses Russian Scots pine (Pinus sylvestris) imported from the Alpine zone of Siberia. It is a solid wood with great tensile and compressive strength and stability, eminently suitable for making wooden cabins and large wooden structures.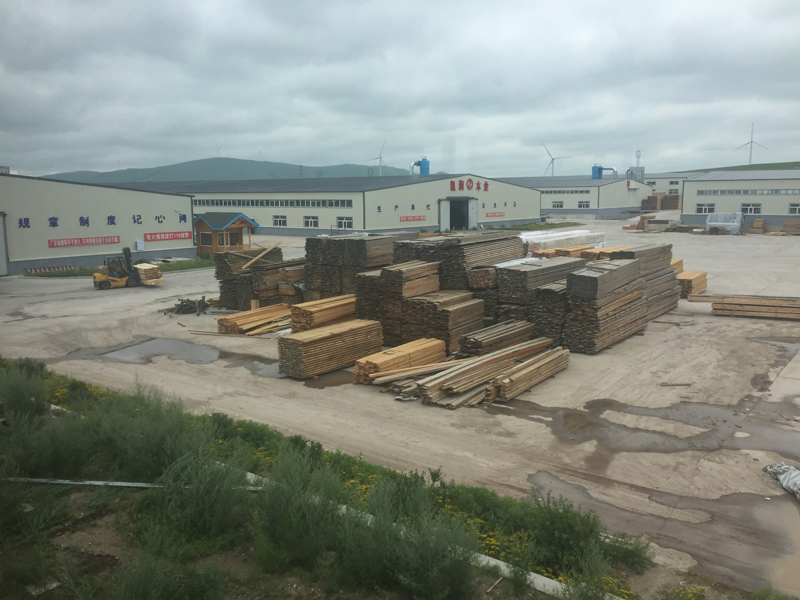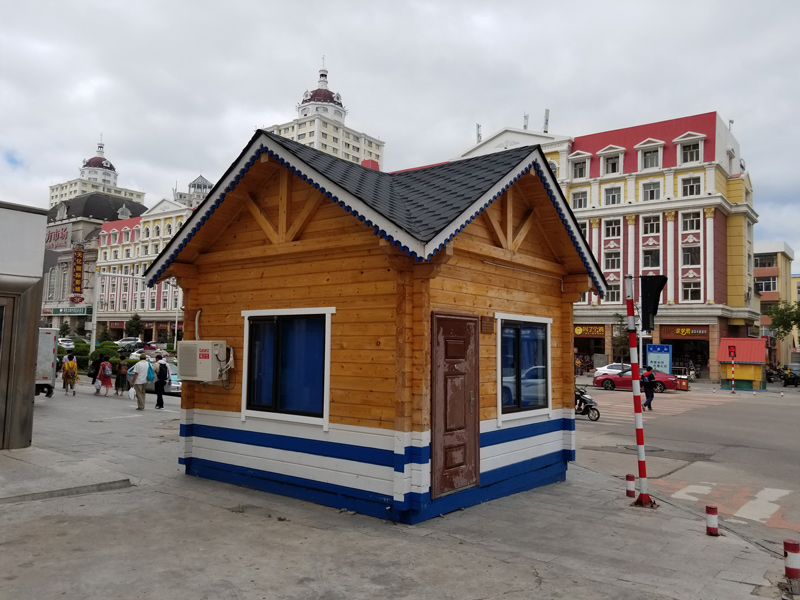 In order to secure its supply of Scots pine, Kairun has extended its supply chain by obtaining timber and lumbering rights in Russia.
Logs are cut into boards of different specifications locally before being shipped to China for further processing into floorboards, anti-corrosive wood, laminated wood, planed timber, bed boards and other products.
The advantage to Kairun in having deep processing facilities on the China-Russia border rather than near the market is the savings to be made in transportation costs. Wood products are very heavy, and thus difficult and expensive to transport. The raw materials can be transported by rail from Russia, reaching the timber processing park in four days. The weight of the finished products after processing is only half that of the raw materials, which makes them much easier and cheaper to transport on their onward journey from Manzhouli to the market.
Synergy between Cross-Border Trade and Logistics
As well as looking to develop its import and export processing, Manzhouli is also focusing on the synergy between cross-border trade and logistics between China and Russia. The China-Russia cross-border trade and logistics complex in Manzhouli covers an area of 500,000 sq m and includes temperature-controlled storage and cold chain storage facilities, a joint customs inspection and quarantine inspection platform, and a parallel import automotive testing workshop. It is a one-stop trade service area offering all kinds of services for import and export trade, transportation, processing, loading and unloading, storage, domestic and overseas logistics, exhibition, trading, supply chain finance, and so on.
Goods being imported through the China-Russia logistics complex are mostly food products, while fruit and vegetables make up the bulk of exports. The complex currently handles over 90% of Manzhouli's vegetables and fruit exports. The complex is equipped with cold storage where vegetables and fruit can be stored for a few days before being shipped to their destinations.
In order to improve transport efficiency, the China-Russia logistics complex has a special passageway leading to the outbound tourism and freight cargo channel, effectively shifting some of the functions of the highway boundary control point to the complex. The complex has also launched a comprehensive e-commerce service platform (www.51aladdin.com) to connect buyers and sellers online.
Through its efforts to promote the synergetic development of trade and logistics and integrate the online and offline supply chain, the China-Russia logistics complex has successfully attracted some Russian manufacturers to shift their overseas warehouses from the banks of the Suifen River in Heilongjiang to Manzhouli. Similar warehouses in other cities are likely to be moved here in the future. Operations headquarters will be set up in first-tier cities to handle orders and nationwide distribution while Manzhouli plays its role as a distribution centre. This should help boost the city's logistics industry and the fast-growing China-Russia cross-border trade.
New Trends in Cross-Border Barter Trade
Another of Manzhouli's development priorities is the promotion of barter trade between Chinese and Russian border inhabitants. A duty-free trading zone has been set up in the Manzhouli China-Russia barter trade zone for the sale of food, daily commodities, handicrafts and garments imported from Russia. Being in China's northern border region, Manzhouli suffers from severe winter weather, so footfall is affected by seasonal changes. Daily footfall can be as high as 2,000 in peak seasons, but the place is much quieter in the winter.
As in China's other cross-border barter trade zones, residents of Hulunbuir can apply for a border inhabitant card, which offers them a daily duty-free allowance for purchases worth up to RMB8,000. Tourists from outside the city are only eligible for an annual duty-free allowance of RMB8,000. Russian border inhabitants can do business in the duty-free zone by submitting their applications in Manzhouli.
The aim of the duty-free zone is to provide a trusted petty-trade platform for people living on both sides of the border. The goods sold must be authentic and competitively priced. The warehouses inside the duty-free zone are under customs supervision and the types of goods sold are restricted. The quality and price of goods are also subject to customs supervision.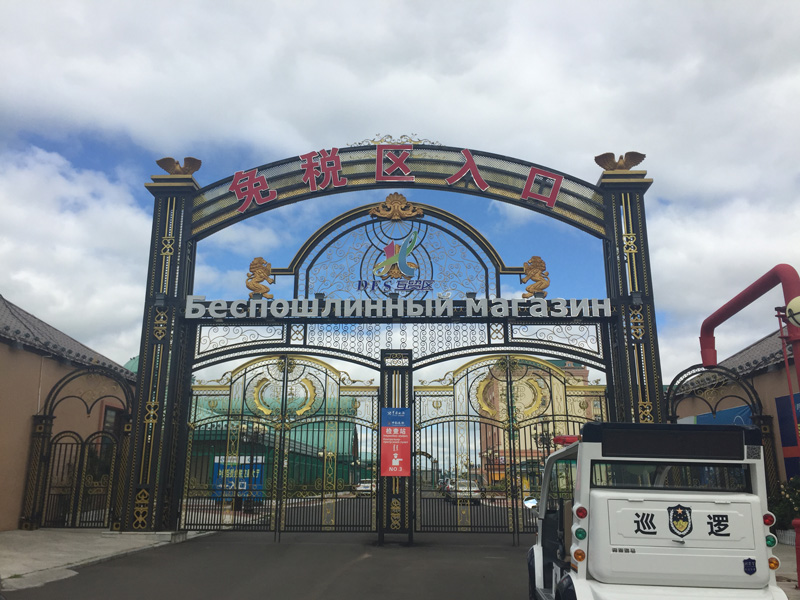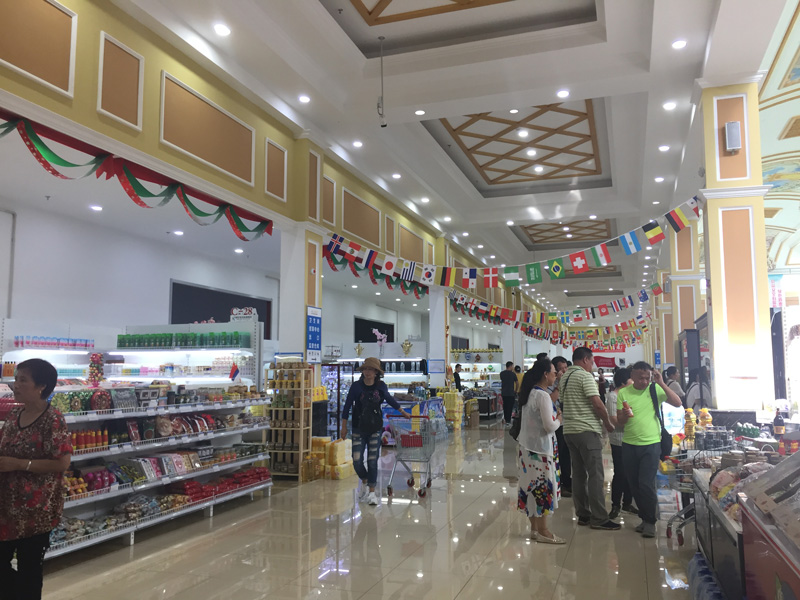 The duty-free zone has taken measures to promote a more balanced development of cross-border barter trade. Russian border inhabitants are allowed to stay in the trading zone for 72 hours and do not have to leave on the same day. There are hotels and other facilities within the zone. There is also an exhibition hall to showcase the Chinese-made small commodities and electrical appliances to Russian tourists.
The China-Russia barter trade zone also takes advantage of the nearby Manzhouli comprehensive bonded zone, which lies "inside the national border but outside the customs territory" to promote "duty-free trading with goods stocked in the bonded zone for pick-up at different pick-up points". This new trading model, which involves the processing and manufacturing of imported raw materials and the exhibition of finished samples in the comprehensive bonded zone, online ordering of goods and offline delivery, is the latest strategy for the development of cross-border barter trade and the transformation of Manzhouli into the largest distribution centre for China's trade with Russia.