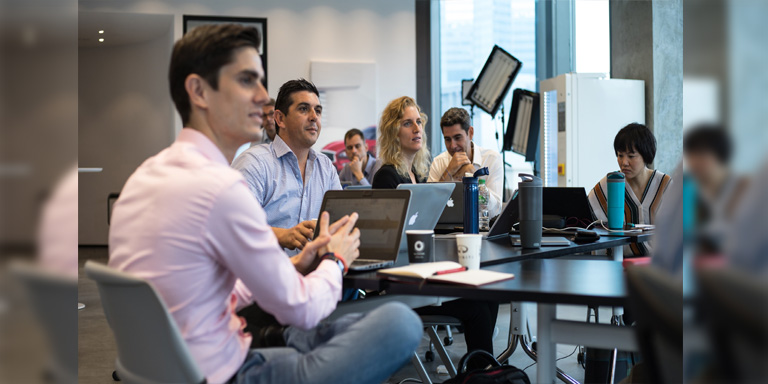 https://origin.hkmb.hktdc.com/en/1X0AGJTM
Driving innovation in Hong Kong
Hong Kong-based luxury carmaker reaps dividends from launching start-ups.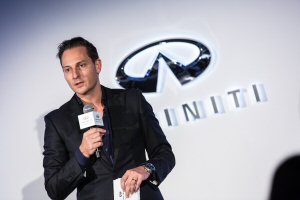 Hong Kong-headquartered INFINITI, the luxury-car division of Japan's Nissan Motors, has found it is "reaping the benefits" of establishing an accelerator programme for promising start-ups in the city more than three years ago.

The first INFINITI LAB was launched in September 2015 as a global pilot for the company.

Dane Fisher, General Manager, Global Brand and Business Development, INFINITI, said its aim in bringing advance-stage international start-ups to Hong Kong was to "accelerate the innovation cycle and identify new revenue streams". The programme is also designed to "encourage cross-border collaboration while enriching the local ecosystem".

"To date, we have accelerated 54 start-ups from around the world, helping entrepreneurs harness innovation to set new growth trajectories," Mr Fisher said.

In October 2018, a new collaborative space for INFINITI LAB Hong Kong was launched in California Tower, Central.

"The space connects our dedicated business development team with entrepreneurs in a hub located at the heart of the start-up eco-system," said Mr Fisher. "During that same period, we held our fourth INFINITI LAB accelerator. The theme of the programme focused on designing a seamless experience for the premium mobility consumer.

"With four years behind us and several lessons learned, we have evolved the programme to enhance integration with INFINITI. Start-ups participating in our programmes will now work closely with INFINITI's newly established business development teams to realise projects."
Practical decision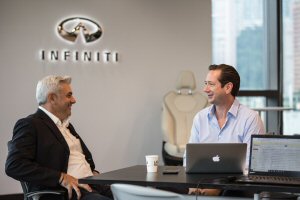 Launching INFINITI LAB in Hong Kong was "a practical decision for us", Mr Fisher explained. "Hong Kong has been home to the INFINITI Motor Company headquarters since 2012. This city is also an attractive destination for international start-ups due to its position as a financial centre with proximity to the [Guangdong-Hong Kong-Macao] Greater Bay Area. We wanted the start-ups we chose to work with to be in close proximity to our key decisionmakers to ensure we could innovate faster."

The project has been "highly successful", Mr Fisher continued.

"From an internal perspective, INFINITI LAB has been successful in achieving cultural transformation. This past year, we had our strongest staff engagement to date with a record number of [50] INFINITI team members applying to participate as mentors in the programme.

"The outcome has been so successful that we have moved our dedicated business development and innovation team to the new LAB space in Central.  The team is dedicated to finding and developing proofs of concept and partnerships arising from the LAB accelerator programme."

Both INFINITI and the participating start-ups are "reaping the benefits", Mr Fisher said. "Our programmes are designed to encourage collaboration and partnership. In fact, several of our start-ups have finished our programme with new business opportunities and cross partnerships.

"Collectively, the 54 start-ups accelerated so far have gone on to generate more than US$60 million of investment after finishing our programme, while others have achieved success in other ways, either through expansion or by going on to join other high-profile accelerators."

One of the LAB's earliest breakthrough start-ups was Visionaries 777, an augmented- and virtual-reality developer, Mr Fisher said. "We now work with them to design intelligent 3D visualisers for our showrooms and digital platforms. In fact, they supported us on our most important product launch, the QX50 in Los Angeles, and most recently a visualiser-lite solution went live on our China site.

"This was an agile project delivered in under two months thanks to the collaboration between V777, our agency, Cheil, and the INFINITI digital team."

Pantonium is INFINITI LAB's latest breakthrough. "They are a member of our 2017 alumni and specialise in dynamic fleet management," Mr Fisher said.

A partnership for the development of a corporate car-pooling solution was signed with Pantonium in December. "The partnership will result in a pilot in early 2019 and is designed to minimise lengthy commuting times as offices relocate to business parks on the perimeters of a city," Mr Fisher said.
Win-win results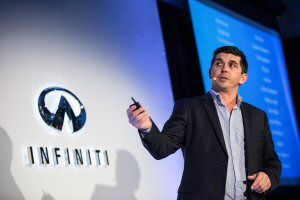 The company continues to support and mentor its graduates after they leave the programme. Equally, the LAB creates opportunities for INFINITI to work with like-minded companies to develop premium mobility solutions for its customers.

"Companies like Pantonium, for example, enable us to explore mobility for future autonomous fleets," Mr Fisher said. "Following our most recent programme we signed eight letters of intent and we intend to explore partnerships with all of the start-ups from the programme to help us design a seamless customer experience and future retail solutions for our customers."

The initiative also enhances entrepreneurship in Hong Kong.

"We are building a community with INFINITI LAB," Mr Fisher said. "Through our accelerator programmes, thought-leadership events and collaborative space, we are cultivating an ecosystem designed to achieve open innovation. With the launch of the new LAB in California Tower we now have a physical space where like-minded entrepreneurs, corporate innovators and industry thought-leaders can connect and collaborate. At the INFINITI LAB space we will have two offerings; a flexible event space and a hot-desk solution."

The Hong Kong Trade Development Council offers many events and programmes to support start-ups in the city, including Entrepreneur Day and Start-up Express.
Related link
INFINITI