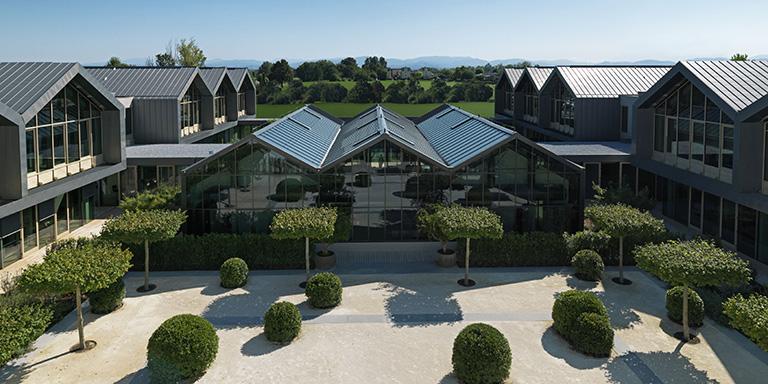 https://origin.hkmb.hktdc.com/en/1X0AH1S5
Beauty-products maker puts world first
Renewable energy, green spaces and biodiversity are all parts of the business of this Italian spa and salon products maker, which plans to make headway in Asia through Hong Kong.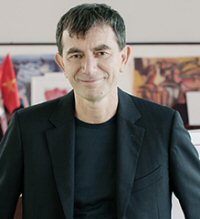 The Davines Group – a hair- and skin-care products maker based in Parma, northern Italy – puts environmental sustainability at the centre of its business. "Our Purpose Statement is to be 'best for the world' as opposed to just 'best in the world'," the firm's Chief Executive Officer Paolo Braguzzi said.

The Bollati family founded the Davines Group 36 years ago as a third-party cosmetics development laboratory. The firm has grown rapidly and now concentrates on sustainable hair- and skin-care products. Turnover last year reached €148 million (US$167 million), having risen 16% in a year. The Davines hair-care brand is distributed in about 80 countries and regions. The group also produces the Comfort Zone and Skin Regimen range of skin-care products. The Davines Group works primarily on a business-to-business basis, supplying spas and beauty salons with retail sales limited to a few high-end outlets.

Mr Braguzzi recently visited Hong Kong to establish a branch office in the city.
Your business is very green – sustainability is central to your products and business operations. Does your status as an unlisted family firm make it easier to follow this strategy?
Our main offices and research centre near Parma make up a sustainable complex we call the Davines Village. There is a great deal of green space allowing for work outdoors. We minimise energy use and rely entirely on renewable power, generated by ourselves and bought from the grid; the offices are carbon neutral. Good design is an obsession with us; we combine science and good taste to create inner and outer beauty. The Village and its gardens reflect the values of the company. The Village abuts the busiest motorway in Italy, which is a source of pollution. Davines worked with researchers from the University of Florence to select trees which would serve as a pollution-absorbing barrier between the road and the complex. Our researchers encouraged neighbouring farmers to do the same.

Being a family company without a stock-exchange listing certainly makes such efforts easier. The family wants to make the world a better place.

The company is a B Corp.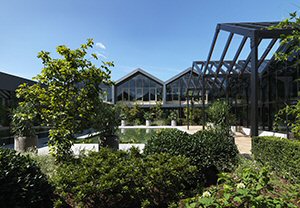 You keep a tight control of your supply chain and grow some of the plants used to make ingredients at your headquarters, the Davines Village. Do you manufacture all your own products, and is this product integrity critical to your brand?
We grow our own spinach and use our gardens for educational purposes – schoolchildren and the public can visit. We conduct research along with the University of Florence on seven species of plants which can generate beauty-product ingredients. When sourcing ingredients we work with the Slow Food Foundation to help the farmers preserve biodiversity. This integrity is important to the brand.

You invest 3% of turnover in research and development – is this part of the same strategy?
The chairman's son also has an MSc in cosmetic chemistry and insists on the highest performance from products. Science is critical to the company.

Are your sales entirely through beauty salons and spas?
Some Comfort Zone skincare products are sold in some high-end retail outlets but almost all sales are to spas and salons. Of course the spas and salons themselves sometimes sell these products to clients, as well as using them on-site, so you could say this is B2B2C. Even though supplying professionals is a relatively narrow market segment we see no limit to growth within it. Our main requirement is a good distribution network.

Hong Kong is your sixth international branch – other branches are all in Europe and North America. Is this the start of a push into the rapidly growing Asian market?
Asia is a very attractive region for both the hair and skin-care products.

Consumers in Asia are eager buyers of high-end European luxury fashion items, jewellery and cars. Is the same true for health and beauty products?
Many European brands are strong in Asia, including those producing fragrances. This is not yet the case for cosmetics, however, even though Italy has a large and well-regarded beauty products industry. We hope we could become pioneers in Asia in this respect.

Do you use exhibitions to increase your exposure to the market?
We concentrate on Cosmoprof in Italy, the premier event for beauty products. However now that we have a branch in Hong Kong we plan to hold our annual hairdressers' event in the city next year. The hairdressing exhibition and conference will be here in October 2020.
An events capital of Asia, Hong Kong is home to a wide range of trade fairs and conferences. The Hong Kong Trade Development alone organises more than 30 exhibitions in the city a year, forming 11 of the largest marketplaces of their kind in the region, of which five are the world's largest.
Related link 
Davines