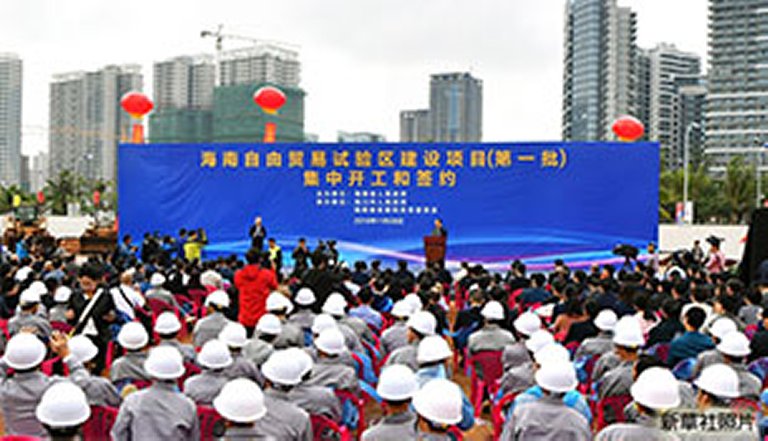 https://origin.hkmb.hktdc.com/en/1X0AHAMK
China (Hainan) Pilot Free Trade Zone
Construction work on the Hainan Pilot Free Trade Zone (Hainan FTZ) is now well underway, with the project set to extend across the whole of the island, an area of some 33,900 sq km. The development, as outlined in the Overall Plan for the China (Hainan) Pilot Free Trade Zone (See Chinese version) (formally adopted by the State Council on 16 October 2018), will see the FTZ evolve into a key gateway for China, boosting its connectivity with its Indian and Pacific ocean trading partners.
Development Goals
In line with the goals outlined in the Overall Plan, by 2020, the FTZ will be one of the most open and internationalised zones in the region. More specifically, it will be trade- and investment-friendly, boast a robust legal regime, maintain a comprehensive financial services sector, demonstrate safe and efficient oversight and will have cultivated a superior ecological environment, one set to have a profound influence on neighbouring areas. It is believed that these elements will prove a sound foundation for the development of the proposed Hainan Free Trade Port and see the island take a lead in pioneering China's overall Free Trade Port strategy.
At present, it is envisaged that tourism, the modern service and high-tech industries will be the Hainan FTZ's development priorities. In those areas of the FTZ under special customs supervision, systemic investment and trade liberalisation measures will be implemented, while the launch of businesses related to international investment and trade, bonded logistics, bonded repair services and a number of other relevant sectors will be encouraged. At the same time, within the Sanya customs supervision quarantine area, every effort will be made to nurture the development of a number of priority business sectors, including those specialising in the import and transhipment of animal and plant germplasm resources on an international basis.
Foreign Investment Management
The Special Administrative Measures (Negative List) on Foreign Investment Access (See Chinese version), issued by the National Development and Reform Commission, set out unified special management measures governing issues such as equity ratios and senior management personnel of businesses operating in FTZs in China. For industry sectors falling outside the scope of the negative list, the principle of foreign and domestic investors receiving the same treatment will apply.
Special administrative measures relating to national security, public order, public culture, financial prudence, government procurement, subsidies, special procedures and tax-related matters not on the negative list remain subject to existing provisions. Foreign investment concerning national security is subject to review in accordance with the Tentative Measures for the National Security Review of Foreign Investment in Free Trade Zones (See Chinese version).
Latest Policies and Regulations
Please see official websites of:
The People's Government of Hainan Province
Department of Commerce of Hainan Province (in Chinese)
Please click here to view the latest articles of China Pilot Free Trade Zones.