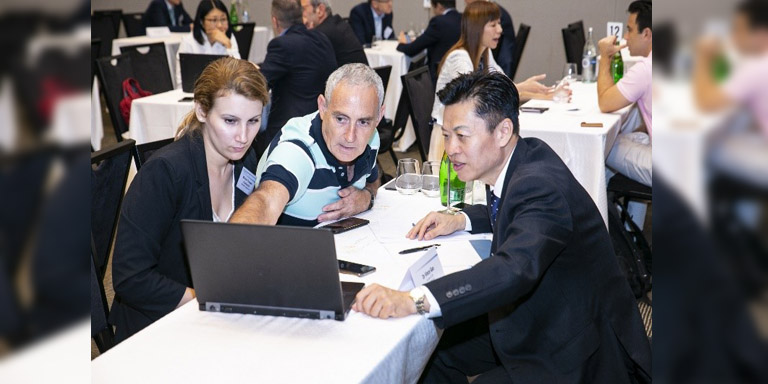 https://origin.hkmb.hktdc.com/en/1X0AI6RR
Start-up on a mission to improve health
A Hong Kong biotech company is partnering with Israeli counterparts to explore the Hong Kong and Mainland China markets.
Technological developments are transforming people's lives in many ways, including in the areas of disease prevention and anti-ageing treatments. Govita Tech Limited, a Hong Kong biotechnology start-up, has been employing the latest advances, including artificial intelligence (AI), to provide personalised biomedical testing and data analysis that can give people a better understanding of their health and the steps they can take to prevent chronic diseases and limit the impact of ageing.

In September last year, Govita joined a business mission to Israel organised by the Hong Kong Trade Development Council and led by Paul Chan, Financial Secretary of the Hong Kong Special Administrative Region. Govita highlighted its personalised one-stop solution during the mission and was able to establish successful business partnerships with three Israeli enterprises.

Govita sees Hong Kong as the right place to be, supported by a strong pool of local tech talent, the latest cutting-edge technologies, successful brand reputation and its ability to leverage the market in Mainland China. The company believes Hong Kong enjoys an unparalleled advantage in developing new biotech solutions and taking the city's medical business to the next level.
A vision to improve lives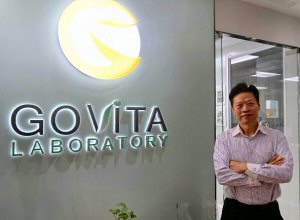 Vince Gao, Founder and CEO of Govita, conducted extensive research in biological sciences in the United States and Asia-Pacific region for nearly 20 years. He said his goal in establishing Govita was to focus on the application of genomics, metabolomics, clinical medicine, bioinformatics and advanced intervention formulations to pre-empt disease and reverse the ageing process.

Applying advanced AI solutions is key to the company's development. Govita uses AI technologies to analyse biomedical and clinical data gathered through tests on body fluids, using the datasets to generate personalised health intervention solutions. Govita works with clinicians to personalise health intervention formulations for patients to help prevent diseases, improve health, delay the ageing process and enhance overall quality of life.
Israeli tech enterprise opportunities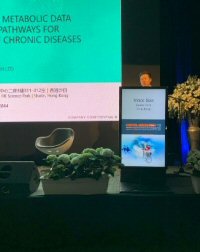 Dr Gao said Govita's one-stop solution proved particularly attractive to the company's new Israeli business partners. China Israel Business Promotion, located in Jerusalem, has agreed to help promote Govita products and services in both Israel and Mainland China. Tel Aviv-based EuMuse, became Govita's partner for expanding its business into Israel and Europe, exploring healthcare facilities and biotech-related markets for the company. Another Israeli company, ATLASense Biomed, is cooperating with Govita in developing wearable health monitoring devices, with a keen eye on penetrating emerging markets in Asia.

The entrepreneur was recently invited to speak at a major international conference on biomedical sciences in Israel as the only Asia-Pacific representative. He introduced Govita's innovative products and services to the international biomedical experts attending the conference and arranged nine private business-matching meetings.

Dr Gao moved from the United States to the Asia-Pacific in 2001 and is positive about the massive market potential the region presents, particularly in the mainland. After working in several APAC centres he settled in Hong Kong in 2004. He is impressed by the quality of government-provided medical services in Hong Kong and people's life expectancy, which is the highest in the world.

 "However, chronic diseases are becoming more prevalent among white-collar workers, the middle-aged and the elderly due to an ageing population and pressure from work and family," Dr Gao said. "Cooperating with healthcare facilities, hospitals and clinicians, we focus on evaluating users' health status via disease-identifying and biomolecular testing, and then provide a custom-made and integrated solution that includes certified independently developed medicines or dietary supplements, tailored recipes and physical training plans. Through regular tests and assessments, we also offer suggestions for enhancing the effects [of the integrated solution]."

Dr Gao revealed that, with the cooperation of healthcare facilities and clinics, Govita has already served about 2,000 customers over the past two years.
Talents, innovative technologies and vast markets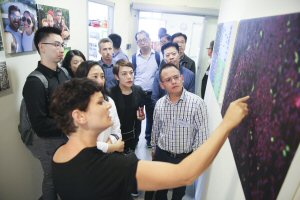 Govita has its headquarters at the Hong Kong Science Park. In addition to focusing on biomedical sciences, the company's 18-member research team also seeks to help the company benefit from AI applications. Dr Gao said that, compared to the mainland or Singapore, it is easier in Hong Kong to recruit talents who are educated in the medical, molecular biology and information technology fields, and possess international working experience. This in turn will benefit the research, development and application of biomedical studies.

Dr Gao emphasised that Govita's unique market advantage lies in its ability to analyse people's physical and clinical conditions based on the study of omics data, clinical information from various sources and collaboration with clinicians. The company also benefits from its accurate personalised solutions and products, and being able to enhance people's health by drawing on data taken before and after intervention. As their economies and populations continue to grow, both the mainland and Hong Kong will need to address an increasing demand for chronic disease management and the impact of an ageing population. This is one of the reasons Govita has identified the mainland and Hong Kong as its priority markets, aiming to expand its business to international markets in the future.

Dr Gao said Hong Kong has built a solid reputation in the Asia-Pacific region, with the city's brands gaining the international community's trust because of their adherence to high standards of product quality control, "which is crucial for medical-related products". Citing the certification of medical devices as an example, Dr Gao said Hong Kong's stringent but efficient regulation has given the city a competitive advantage for biomedical science development.

Dr Gao said innovative treatments with a lower cost-to-performance ratio would be a key trend in both the mainland and Hong Kong. "Customers are seeking more personalised treatments to help prevent degenerative diseases and cancers. It's a market worth thousands of billions of dollars," he said. "The market is in favour of integrated platforms which can offer personalised dietary supplements and solutions to help promote sustainable health. Users can now experience high-tech physical care services, body tests, health assessments and disease surveillance through this process."

Dr Gao said Govita is now seeking co-development opportunities with business partners from Israel, the US and Europe to look into early-stage screening for chronic diseases such as diabetes and cancers. "Such projects would help us in applying for government funding and, I believe, could help Hong Kong break into the international biomedical sciences market," he concluded.
Related link
Govita Tech
Medical & Healthcare Services
Hong Kong
Middle East
Israel